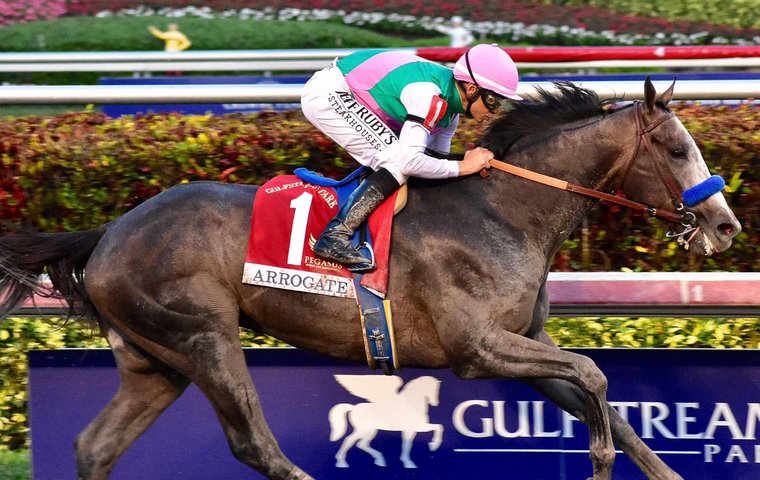 Not far from the raucous Pimlico Race Course infield on Preakness Stakes day, where fans chugged beers and tried to run over the tops of adjoining portable toilets, a few special guests of the Stronach Group were sipping wine in luxury accommodations near the finish line.

The VIPs had been invited due to their daring $1 million bets on the world's richest horse race, the inaugural Pegasus World Cup Invitational Stakes at Stronach Group-owned Gulfstream Park in January, and some in this elite group chatted with one another about whether they are willing to take the plunge again for 2018.
Stronach Group officials recently circulated a proposal to the Pegasus investors on how the $16 million Pegasus purse for next year — which has been increased by $4 million from this year's race — could be divided, along with other potential revenue streams, and have set a July 1 deadline for a commitment.
They also have insisted that the investors sign a legally binding non-disclosure agreement forbidding them from publicly discussing the terms from this year as well as those proposed for 2018 while intense discussions continue behind the scenes.
Financial whipping
Privately, some investors indicated after the Preakness party that more than half of the 11 who joined with Stronach Group founder Frank Stronach in putting up $1 million each for one slot in the Pegasus starting gate are not willing, at least so far, to re-invest in the concept since most took a financial whipping with the first running of the race.
Mike Rogers, an executive board member with the Stronach Group, conceded before the Preakness party that none of the original investors had signed up by that time to invest another $1 million in next year's Pegasus.
"But none of them said no, either," Rogers noted.
"We're not really in negotiations," he added. "We've given them a proposal and they are reviewing it. That's where we're at in this process."
If some of the original participants decide not to renew their involvement, Rogers indicated that there is a line beginning to form of potential new investors.
"We actually have people already who have told us they're interested; we've had people say, 'If you have some that drop out, we're ready, willing and able,'" Rogers said.
Problematic details
While there is general enthusiasm for the innovative concept of owners working with a racetrack organization to create a lucrative racing event, the details have proved problematic for those who joined Stronach and his company in financially backing the idea.
Only Saudi Prince Khalid Abdullah, owner of Juddmonte Farms and its Pegasus winner Arrogate, and Stronach, whose homebred Shaman Ghost finished second, apparently made money after expenses are considered. Juddmonte bought the starting slot of original Pegasus investor Coolmore for Arrogate, who earned the $7 million winner's share of the inaugural $12 million purse, while Shaman Ghost banked $1.75 million.
As an example of how difficult it was for an investor to make money under the inaugural Pegasus terms, the Starlight Pegasus partnership's Neolithic earned $1 million for finishing third. But owners had to pay the standard ten percent to jockey John Velazquez and trainer Todd Pletcher, $200,000 total, in addition to a fee to lease the horse for the race since not all the Starlight Racing partnership owners in the colt were involved in ownership of the Pegasus slot.
Thus, it's easy to see that the math for the Starlight investment — and thus for most investors — was in the red, not black. The fourth through 12th-placed horses in the inaugural Pegasus earned only $250,000 each.
On the fence
One Pegasus investor privately told another recently that it was the worst business deal he had ever done in terms of revenue return. Another said he could not imagine taking that kind of gamble again, while yet another said the experience turned into a "pretty expensive party" after counting expenditures for tickets to the race and entertainment at the track for guests.
"It's a pretty big bet," another investor said of the $1 million investment for a starting slot, while estimating that perhaps only the winner of the race under the initial terms could be certain to profit.
Owner James McIngvale, whose Argentine-bred color-bearer Eragon finished 12th of 12 in the Pegasus, is among several of the original investors who confirmed that he hasn't made up his mind about whether he will get involved again.
"I'm still kind of on the fence," he said after the Preakness, adding that he realized prior to the Pegasus that it was going to be extremely difficult to recoup his investment.
Bumps in the road
"We knew that going in," said McIngvale, whose champion Runhappy was retired to stud in November and couldn't compete, as hoped, in the Pegasus. "We ran last [with Eragon] so we got what we deserved. You can print that — it's the truth. We didn't want a participation trophy and we didn't get one."
"It's a great idea," he continued about the Pegasus. "This game needs lots of new things and nothing is ever linear — there are always bumps in the road. I'm sure at the end of the day it will all be worked out and go forward bigger and better.
"My thinking on it is caveat emptor — let the buyer beware. I was aware of what I was getting into, so I have no qualms."
Duncan Taylor, president of Taylor Made Farm, home of 2014 and 2016 American Horse of the Year California Chrome and a key participant in California Chrome LLC, which invested in the 2017 Pegasus race, said his group has made no decision yet for 2018. California Chrome was the second favorite to Arrogate in the race but wound up ninth with a swollen knee in his career finale.
Revenue sharing
"It really just depends on which way they take the race," Taylor said. "If they do it so there is more sharing of the overall [financial proceeds] and treating the race as an investment as it grows, it would be a possibility.
"If they take it in a direction so that it's more about just wanting to race in the race and having a horse to put in the race … it's probably not something we would do," he added before outlining the results of the initial event.
"Basically, the investors got quite a bit of money back … but it wasn't like they made money. They didn't make money," Taylor declared.
"There are opportunities for investors to do better if the arrangements can be made to share in the right way," he added.
In addition to sealing the 2018 proposal with the non-disclosure agreement, the Stronach Group has not released details on how revenue sharing with Pegasus investors, including proceeds from betting handle and sponsorships, were allotted for 2017.
Logical conclusion
Stronach officials also have not released exactly how the enhanced $16 million purse for 2018 would be divided, although it has been indicated that each runner could be guaranteed a base of $650,000.
"We're definitely working on [a purse distribution plan for 2018], and there is a revenue sharing component that we're working on too," Rogers said.
The extra $4 million that The Stronach Group is pumping into the 2018 Pegasus prize money to go with the $12 million provided by investor commitments would cover some of the previously anticipated revenue sharing possibilities.
"We're kind of almost guaranteeing those revenue components," Rogers said while confirming that Gulfstream Park would, in exchange for the guarantee of more funds to investors, retain more of the ancillary income generated by the race.
"That's the logical conclusion," he said.
Another conclusion is that there will be significant changes, in addition to the financial terms, for a second Pegasus. Chief among the revisions at this point is that Jack Wolf, founder of and a principal in Starlight Racing, will no longer be the Pegasus chief executive officer.
Management switch
"We realized there probably wasn't a need to have a CEO externally for the Pegasus," Rogers said. "Jack was great; he was a stakeholder [through Starlight and CEO, and he definitely helped us get it off the ground. But once we got it off the ground, we've got the management staff to handle a lot of the day-to-day components."
"I've been replaced; I'm no longer the CEO. The Stronach Group plans on handling the functions from within," Wolf said when contacted about the change.
The switch will not affect whether or not Starlight re-invests in the Pegasus World Cup, said Wolf, who attended the Preakness party at Pimlico.
"That would depend on my partners and what they decide to do. At this point, they haven't decided yet," he said.
Another original Pegasus investor, Jeff Weiss, whose business interests include Florida commercial real estate, indicated he has not made a decision on whether to participate again.
"I am considering it," Weiss said. "I'm waiting to see what the structure will be for shareholders."
Weiss, who joined with Zayat Stables and raced Prayer For Relief in his Pegasus slot in January, declined comment on the financial results for investors in 2017. Prayer For Relief finished tenth.
Philosophical
Broadway and film producer Jerry Frankel invested with his brother, Ronald, in the inaugural Pegasus and then teamed with Donegal Racing to get 2015 Travers Stakes winner Keen Ice into the race; the son of Curlin finished fourth, earning $250,000 under this year's purse distribution.
Jerry Frankel said "most probably" when asked if he would invest in the 2018 Pegasus, even though he was philosophical about the lack of profitability.
"I'm hoping that this coming year I'll have my own horse," said Frankel. "I don't think a lot of us thought we had a real shot at winning that $7 million [winner's share of the] purse this year — and we didn't. Otherwise, I'm looking forward to [2018]; I think it's going to be good. We have some ebbs and flows; we have some people trying to get some things straightened out and we will."
Mick Ruis, an owner and trainer who invested in the initial Pegasus and raced 11th-place finisher War Envoy, said the Stronach Group asked him not to say what his plans are for the 2018 Pegasus.
Japanese goal
"We signed something that [indicates] we're not supposed to comment on anything right now," Ruis said. "I don't want to be the one that gets in trouble."
Looking ahead, Rogers said a major objective for the Stronach Group is to develop the Pegasus World Cup into a global event.
"We want it to become a race on the international calendar so that it can attract the best horses in the world and grow the handle and grow the interest," he said.
A primary goal is to lure a runner from Japan following a recruiting foray to that nation by Pegasus representatives last winter that included a meeting with Japan Racing Association executives. While that trip was not fruitful in yielding a horse for the inaugural event, it opened pathways for the future, according to Rogers, who pointed to how Japanese bettors, when allowed to wager on a foreign race that includes a Japanese runner, can have a huge impact on handle.
For examples, about $7.8 million was added to wagering on last year's Breeders' Cup Filly & Mare Turf, which included Japanese G1 winner Nuovo Record, by Japanese punters, and about $40 million was bet in Japan on the 2016 Prix de l'Arc de Triomphe, a total more than was wagered in France on the entire Arc program.
Potential upside
"I think next year will be a bigger opportunity [to attract a Japanese horse to the Pegasus World Cup]," Rogers said. "And we're speaking [to owners and possible Pegasus participants] in Hong Kong and Australia as well."
Taylor agreed that there is potential upside for the Pegasus.
"There is an opportunity to grow," Taylor said. "I think sponsorships are going to go up, and if they get a horse in from Japan and they get that handle, it will substantially help."
Television ratings for the initial Pegasus World Cup were strong, Frankel noted. A revised agreement with NBC Sports to televise the 2018 running, announced on May 22, could yield more revenue if advertising slots are sold by NBC and Stronach officials.
Rogers said that, once the investors for 2018 are lined up and announced this summer, then Stronach executives will be "screaming from the rafters" about Pegasus plans. However, company officials employed the non-disclosure agreement to limit discussion at this time because "when you're dealing with 12 different people and you get into the press, it doesn't help at all".
However, Rogers did praise the original investors for their racing and overall business expertise as they and Stronach officials mutually press for ways to transform the Pegasus into a financially rewarding opportunity for both the racetrack company and investors.
"They're all very successful businessmen; they're all very smart. They're looking at ways to try to make [the Pegasus World Cup] better. And that's what we're doing too," Rogers said. "That's the goal here. You learn from each year and we want to improve every year."