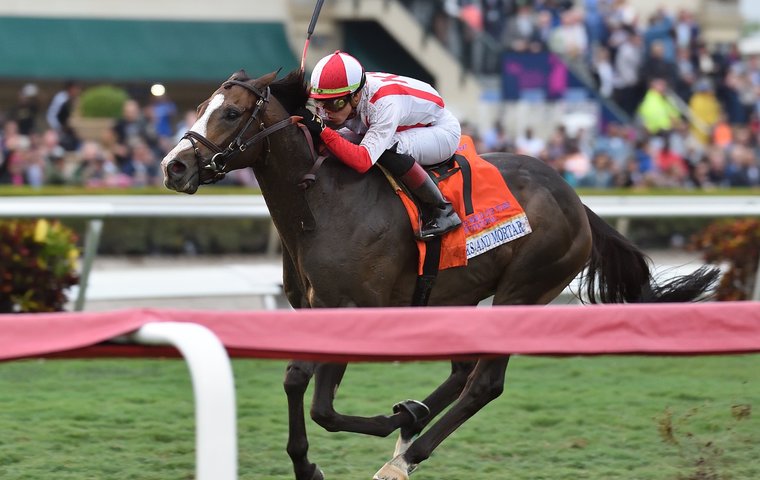 James Willoughby picks out the jockey, trainer, owner and sire who made the biggest impact on the TRC Global Rankings in the week that ended on Sunday.

TRC JOCKEY OF THE WEEK
Our highest-ranked Ortiz brother remains the brilliant world #9 Jose, but TRC Jockey of the Week goes to IRAD ORTIZ JR (+2pts, stays #14) after a Gulfstream double on the turf aboard Bricks And Mortar in the G1 Pegasus World Cup Turf Invitational and Zulu Alpha in the G3 W. L. McKnight Stakes.
Irad clinched a slightly more sought-after gong, we have to admit, when picking up the Eclipse for leading all U.S. riders in earnings during 2018. In the last 365 days, only Jose and world #1 Ryan Moore have more Group and Graded wins:

At the start of 2018, Irad was ranked #19 with 1007pts and Jose #9 with 1030ps. Now, Irad is 5 ranks higher, having gained 14pts, while Jose remains in the same spot, but has gained 8pts.
TRC OWNER OF THE WEEK
Apart from the success gained by SHEIKH HAMDAN AL MAKTOUM (+1pt, stays #3) in Europe, America, Australia and the Middle East, the Deputy Ruler of Dubai is also an investor in South African racing. This initiative received its latest reward when Atyaab won one of the country's most important races, the G1 Gbets Cape Derby at Kenilworth.
Atyaab, a rangy son of Dundeel (+5pts, #220 from #340) ridden by Diego De Gouveia (new entry, #292), stayed on strongly to pick up the prize and has plenty of room to improve.
TRC TRAINER OF THE WEEK
We are not doing this on purpose, honestly, but JUSTIN SNAITH (+8pts, #22 from #24) wins TRC Trainer of the Week for a third time and reaches a career-high ranking of #22, usurping #23 Mike De Kock (+6pts, #23 from #24) for South African #1 – despite the latter sending out G1 Cape Derby winner Atyaab!
Snaith nailed yet another double, this time the G1 Betting World Cape Flying Championship with Kasimir and the G2 New Turf Carriers Stakes thanks to Magnificient Seven. He gains the local #1 spot for the third week ever, a long way behind his colleague's 144 weeks but still making Snaith one of only six trainers to make top trainer in South Africa.
TRC SIRE OF THE WEEK
There were 23 races that counted towards TRC Global Rankings this week and 23 different sires were successful. So, because it is now three straight winners for the late HINCHINBROOK (+5pts, #45 from #59), the son of Fastnet Rock receives a posthumous nod.
It seems like a macabre rule governs that many stallions find their best success only after they have deceased prematurely, leaving a sense of what might have been over their career in the sheds. We might have given Hinchinbrook the award last week, were it not for a 1-2 by Dubawi at Meydan (incidentally, the world #1 added another G2 win this week to stretch his lead over Galileo to 13pts). This week, he actually receives the nomination, thanks to Whispering Brook winning the G2 Australia Stakes at Moonee Valley.
The 20 wins by the stock of Hinchinbrook that count towards our current standings are listed in the table below in chronological order. It is easy to see that the stallion is an influence for speed.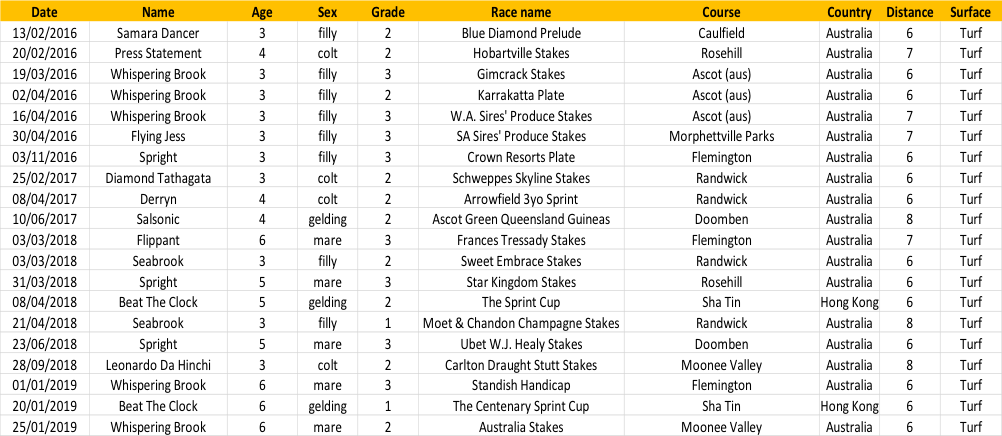 Click here for a list of all last week's biggest TRC Global Rankings points gainers.
Click here for a list of all the week's Group and Graded winners.