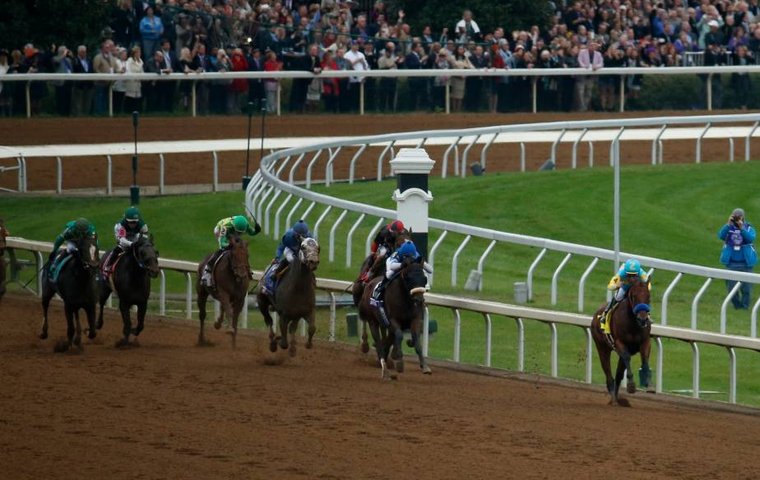 The inaugural $12 million Pegasus World Cup might be a new and innovative creation from Frank Stronach and the Stronach Group, yet it seems to be spawning a sense of a déjà vu among many of the sport's most prominent horseman.

Ask trainer Steve Asmussen about the upcoming Jan. 28 spectacle at Gulfstream Park, and his mind will dart back to 2007 or 2008.
"It makes me wish I had Curlin running next year," Asmussen said in reference to his two-time Horse of the Year. "Just think of a horse as strong and fast and who traveled as well as he did. For those opportunities, to run at a financial level we've never seen before, wow."
Bob Baffert thought it would be neat to have a gelding like three-time Santa Anita Handicap winner Game On Dude back in the barn.
Wayne Lukas smiled at the thought of a $12 million race during the 1980s or 1990s, when he was the sport's dominant trainer.
"I would have loved to have something like [the Pegasus] when we had all those big horses," said the 80-year-old Lukas, whose horses have earned more than $270 million. "I'm all for it."
Would American Pharoah have run in it?
The dawn of the Pegasus has even captured the fascination of the people closest to a rather recent Triple Crown champion, making them wonder what might have been if the race had been launched this past January, instead of in 2017.
"We would have highly, highly considered running American Pharoah at four if the Pegasus was around," said Justin Zayat, the racing manager for the family-operated Zayat Stables, owned by his father, Ahmed. "They're making it attractive enough to do that. People say all the money is in breeding, but this can start to change that and let owners make big amounts of money by racing their horses. We're into racing. We love the sport. I would have definitely been game for running some more."
Though Baffert, who trained American Pharoah, played down the possibility of the first Triple Crown winner in 37 years having an extended 4-year-old campaign, he, too, said his initial thought after hearing about the Pegasus last May was that perhaps an extra race could have been added after the champion's career-ending romp in the Breeders' Cup Classic.
"My reaction was, wow, maybe it would have been one more for the road for Pharoah," Baffert said. "It's a great concept."
Biggest impact on racing since the Breeders' Cup
Mix all of those comments together and they underscore why the Pegasus, if it proves successful, could have the most dramatic impact on horse racing since the creation of the Breeders' Cup in 1984.
For decades, the sport has futilely searched for ways to keep the best horses in training as opposed to making quick exits to stud farms, and the Pegasus surely has the capability of being a Holy Grail.
"It's an incentive to keep horses racing and racing need its stars," said Donald V. Little Jr., President of Centennial Farms, one of the sport's leaders in racing partnerships. "It is so difficult to get the next great sire, like a Tapit or Northern Dancer, so to create more interest in keeping horses in training and get more people to bet on races rather than at the casino is a positive.
"I credit [Stronach Group Founder and Honorary Chairman] Frank Stronach for trying something new. You have to dare to fail in any business, and I'm glad he's doing it because it's not done often enough in this business. You need risk-takers. This is a risk business in the first place, so the racetracks need to stick their necks out and take a risk as well. I commend him for doing it."
Chrome and the $28 million treble
To better appreciate what awaits horsemen, consider that in 2017 a horse running in just the Pegasus World Cup, Dubai World Cup ($10 million purse) and Breeders' Cup Classic ($6 million) will be competing for a grand total of $28 million. Add in a few other starts in major G1 stakes and the total could easily top $30 million.
"There's an unbelievable amount of money a horse like California Chrome can run for in 2017," said Art Sherman, who trains the 2014 Horse of the Year and decisive winner of this year's $1 million Pacific Classic and Dubai World Cup. "It's mind-boggling. But I don't try to think about that right now. It would be nice to have one more year, though. I'd sure enjoy it. I remember running for $1,500 and now there's a $12 million race? Then again, who ever thought you could win a $10 million race?"
Sherman made those comments a few weeks before California Chrome's five-length romp in the Pacific Classic, a race which brought his 5-year-old earnings to $6,930,000 ($13,252,650 lifetime) and underscored the riches a top-flight older horse can accrue.
Clearly what's in place now is not just incentive with a capital "I" but with a long line of dollar signs in front of it.
"What you hear around the industry is that the Pegasus has incentivized talking about extending horses' careers after the Breeders' Cup and connecting all of the racing seasons we have," said Bill Thomason, President and Chief Executive Office of Keeneland.
More money for established stars
"The talk alone has generated new and significant interest around the world. I'm actually excited by it. Where it used to be that you finish up at the Breeders' Cup and you're done, that's no longer automatic. It opens new avenues for people to consider and makes the decisions harder about retiring a horse, and that's all great for racing. There's no one single thing that will grow the sport. It's all of these things that we're all doing together in concert that will continue to add appeal to our sport."
Martin Panza, the Senior Vice President of Racing Operations for the New York Racing Association, also voiced praise for the philosophy of making the sport far more lucrative for its older, established stars.
"We're big believers, obviously, in big days and, if Frank Stronach and the Stronach Group can create more big days, it's a wonderful thing. I applaud them. I think there should be more money for older horses. We've put a lot of money into our races for older horses and that has to happen.
"In the last 20 or 30 years as an industry, we've almost become quarter horse-like with all this money for 2-year-old racing and 3-year-old racing and it doesn't make a lot of sense. At the end of the day, it makes more sense to try to boost the purses for older horses, try to keep them in training and reward them for staying in training longer."
The possibilities for Exaggerator
Reflective of the exciting economic possibilities linked to the Pegasus, Matt Bryan, the majority owner of Preakness and Haskell winner Exaggerator, says he's already viewing the possibility of a 4-year-old campaign for his horse far differently than he would have in the past.
"I certainly have to speak with everyone involved with Exaggerator, and we still have to get through races like the Travers and Breeders' Cup Classic first, but we're definitely looking at racing longer now than we would have two years ago," said Bryan, the head of Big Chief Racing, who owns the horse in a partnership with Sol Kumin's Head of Plains Partners and Ron Ortowski's Rocker O Ranch.
In April the ownership group agreed to sell the colt's breeding rights to WinStar Farm. "Everybody's excited about the Pegasus. For the horse racing community, it was phenomenal that Stronach came up with this idea. I don't know a trainer or an owner who isn't excited about it. I really hope they get a great television deal and get a great marketing team to really promote this. It's a great opportunity. It's brought something new to horse racing that someone hasn't done in a while.
"We could be talking about horses earning $20 million in a career and that makes breeding a little less attractive. It changes the way owners look at what to do after their horses' 3-year-old seasons. So many horses are sold for breeding at two and this might change all of those negotiations."
Top trainers give their verdicts
For trainers and jockeys, who customarily receive 10 percent of their horse's earnings, the advent of a new eight-figure race and the possibility of a $30 million campaign is also nirvana.
"I think it might take another year or two for them to figure everything out about the race," said Kiaran McLaughlin, who trains Whitney and Metropolitan Handicap winner Frosted. "But, as a trainer, I'm all for big races like the Pegasus because we earn our keep through commissions. I hope I have a horse in it."
Seven-time Eclipse Award winning trainer Todd Pletcher, the sport's all-time leader in the U.S. with more than $320 million in career earnings, sees a powerful trickle-down effect from a race as rich as the Pegasus.
"It is good, period, for racing to have those types of purses. But it's also good to keep the better horses around and give the fans more time to follow them," Pletcher said. "It could potentially change the economics of breeding deals. If someone is on the fence about retiring their horse, they now have a $12 million and a $10 million race in the next four months as an option to keep racing. It could turn out to have a much larger impact than just adding a $12 million race to the year's schedule."
A 'great bridge' after the Breeders' Cup
Reflective of the new climate in terms of purse money, Asmussen, who trains Belmont Stakes winner Creator for WinStar and celebrity chef Bobby Flay, and multiple graded stakes winner Gun Runner for Winchell Thoroughbreds, Three Chimneys Farm and Besilu Stables, believes his star 3-year-olds are prime candidates for extended careers.
"I think with sires and horses staying in training, it's very much an individual thing among owners," Asmussen said. "Both of the ones I have that can be considered in that category of running in the Pegasus and beyond, Creator and Gun Runner, are owned by sportsmen. If their horses continue to develop, they would welcome the challenge of doing something like that.
"All of the money out there gives people another option. Previously there was such a no-man's land for older horses in the summer. It appears to me, without the race even happening yet, that it is a great bridge in that vacant area after the Breeders' Cup, which we need. Horses don't park like a car."
Elliott Walden, the President/CEO and Racing Manager of WinStar, is one of the people with a stake in both ends of the equations. He has to manage horses' racing careers with an eye towards turning them into successful sires, and admits the discussions on both ends will have a much different tone in the coming year.
"Certainly longer racing careers is a part of the conversation now," he said. "There's some downside to not giving horses time to get adjusted to becoming a sire, but there's also $12 million on the table. There's going to be some hard decisions to make, but I also think ideas like this are great for racing."
'A step in the right direction'
While there are still months and miles to go before the debut of the Pegasus, it's at least clear that Gulfstream Park and the Stronach Group are getting the initial response they desired.
"One thing for sure is that we added at least one more race to everyone's schedule," said Tim Ritvo, Chief Operating Officer for The Stronach Group. "As a racetrack owner and operator, we're always looking for a way to keep horses running. That's what's great for the game and the fans.
"Obviously you might see horses race beyond three instead of heading right to stud, and for the sport to be successful in America you need to have these good horses campaign at four and five and maybe even six years-old. There's still plenty of time to breed after that. This a step in the right direction. It raises the waters at every level.
"This is an intricate game and everything has to work well together, meaning the breeding and everything else. So the idea that horse can earn more money will create more owners, if there's more owners there's a reason to breed more horses and if there's more horses around there's more opportunity to buy horses."
Unique funding format
What adds to the intrigue surrounding the Pegasus involves the way the race is funded and structured.
Stronach-owned Gulfstream Park, which replaced the G1 Donn Handicap with the mile-and-an-eighth Pegasus, is not supplying the purse money. Instead, the Pegasus is akin to a 12-horse match race with each of the starters paying $1 million to compete in the race.
Yet there's much more to the race than a large outlay of cash. To help offset the cost of a spot in the starting gate, the Stronach Group put together a novel package in which it will share revenue from wagering on the race, media rights and sponsorships with the owners of the 12 berths in the race.
"I really like the format," said Perry Martin, majority owner of California Chrome. "When people come up to me and say they want us to show up at their track, my usual response is 'how badly?' If our horse shows up, I'm pretty sure you'll get it televised and are you willing to put the earnings from the television contract in the pot? Are you willing to put sponsorship dollars in the pot? The answer is usually no.
"In football, Soldier Field [home stadium of the NFL's Chicago Bears] doesn't get the television money. They get parking, part of the gate, beer sales. NFL owners get the money from television. Horse racing has always been backwards from baseball or football or even soccer. It's nice that, with the Pegasus, things are coming around the other way."
As result of this unique format, while commitments for all 12 berths were received within five days of the May 11 announcement of formal plans for the Pegasus, most of the purchasers were not associated with horses who figure to run in the series.
'Why rush to the breeding shed?"
California Chrome LLC bought one spot, securing a spot for the all-time leading North American money earner if he remains in training.
Paul Reddam, owner of Kentucky Derby winner and 2-year-old champ Nyquist, grabbed a spot.
"It would be a dream come true to have a huge Breeders' Cup Classic performance and then to look at the Pegasus. Anyone with a 3-year-old or older top male is thinking that way," said Doug O'Neill, who trains Nyquist. "Why rush into the breeding shed? From a business standpoint, going to stud and taking some money off the table is mandatory to keep larger racing operations afloat, but the Pegasus could keep horses around longer.
Sol Kumin, a part-owner of Exaggerator, bought a spot in partnership with Jim Covello.
Stronach purchased a slot, and the rest of the owners are a diverse group that includes the owners of Coolmore Stud; Jim McIngvale, the owner of Runhappy; Jack Wolf of Starlight Pegasus Partners, who is also the CEO of the Pegasus World Cup; Reeves Thoroughbred Racing; Ruis Racing; Rosedown Racing; and Jerry and Ronald Frankel.
One of the spots was also scooped up Daniel Schafer, a 32-year-old with a stake in the pizza industry but who had no holdings in the Thoroughbred industry when he bought a share of the world's richest race.
When the momentum will start to build
"The Pegasus can bring more people into the game as owners," Justin Zayat said. "Look at the mix of people who took spots. New owners, experienced owners, people who don't even have a horse. It's huge in terms of changing the game. I applaud the Stronach Group for their innovation and creativity. They made it intriguing. We'll see how it goes, but potentially it can turn into something huge. It can only be good for the industry. The more you give to the owners, the more gets put back into the game. It gets your juices going. It's beautiful. As an owner, I'm ecstatic."
Just how huge it becomes should start to become more apparent in a few months. At the present time, horsemen are focused on the Breeders' Cup, and they can only speculate if one of their horses has the right stuff to justify a $1 million entry fee. Yet once the smoke clears from the Nov. 4-5 World Championships at Santa Anita, the scramble to match horses and spots in the field will begin in earnest.
"We know it's out there, but it's like thinking about next year's Kentucky Derby," Baffert said. "It's on the radar, but it's still too far out to think about it. We're just trying to get to the Breeders Cup and after that is when the momentum will start to build. Hopefully I'll have a horse or two for it."
Watching how the field falls into place could turn out to be as interesting as the race itself.
Numerous possibilities for the future
"This race gives your older horses more value," Baffert said. "A couple of months out, it will be like the months before the Kentucky Derby. Horses are worth a lot of money before the Derby. People will want to buy a contender, trying to be part of the show."
Depending on how Year One turns out, it could unlock numerous possibilities for the future.
"We want to get this one right first, but we think a turf race at Laurel with a $500,000 buy-in in September or October leading into the Breeders' Cup would be accepted on an international level. There's lots and lots of opportunities for us to look at," Ritvo said.
"Mr. Stronach wants us to complement what's out there and that's what we're trying to do. The industry sometimes gets stagnant and we don't have a lot of out-of-the-box thinking. We're traditionalists and we stay the same course and that's gotten us in trouble. Mr. Stronach has always been an innovator and looked to shake things up and this is something that we think will work.
Other racetracks keeping watch
"We firmly believe racetracks can be successful. Although a lot are struggling, our tracks seem to be moving in the right direction in terms of handle and integrity. So we are looking at everything and all types of options. The interest we've seen so far is amazing and we're thrilled by that."
Needless to say, it's not just horsemen who are watching and waiting to see what happens. Fellow racetrack operators are also keeping a close eye on the situation.
"It's an interesting environment they are creating and for every action, there's a reaction," Panza said. "We'll have to wait to see what this means. All of us are waiting to see if the Pegasus day works and if it does, we'll all copy it. It's wonderful of owners to say 'hey, we'll put up all the money and run against each other'. It's a great concept, especially for racetracks, so I guess if it works, we'll all be doing the same thing. We'll say put up a million and run here in New York."
While the lure of a $12 million purse convinced a dozen investors to ante up $1 million, Bryan believes the concept works only in a few select settings.
'I love how it makes us re-think'
"I'm okay with the way they're doing it," he said. "I'm not okay with it happening for every big race. It could price smaller guys like me out of it."
In the course of the next five months and beyond, all the pertinent questions will be answered, and time will tell if the event can live up to the fanfare it has already generated and sustain the hope it has created for many in the industry.
"There's a lot of excitement around the Pegasus and the creativity that's coming out it," Thomason said. "It's encouraging people to find new ways to promote the sport, and I hope we hear a lot of other good, new ideas coming out of this that will help us to promote the sport.
"I love how it makes us re-think what we're doing and how we're doing it. I love the open-mindedness of it as the industry looks toward racing's possibilities and potential. All of us want these big ideas to be successful. They lift the whole boat and we like that."