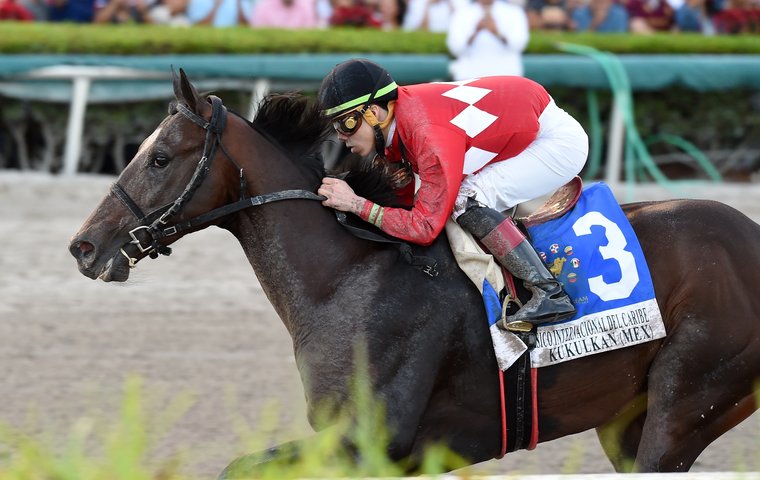 With its third edition on the horizon, the Pegasus World Cup at Gulfstream Park has surely been a vehicle for change.

In the span of 24 months, what started in Jan. 2017 with a single $12 million race and a huge and unorthodox entry fee has evolved into two races, with purses of $9 million and $7 million, and a smaller but still controversial cost structure.
And, by next year, there could be even more change afoot.
Tim Ritvo, Chief Operating Officer, Racing and Gaming, for the Stronach Group, says there could be a third race for fillies at some point down the road.
"It's too early to discuss," Ritvo said, "but maybe we'll add a third race for fillies and then the entry fees will come down to $300,00 or $350,000, putting them right where they should be."
Super Bowl weekend
With the Super Bowl scheduled for Hard Rock Stadium in Miami on Sunday, Feb. 2, 2020, there's also the possibility of the Pegasus being moved from its current spot a week before the National Football League's championship showdown to the day before it in order to take advantage of the army of sports fans and celebrities in town for the game.
"We're already talking about the [2020] Super Bowl in Miami," Ritvo said, "and there's the potential for an unbelievable weekend. That's where [Stronach Group Chairman and President Belinda Stronach] will excel. She's really great at figuring out events like that. Just imagine the economic impact of the Super Bowl and Pegasus on the same weekend. It will be crazy."
What can be said with more certainty is that the changes will not end there.
"This is an evolving thing. It's only three years-old, not 100 years like the Triple Crown, or 35 like the Breeders' Cup," Ritvo said. "We feel really good about this series, and what it will look like 25 years from now will probably be totally different than what we are looking at today. Eventually we'll get to the right formula."
Yet amid all this change, the central element in the creation of the Pegasus has been a constant.
On Jan. 26, when the third Pegasus will be contested at the Hallandale Beach, Florida, track with a $9 million dirt race and the first running of a $7 million turf race, the dirt race will once again bring together the best older horses in training.
Prior to the Pegasus, champions and Horse of the Year hopefuls headed to stud after the Breeders' Cup or took a few months off to prepare for another year of racing. January was traditionally a quiet time.
But now, just as Stronach Group Founder and Honorary Chairman Frank Stronach envisioned when he created the Pegasus to replace the G1 Donn Handicap at Gulfstream Park, the sport's stars have an extra race to contest on one of the world's richest stages.
It's hardly surprising that first Arrogate in 2017 and then Gun Runner in 2018 followed up their victory in the Breeders' Cup Classic with a triumph in the Pegasus. The unexpected part, at least prior to the Pegasus inception, was that champions and Horse of the Year recipients such as Gun Runner and California Chrome would delay the start of their new life as a stallion to race in January.
As a clear sign of how the race has been embraced by the connections of the sport's best runners, for a third straight year the upcoming mile-and-an-eighth Pegasus Dirt is scheduled to serve as the stage for a rematch of the top two finishers in the Breeders' Cup Classic. A year ago, the top five finishers in the BC Classic returned in the Pegasus.
Travel plans
"In two years' time, when you see how many people have worked that race into their plans and breeding contracts, that's pretty darn amazing," said Terry Finley, Founder and CEO of West Point Thoroughbreds, which owned a share of 2017 Pegasus starter Breaking Lucky. "A lot of the people that go to the Triple Crown, and Saratoga and/or Del Mar and the Breeders' Cup are incorporating it into their travel plans."
This year's race will match BC Classic winner Accelerate against runner-up Gunnevera in the dirt race, while Yoshida, who was fourth in the centerpiece $6 million race over Churchill Downs' main track on Nov. 3, is committed to run in the Pegasus Turf.
"There's one thing for sure," Ritvo said. "If this was the Donn Handicap, we would not get the caliber of horses we are getting and we would not have exposed the people at Gulfstream to the great horses they have seen the last few years. It's exactly what we hoped for when we designed it. It gives the top stars from the Breeders' Cup one more race before heading to the breeding shed and maybe it encourages them to stick around for the whole year. We're thrilled that we can contribute to the horse racing industry by extending these horses' longevity on the racetrack by at least one more race. That was part of the whole plan.
"If the industry is successful, then the Stronach Group will be successful."
Lower-than-expected revenue
For a third straight year, the Pegasus figures to have a full of 12 for the dirt race. The probable starters as of Jan. 7 were Accelerate, Audible, Bravazo, City of Light, Gunnevera, Kukulkan, Patternrecognition, Seeking The Soul, True Timber, Something Awesome and Tom's D'Etat, with McKinzie among the possible candidates for the final spot that will be determined on a first-come, first-served basis by paying the lofty $500,000 entry fee.
"We've had more horses listed as possible starters than spots in the race. That's exciting and we're very happy to be in that position," said Mike Rogers, President of the Stronach Group's racing division. "A lot of times these horses stay away from each other until they are forced to run against each other. Here's an opportunity to get them all in the gate again and that's great for the sport."
The initial Pegasus, with a purse of $12 million, had a $1 million buy-in and awarded Arrogate $7 million for his victory and Shaman Ghost $1,750,000 for finishing second. Yet some of the stakeholders of the also-rans, who bought their spots eight months before the race, fumed after losing as much $800,000 due to leasing horses to race for them and lower-than-expected revenue to share from the race.
Tough burden
Spots in last year's race also had a $1 million price tag but the Stronach Group only collected a maximum of $350,000 from stakeholders as it gave credit for $650,000 in earnings to the sixth through 12th-place finishers. The winner, Gun Runner, received $7 million again, but second-place money dipped to $1,600,000 despite the increased purse. In addition, the provision for sharing revenue was dropped in Year Two.
This year's format calls for stakeholders to pay $500,000 for a spot in either the dirt or turf race.
In the Pegasus Dirt, according to the Gulfstream Park condition book, the top prize is now $4 million, with $1,250,000 for second, followed by $900,000 for third, $700,000 for fourth, $550,000 for fifth, $250,000 for sixth through ninth, and $200,000 for 10th through 12th.
The Pegasus Turf is worth $3 million for the winner, $900,000 for second, $650,000 for third, $550,000 for fourth, a break-even $500,000 for fifth and $200,000 for sixth through 12th.
"We're getting closer. The million dollars was a tough burden for people to get over and now we're down to $500,000 and getting back $200,000 or more, depending on whether you are in the dirt race or the grass race," Ritvo said. "It makes it more reasonable and more in line with entry fees for the Breeders' Cup Classic or Kentucky Derby."
In the $6 million Breeders' Cup Classic, which has an entry fee of $150,00, the top eight finishers receive purse money that bottoms out at $60,000 for the sixth through eighth finishers.
"With the concept, it only makes sense to run in the Pegasus if you feel you can finish in the top five," said Elliott Walden, President and CEO of Racing Operations for WinStar Farm, who plans to run Audible in the dirt race and Yoshida in the turf race. "I'm hopeful with both of them that they can be in the top four or five. If we were the tenth choice, it would not be attractive, but we are looking at it with horses that we believe can be competitive."
To others, the price tag for a spot in the starting gate remains daunting.
"It's for true sportsmen. You have to have a lot of balls to put up that kind of money," said Hall of Famer Bill Mott, who trains Yoshida and has another possible Pegasus Turf starter in Joe Hirsch Turf Classic winner Channel Maker. "It's a good business deal if you finish first or second, but it's a big gamble for the owners."
Due to the lavish entry fee, Mott says sending out horses who finish up track in a Pegasus race can create a financial dilemma for trainers.
"Maybe your owner gets credit for some purse money but you feel guilty charging them because they lost money on the deal," he said. "It puts you in a bad spot. Say you finish fourth, you want to send out the bill for ten percent, but jeez the guy just lost money. If you get lucky enough to own a real good horse but you're not a rich guy, it's hard to put up $500,000. That's why, if you're going to be off the board, you're probably better running in a lesser race."
Chad Brown, a finalist for what would be his third straight Eclipse Award for outstanding trainer, voiced a similar opinion.
"I just don't believe trainers and jockeys can take their normal commissions when the buy-in is so high," Brown said. "It doesn't seem right when the owners lose money."
Foreign runners
As happy as Ritvo and Rogers are with the interest in the Pegasus Dirt, there's additional delight over the presence of foreign runners in both races. The Aidan O'Brien-trained Royal Ascot G2 winner Magic Wand and the G1-winning Japanese mare Aerolithe are committed to the Pegasus Turf, while Mexico's undefeated Triple Crown winner Kukulkan is headed to the Pegasus Dirt, where he is set to be the mount of world #3 jockey Frankie Dettori.
The presence of a Japanese starter ignited hope that there would be simulcast wagering on the Pegasus Turf in Japan, giving the race access to millions of dollars in wagering from the avid fans in that Asian country. Unfortunately, Rogers said that the race was not added to the list of international races offered to Japanese fans.
"The final decision on simulcast races was made by Japan's Department of Agriculture and we've heard they will not be approving any new races in this time frame," Rogers said. "We need to have a history and having Aerolithe in the field will help us establish a history with Japan."
Landing Kukulkan gives the Pegasus Dirt its international intrigue. Undefeated in 14 starts, the 4-year-old Mexican star made his U.S. debut on Dec. 8, when he captured the $300,000 Caribbean Classic at Gulfstream Park. The 10¼-length victory was visually impressive, but his final time of 1:54.80 at the Pegasus Dirt distance of a mile-and-an-eighth raises some questions about how he'll fare against the likes of Accelerate, who covered the same nine-furlong distance in 1:50.38 last fall in the Awesome Again at Santa Anita.
Nevertheless, Kukulkan's owner, Germán Larrea of Cuadra San Jorge, was willing to put up $500,000 to test his colt against America's best runners, and trainer Fausto Gutierrez lined up Dettori to ride him.
"Kukulkan is in and we're excited about it," Rogers said. "[Larrea] is a sportsman. His horse is undefeated and it deserves to be here. This is a good challenge for Kukulkan and we're thrilled he's willing to take it on."
Timing of Turf race launch
The most startling part of Pegasus 3.0 is that the 9½-furlong turf race has only a handful of commitments. Given how turf racing in general attracts large fields, Stronach officials did not anticipate any problem attracting a dozen starters.
"The turf race is definitely lighter than we expected," Rogers said. "I'm confident we'll fill it out, though, if you asked me a few months ago, I would have told you the turf race would fill faster than the dirt race. We'll be fine because some trainers who didn't think their horses fit might be re-thinking that as the field takes shape. It's just amazing, though, how so very few things will get horsemen to deviate from their plans."
Besides Magic Wand, who was fourth in the Breeders' Cup Filly and Mare Turf, Aerolithe and Yoshida, the only other confirmed starter is Catapult, who was second in the Breeders' Cup Mile. Channel Maker, Bricks And Mortar, Next Shares, Delta Prince and Unbridled Juan are possible starters.
Part of the problem stems from little advance warning about the launch of the Pegasus Turf. The 2019 structure with two races was announced on Sept. 18, giving horsemen, especially those in Europe, a small window for adjusting their horses' racing schedules. In addition, 2018 was not a robust year for American distance runners on turf.
"It probably doesn't play to the Europeans," Mott said. "For that type of purse, you would expect to get some top Euros in there, but they are pretty set in their ways over there. They lay them up in December and January and don't crank them up. They are a little more interested in summer and fall racing. I guess it takes time for people to get accustomed to the schedule. We have some okay turf horses here in the U.S. but the real steamers come from Europe."
Enormous potential
Brown, America's leading turf trainer, is well-known for sending out multiple turf horses in Grade 1 turf races, but he has only one Pegasus Turf candidate, Bricks And Mortar.
"I think it's a good idea and I would like to participate in it," he said about the nation's richest turf race. "But with anything new and different it's hard to get your head around it. I think the idea has enormous potential. It will be interesting to see how this year goes, and I think we'll see some tweaks, which is normal, and that will make it better."
Though there is a provision in the rules for the Pegasus Turf that the race can be cancelled if there are less than ten starters, Ritvo said the race will be held as scheduled, regardless of the field size.
"We feel confident we'll get ten. It's the first year and we didn't give people a lot of lead time. As long we remain committed to it, like we are with the dirt race, year after year more people will put in on their calendar and get horses ready for it," Ritvo said. "We probably didn't give the Europeans enough time to adjust their schedules and hopefully in the years ahead they will come. Turf racing is an international thing and we want to grow the race from an international perspective, but this year, if we get a lot of Americans in it, we'll be fine. Grass racing usually takes care of itself at the end."
The show will go on
So, the show – or shows - will indeed go on. It will certainly be in a different form from a year ago, which is par for the course for the event, and there are still wrinkles to iron out. Yet, at the heart of its existence, the Pegasus World Cup promises to once again meet its goal of providing a showcase for some of the sport's brightest stars in a new time frame.
"More and more people are seeing the Pegasus as a major part of the racing schedule and, with the proliferation of grass racing in America, I'm glad they implemented a turf race," Finley said. "I remember when Frank [Stronach] first presented the concept at [the 2016 Thoroughbred Owner Conference] and people heard it and said, 'There's another idea that will be swept under the rug.' But you have to give the Stronach Group a lot of credit. The Pegasus wasn't perfect at first but they acknowledged that and made changes. I'm sure in five years there will be more changes.
"You wonder why they didn't do this or didn't do that, but it's a multi-faceted decision-making process, and what I like and admire is that they put their money where their mouth is."