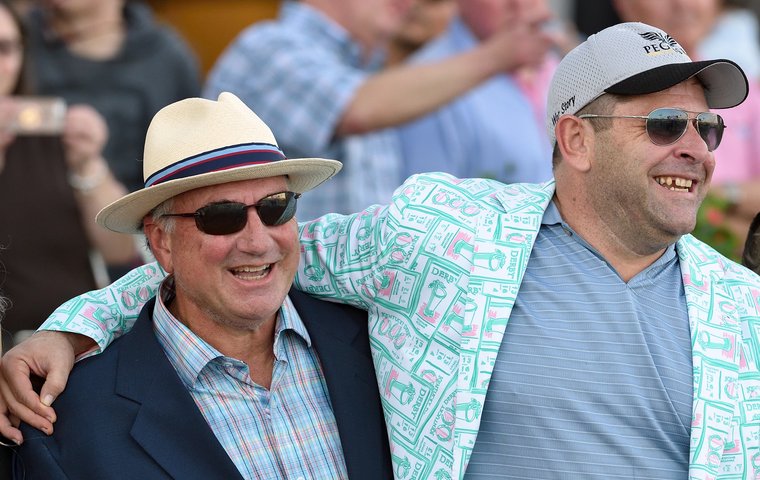 Long before he became a part owner in the Pegasus World Cup contender War Story, John Guarnere had a deep and personal connection to World War Two through his uncle William 'Wild Bill' Guarnere, a member of the famed 'Band of Brothers'.

Like many of the millions who served in the conflict, William Guarnere, a native of South Philadelphia, did not say much about his time in the biggest war in history. That changed when historian Stephen Ambrose profiled Guarnere and his colleagues in the 1992 best-seller Band of Brothers, E Company, 506th Regiment, 101st Airborne: From Normandy to Hitler's Eagle's Nest. The book was the foundation for the 2001 HBO TV mini-series Band of Brothers.
"I didn't know as many things about my uncle until the Band of Brothers came out," John Guarnere said. "It's simply amazing how big a hero he was and didn't talk about it."
In the fourth running of the Pegasus World Cup presented by Runhappy at Gulfstream Park on Saturday, War Story is expected to be in a field led by three-time G1 winner Omaha Beach, a 4-year-old son of War Front owned by Rick Porter's Fox Hill Farm.
John Guarnere was tight with his uncle, who was part of the group of family members he started taking to Las Vegas for the Super Bowl just after the turn of the century. Soon the Super Bowl entourage he sponsored began to include his uncle's buddies.
"It grew to as many as 14 veterans coming out with us," he said. "I had the time of my life with all the veterans out in Las Vegas. We didn't basically talk about the war, but it was rewarding them with good times. I treated all of them.
"One by one they started to pass away. My uncle and I were out there five years ago in February [2014] and flew back. About three weeks later, healthy as could be, an aneurism burst in his stomach and he died on the way to the hospital."
'Wild Bill' Guarnere, honored in 2019 with a statue in South Philadelphia, died a few weeks short of his 91st birthday.
"He went out very healthy, traveling, had a great sense of humor," John Guarnere said. "It was so much fun hanging around with him and the other veterans. After Band of Brothers you could start asking them things, but none of them ever volunteered stories. They all to a man said that they are not heroes; the heroes are the young kids who never made it home to have a life. It's just chilling."
The 101st Airborne was dropped behind German lines as part of the D-Day invasion of Normandy on June 6, 1944, and 'Wild Bill' was quickly involved in important action to secure inland access from the beaches. Later that year, he was shot by a sniper and was sent to England to recover. A couple of months later he managed to get himself reassigned to his old company, just in time to see action in the Battle of the Bulge.
His active time at war ended when he lost his right leg in a barrage while trying to drag a friend to safety. He received the Silver Star, three Bronze Stars and two Purple Hearts.
John Guarnere, who operates as Imaginary Stables, grew up in Philadelphia and has owned the Hylton Paper Company in Bellmawr, New Jersey, since 1984. He and his wife became winter residents of South Florida in 2010. They spent time at Gulfstream Park and he eventually decided to own some racehorses, like his father had 20 to 25 years earlier.
"I was down there near the winner's circle when the horse won and I saw a bunch of people jumping and screaming," John Guarnere said. "That night on the way back home I said to my wife, 'I think I'm going to get one or two horses.'"
He also told one of his pals back home that he was interested in getting into the sport, which led to the naming of his stable about a half-dozen years later.
"Every time I went back up north, my buddy would say, 'Did you get any horses?'" John Guarnere said. "I said, 'It takes time.' So he says, 'Johnny and his imaginary horses.' When I finally hooked up with [trainer] Peter Walder, I went to get my license. They said, 'You don't want to use your real name, you most likely want to use a stable name.' I hadn't given it much thought, but then said, 'I've got it. Since I've got imaginary horses, let me have an imaginary stable.' It kind of stuck from there.'"
Imaginary Stables was formed in late 2016 and has grown from two horses to more than 40, the majority of them with trainer Elizabeth Dobles, who now handles War Story.
Guarnere said he really enjoys the challenge of claiming horses, but he also is involved in buying and developing young horses, is a partner in experienced stakes-caliber horses and is entering the breeding business this year. He was a co-owner of Imperative, winner of the Poseidon Handicap, a $400,000 stake on the inaugural Pegasus World Cup program in 2017. War Story, whose name traces to a character in Gone With the Wind, will be making his third start in the Pegasus.
War Story won the G3 Harlan's Holiday on December 14 to become a Pegasus candidate, and Omaha Beach won the G1 Malibu at Santa Anita on December 28 to set up an interesting connection of names.
Guarnere recalls thinking 'that's kind of cool, War Story running against Omaha Beach. The owner of War Story has a tie to World War Two and Omaha Beach."
Guarnere said he would like Omaha Beach, the expected Pegasus favorite, to deliver a good performance - just behind War Story. "I hope he runs well and runs second," he said. "He's a great horse, a fantastic looking horse. I love the storyline."