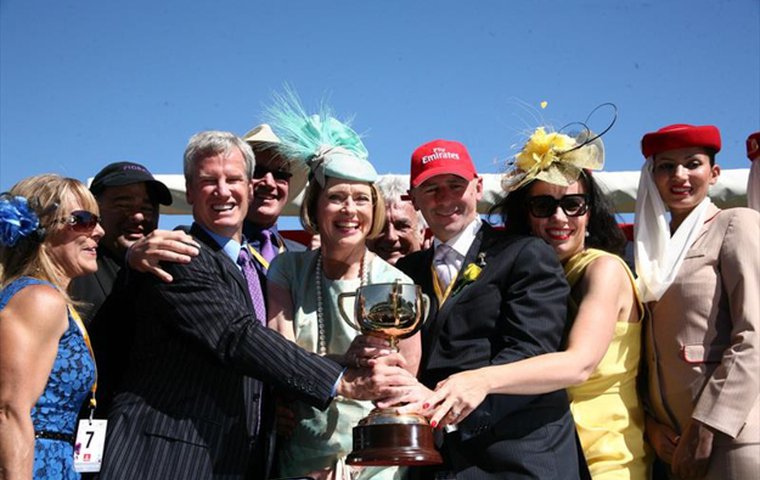 Part II of Steve Moran's profile on the phenomenon that is 2013 Melbourne Cup winning trainer Gai Waterhouse.

Waterhouse, forever the actress and forever animated, is the most marketable commodity in Australian racing, great horses included. She generates more newspaper centimetres for the sport than any of her colleagues. She's always bubbly and effervescent when interviewed and well received even if she, almost without exception, declares her horses has having a great chance. An "each way chance" is about the lowest rating they ever get from her.
And she's well received even if she doesn't always answer the question posed. This is often because her partial deafness simply means she didn't hear the question, but she always understands the need to speak and promote the sport.
Her enthusiasm never seems to wane.
"I love what I do. I'm passionate about what I do and I wouldn't change it for anything else," she told racing writer Danny Power, who conceded he'd struggled to keep up with her during a "come with me" interview in 2009.
And there's no sign of Gabriel Marie Waterhouse, who turns 60 this year, slowing down even if she has no apparent heirs to her business and after talks of a merger with Paul Messara, son of Arrowfield chief and Racing New South Wales chairman John Messara, have been scuttled.
She continues to enthusiastically source horses from Europe and New Zealand and manage her huge team of horses and her life with incredible verve and precision. So intent is she on securing the best bloodstock, and so large is her pool of prospective owners, she is hard to compete against. It's said, this year, that another prominent owner sent her a message to the effect that it might be in everybody's best interests if she stopped driving up the price of horseflesh.
She has nothing left to prove in Australia, except for winning a Cox Plate given that she's won the three other races most Australian trainers consider really matter: the Caulfield Cup, Melbourne Cups, and the Golden Slipper – run in her home town, which she has won five times, a tally bettered only by her father, and even he by only one.
No stable of the Waterhouse size functions without good staff on the ground. Her key assistant Mark Newnham is highly regarded in the industry. The former jockey, now assistant trainer, also rides work and is considered one of the best in this 'worth their weight in gold' realm.
Mark often represents the stable on race day and revealed another string to his bow when his evidence at a protest hearing last year secured a stewards room win for a Waterhouse horse who'd finished second.
'He is a former jockey. He is eloquent. He knows the rules backwards. Why wouldn't I send him in?'' Waterhouse said at the time.
Her communications director Ric Chapman says that that winning the Cox Plate is a primary focus for the woman who once appeared in the fabled Doctor Who series.
"But she really wants to win a Group 1 at Royal Ascot too. Fiorente and Carlton House loom as her most likely contenders over the next year for both these dreams," Chapman said.
Carlton House is raced by Her Majesty, the Queen. Gai sees it as probable at this stage without wholly committing to the plan.
"It would certainly be interesting to go back to the country where Fiorente was born and bred and there's suitable races for him at the Royal [Ascot] meeting but naturally we'll have to see what unfolds when he returns to racing in the new year," she said.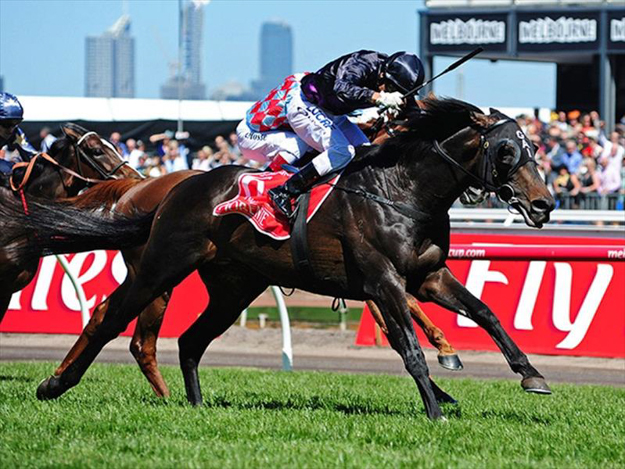 Her Melbourne Cup win was significant this year for more than just the lucrative prize money. She joined her father as a winner of Australia's most famous race and defied a strong European challenge in the process ­ even it was with a former European.
Four overseas trained horses finished immediately behind Fiorente and it's widely feared the visitors will dominate the race in years to come assuming Australian's don't buy them all first. However, Waterhouse has no issue with their competition.
"I think it's great for racing," she said.
Chapman says her skills should not be underestimated.
"She has an amazing eye. Her capacity to just look at a horse and identify how fit it is remains both a mystery to onlookers and a great gift for herself," he said.
Biographer Kevin Perkins, in his 1996 book Against All Odds ­Gai Waterhouse: Woman in a Man's World made a similar observation.
"When Gai looks at a yearling, she does exactly what the great Irish trainer Vincent O'Brien did. In her mind's eye she envisages how it will look as a fully mature animal."
Waterhouse's achievements are remarkable ­ especially for a woman who was a little circumspect when asked, many years ago, whether she would like to follow in her father's footsteps.
"Yes, in a way. I've ridden track work, helped a little in the office, raced horses, clocked them, but I have no aspirations to train. It's very hard to follow a genius."