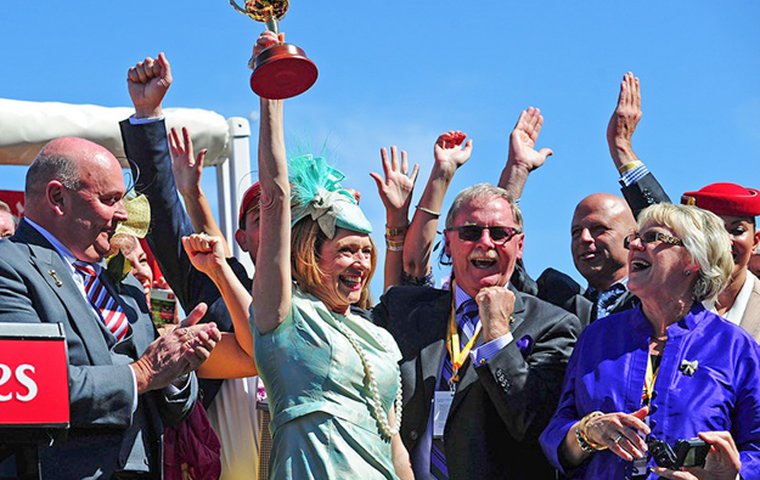 You probably need to have lived in Australia to have a real understanding of the profile, influence and success of Gai Waterhouse - racehorse trainer, the lady trainer.

She is the biggest thing in Australian racing, by far. No photo finish required. Instantly identified by her first name alone, her fame extends well beyond the world of horses. Her name would be the response given by many in Australia to that hackneyed dinner party question: "Who would you choose, excluding a politician, to make a public statement on a matter of national importance?"
We could probably run the Melbourne Cup parade, which draws thousands to the streets of Melbourne to see a motorcade of all Melbourne Cup owners, trainers, and jockeys, with Gai alone.
No woman has had greater success in a game that is still fundamentally dominated by men. With respect to Criquette Head­Maarek, the winning trainer of the 2013 Prix de l'Arc de Triomphe, no woman rivals Gai in the world of racing. She can scarcely walk down the street, in any city in the country, without being stopped by every second passer­by. One doubts Mme Head­Maarek is so feted.
Gai has trained 119 Group 1 winners, culminating with this year's AUD $6 million (USD $5.2 million) Melbourne Cup. She won with the former U.K. galloper Fiorente whom she arguably improved since he joined her from former trainer Sir Michael Stoute. She's been champion trainer in Sydney, the toughest arena in Australia, seven times. She's trained between 137 and 245 winners every season bar one since 1999­2000. In that time, her horses have earned more than $AUD 150 million in prizemoney.
You can go to GaiWaterhouse.com.au, if you fancy, and click on 'about us' to see the entire list of her extraordinary milestones ranging from induction to the Australian racing Hall of Fame in 2007 to winning the Westpac Business award and being named the state's top businesswoman as the Telstra NSW Businesswoman of the Year 2000.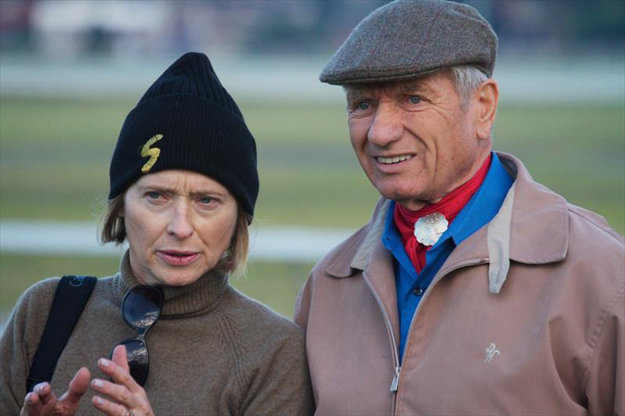 Such is her popularity that her website receives an average 39,000 hits a day, and from Melbourne Cup day through to Oaks Day it spiked to 120,000 this past year. Such is the size of her business that she employs a racing manager plus assistant, two personal assistants, a racing secretary, a finance manager and assistant, an operations manager, and a communications director. Most other major stables in Australia have just three or four people in these roles.
Such has been her success she's been the subject of countless newspaper and magazine features and several books. The one-time actress was dubbed "racing's female monarch" after training her hundredth Group 1 winner in 2010. Columnist Gerard Whateley wrote: 'On a weekend when the sporting world looked to the climax of its footy seasons, she exceeded her own inheritance training her hundredth Group One winner. That class sits only four. Father and daughter now two of them.'
Waterhouse's father was the legendary Tommy Smith who graduated from the rags of one horse, Bragger, to the riches of 33 consecutive Sydney training premierships from 1952­53 and the Australian record of 282 G1 winners ­ 16 more than the celebrated and still active 86 year­old, 12 times Melbourne Cup winner Bart Cummings. Lee Freedman (with 124 winners) and Gai are the only other Australian trainers to have topped the 100 mark.
Folklore would have it that she was destined for success on the track from the start. But while she was regularly at the track in the mornings working with her father, it's widely held that Gai didn't go to the races until her University days. She apparently entered "fashions on the field" in a white miniskirt, stopped the traffic, wowed the judges, and left Randwick a winner.
And one can only wonder if her CV would be even more spectacular and her business even greater had she not initially been denied a training licence by the governing body in New South Wales. She applied for that licence on August 8, 1989 and did not receive it until January 3, 1992 ­ 878 days later. It was a month after that application was lodged that Tommy Smith's right hand man and 40-year partner, his brother Ernie, stormed out of the Tulloch Lodge training stable declaring that his niece had "issued one order too many."
Waterhouse was discriminated against by the New South Wales racing authorities on the basis of marital status under the assumption a wife would be corrupted by her husband. The fight went through a string of boards, tribunals, and courts.
Waterhouse biographer Kevin Perkins wrote at the time: "The publicity catapulted Gai into the national spotlight. The case became a cause celebre. Wherever women gathered, in shopping malls, clubs, on golf courses or beaches, they talked about this denial of a woman's rights. Gai emerged as a public champion of the ordinary woman to challenge entrenched practices and beliefs."
Her husband is, bookmaker Robbie Waterhouse who'd been implicated in the infamous Fine Cotton ring­in in 1984 and banned from racetracks along with his father Bill Waterhouse. A horse named Bold Personality was substituted for the lesser-performed Fine Cotton and duly won at Eagle Farm in Brisbane after being heavily backed. The amateurish scam was discovered soon after the race and the Waterhouses were charged with having prior knowledge of the fix, which they denied.
The subsequent ill will between the Waterhouses and the Australian Jockey Club (Sydney racing's governing body) was the reason why Gai's application to train was stalled. Even then, before she'd trained a winner and despite her marriage to a bookmaker ­ hardly the most loved of racing species ­ she was embraced by the public.
This is best summed up by journalist Jeff Wells: "We love Gai because she copped a rotten deal from the silvertails at the AJC. Now she has bored it right up them with winner after winner. And she celebrates like any third­grade rugby league player who wins a grand final or the Test bowler who takes a wicket."
If Gai Waterhouse has been the subject of any ill will or professional jealousy, then it's fair to say it's probably a consequence of the bookmaker factor. When Fiorente ran second in the 2102 Melbourne Cup, shortly after his arrival in Australia, there were plenty of racing pundits happy to declare he'd run so well "because she hadn't time to bugger it up."
Fiorente's win 12 months later was surely enough to have them eating their words, and her record really does speak for itself ­ a record that is largely unblemished despite a couple of positives early in her career and two incidents this year that prompted fines imposed by stewards.
Racing NSW stewards imposed fines totalling $5,500 on Waterhouse for not reporting a condition that could affect a horse's performance ($5,000) and for not keeping up­to­date records of treatment ($500) after celebrated More Joyous ran second last in the All Aged Stakes on April 27, 2013.
Following this race, prominent owner John Singleton removed More Joyous and all his other horses from the stable and sparked an inquiry with a public tirade against Waterhouse, saying he had been told by friends that Tom Waterhouse, Gai's bookmaking son, had told them "the mare could not win."
In 2005, Waterhouse was fined $15,000 after Racing NSW stewards' inquiry into the positive test to cocaine returned by her Love You Honey at Gosford on April 25, 2013, when the horse finished last. It was only mitigating circumstances ­ most notably the admission of stable employee Roy Storch that he had used cocaine ­ that saved Waterhouse from a disqualification or suspension of her licence.
Waterhouse was fined $5,000 in 1998 when Z'Amigo, who was co­owned by radio personality Alan Jones, returned traces of the prohibited substances phenylbutazone and oxyphenbutazone in a pre­race test after bute had been administered to the horse by mistake. "I couldn't think of any trainer in Australasia that has more horses swabbed, Mr. Murrihy," she said to the chief steward about her nearly unblemished record.
Waterhouse was suspended for three months in 1996 over the running of Gossips in the Shannon Quality at Rosehill in what was, to say the least, an 'odd' case. She and jockey Kevin Forrester were found guilty of combining to deny Gossips the most advantageous run possible in the event. Stablemate Juggler, the 2-to-1 favourite, won the race. Gossips was a 330-to-1 shot. The trainer successfully appealed the charge and went on to train 10 Group 1 winners for the season and win her first Sydney trainer's premiership in just her fifth full season of training.
Part 2: Steve Moran details Waterhouse's aspirations outside Australia >>>