After trampling over the barriers of history on the racetrack, American Pharoah now is surpassing standards in the sale ring in a manner not witnessed in North America at least since the global economic crash — and never before in terms of sheer quantity matched by quality.

Breeders and buyers alike are standing with the 2015 Triple Crown winner, who seems ready to put an emphatic exclamation point on his first yearling sale season with 66 members of his initial crop in Book 1 of the Keeneland September sale, the globe's largest yearling marketplace.
"I think he's going to be the next big deal, I really do," declared Mark Taylor, vice president of marketing and public sales for his family's Taylor Made Sales Agency, which has 13 yearlings by American Pharoah cataloged in Book 1 (September 10-13) and one more in Book 2 (September 15-16).
While the September sale will transform current statistics, what American Pharoah has accomplished thus far with his first sale yearlings is nothing short of stunning, and the high class of his offspring at Keeneland ensures more fireworks.
Data compiled globally shows that, through August 25 and counting public auctions of all types, American Pharoah ranks third among world sires by average price of all offspring, with at least five sold. His 15 yearlings that have changed ownership, including two in France and one in Japan, from 17 offered have averaged $643,605.
That figure is less than only the average prices for Japan's leading sires Deep Impact, with $976,588 for 37 offspring of varying ages sold at auction, and King Kamehameha, with $671,163, in a market that is mostly insular and reflective of Japan's world-topping prize money structure.
To give more definition on buyers' sentiments about American Pharoah's first yearlings, his yearling sale average currently ranks ahead of the likes of three-time leading North American sire Tapit ($531,875); Curlin ($474,285); his own sire, Pioneerof the Nile ($451,667); Galileo ($432,712), and Into Mischief ($364,250).
Other top sires, such as Frankel, Dubawi and War Front, have not yet had as many as five yearlings sold at auction this year.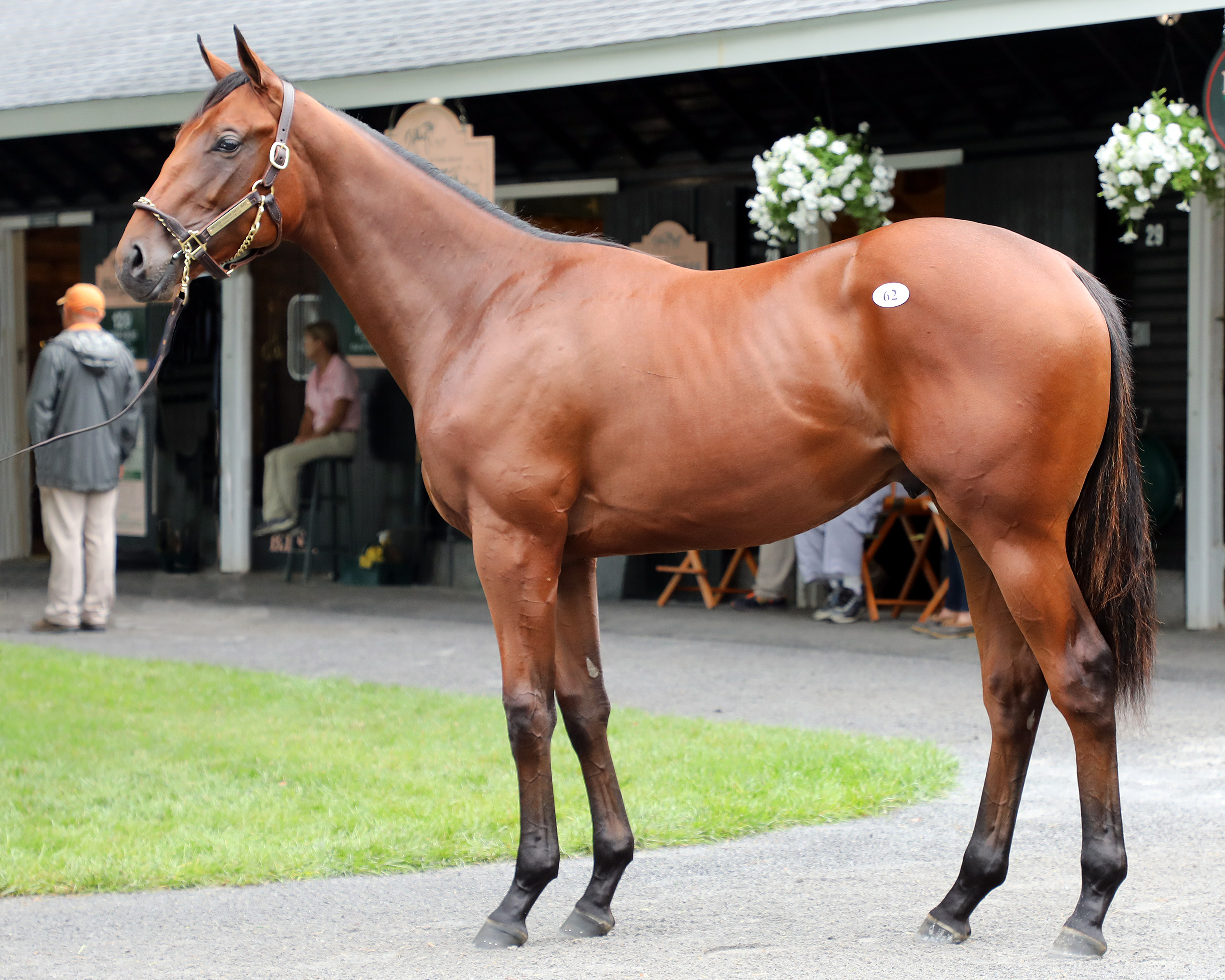 Of stallions standing in North America with at least five yearlings auctioned in 2018, only Medaglia d'Oro has a higher average than American Pharoah; eight yearlings by the outstanding Godolphin standard-bearer have been sold from 12 offered for an average of $735,487.
Coolmore, which stands American Pharoah at its Ashford Stud outside Lexington and which began shuttling him to Australia in 2017, is describing the reaction to the champion's first crop as 'Pharoah Mania'.
That description isn't just advertising hyperbole. This kind of enthusiasm for a stallion's first crop hasn't been witnessed in the North American marketplace for years, although final compilation of numbers and reflection thereon will have to wait until after the September sale.
What we can learn by looking back more than a dozen years, however, is that only Belmont Stakes winner Empire Maker — who happens to be American Pharoah's paternal grandsire — and Darley's homebred champion Bernardini approached a level that the Triple Crown winner is, for now, far superseding.
Triple Crown appreciation
Empire Maker's first yearlings averaged $379,125 when 32 were sold in North America in 2006, a year when Danzig, Storm Cat and Kingmambo still ruled the hot auction upper altitudes prior to the chilling effect of the world economic crisis. Average price for 39 yearlings sold from Bernardini's initial crop in 2009 was $357,744, putting him behind only Storm Cat among North American sires that year.
While both Empire Maker and Bernardini have made — and continue to make — their mark as sires, buyers aren't always as prescient when casting votes with their dollars as to which outstanding racehorses will make the best sires.
For example, Smarty Jones led his group of North American first-crop sires at the sales in 2007, when 34 offspring averaged $201,029; that was also the year that Tapit's first yearlings averaged $53,250 and Medaglia d'Oro's averaged $124,215.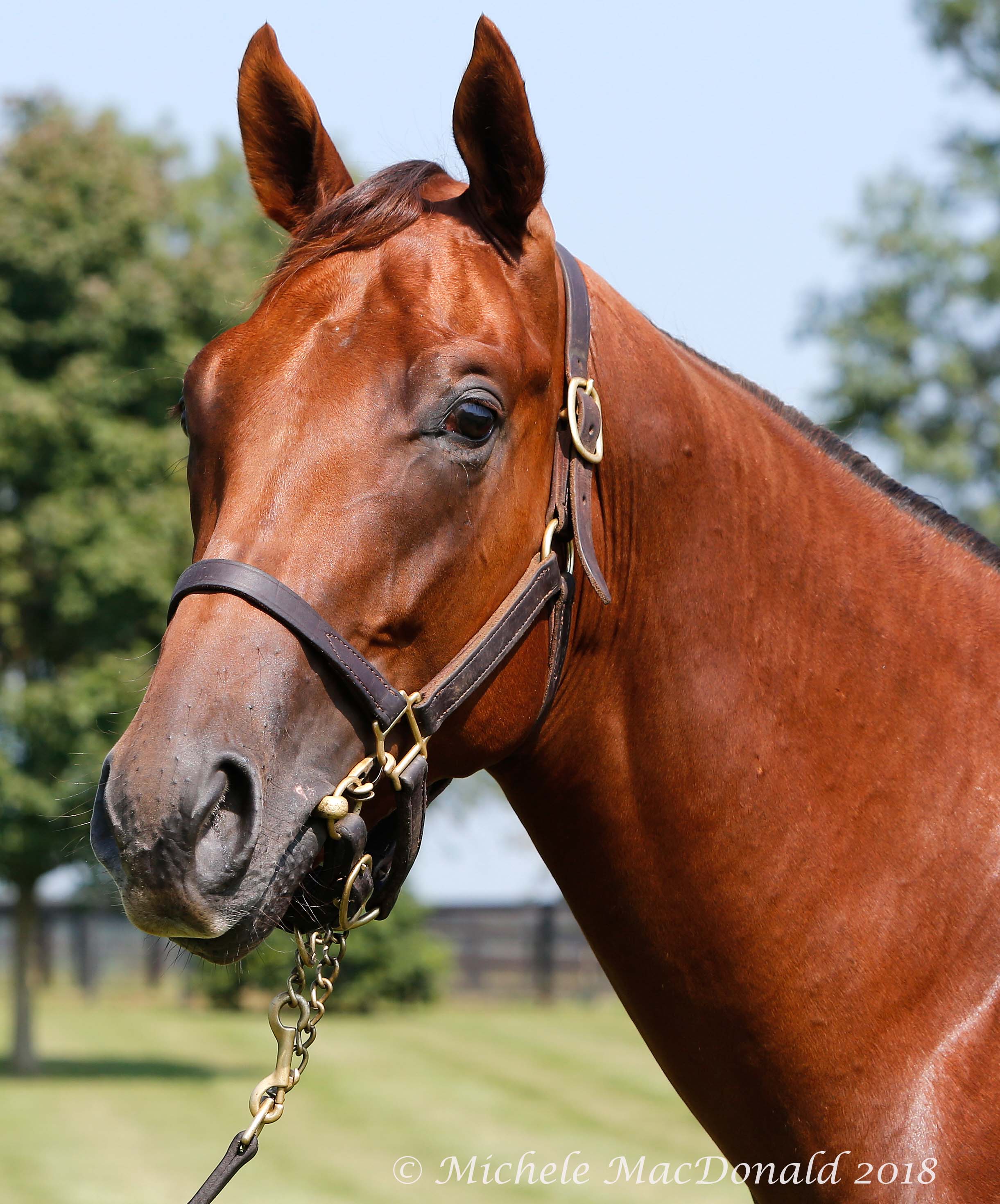 With American Pharoah, buyers clearly are registering their appreciation for him becoming the first horse to succeed in the Triple Crown after a 37-year gap since Affirmed in 1978. They also value his precocity as champion juvenile of his generation.
What else do they find in American Pharoah's first offspring? Most simply put, they are seeing the Triple Crown winner himself in terms of physique, athleticism and kind attitude; the horseman's term 'stamping' is frequently repeated when market participants talk about American Pharoah and his yearlings.
"What I look for in a young stallion is that they're throwing some consistency and they're putting their own traits into their offspring, so the mares don't necessarily dominate," said Taylor, who had the opportunity to watch American Pharoah mature while he was raised at Taylor Made.
'Big, nice, athletic walk'
"With him, I'm seeing that he's stamping himself. I've probably seen 35 or 40 American Pharoah yearlings and I would say that I have not found one that did not have a big, nice, athletic walk. And that was something he definitely had at all stages when we had him," he added.
Trainer Mark Casse voiced a similar viewpoint after signing the ticket on an $875,000 filly by American Pharoah on behalf of John Oxley at the Fasig-Tipton Saratoga selected sale. "He's stamping them very nicely. He looks like he'll be a great sire," Casse said.
"He's stamping his foals pretty well, with the head, the demeanor, and everything," agreed Bob Baffert, who trained American Pharoah and knows him better than anyone, after acquiring a $1 million colt at Saratoga for Coolmore's M. V. Magnier.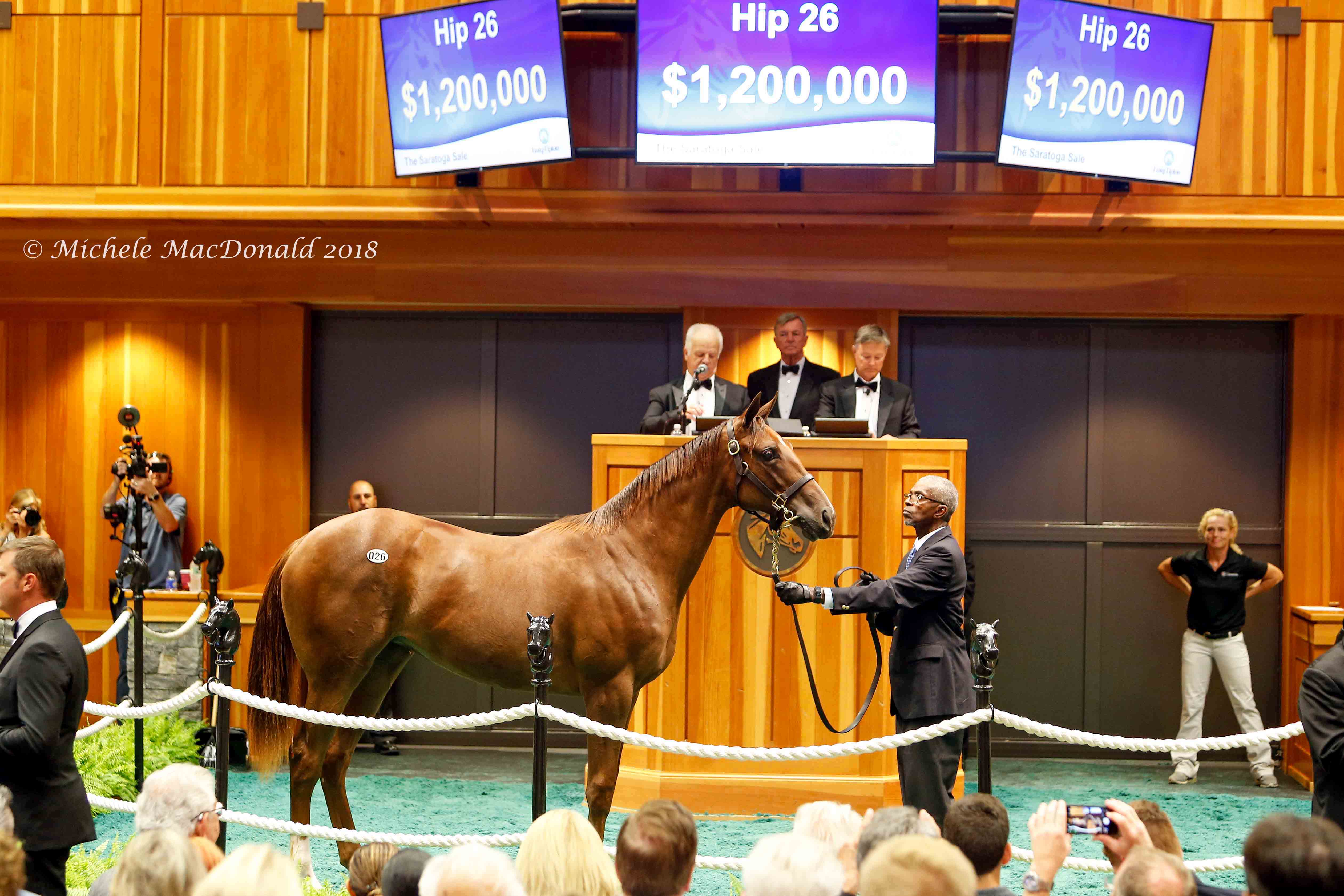 For his part, Magnier is putting the full weight of the multinational Coolmore juggernaut behind American Pharoah while plans apparently continue to add this year's Triple Crown winner, Justify, to the Ashford fold as well.
Magnier said during Arqana's Deauville yearling sale, where he paid €750,000 for an American Pharoah filly who is a half-sister to multiple G1 winner Shareta, that Coolmore intends nothing less than to try to make American Pharoah into "a new Northern Dancer".
"Bob Baffert has always said that American Pharoah could have been just as good on the grass," Magnier said. "My grandfather founded Ballydoyle on American dirt horses — that's where Galileo comes from, that's where Sadler's Wells came from. It all goes back to the American classic horse. And we strongly believe in American Pharoah. He really could be the next big thing. Be it him, or Justify, we think that a horse of that type can once again have a transforming impact on European bloodlines."
So far in 2018, Magnier has purchased three American Pharoah colts in addition to the filly in Deauville, paying a total of $3,157,850 for the quartet. At the Keeneland January mixed sale, he paid $1 million for a colt who is a half-brother to Coolmore's multiple G1 winner and young stallion Caravaggio.
Unique opportunity
Yet, while Coolmore has been selectively choosing which American Pharoah offspring it purchases to add to its global herd for racing and breeding on both sides of the Atlantic and in Australia, there has been plenty of room for other buyers to maneuver in the market. This era's emphasis on huge books for popular stallions, as well as fewer active stallions overall, provide the Triple Crown winner with a unique opportunity considering both numbers and quality of his yearlings.
Resulting support for American Pharoah already has been diverse and includes pinhookers Randy Hartley and Dean DeRenzo.
While in Saratoga, the Hartley/DeRenzo team spent just under $1 million for a pair of American Pharoah yearlings for potential resale as juveniles. They paid $525,000 for colt from the family of Breeders' Cup Dirt Mile winner Furthest Land and Dubai World Cup runner-up Dynever, and $450,000 for a filly from the family of G1 winners Evening Jewel and General Challenge.
"I think there is a lot of potential for that stallion to be something fantastic," Hartley said, adding that American Pharoah's progeny look like "they are going to be able to do anything".
'A very good gamble'
Both Hartley and Mark Taylor said they are planning to breed mares to American Pharoah in 2019, the year his first crop will begin racing, which can be tricky since contemporary markets are so fickle, but they expressed unwavering confidence. American Pharoah's fee for 2018 was listed as private after he began duty for $200,000 but often was made available to breeders on a two-for-the-price-of-one basis.
"He was a serious elite racehorse and he's gotten really good mares, and he's prepotent and putting [his qualities] into [his offspring]. So, I think he's going to hit," Taylor said. "I usually don't breed to horses whose babies are turning two, but I'll be sending clients' mares and mares of our own to him because I just think it's a very good gamble."
The pedigree power of the mares thus far supplied to American Pharoah by breeders, including Coolmore, which, under its usual practice will offer some of its yearlings by the stallion through various consignors at the Keeneland September sale, is breathtaking.
Eighteen of the American Pharoah yearlings in the Keeneland catalog are out of G1 winners or producers, and they will come charging out of the proverbial gate at the sale.
Three of the first nine yearlings in the catalog are by American Pharoah, including Hip 6, a bay colt out of G1 winner Harmony Lodge consigned by Hunter Valley Farm, agent.
Soon after in the opening session, a dark bay American Pharoah filly who is a half-sister to multiple champion Songbird is due to step in the ring as Hip 63. Bred by Capital Bloodstock, she is consigned by Eaton Sales.
Some of the many other outstanding Keeneland September yearlings by American Pharoah — and his standing with breeders, buyers and the sale company is reflected by the fact that he has more entries than any other sire in Book 1 except for Uncle Mo, who has one more for total of 67 — include:
Hip 69, a gray colt consigned by Taylor Made on behalf of Marie Jones who is out of Tapit's Grade 1-winning daughter Joyful Victory
Hip 174, a lovely bay filly out of American Pharoah's Baffert-trained stablemate, G1-placed stakes winner Maybellene and from the family of Elusive Quality, offered by Clarkland Farm
Hip 208, a half-brother to 2013 champion sprinter Points Offthebench
Hip 298, a half-brother to Breeders' Cup Classic winner and sire Mucho Macho Man
Hip 306, a chestnut filly who is a half-sister to Baffert-trained G1 winner and first-year Ashford stallion Cupid
Hip 312 from breeder and consignor Claiborne Farm, a bay colt out of a War Front half-sister to top sire of sires Pulpit
Hip 339, a bay half-brother to G1 winner Mani Bhavan bred by William S. Farish and Lazy F Ranch and consigned by Lane's End
Hip 435, a half-brother to Florida Derby winner and sire Ice Box, consigned by Denali Stud, agent
Hip 505, a half-sister to G1 winner Salty from the Baccari Bloodstock consignment
Hip 554, a colt out of $2.2 million mare Up, a multiple group winner by Galileo and a half-sister to G1 winner and sire Dutch Art
Hip 654, a bay half-sister to champion and Kentucky Derby and Preakness Stakes winner I'll Have Another, consigned by Brookdale Sales, agent
Hip 671, a chestnut colt out of a full-sister to hot sire Quality Road, consigned by Gainesway, agent
Hip 766, a half-brother to multiple G1 winner I'm A Chatterbox, consigned by Blandford Stud, agent
Hip 793, a half-brother to multiple G1 winner Iotapa, bred by Bridlewood Farm and consigned by Denali
Hip 968, a bay half-brother to multiple G1 winner Wedding Toast consigned by Buck Pond Farm, agent.
Following the parade of American Pharoah yearlings in Book 1, more will follow through the Keeneland ring; a total of 81 have been entered for the entire sale. Ten are included in Book 2, including Hip 1115, a colt out of a half-sister to Broodmare of the Year Take Charge Lady; Hip 1216, a filly out of a full-sister to Tapit, and Hip 1311, a filly out of G1 winner Cat Moves.
Currently, the Jockey Club reports that American Pharoah has 160 yearlings in his first crop, so it is likely, even considering some inevitable auction withdrawals, that about half that group will have gone through a sale ring prior to the end of the year.
Many American Pharoah yearlings with outstanding pedigrees apparently will not be offered at auction, particularly fillies that could one day be extremely valuable jewels and colts owned by breeders who race at the highest levels.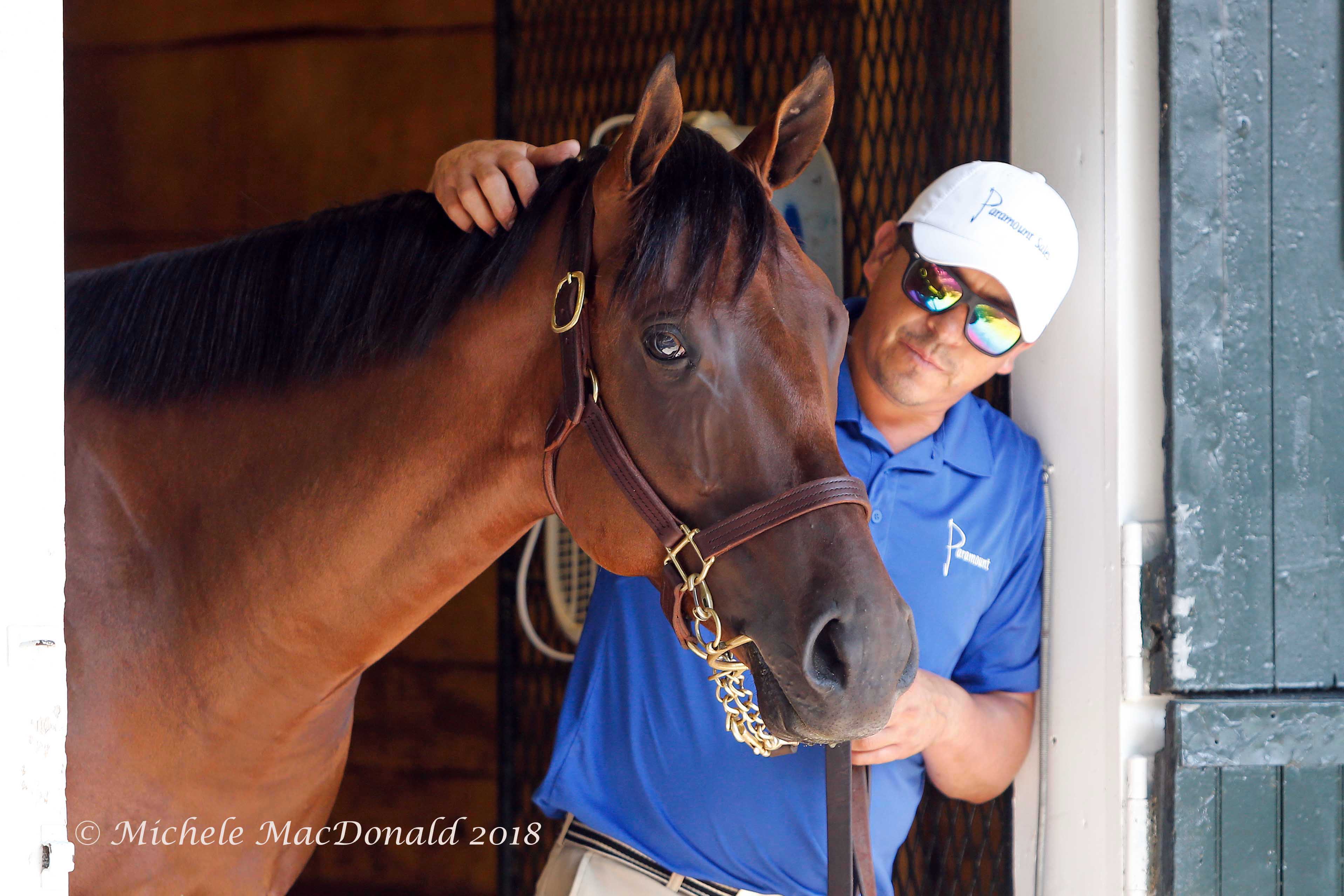 Among this intriguing group is the Niarchos family's homebred Land Of Maybe, a chestnut filly out the versatile multiple stakes winner and G1-placed Pachattack, by Pulpit. The filly has been exported from Kentucky, where she was born, to Ireland.
A yearling half-sister to champion Lady Eli has been retained by breeder Runnymede Farm and partners for racing; Frank Stronach's Adena Springs has a filly out of G1 winner Ariege, and trainer Wesley Ward's champion sprinter Judy The Beauty gave him a now yearling chestnut filly.
Other intriguing American Pharoah yearling fillies include a half-sister to Michael Tabor's G1 winner Circular Quay and a filly from the the Aga Khan Studs' family of Daylami and Dalakhani who was exported from Kentucky to France last year.
Japan's Teruya Yoshida is another major international breeder who has offspring of American Pharoah. His G1 winner Kitten's Dumplings, by Kitten's Joy, delivered a bay colt in 2017 and followed with a chestnut colt this year.
One of Coolmore's most notable American Pharoah yearlings is a half-brother 2000 Guineas winner Saxon Warrior produced by Galileo's G1-winnning daughter Maybe.
List of tantalizing yearlings
Al Shaqab Racing also has patronized American Pharoah, and the Qatari stable has yearling filly out of the stakes-placed Unbridled's Song mare Aljalela and a yearling colt out of multiple Group winner Osaila, by Danehill Dancer. The colt was shipped to France earlier this year.
Juddmonte Farms also looks to be racing homebred offspring of American Pharoah in the future. Juddmonte bred a yearling colt by American Pharoah who is a half-brother to multiple G1 winner Emollient and another yearling colt out of a daughter of 2009 European champion juvenile filly Special Duty.
The list of tantalizing American Pharoah yearlings goes on and on, and there are, of course, more of his offspring to come, both weanlings on the ground and foals in utero awaiting birth next spring. While the Jockey Club at this stage reveals records for only 48 weanlings by American Pharoah, the stallion covered 214 mares in 2017 and will have another large crop this year.
Among the foals of 2018 reported to date are a filly bred by Coolmore out of Irish Oaks winner and €6 million mare Chicquita; a Coolmore-bred filly out of Fabulous, a Galileo half-sister to Giant's Causeway; a Coolmore-bred filly out of European champion Peeping Fawn; a colt who is a half-brother to Peeping Fawn and to G1 winner and sire Thewayyouare; a Coolmore-bred half-sister to Irish Oaks winner Bracelet and to G1 winner Athena; a half-sister to champion Beholder, top sire Into Mischief and G1 winner Mendelssohn; a half-brother to Lady Eli.
Also, a colt out of Canadian Horse of the Year Arravale; a half-brother to G1 winner and young stallion Connect; a half-sister to two-time Breeders' Cup Turf Sprint winner Mizdirection; a colt out of G1 winner Emma's Encore, by Congrats; a half-sister to G1 winner Collected; a colt out of European classic winner Imagine who is a half-brother to G1 winner Horatio Nelson; a colt out of a half-sister to Beholder and her accomplished siblings; a half-sister to G1 winner American Patriot; a filly out of Tapit's G1 winner Careless Jewel; and a half-brother to G1 winners Cry And Catch Me and Certify.
While breeders well know that most stallions fail and there are no guarantees for success, no one seems to be betting against American Pharoah. He is positioned for achievement, much like another Triple Crown winner, Japan's Deep Impact, who the Yoshida family supported — and made — with an army of distinguished mares featuring bluebloods purchased worldwide.
Decided advantage
Even Deep Impact did not have quite the support that American Pharoah has received, however, as his first crop numbered 147, according to Japan Stud Book records. Yet that was enough to launch him as the world's top sire by progeny earnings by the time that group turned four in 2012, and he has never relinquished that position.
Only time will reveal if American Pharoah can pass along his extraordinary racing ability to his sons and daughters, but the broodmares who have visited him give him a decided advantage in the race for sire superiority.
At this point, Gainesway's Brian Graves seems to have summarized the possibilities as well as anyone when he purchased a weanling filly last November out of G1 winner Life At Ten for $500,000. That investment turned into $1.2 million when the filly was resold to Larry Best's OXO Equine at the Saratoga selected sale.
"The sky's the limit," Graves said in looking to the future for American Pharoah and his offspring.