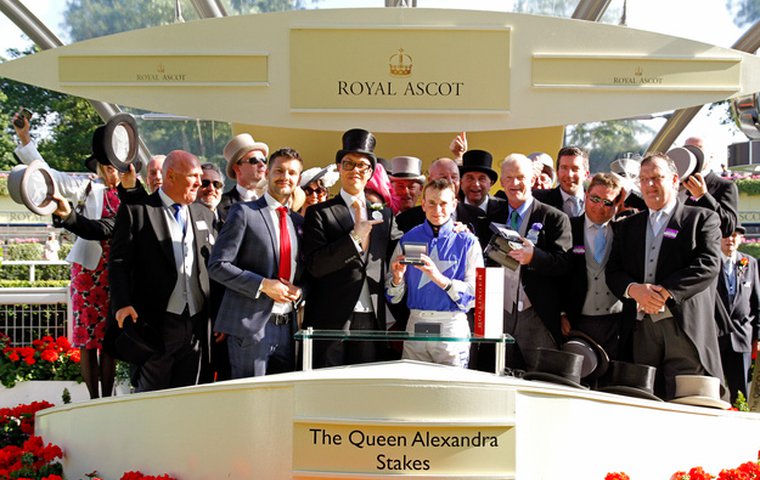 The growth of ownership syndicates around the world in recent years has been a shot in the arm for a sport battling to attract new owners in increasingly difficult economic times. But it's not always plain sailing. Here, in the first of an occasional series looking at how syndicates fare in different countries, Lissa Oliver reports on the situation in Ireland, discussing the considerable benefits - as well as the significant risks.

All men are said to be equal on the turf and below it, but watching the bidding wars at the sales could easily lead you to suppose that racehorse ownership is a rich man's domain. A still better-known phrase is that the easiest way to get a small fortune from racehorses is to start with a large one...
But come to Ireland and you'll find that anyone with a bit of land – and there are a lot of bits around – has a Thoroughbred of some sort, be it a broodmare, a point-to-pointer, or a retired chaser. Horses are in the blood of the Irish and owning them knows no boundaries. If you can't afford a racehorse in training, there's always the option of buying into a leg, or a bit of a leg; always hoping your investment doesn't end up with a bit of a leg itself, of course.
We are always hearing of bargains picked up at the sales, fine examples being star Irish sprinters Maarek, bought for a mere £2,500, and Gordon Lord Byron, a €2,000 purchase. Realistically, however, the lucky owners, so often described by the media as "the little men" in the bid to make racehorse ownership appear accessible, are then faced with a €300 per week bill to keep their €2,000 purchase in training. A €20,000 per year hobby is not quite as accessible as a €2,000 spend-up at the sales.
And that's where syndicates come in. Multiple Group race winner Maarek himself is owned by the Lisbunny Syndicate, a group of owners who pool their resources and are involved in a number of horses, currently four. Another successful syndicate who claimed a big Irish prize in 2013 is the Pension Fund Syndicate, who have also owned up to four horses at a time.
There are five ownership options available in Ireland and sole ownership is by far the most popular, even if it does also mean sole responsibility for those aforementioned training fees. Ninety-one percent of Premier Irish handicaps in 2013 were won by horses in sole ownership, as were 75 percent of Irish G1s, with two of the 12 G1s falling to horses owned in partnership. Two to four people can form a partnership in a horse, all partners named as owners, and the horse running in the colours of the first named partner. This could see an owner's training bills drop to as little as €75 per week when shared between four friends.
A third option is to form a syndicate, which can consist of anything from five to 20 members, one of whom must be a registered owner and act as the agent for the syndicate. With the weekly bill split between up to 20 members, a €15 per week racehorse becomes a realistic prospect.
Of course, while the fourth option is simply ownership by a registered company, the fifth and final option is more accessible still to the "little man." A racing club has no limit to the number of members allowed, but a minimum of two and maximum of four trustees must be registered as owners to carry out the administration responsibilities of the club. Limitless membership means that the weekly training fees can be cut to not only beer money, but even to the cost of a pint.
You would imagine this would be of huge appeal to the general Irish public, but apparently not. Being one of a faceless crowd of 200, as is often the case in racing clubs, appears to hold little appeal to would-be owners. Possibly, too, the administration involved, not to mention the logistics of harvesting fees from so many people, is a barrier to setting up such clubs. Bear in mind that racehorses aren't usually picked up for a couple of thousand, either, and that a membership fee must also contribute toward a purchase price usually of €20,000 or more.
Of the racing clubs currently enjoying some success are the Tu Va Racing Club, which has seven horses in training with leading jumps trainer Noel Meade for membership of less than €25 a week, and the Supreme Horse Racing Club, formed in 2011 and having horses with perennial champion jumps trainer Willie Mullins.
The division of costs means that the Supreme Horse Racing Club can have a number of horses in training with Mullins at any one time, with the bonus that coughs, injuries, or simple lack of ability is never going to prevent members from having at least one runner and a horse to cheer on for the season – a guarantee that no other ownership option can provide. However, its members choose a percentage option for each share, according to what they can afford, and select shares in specific horses owned by the club, so in essence it is similar to a syndicate.
It's interesting that, of 184 individual runners from the Mullins yard in the 2013-14 season, only 11 syndicates or racing clubs were involved in their ownership. Similarly, Meade, with 92 individual runners during the same campaign, trains for 11 syndicates or clubs. Eight of Jessica Harrington's 47 jumps runners were syndicate-owned, as were five of her 49 flat runners. Sticking to the flat, of Michael Halford's 75 runners in 2013, three were owned by two syndicates. Only two of Dermot Weld's 122 runners were syndicate-owned, while John Oxx had none in syndicate ownership.
Is this simply a missed opportunity for an admin-minded racing enthusiast, or is there another side to syndicates that makes trainers reluctant to pursue them and agents reluctant to form them?
The one thing trainers want to do is fill their boxes. And the one thing horseracing fans want to do is own a racehorse. Not everyone has either wealthy owners in abundance or a bottomless pocket, so the idea of a syndicate, enabling a trainer to sell up to 20 shares in a horse to keen wannabe owners sounds the perfect solution. Or is it?
A syndicate of five friends coming together to own a horse, all of whom have previously enjoyed sole ownership, is an idyllic scenario. They understand the risks involved, are aware of horse welfare issues when the time comes to move their horse on, and they are already in a good relationship with their trainer.
On the other hand, a group of 20 people who possibly do not know one another and are entering onto the first rung of the racehorse ownership ladder, is a different proposition altogether. The dream is of trips to high-profile race meetings and leading in a winner. Oh, they know their horse might not win, but we're all optimists in racing – why else would we be involved?
What is harder to grasp is their horse standing idle in its box at home, a bruised foot or weather conditions rendering the ground unsuitable preventing it from ever reaching the racecourse at all. A more serious injury could see their costs increase, but no runner for their money. At some point one person will drop out. Perhaps two. And where does that leave the remaining members?
At best, horses pass through the sales ring "dissolving a partnership." At worst, they remain in their box at home and it's the trainer who continues paying the feed bills. Three leading Irish trainers naturally take three different views on the subject of syndicates, and it seems to be not so much a case of a double-edged sword, as one sharp end, one comfy grip. The key is who gets to wield the sword safely.
"I think syndicates are very important and a great way of getting people involved in racing," said Jessica Harrington. She runs The Whole Of The Moone Syndicate herself, so is very much in the driving seat, with a firm hand on the scabbard.
"We would be very cautious of getting involved with a syndicate," warned Shane Lyons, assistant to brother Ger, in contrasting advice. "It takes only one person out of 10 to upset the party and walk away, ignorant of the horse's needs, and leaving the trainer with the debt."
Brendan Duke provides the perfect balance. "You'll get those who have no regard for the horse and will simply walk away from it," he said. "Numbers are crucial, we'd never have more than 10 in a syndicate, and there's always the risk that, when one person walks away, the trainer has to pick up the pieces. But it gives people the chance to dip their toe in the water. You need to be sure you have a group of horse lovers and racegoers and not someone who sees a horse as a fashion accessory."
There is no doubt that offering people from every walk of life an opportunity to dip their toe in the tempting waters of racehorse ownership could create a lifetime passion and boost the ownership pool in the future. The risk is in making it a little too easy and a little too financially accessible. Stretching a budget to €300 a week takes much careful thought and planning. Sole ownership is not easy to walk away from at the drop of a hat. A small syndicate of possibly a €60 weekly commitment may also involve more consideration than impulse.