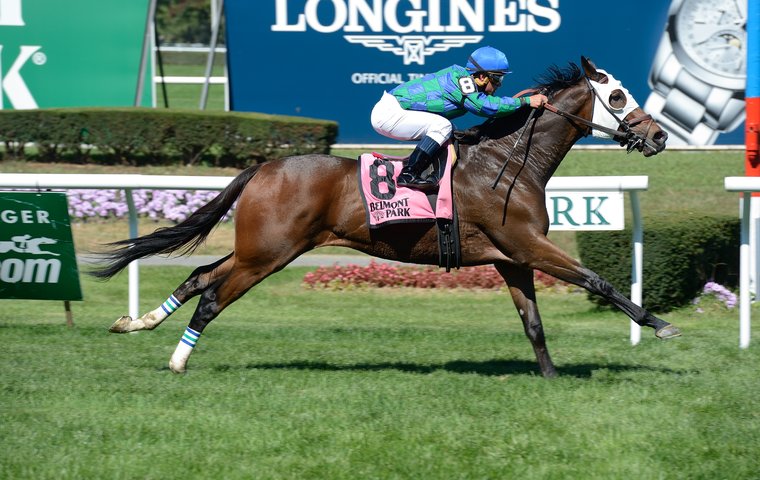 New York-bred Kharafa won the Ashley T. Cole Stakes at Belmont Park for the first time in September, 2013. He was four years old, and the winner's circle ceremony was especially poignant. The win was Kharafa's first in a stakes race, and his owner and breeder, Lawrence Durocher, had died four months earlier, leaving daughter Kate to represent her family.

After that race, an emotional Kate acknowledged that Kharafa had likely run his last race for the Durocher family. Before he died, Durocher had instructed his daughter to sell the horses, wanting to spare her the expense of maintaining them, a decree that had left her torn, wanting both to continue his legacy and to honor his wishes.
Even if Kharafa had nothing else of note in his career, that Ashley T. Cole win would have been a satisfying, if bittersweet, career highlight. But that victory was just the start of a remarkable career, and of a story that managed to reconcile Kate's conflict.
Knowing that the horse was likely to be sold, trainer Tim Hills spoke to another of his clients, Paul Braverman, to see if Braverman would be interested in purchasing Kharafa privately.
"I was playing golf one day with Tim Pinch, who is a horseplayer, and he asked me if I wanted to go in on a horse with him," recalled Braverman. He also cautioned Pinch that he was a picky horse owner, and that he took his time when buying horses.
"A month later," Braverman continued, "Tim Hills called about Kharafa. I said to Tim Pinch, 'This might be one you want to try.' His first horse, and it turns out to be a millionaire."
Now nine, Kharafa will run in the Ashley T. Cole for the sixth straight year tomorrow (Saturday) at Belmont Park, attempting a fourth win in the nine-furlong turf event. He was third in the race last year, duplicating his 2014 finish. None of the horses that he faced in the race in 2013 is still running.
And last year, Braverman wasn't sure that Kharafa would run this year, either. For the first time in his career, in 2017 the bay gelding failed to win a race: in six starts, he ran second twice and third three times, earning a little over $100,000, certainly still competitive, but when, in his first four starts this year, Kharafa's best result was a third-place finish, his owner began to wonder whether retirement was looming.
Reluctant to see the horse he loves retire without another win and confident in Hills' assessment of Kharafa's ability, Braverman was at Saratoga on August 24 for New York-bred Showcase Day, which offered six stakes races for New York-breds, including the West Point, a race in which Kharafa had run three times, compiling two thirds and a second.
Sent off at 18/1, Kharafa rewarded Hills' faith — and patient training methods — rallying under Dylan Davis to get up in the final strides and win by a half-length. And, once again, the winner's circle was emotional, with Braverman moved to tears by his horse's performance.
"It was such a relief," he said. "We really wanted him to win a race before he retired. He showed us something he's done in the past, and it was great to see. We were questioning ourselves, wondering if he was ready to be retired.
"We just get so much joy out of him. I'm waiting for him to say, 'I'm done,' and he hasn't said it."
When that time does come, Kharafa will retire to Old Friends in Kentucky, an arrangement that Braverman has already made with the retirement farm.
Braverman keeps in touch with Kate Durocher, and he says that she still "loves Kharafa" and attends his races when she can, and he credits Kharafa's longevity and success to his trainer.
"Tim has had him since he was a baby," he observed, "and he's done a phenomenal job with him. He's always healthy and happy."
With $1.2 million in earnings, Kharafa is an exemplar of the New York breeding program, about which Braverman admittedly knew little when he agreed to buy the horse.
"It didn't matter to me at the time that he was a New York-bred," he said. "It matters a lot to me now. I've learned so much about the program, and now I look for New York-breds to buy."
Click here for full details of the New York owner and breeder awards
Long-term, he also expects to upgrade his breeding program in New York in the hope of producing a horse that can compete like Kharafa has. For now, he's looking forward to Sunday's race.
"He's back at Belmont, a track he really likes," said the owner. From 29 starts at Belmont, Kharafa has a record of 8-8-4. "We hope everything comes up okay and that he has a safe trip."
And, regardless of where Kharafa finishes, Braverman and Hills will be watching carefully, looking to see what their horse tells them about what happens next.
"Last year was disappointing," Braverman acknowledged. "But we could never be disappointed in him."