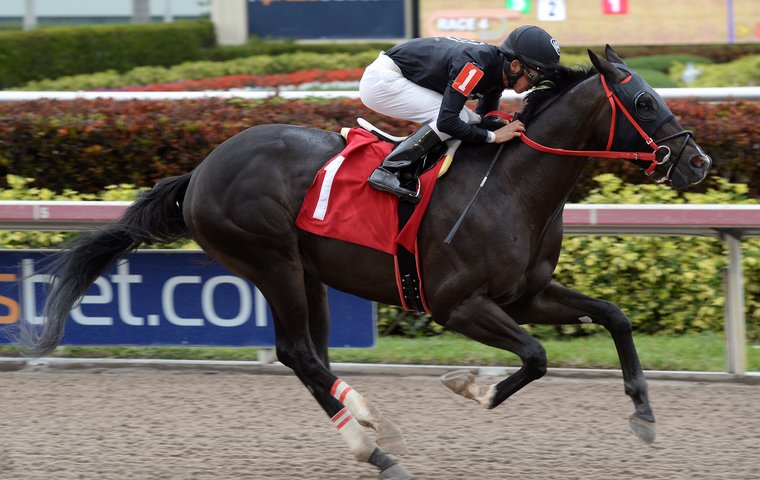 Ron Paolucci is all in with the Pegasus World Cup. Poalucci loves the $16 million purse that makes it the world's richest race and the opportunity for owners and stakeholders to cut deals, which makes the race developed by Frank Stronach unique, exciting and challenging to him.

In 2017, he was part of the original group of horse owners competing for the $7 million first-place money. This year, Paolucci, 48, is doubly involved. He and his partners in War Story, who was fifth a year ago, have leased the horse to the Stronach Group's Pegasus Race Participants LLC. Meanwhile, using the position in the starting gate he purchased for $1 million with his partner Ashley Quartarolo, he has leased G1 Cigar Mile winner Sharp Azteca for the race.
Paolucci, a native of Stow, Ohio, said he started going to the tracks in Ohio and West Virginia with his father and grandfather when he was very young. His interest in gambling and racing grew as he did and, after spending some time working in the automobile and temporary labor businesses, they have become his livelihood.
He's a serious player, who has owned horses since 2011, and now has total of 150. His racing stable, which numbers about 120 horses, is based in Ohio - where, as Loooch Racing, he has been the leading owner. But he has a bigger view and has horses with trainers all over the country.
With the Pegasus World Cup, Paolucci is immersed in the angles, the opportunities, the potential scores available in a race with a massive purse.
"I love it," he said. "That's one of the reasons I was willing to put up the money to secure a spot because I feel that my ability to negotiate and my ability to innovate would put me in a position where I think I could make money at it. With the way that it worked out, if both horses make the starting gate, I feel pretty good about getting my money back, if not turning a profit.
Huge financial score
"It wouldn't surprise me if they ran 1-2, or 1-3 or or 2-3, where I make some money from it, with the upside with having one of them win and make a huge financial score for me.
"The other part of it is it goes to the betting aspect of it. I like both of my horses. With this big Pick 6 carryover, big pools in the Pick 4 and the Pick 5, if I like my horses with Gun Runner in there. If I think I can beat him, I'm going to get paid handsomely. That has a little bit to do with it, as well. Yeah, I love the wheeling and dealing art of it."
Even though the inaugural Pegasus World Cup featured superstars California Chrome and Arrogate, Paolucci was not aiming for the third-place money. War Story ran in the post position purchased by Dan Schafer, the owner of a pizza restaurant chain in the Midwest, who had never been involved in racing.
"It was a great experience," Paolucci said. "War Story was coming out of the win in the Queens County and we thought he would show more speed, and he did. We knew he was coming into his own. He trained great going into the race.
"It was probably owner error in that race. We tried to get some position going into the first turn because we wanted to try to win the race. If I had let [jockey] Antonio [Gallardo] ride him the way he would have, we probably would have been third, which would have been a much better payday. But we tried to win. We tried to get position.
"He ran his heart out. He was two lengths off turning for home. He gave everybody a heck of a thrill turning for home, flattened out a little bit and finished a good fifth."
Paolucci burst through as a controversial figure on the national racing level late in 2013 when Ria Antonia won the Breeders' Cup Juvenile Fillies via disqualification at odds of 32/1. It was a watershed moment.
"She changed my whole life," he said.
The numbers, and they are sizable, tell the story. Purchased for $100,000 with partner Christopher Dunn, Ria Antonia, earned the $1.2 million winner's share of the purse and Paolucci cashed $700,000 in wagers. They eventually sold the filly as a broodmare prospect for $1.8 million.
After the victory in the Juvenile Fillies, Paolucci predicted that Ria Antonia would win the Kentucky Derby because she had run faster than the winner of the Juvenile. She did not compete in the Derby, but was sixth in the Kentucky Oaks and then tenth in the Preakness. She never won another race, and a common question about Paolucci at the time was: "Who is this guy?" Some four years later, he acknowledged that he was well aware of what was being said about him. But he's not apologizing.
'You've got to take chances'
"I think a lot of people had the right idea. I am a little bit crazy," he said. "If you do everything the same way that everybody else is doing it, how are you going to get ahead in the world with my budget?
"Unless you are independently wealthy, you've got to be able to think outside the box. You've got to take chances. If I take 50 chances and I get one Ria Antonia, I'm so far ahead that it doesn't matter that the other 49 were losses.
"It just depends on what you're looking to do in the game. A lot of people are just looking to grind out $5,000, $10,000, $15,000 instead of having to go get a real job. That's not me."
A talented baseball player in his youth, Paolucci turns to that sport to explain himself. "I'm looking to hit the ball over the fence over there," he said. "Where would I be if I didn't put Ria Antonia in that spot? Everybody called me insane. She has allowed me to buy War Story, buy Game Over, buy Mo Dont Know, buy Nicky My Darling. If I don't have that, I don't own 150 horses right now. I'm probably still back at Thistledown with 30-40 horses trying to grind out $50,000 a year. She changed my whole life."
These days, Paolucci said he has learned to wait for a pitch he can hit when he takes a big cut.
"At first, I was a gambler, then a horse owner. Now. I'm a horse owner then a gambler. I think both have helped me. I think that being a gambler helped me buy horses and I think buying horses helped me be a gambler. They are really intertwined with each other. I've become a way better, way more efficient gambler and way more efficient owner.
"I see things from a gambling standpoint when I'm looking to claim horses that help me. I see things that others don't see because I'm a longshot player by nature. Therefore, when I'm claiming horses, I'm usually the only one in for it. I'm not in for the horses that go in 15-way shake. That's what has helped me.
"I can't afford to play at the same level is the sheikhs or Mandy Pope or these larger people. When I want to get a horse like War Story I've got to be able to buy it for $250,000 and compete as opposed to $1.8 million or $4 million or whatever they are paying. I've got to look at it from that perspective. I've got to be way more cost-sensitive."
All that said and even though he is thoroughly invested in Ohio racing, Paolucci is drawn to the big events. The Triple Crown. The Breeders' Cup. And now the Pegasus, where he has a pair of interests in the 12-horse field.
"I would love to cash with both," he said. "If one of them won, I would be ecstatic. As long as one of them hits the board, I'm going to be fine financially. If both of them hit the board somewhere, that's a home run. That's what we're looking for."