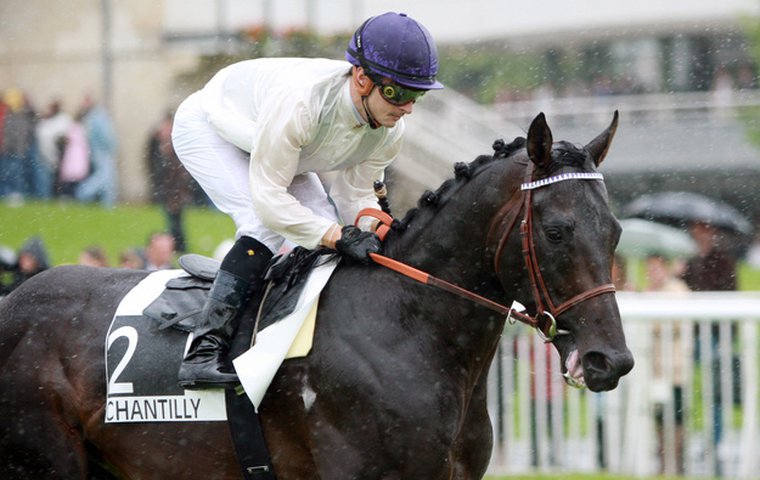 How Augustin-Normand's love of Le Havre, the "horse who winked at him," has defied the odds and paid huge dividends

The dazzling rise of French sire sensation Le Havre and his owner Gerard Augustin-Normand are so intertwined that to say which came first is almost a chicken or the egg question.
Did the visionary broker make the champion sire? Did the classic winner make the insatiable owner? In fact, the founder and former head of leading asset management firm Richelieu Finance had tasted racehorse ownership before falling in love with the son of Noverre. But to say that this encounter proved decisive in his investment in horse racing is an understatement. It changed his entire life.
Gerard Augustin-Normand was born in 1951 in the Normandy city of Le Havre, and was introduced to horse racing by his grandfather, a trotting fan and small owner.
After he became a successful financial analyst, Gerard in turn acquired a few shares in horses, Thoroughbreds this time, at a rather moderate level. As a trader and form analyst at heart, he enjoyed the claiming game and was a regular Quinte+ punter. (Quinte+ is the most popular bet in France, with the aim of finding the first five home in a daily handicap race.)
Yet in 2007, having made a fortune on the stock exchange market, the then 57-year-old decided to up his game, start a proper racing stable, and invest in yearlings.
Overcoming his agoraphobia to attend the 2007 Arqana August sale in Deauville, he notably developed an instant crush on lot 151, a dark brown colt offered by the fledgling Coulonces Consignment. The horse had a rather inauspicious sire in Noverre – Darley would sell him to India's Sohna Stud Farm six months later – but his presence in the August catalogue was justified by his distaff side, his dam Marie Rheinberg being a half-sister to Pivotal's sire Polar Falcon. And he himself was a substantial, loose-walking individual with plenty of quality about him.
Such assets appealed to leading trainer and yearling buyer Jean-Claude Rouget, who signed the docket at €100,000.
Rouget has a policy of purchasing a bunch of yearlings at each sale before offering them to his various owners for them to choose. That year, the allocation of lot 151 was swiftly settled as Gérard Augustin-Normand was determined to secure him.
"He winked at me from the sales ring," the secretive man would reveal 22 months later, after the horse, bearing his hometown's name, won the G1 Prix du Jockey Club (French Derby) at Chantilly.
For that, as well all know, was to be Le Havre's destiny. The winner of his first two starts at two, a newcomers' event at Clairefontaine and a "B" conditions race at Saint-Cloud, Gérard Augustin-Normand's pride and joy suffered his first defeat in the G1 Criterium International, when he failed to cope with the bottomless ground and finished seventh.
He was quick to put the record straight, however, winning the (now G3) Prix Djebel on his seasonal debut at three before running an unlucky second to Silver Frost in the G1 Poule d'Essai des Poulains (French 2,000 Guineas), in which he produced an impressive turn of foot after struggling for daylight.
Le Havre turned the tables three weeks later at Chantilly, landing the 2009 Prix du Jockey Club by a length and a half and presenting both his owner and trainer with a first classic victory. While Jean-Claude Rouget had held a training licence since 1978 and saddled many runners in the French Derby, it was Augustin-Normand's first attempt…after only two years of maintaining a significant string of horses in training.
David de Rothschild, son of leading owner-breeder Guy, was quoted in Challenges magazine in 2012 as exclaiming: "It took my father 50 years to win the Jockey Club, and you've done it in two years! It is simply outrageous!"
Unfortunately, the fairytale looked to be short-lived when it was announced, a few weeks after his triumph, that Le Havre had suffered a tendon injury and would not race again. But the story took an unpredictable turn as the man who had long, by his own admission, been keener on winning the Quinte+ handicap than a Group race decided to take the plunge and get into breeding.
In a matter of weeks, he struck a deal with Sylvain and Elisabeth Vidal to stand Le Havre at their Haras de la Cauvinière, a relatively small farm about half-an-hour from Deauville (which had never stood a stallion before), appointed Sylvain as his operations manager, and sent him off to the breeding stock sales to buy future matings for Le Havre.
That December, from Newmarket to Kildare and on to Deauville, Augustin-Normand spent just short of €2 million ($2.51 million) on 27 fillies and broodmares. He also sent most of the fillies he had in training – a mixed bag of around 20 individuals, ranging from claiming level to black-type performers – to be covered by him. In all, Le Havre covered 146 mares on his inaugural season at stud, making him the busiest stallion in the country.
Augustin-Normand, or GAN as he is known in both business and racing circles, continued to adopt a rather unorthodox approach the following years. As opposed to the now standard policies developed by big stallion owners such as Coolmore and Darley, he didn't sell any first-crop foals to showcase his horse's merits, nor any first-crop yearlings. Only in February 2014, as the stallion was entering his fourth season at stud, did he perform a small reduction sale, offering nine yearlings at Arqana's Mixed Sale, and they fetched an average price of €5,000 ($6,270).
He also sold a handful of pregnant mares every year, but mostly low-key material that rarely turned a profit on their purchase price. And he didn't publicly support his stallion by buying some of his best progeny at auction – except for a lone, cheap first-crop foal in 2011 and a handful of reasonably priced second-crop yearlings.
The outcome of this policy was a staggering figure: In the fall of 2012, Augustin-Normand dispatched more than 35 yearlings by Le Havre between his various trainers. And, once more, against all odds, his faith in the horse was rewarded.
With 10 winners from 31 runners and a total of 16 wins, including a Listed victory for the filly La Hoguette, Le Havre topped the first season sires standings in France.
If this was an auspicious start to his stud career, it was to look only small fry in comparison to what came next. In 2014, Le Havre's first 3-year-olds won no fewer than nine Group/Listed races, including a Classic double for the filly Avenir Certain, bred by Elisabeth Vidal and part-owned by Augustin-Normand.
He is already guaranteed the second place on the French sires' list by earnings – Treve's sire Motivator gained an uncatchable €2.8 million ($3.51 million) advantage from the mare's second Arc victory.
Le Havre's sire reputation has suddenly become global. The China Horse Club spent €2.1 million ($2.63 million) on three of his black-type offspring at the Arc Sale. His yearlings sold for up to €170,000 ($213,000) on Arqana's second yearling market, the October Sale, with the likes of Umm Qarn Farm, Anthony Stroud and the China Horse Club signing six-figure dockets.
From an initial fee of €5,000 ($6,270), increased to €7,000 ($8,770) this year, the sire will stand at €20,000 ($25,065) in 2015. And it was announced over the summer that he had been partly syndicated, attracting interest from all the big players in France, as well as several British, Irish, and German breeders.
The stallion's meteoric rise to the top has closely mirrored that of his faithful owner. Since tasting classic success with Le Havre five years ago, GAN has expanded his equine activities at a dizzying pace.
While Le Havre's Prix du Jockey Club victory was one of "only" 24 wins for the distinctive white silks with purple cap that year, that number rocketed to 98 in 2011 before achieving a record-setting total of 130 wins from 175 runners the following season.
The stable has since gone back to a slightly more fathomable scale, yet Augustin-Normand is already assured of topping the owners' rankings by number of wins for the third year running.
The rationale behind this extraordinary story of success, love and faith is perhaps to be found in a rare interview Augustin-Normand granted to Le Parisien in June. Asked about his approach to breeding, he replied: "You need a bit of luck to succeed. In the beginning, I had no certainty, and patience is not my main virtue. Moreover, if I had listened to everybody, I would never have taken the plunge. Yet, as on the Stock Exchange, it is essential to sometimes go against the flow."