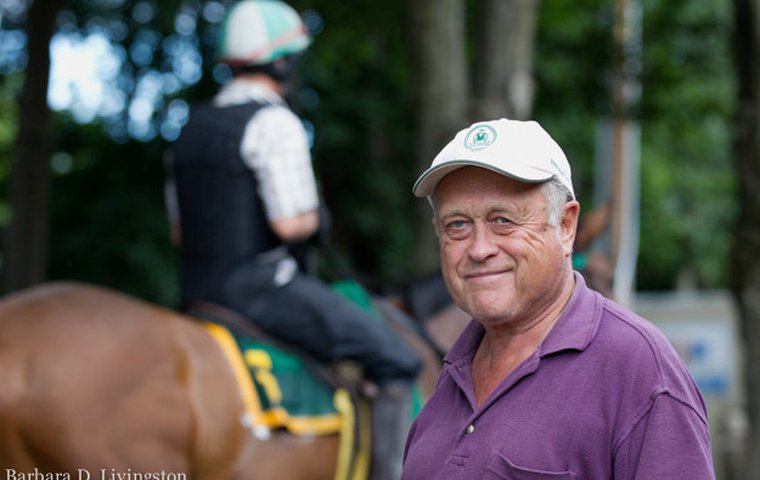 When the Jonathan Sheppard-trained Gathering came with a late rush in the final yards of Sunday's third race on opening weekend at Saratoga Race Course, it appeared the trainer's winning streak at the historic track would extend another year.

But Sheppard, 73, would have to wait for another day. Gathering fell short by a neck at the finish line to favorite, Scampering, in the turf allowance race.
For 45 consecutive years (1969-2013), Sheppard has won at least one race at the Saratoga meet, as chronicled by Allan Carter and Mike Kane in their book, 150 Years of Racing in Saratoga: Little-Known Stories and Facts From America's Most Historic Racing City.
Sometimes the winner's circle celebrations have featured flat runners, other times, jumpers. In 1984 and 1985, Sheppard's winners came in bunches, and in both categories, as he topped the Saratoga trainer standings both those years.
----------
How Sheppard just missed completing racing's ultimate double
----------
Sheppard, who was inducted into the National Museum of Racing's Hall of Fame in 1990, said he wasn't even aware he had a streak going until it was pointed out to him by the media a few years ago.
"Of course, now everyone talks about it quite a bit," Sheppard said shortly after Gathering's loss. "It's a bit easier [to accomplish] now that the meet is six weeks."
He paused, and laughed. "But it also means a lot of pressure because [the media] keeps expecting you to do it.
"I try not to think about it and just go ahead and train the horses but if it happens, it's great," he continued. "I am proud of it because it's Saratoga, and certainly on the East Coast it's [considered] a premier track where everyone wants to win. And obviously on the owners' side of it, it's where they want to win. So, if I make myself happy, I am making the owners happy."
Sheppard has done a masterful job of keeping his owners content over the years, and not just at Saratoga. For longtime client George Strawbridge Jr.'s Augustin Stable, Sheppard has trained multiple Eclipse Award winners, dating back to the 1970s. Café Prince captured two runnings of the prestigious G1 Colonial Cup in Camden, South Carolina, and won the Eclipse Award as Champion Steeplechase Horse in 1977-78.
In 2008, Sheppard earned his first Breeders' Cup victory in the G1 Filly & Mare Turf at Santa Anita Park with the Strawbridge-owned Forever Together, a win that secured her the Eclipse Award in her division. A year later at Santa Anita, the ubiquitous white and green silks of the internationally successful Augustin Stable were seen in the winner's circle, following the G1 Breeders' Cup Filly & Mare Sprint with Informed Decision. With that win came another Eclipse Award.
Forever Together's championship title is noteworthy because it provided her trainer with his first Eclipse Award with a flat runner, and distinguished him as the only trainer besides fellow Hall of Famer Sidney Watters, Jr. to have conditioned champions on both the flat and over jumps.
Sheppard said the accomplishments of Forever Together and Informed Decision are very meaningful to him.
"It shows people that I am not just about jumps and the grass," he said. "Forever Together was a grass horse, but she wasn't a marathon runner. And obviously, Informed Decision was the champion female sprinter, so it gives me a little wider appeal; something nice to have on my resumé. Shows that I am not one-dimensional. Shows that I can train on equal terms with some of the big-time trainers."
There is no equal to Sheppard in the steeplechase world.
He is the first steeplechase trainer to reach 1,000 wins, and the first to surpass $20 million in earnings with his runners. When Sheppard reached that milestone in 2011, his nearest competitor, Jack Fisher, had less than half that amount.
Among his multiple jumping champions was Flatterer, a four-time Eclipse Award winner, a four-time winner of the Colonial Cup, and an American record-holder for packing 176 pounds to victory in the 1986 National Hunt Cup.
Sheppard said Flatterer, who like many of his good jumpers, began his career inauspiciously on the flat, was an extraordinary steeplechaser.
"He was a class above any horse I trained," said Sheppard, who co-bred Flatterer with another of his longtime owners, William Pape. "Pretty much a phenomenon, really. Possibly, the best [steeplechase] horse we have seen here since the latter part of the last century."
Born in the village of Ashwell in Hertfordshire, just north of London, Sheppard grew up on a farm occupied by cows and ponies. His father was a racing official, tasked with assigning weights to steeplechase horses in handicap events. Sheppard went to boarding school at Eton College and upon completion of his studies worked in London's financial district. Sensing this was not a career path he wanted to continue on, Sheppard left for a year to work in America under the guidance of legendary steeplechase trainer Burley Cocks in Pennsylvania.
While there, he rode in jump races and worked as Cocks' assistant. Sheppard briefly returned to England, but after his initial suspicion was confirmed – he wasn't meant for a life behind the desk – he permanently relocated to the States in 1961.
Sheppard rode jumpers for a few years, but ultimately decided it wasn't for him, and turned to training. The decision to remain in the U.S. to launch his training career was made for him since his father's position as a racing official meant he could not obtain a license in England.
"When I started out riding, I envisioned being a bit more successful than I was," Sheppard said. "Frankly, I am surprised I was any good at all because I didn't think I was suited to it. Those [jump jockeys] are pretty tough and I don't consider myself that way. I was a good rider, and a fairly good horseman, but not tough as a race rider, I wasn't going to pick up the stick and do much if I thought they were doing their best anyway, and I could get a good second or third out of it. I didn't quite have the killer instinct, and I liked the horses too much."
He said being a native of Britain had its advantages when he began cultivating clients at the start of training career.
"People think the English have some sort of innate experience [with horses]," said Sheppard, who saddled his first winner in 1966 in Maryland. "That is mostly BS, but if people think that, it's fine. I was a little different than others. I was the preppy little English boy with a nice accent and good manners, and I think it probably helped."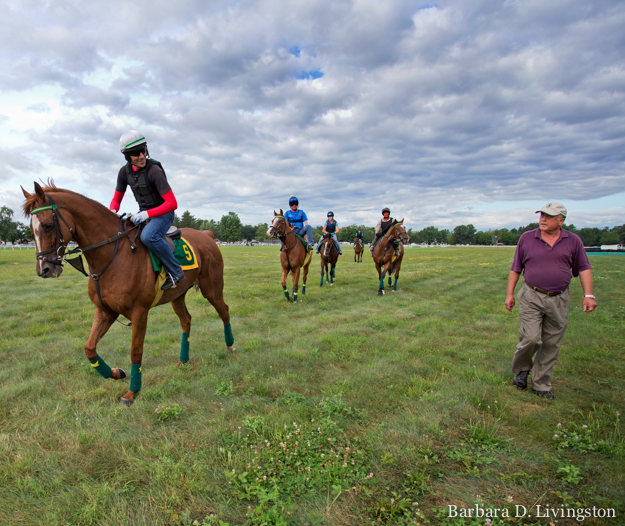 Nowadays, it's Sheppard's horsemanship skill for which he is recognized.
Joe Clancy, a longtime steeplechase journalist and the brother of retired champion jump rider Sean Clancy, recalled when Sheppard put blinkers on 12-year-old Ninepins. Until that point in his career, the gelding was a useful jumper, but he soared to new heights with the equipment change. With blinkers on, Ninepins won the 1999 Breeders' Cup Grand National and Colonial Cup, and at the age of 13, he captured the following year's New York Turf Writers Cup at Saratoga, all G1 events. Ninepins remains the oldest winner of the Turf Writers Cup, which was first run in 1938.
"He tries blinkers on [12-year-old] Ninepins who ends up winning the Turf Writers up here," Joe Clancy said. "Not many people would be: 'What do we do now? Let's try blinkers.'
"And the horse he has now, Divine Fortune [2013 Eclipse Award steeplechase champion], is 11, and you listen to the things they have gone through with him . . . he's been pretty sound, but he has had some issues. He's in as good form now at 11 as he was at five, which is phenomenal and a credit to [Sheppard's] operation."
Sheppard's resumé is further enhanced by the successes of trainers who received their education in his barn, most notably Janet Elliot, the first female trainer to be inducted into the National Museum of Racing's Hall of Fame, and Kentucky Derby-winning trainer Graham Motion.
Motion said his time spent in Sheppard's barn is reflected today in his own operation.
"It's everything that I base what I do on," Motion said. "It's not a coincidence that what I have sort of become known for – training fillies on the grass – is Jonathan's thing. I tell people I didn't go to college, but [working for Sheppard] was my five years of college. And I think I've kind of modeled what I do around that. Everything I've taken to my training, is what I got from Jonathan, without a doubt.
"Jonathan is a breed of horsemen that we don't see that much anymore," he continued. "Some of the things he did, like Flatterer going to England for the Champion Hurdle, those were unbelievable feats that people don't even try to do."
In 1986, Flatterer finished five-lengths behind winner Le Rheusois in the French Champion Hurdle at Auteuil. A year later, Flatterer again finished second to English jump star See You Then in the Champion Hurdle at Cheltenham.
Sheppard is also known for his graciousness and quick wit. The trainer admits he has mellowed a bit with age, but don't confuse that with slowing down.
With 120 horses of all ages currently in his care, Sheppard estimates about 25 percent of them are jumpers. Some are in Saratoga, others at racetracks in the Mid-Atlantic region, several at Fair Hill Training Center in Maryland, and he has a sizable broodmare band at his farm, Ashwell Stables in West Grove, Pennsylvania, where he makes his home with his wife, Cathy.
"I used to be a bit more intense," Sheppard said. "But I've learned to enjoy it. I sometimes I have people that I don't even know say as they go by, 'Good luck, Shep, in the fifth.' And that is kind of nice because I feel like there is a certain percentage of people who like me. And I appreciate that.
"It's like that tree you see every day, you drive in through the [stable] gate and then it gets blown over in a storm and it isn't there anymore . . . So many things change and there are so many good things we don't have anymore, so it's nice to see some continuity and to see someone who has been doing it for a long time. And still keeps coming back. And I think people appreciate me for that, and I appreciate that from them."
---
On July 26, 2014, Sheppard extended his Saratoga winning streak for the 46th consecutive year when Razzle Jazil captured the day's sixth race, a 1 1/2-mile turf claiming event.