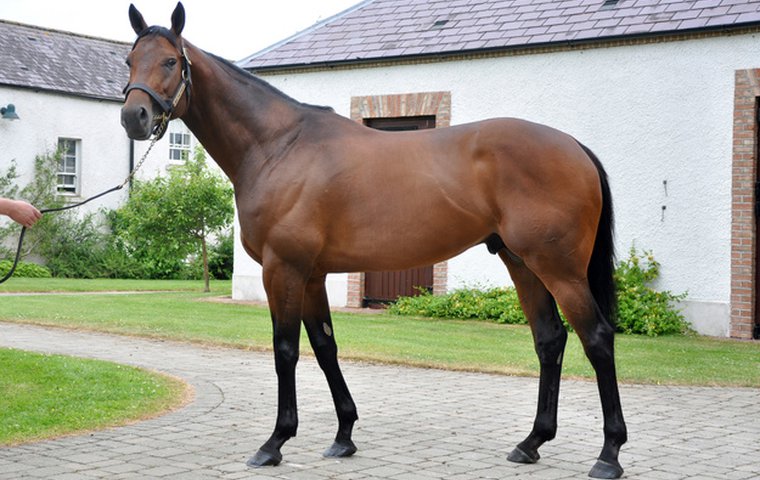 Rarely do colts head to stud with such great expectations. Sea The Stars retired at the end of 2009 as one of the greatest racehorses in living memory thanks to a flawless 3-year-old campaign for Irish trainer John Oxx that comprised victories in the 2,000 Guineas, Epsom Derby, Eclipse Stakes, Juddmonte International, Irish Champion Stakes, and the Arc.

Effective in G1 company from a mile to a mile and a half, Christopher Tsui's homebred colt recorded the unprecedented feat of landing a G1 every month from May to October. He was the dominant performer of his own generation, yet also exerted superiority over his elders, notably when capping his career with a two-length victory in the Arc over a field that included nine other G1 winners.
Such racing ability coupled with his imposing physique and laid-back nature naturally made him highly appealing to high-end breeders when he retired to stand at the Aga Khan's Gilltown Stud in Co. Kildare for the 2010 season. But completing the package was an exceptional pedigree; by Cape Cross, he was the penultimate foal out of the 1993 Arc heroine Urban Sea, also the dam of G1 winners Galileo, Black Sam Bellamy, and My Typhoon. Even then, Galileo was well established as Europe's perennial champion sire with 14 G1 winners to his credit already.
Thus, Sea The Stars had plenty to live up to in his second career, and those expectations only intensified when his first book represented one of the finest collections of broodmares worldwide.
Four years on and Sea The Stars has not only met those expectations but, as the sire of three first-crop G1 winners, is arguably surpassing them.
His first crop of 117 foals is led by two dominant classic winners in the unbeaten Sea The Moon, who turned in a relentless display of front-running to win the German Derby at Hamburg by 11 lengths, and Taghrooda, the wide-margin winner of the Epsom Oaks who subsequently stepped up to defeat older colts in the King George at Ascot. She was bred by Sheikh Hamdan's Shadwell Estates, who have fared particularly well with the stallion as the breeder and/or owner of the Listed-placed pair Hadaatha and Mutakayyef.
Sea The Stars gained a third G1 winner when the Aga Khan's Vazira was awarded the Prix Saint-Alary on the disqualification of We Are. Prix du Jockey Club runner-up Shamkiyr and recent Prix Minerve heroine Zarshana are others to have rewarded the Aga Khan's strong support of the stallion.
"He covered some beautifully bred mares," said Pat Downes, general manager of the Aga Khan's Irish Studs. "So the expectations were very high, from his first in utero sales to the first crop of foals and yearlings. The bar was raised very high, and it is very exciting that he has started his stud career so well."
Of the 139 mares Sea The Stars covered at €85,000 in his first year, 83 were black-type performers and another 64 were black-type winners. A total of 47 had bred G1 performers, among them the dams of Finsceal Beo, Bago, George Washington, Youmzain, and Sixties Icon. The Aga Khan sent several exceptional mares, including his own unbeaten Arc winner Zarkava. Her dam, Zarkasha, was also among his first book, as were the dams of Azamour, Bekhabad, Darjina, Kalanisi, Manighar, and Vadawina.
A frenzy for his first foals at auction resulted in a 324,086gns ($564,466) average for 13 sold headed by a half-brother to Irish Derby winner Soldier Of Fortune who changed hands at the Goffs November Sale to the Tsui family's Sunderland Holding Inc. for €850,000 ($1.13 million). Another representative, a filly out of Anglo-Irish 1,000 Guineas winner Finsceal Beo, sold for €800,000 ($1.06 million) to John McCormack.
A year later, his first yearlings averaged 247,327gns ($430,883), led by a colt out of Alpine Rose who topped the 2012 Arqana August Sale when selling to Mandore International for €1.2 million ($1.59 million). Ironically it was Sea The Stars' cheapest yearling, $55,000 Keeneland September purchase Stars Over The Sea, who became the stallion's first winner when scoring at Ayr last July.
By the end of the year, Sea The Stars had sired 12 first-crop 2-year-old winners in Europe, Russia and Japan. They included My Titania, a filly bred by the Tsui family and trained by Oxx, who fittingly became her sire's first stakes winner when successful in the G3 C L Weld Park Stakes at The Curragh last September.
"[My Titania's win] was such a great moment - we waited for so long to see his progeny race," said Christopher Tsui, who has 20 of Sea The Stars' progeny in training with Oxx. "To have bred his first Group winner was such a feeling of achievement and relief. We are very proud of her."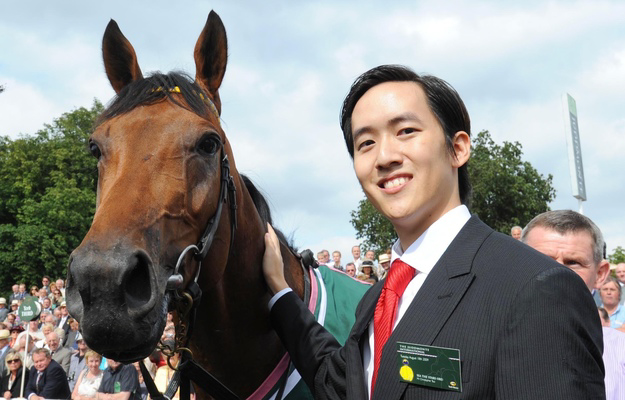 Critics pointed to the presence of one stakes performer among Sea The Stars' first 2-year-olds but there were a number of promising youngsters waiting in the wings, including Taghrooda, the easy winner of her sole juvenile outing at Newmarket. In fact, the filly was one of three Sea The Stars' juveniles to win their debut at Newmarket, usually a strong sign that much better is to come.
And so it proved. Earlier this year in May, the stallion caught fire when Taghrooda won the Listed Pretty Polly Stakes just days before Anipa landed the Listed Cheshire Oaks. Then on May 11, Sea The Moon retained his unbeaten record in the G3 Oppenheim-Union-Rennen on the same afternoon that Moyglare Stud's homebred Afternoon Sunlight bagged the G3 Derrinstown Stud 1,000 Guineas Trial. Stakes placings were also gained by Mutakayyef, Hadaatha, Behesht, and Zarshana.
It was also a month in which the precocious 2-year-old Sivoliere won her second race at Maisons-Laffitte. She has since followed up in the Listed Prix Criterium du Bequet at Le Teste De Buch.
At the time of writing, Sea The Stars is the sire of eight stakes winners overall, seven of whom hail from his first-crop. His tally of three first-crop G1 winners might sit one behind that recorded by Galileo in his first crop, but it is worth remembering that by September 2006, Galileo had been represented by just one G1 winner, Nightime. Another two, Sixties Icon and Red Rocks, followed that autumn, while Allegretto won the Prix Royal-Oak in October 2007.
For the Tsui family, who are advised by bloodstock consultant John Clarke, the early results are naturally immensely satisfying, especially as they are also involved with his younger half-brother, Born To Sea, who stands at Rathasker Stud in Ireland.
"This year is very special for myself and my family because it is a journey that started 22 years ago when we purchased Urban Sea," Tsui said of the Miswaki mare who raced in the colours of his father, David Tsui. "I was only 10 years old then and I still have fond memories of seeing her race in France. To arrive at the success Sea The Stars is having today is the dream for any owner/breeder.
"I was always very confident that he would become an excellent sire with his pedigree, conformation, temperament, and incredible ability. But the results this year are more than anyone could ever have expected. Taghrooda is an amazing filly and the first classic winner for Sea The Stars, so she will always be special.
"Vazira is a very good filly, and I am most happy for her owner His Highness The Aga Khan to have a Group 1 winner by Sea The Stars. I hope she will bring him more success.
"The one that has me very excited is Sea The Moon. Anyone who saw his win in the German Derby has to be impressed. The win by [the second] Lucky Lion in the Grosser Dallmayr-Preis-Bayerisches Zuchtrennen [next time out] franks the form.
"I also own his full sister, Sea The Sun, which we purchased at last year's Tattersalls December Sales, so there's a lot to look forward to."
Sea The Moon and Taghrooda are trading in some places as short as 4-to-1 and 6-to-1 for the Arc in October. With that race now worth €5 million ($6.6 million), a one-two finish could push Sea The Stars near Galileo at the head of the European leading sires' list.
"The first Sunday in October could be quite something," Tsui said. "The Arc holds a special meaning for my family. I grew up in the paddocks of Longchamp and winning it twice with our two great horses [Urban Sea and Sea The Stars] is like one of those magical stories that I can tell my grandchildren.
"To now have two Sea The Stars progeny as favourites for the great race is very exciting and I know what I'll be doing on October 5!"
In the meantime, Tsui is looking forward to the continuing progression of his 3-year-olds My Titania and the Listed-placed Streetcar To Stars.
"My Titania is still a very good filly, but she hasn't had the luckiest year with a small setback and the wrong ground, but I hope she will be able to perform at her best this autumn," he said.
"Streetcar To Stars had a few very good runs and is most progressive. I also have a few 2-year-olds that are coming along nicely."
Tsui and the Aga Khan Stud's Downes are in agreement that the one of the most notable traits that Sea The Stars passes down is his own laid back temperament.
"I think in the main his progeny tend to have his temperament," Downes said. "They appear to be sound horses and of course he seems to have passed a lot of his ability."
Tsui added: "All of our stock have great temperaments and are very calm and easy to handle. The other trait that seems to be passed on to most of his progeny is his great walk. Many Sea The Stars are great walkers, which is important for the breeders bringing his stock to the sales."
With stakes winners out of mares hailing from the Sadler's Wells, Danzig, Mill Reef, Monsun, and Sharpen Up sire lines, it appears that Sea The Stars is effective with a diverse set of lines. However, particularly gratifying for the Aga Khan's operation is that his families are also responsible Taghrooda and My Titania alongside his own homebreds Shamkiyr, Vazira, and Zarshana.
"Of course it is very satisfying that results show that a number of Aga Khan families work well with him," says Downes. "But it is likely that we will see in the years to come that Sea The Stars will work with many different families. We are also seeing that he works very well with a variety of sire lines and that too is exciting for the future."
The announcement that Sea The Stars would cover Southern Hemisphere time this year has been met with a "strong response," according to Tsui.
Demand for his progeny at the recent Arqana August Sale at Deauville was also immense, with 11 yearlings selling for an average of €330,455 ($438,705). With the likes of Taghrooda, Sea The Moon, Vazira, and Zarshana set to do battle at the highest level this autumn, Sea The Stars should only consolidate his position as one of the most sought after sires worldwide.