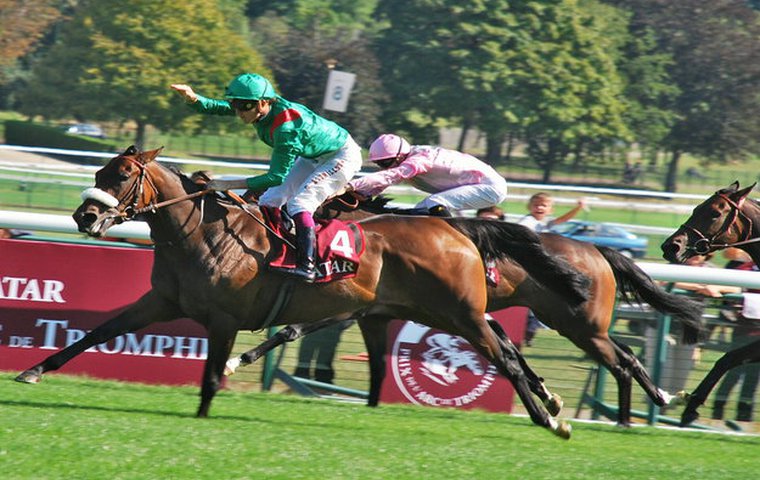 In 2008, America was beginning to fall in love with Zenyatta, the record-breaking mare who would would win an incredible 13 Grade 1 races in a career few will ever forget. Many would insist she was the best horse of her generation. But, in reality, that year Zenyatta was not necessarily even the best filly with a name starting with Z.

For in France there was another Z-girl, and like Zenyatta she too was renowned for coming from behind to win from seemingly impossible positions.
Zarkava had a much shorter career than her year-older American counterpart. She ran in just seven races, but she won them all, five at Group 1, including a scarcely believable victory in the Prix de l'Arc de Triomphe.
The memory of her racing days is cherished throughout Europe, particularly by Chantilly-based freelance writer John Gilmore, who looks back at her career here as part of TRC's 'My Favourite Racehorse' series - ahead of Sunday's renewal of one of her most famous victories in Longchamp's Prix Vermeille.
----------
During the past 25 years in France, I have had the privilege of seeing some great racehorses on the track, but the filly Zarkava was the one that left the most lasting impression - a horse of exceptional quality and a rare jewel to savour.
Unbeaten in seven races over 1,600 metres (mile) to 2,400 metres (mile and a half), with five at G1 level, Zarkava was by the Juddmonte-bred stallion Zamindar out of the Aga Khan's Khayasi mare Zarkasha. Capable of winning in any race run at any pace on any going from good to heavy, Zarkava was never tested during her all-too-brief racing career in 2007-08, but she always produced a performance to remember.
Each victory had her trademark: phenomenal acceleration inside the final furlong. Jockey Christophe Soumillon would give her one tap and off she would fly, quickly putting the opposition to bed without raising a sweat.
It was apparent when she made her debut, in a contest for unraced fillies over 1,600 metres at Longchamp in September 2007 that this was a quality filly in the making, although of course it was difficult then to judge just how good she would become.
Certainly trainer Alain de Royer Dupre knew at that stage that he had something special on his hands. "Zarkava had been showing her class on the gallops," he said recently. "Her performance on the track in her first race left me in no doubt this was a Group 1 horse of exceptional quality and her next race would be the [G1] Prix Marcel Boussac on Arc day."
His opinion was spot-on, of course, and the filly showed in the Boussac just how much potential she had. After lying at the back of the field, Soumillon asked Zarkava to improve her position on the rails after entering the straight. Then, inside the last 100 metres, she checked when jumping a shadow before changing gear rapidly to lead close home and win a shade comfortably by two and a half lengths from Truly Belle.
It was truly an incredible performance, and it made me and the rest of that Arc day crowd realise they had witnessed something special. There was well merited applause for jockey and horse as they made their way to the winner's enclosure.
Three-time Breeders' Cup winner was one of her early victims
The 2008 season couldn't come fast enough for me - because I would be able to see Zarkava in action once again. Her first objective was the GI Poule D'Essai Des Pouliches (French 1,000 Guineas) in May at Longchamp over 1,600 metres. Her warm-up for that was the G3 Prix De La Grotte at Longchamp in April. It was run on heavy ground, but it made no difference and the filly won easily in what seemed little more than an exercise gallop.
A month later Zarkava was the 3-10 favourite for the French 1,000 Guineas. She won as an odds-on favourite should after being held up off the pace and then strolling past the others as if they were standing still. The time of 1 min 35.20 secs (on good going) broke the course record.
The filly who finished second, beaten an easy two lengths, was none other than Goldikova, who was to become a great herself, winning 17 times, including the Breeders' Cup Mile three years running.
It didn't look as though the extra 500 metres of the G1 Prix de Diane at Chantilly in June would cause Zarkava any problems, and that proved the case. She came through smoothly to take up the running in the last 100 metres and, even though Soumillon spent the last 50 metres saluting the crowd, Zarkava continued to go further away. She finally beat Gagnoa by three lengths.
In the winners' enclosure, I overheard Soumillon saying to connections: "Zarkava was incredible. I hardly had to move on her to accelerate."
Her autumn campaign was to be geared towards the Arc at Longchamp in October, and September's G1 Prix Vermeille, the traditional prep race for fillies and mares, was next on the agenda.
Zarkava had been off the track for three months, and it was her first time over 2,400 metres. It proved the first real test for the 9-10 favourite - in more ways than one.
Slowly out of the stalls, she was four lengths adrift of the field after 200 metres. Still well behind entering the straight, Soumillon brought Zarkava with an astonishingly run down the outside and picked off the field to win a shade comfortably by two lengths from Dar Re Mi (a subsequent triple G1 winner). An Australian breeder I spoke with after the race claimed: "Zarkava must have made up about 10 lengths in the straight. I have never seen anything like it."
Zarkava equalled the race record, 2mins 26 secs, in the process.
Needless to say, Zarkava was even-money favourite on the pari-mutuel for the 16-runner Arc, in her first race against colts. Once again, there was drama at the start. Zarkava nearly fell out of the stalls trying to move to the right and Soumillon did well to stay in the saddle. The filly lost several lengths as a result. But Soumillon knew what he had under his saddle and gradually made headway from the rear before entering the straight.
Despite encountering traffic problems when switching position from the middle of the field 300 metres out, the end result was exactly as in her other races. Zarkava's instant acceleration got her out of trouble and she recorded a comfortable two-length victory from Youmzain.
For racing fans, the big disappointment was that Zarkava would not be staying in training and seeking a repeat win in the Arc, which would have set up a mouthwatering clash with Sea The Stars.
The Aga Khan retired the filly to stud, and who can argue with that decision? His policy in France and Ireland over the past 50 years has produced a steady stream of top-class winners and maintained his position as a leading owner-breeder.
Trainer Alain de Royer Dupre has trained 97 G1 winners, including six Prix du Jockey Club, six Prix de Diane and two Arcs, with some great champions, including Dalakhani, Natroun, Montmartre and Pride. But he considers none of them got close to Zarkava. "I think Zarkava was a genie and the best either colt or filly I have ever trained - a once-in-a lifetime racehorse with phenomenal acceleration at the end of a race over any distance she raced," he said.
"But, like any genie, she had her own character and sometimes on the gallops she would work well and other times not, while she would never let anybody weigh her. In her last couple of races, she made things difficult by losing ground at the start and veering right, but such was her sheer class it didn't make any difference to the result."
Her career as a broodmare: six offspring so far
On the question of Zarkava not staying in training, Dupre said: "His Highness the Aga Khan's breeding and racing policy and the importance of quality breeding mares over the past 50 years has stood the test of time and continually produced strongly built staying racehorses with speed at the end of a race, capable of running over varying distances from 1,600 metres to 2,400 metres."
Timeform flat race editor David Johnson said: "Zarkava was undoubtedly a top-class filly but difficult to assess by the way she ran her races - seemingly just doing enough and not fully stretched. [She] may well have gone onto a higher rating than the 133 we allotted in the Arc if the filly had continued in training as a 4-year-old."
This was the highest Timeform rating by a filly or mare since both Miesque and Indian Skimmer were given the same figure in 1988.
Intriguingly, both Zarkava and Sea The Stars a year later beat Youmzain by two lengths in their respective Arc victories, although Zarkava raced on softer ground and her antics at the start made it a tougher test. Alain de Royer Dupre said: "It's difficult to judge when horses never meet, but I think Zarkava was something extra special and it would have been difficult to envisage Sea The Stars beating her."
At stud, Zarkava has produced six foals to date but has yet to have one appear on the track. The unraced 3-year-old Zarkash, son of Sea The Stars and in training with Dupre, had a fatal training accident last October when fracturing a leg. The first offspring, Zerkaza, a filly by Dalakhani, never entered training. Three of the others are colts: the 3-year-old Zakkar (by Galileo) is in training with Dupre, as is a 2-year-old by Dubawi. There is also a yearling by Australian stallion Redoutes Choice and a filly foal by Frankel. This year, Zarkava was covered by the Irish National Stud's Invincible Spirit (on April 11).
All racing fans will be hoping it won't be long before Zarkava produces a horse with something similar to the extraordinary ability she had, which thrilled the sport for all too short a time.