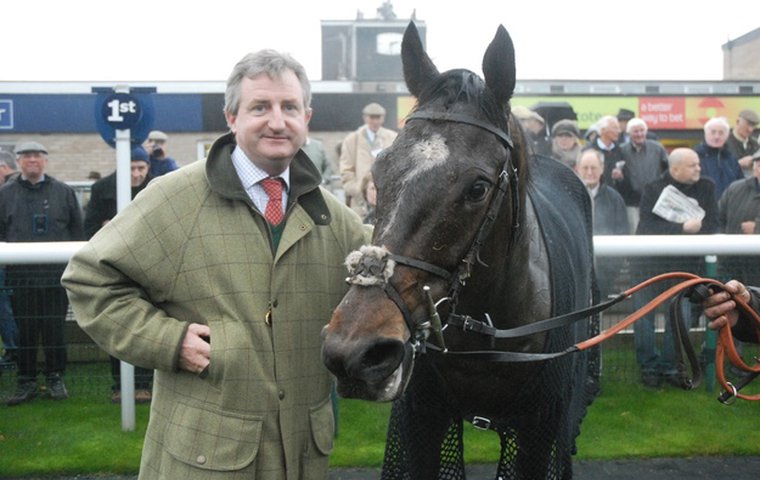 How John Ferguson combines his role at Darley with training a string of successful jump racers.

There is no more striking professional contrast in racing. One day he is besuited in Australia, overseeing Sheikh Mohammed's runners in the Melbourne Cup. The next he is ankle-deep in mud at Hexham, saddling his jumpers at a remote British outpost.
Or at least, that's how it must seem to those looking in from outside Britain. John Ferguson is Sheikh Mohammed's head honcho, the man who routinely signs for seven-figure yearling purchases at the world's boutique auctions. When time allows, however, Ferguson is never happier than when training his burgeoning string of 60 National Hunt horses.
"One of the reasons Sheikh Mohammed likes me training my jumpers is because it stops me interfering with Godolphin's horses," Ferguson quipped on a sun-kissed morning at his Bloomfields Farm, on the outskirts of Newmarket.
While it might seem anomalous for Darley's lynchpin to have embraced the jumping code, there is a sense of symmetry to it. Like so many British trainers and bloodstock agents, Ferguson attended his local Pony Club before graduating to the hunting field in his teens.
Riding jumpers was a constant during formative years spent mixing with the hunting set. His wife, Fiona, hails from similar roots; in September, Ferguson spoke movingly at the funeral of her father, John King, a renowned artist who specialised in hunting scenes.
Ferguson himself spent five years as Master of the Scarteen Hounds in Limerick, one of Ireland's hard-running packs that attract followers from around the globe.
"I had my last day with the Scarteen in February 2011 and on that day I got off my horse for the last time," Ferguson reflected. "I think I managed to scare myself so thoroughly in those five years that it was the opportunity I was waiting for to stop riding."
Instead, Ferguson started training a small string of jumpers later that year at Bloomfields, where he originally envisaged he would one day breed Thoroughbreds. It arose from a seminal moment on his 50th birthday as he walked along the perimeter of his 120-acre property. "As enjoyable as it was, I decided I didn't want to spend the rest of my life behind a desk," he said.
When Ferguson was 19, he spent a year working with British jumps trainer Nick Gaselee and led up Purdo, the stable's Grand National runner in 1979. The memory stayed with him forever, even though he subsequently chose to make his way in flat racing. He hadn't set foot inside a jumping yard for 34 years when he established the Bloomfields project.
And what of Sheikh Mohammed's reaction to his plan? "I work for a man who does lots of different things," Ferguson said. "He therefore allows me to do and be involved with lots of different things.
"You don't create Dubai by doing everything yourself," he continued. "You entrust in lieutenants to deliver for you. You inspire them, you motivate them, you give them confidence, and send them on their way. That is what I have done with Darley. We have such good people, I don't need to be charging around anymore."
Early in the National Hunt venture, which Ferguson envisaged would see him train a handful of jumps-bred horses, Sheikh Mohammed came up one morning to watch a schooling session. He was so taken with what he saw that he promptly sent Ferguson some flat-bred horses that had failed to make an impact.
One of them was Cotton Mill, a half-brother to Irish and Yorkshire Oaks heroine Pure Grain who won his first three races over hurdles. He might have won his fourth at the 2012 Cheltenham Festival had he not swerved and unseated his jockey at the second-last flight of hurdles.
With the sheikh continuing to support Ferguson after Cotton Mill's successful exploits, some exotically-bred horses are resident at Bloomfields. Among them is Parlour Games, whose dam Petrushka's haul of three G1s included the Irish Oaks in 2000.
Parlour Games is one of six horses Ferguson has entered for the Greatwood Hurdle at Cheltenham's Paddy Power fixture, which starts Nov. 14. Ferguson hopes to be represented in up to five races at the prestigious three-day meet, the first major fixture of the British jumps season. And the stable enters the fray in buoyant mood after Purple Bay's victory at Wincanton on Nov. 8 in the Elite Hurdle, a lead-up race to the Champion Hurdle at the Cheltenham Festival in March.
All winter roads point toward the Cheltenham Festival in March. It is the mecca of jumps racing, where the best of British joust with Ireland's finest over four days of unrelenting action over birch and timber. It is a magnificent occasion which, for many exponents of flat racing, serves to remind of teenage years spent out in the hunting field, risking life and limb in exhilarating pursuit of hounds.
So much so that a visit to the Guinness Village before racing will bring you into contact with the likes of Khalid Abdullah's racing manager, Teddy Grimthorpe; Sheikh Hamdan Al Maktoum's racing manager, Angus Gold; prominent bloodstock agents Charlie Gordon-Watson and Anthony Stroud; and Simon Marsh, manager of Anthony and Madeleine Lloyd-Webber's Watership Down Stud.
To a man, they will reflect on idyllic childhoods, the tales of giant hedges and ditches they jumped, doubtless embellished over the years. What sets Ferguson apart is that he will be doing it for real.