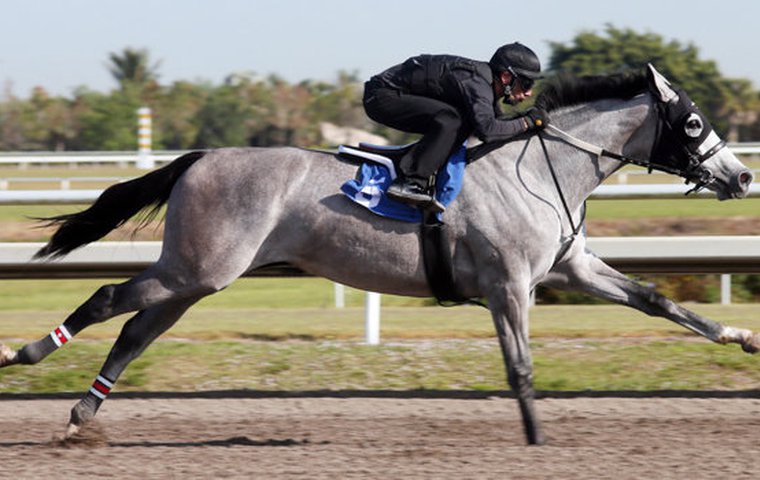 The optimism that preceded the Barretts March Select Two-year-olds in Training Sale in Pomona, Calif., on March 3 was not unfounded. Boosted by its first million-dollar horse since 2007, the sale grossed $10,630,000 for 60 horses sold and recorded a substantial increase in average of 23.5 percent to $177,167. The median also registered an improvement, rising 12.5 percent to $112,500.

With the first 2-year-olds in training sale of the Northern Hemisphere season done and dusted, it appears that consignors can look forward to a rewarding trade for their youngsters once the circus returns to Florida later this month. While Barretts demonstrated that the feast or famine element remains in this market - only 43 percent of those catalogued were actually listed as changing hands due to the seemingly usual large percentage of withdrawals and RNAs - competition for the better lots was spirited, resulting in its strongest set of figures since 2008. In that respect, it maintained the general market upturn that highlighted last year.
Further increases accompanied by a selective market can probably be expected in the upcoming weeks when the next select sales are staged in Florida. On March 11, Ocala Breeders' Sales Co. (OBS) opens its juvenile sales season by holding the March Selected Two-year-olds in Training Sale in Ocala, while on March 24 it is Fasig-Tipton's turn to stage The Florida Sale. In a departure from tradition, guaranteed stall availability has prompted Fasig-Tipton to switch The Florida Sale from the Miami area of Calder Race Course and Palm Meadows Training Center to Adena Springs South in Williston near Ocala. Plans call for the auction to return to South Florida in 2015.
Both sales will take place off the back of improved sets of figures in 2013 as well as a strong season on the track. As per usual, each sale company has compiled a catalogue that appeals on paper. Among those catalogued to OBS are the full or half-siblings to Da'Tara (hip 10), Little Mike (183), and Zazu (350) as well as 2-year-olds out of top race mares Folklore (151) and Spain (394). Meanwhile, Fasig-Tipton presents the opportunity to purchase the full or half-siblings to Royal Delta (83), Life At Ten (3), and The Factor (109).
"I would be surprised if this year's 2-year-old-sales aren't the best we've had in the past five years," said consignor Justin Casse of Ocala-based Casse Sales, LLC. "Given the vitality of the yearling and mixed markets both at home and abroad, every indication is that we should continue to see growth in both average and number of horses sold.
"I own more horses now than I ever have (the majority are 2-year-olds), mainly because there hasn't been a better time to own in recent memory."
Casse, who is the youngest son of OBS co-founder Norman E. Casse and the brother of trainer Mark Casse, will send through seven horses at OBS and another three at Fasig-Tipton.
"After participating in each type of sale, you get a good idea of what kind of horse thrives at each 2-year-old sale," he said. "I will try to take a handful of horses to each venue based on pedigree, physical appearance, and precocity. Barretts March is similar to the OBS April Sale in that they both focus more on the individual and less on pedigree. OBS March seems to be a solid combination of both pedigree and conformation. Fasig-Tipton March has always catered to the top 25 percent of the market, but I believe the switch to Ocala will give it more of the blue-collar feel it's been striving for."
Until three years ago, it was the OBS February Sale that opened the North American breeze-up season. However, that sale was axed in 2011, allowing the OBS March Sale to really gain momentum. Matters culminated last year when records for average and median were realized, and the previous record top price matched by a Smart Strike colt sold to Stonestreet Stables, LLC for $1.8 million.
"The OBS Two-Year-Old sales have produced significant increases in all major statistical categories while setting records over the past two years," said Tom Ventura, president of OBS, which accounted for 60 percent of 2-year-old gross sales in North America in 2013. "The market has been solid in all parts of the world, and I expect that to continue throughout the two-year-old sales season."
"While we may not be able to duplicate the dramatic increases we enjoyed in the last two years, any move forward would be a good sign as to the strength of the market," Ventura said. "With higher purses and a smaller foal crop, the earning power of horses has improved."
Terence Collier, director of sales at Fasig-Tipton, is also optimistic ahead of the Florida Sale, at which the average increased 20 percent to $385,326 in 2013.
"There are positive vibes," he said. "There is a great enthusiasm for racing at the moment and that seems to be rising. I wouldn't be surprised to see some significant international interest - the Japanese have had success with American-breds in recent years, and I can see them perhaps target fillies to cross with Sunday Silence blood down the line."
Those sentiments are echoed by Ventura. Last year's OBS March Sale has already produced four Grade 1 winners including Japanese champion 2-year-old Asia Express, purchased for $230,000 by Narvick International.
"The participation of international buyers should continue to expand at a moderate pace," says Ventura. "From a small group of horses purchased to race in Japan last year, Asia Express went on to become champion two-year-old and finished the year undefeated in three starts with a victory in the G1 Asahi Hai Futurity.
"During our trip to Japan in November, we were fortunate to watch Asia Express win his second start by seven lengths and met with many owners and trainers that expressed interest in attending our sales. Hopefully, his success combined with OBS April Kentucky Derby-winning graduate I'll Have Another, now standing at Big Red Farm in Japan, will stimulate more Japanese buyers to come to OBS this year."
With Royal Ascot winners Sander Camillo and La Chunga other high-class American 2-year-old sale graduates of the past, perhaps there will also continue to be participation from a select number of European buyers.
Almost certainly there will be significant interest from Darley and Coolmore, whose Demi O'Byrne signed at $1.15 million for the sale-topping son of Giant's Causeway at Barretts. Aligned with the usual high-profile domestic buyers such as Stonestreet Thoroughbred Holdings, Steven Young, Todd Pletcher, and Regis Stables, the scene is set for the top end of the market to continue thriving.
OBS MARCH SELECTED SALE OF TWO-YEAR-OLDS
When: March 11 (Originally scheduled March 10-11, revised to a one-day format after weather forced postponement of under tack show.)
Under tack show: March 7-8 (Originally scheduled March 6-7, but postponed a day due to inclement weather.)
No. catalogued: 411
2013 results: 186 (77%) of 236 offered were sold for a total of $28,871,000, average of $158,632 (record; +15%) and median of $127,500 (record; +27.5%). Top price of $1.8 million was paid by Stonestreet Stables LLC for Hip 333, c Smart Strike - Mini Sermon (Storm Cat), sold by King's Equine.
Sale graduates who won G1 races in 2013:Asia Express ($230,000 by Narvick International; won Asahi Hai Futurity), Bond Holder ($125,000 by Dennis O'Neill; won FrontRunner Stakes), Capo Bastone ($175,000 by Eclipse Thoroughbred Partners; won King's Bishop Stakes), My Conquestadory ($240,000 by Conquest Stables; won Alcibiades Stakes), Secret Circle ($165,000 by Smack Down Farm; won Breeders' Cup Sprint) and Secret Compass ($425,000 by Westrock Stables; won Chandelier Stakes).
FASIG-TIPTON FLORIDA SALE
When: March 24
Under tack show: March 21
No. catalogued: 157
2013 results: 46 (59%) of 78 offered were sold for a total of $17,725,000, average of $383,326 (+20%) and median of $300,000 (+32%). Top price of $1.6 million was paid by Steven W. Young, agent, for lot 131, c Bernardini - Hishi Aspen (Forestry), sold by Hartley/De Renzo Thoroughbreds, agent.
Sale graduates who won G1 races in 2013:Graydar ($260,000 by Randy Gullatt, agent; won Donn Handicap), Joyful Victory ($400,000 by Fox Hill Farm; won Santa Margarita Invitational Stakes), Reynaldothewizard ($775,000 by Omar Trevino; won Dubai Golden Shaheen)