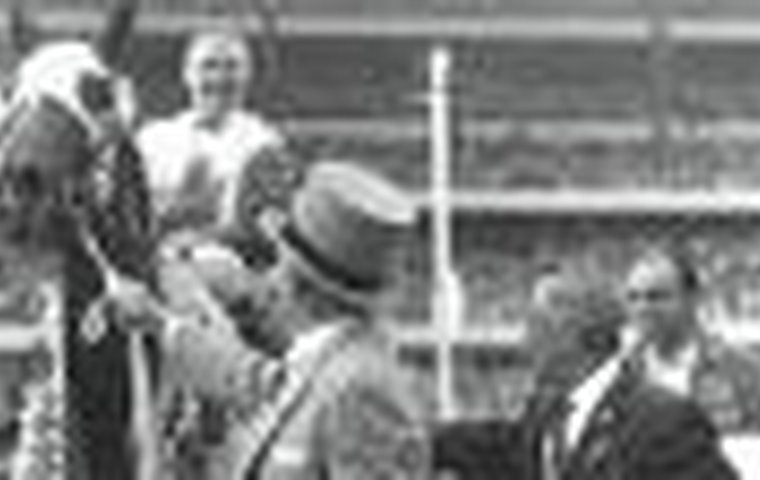 Established in 1998, Ontario's Slots at Racetracks Program brought a windfall to racing in the Canadian province with 20 percent of revenue from new slot machine parlors at racetracks directed to the industry. The government's sudden decision to cancel the program in 2012 dealt a nearly fatal blow to racing and breeding in Ontario. Two years later, veteran Canadian racing journalist Dave Briggs explores the ill-fated slots era in a six-part series with an eye toward lessons for racing jurisdictions in America that derive revenue from other forms of gaming.

Read part 1: Lessons for every slots jurisdiction
Read part 2: How Ontario's tracks ended up with slots
Read part 4: How slots transformed Woodbine
Read part 5: Why slots were cancelled
Read part 6: What other jurisdictions must learn from Ontario
----------
To understand how passionate Canadians are about horse racing, consider the first official race meet was held in the nation exactly 100 years to the day before the country was born. On July 1, 1767, a mare named Modesty won a race for CA$40 on the Plains of Abraham in Quebec City. Sixteen years later, in 1793, horse racing began in Ontario on a sandy, straight track located on a strip of land in Lake Ontario on the peninsula that once connected Toronto Island to the mainland right at the heart of the nation's biggest city. There, informal contests were held between military personnel and citizens.
There are also accounts of horse racing in garrison towns in the Niagara region as early as 1797, but the sport really began to gain steam in Ontario in the 1800s after the end of the War of 1812 between Canada's British forces and the Americans.
Racing historian Lou Cauz said the early Canadian breed "was a weedy kind of plodding horse." Cauz credits another war for a vast improvement in the quality of Canadian horseflesh.
"During the American Civil War, a lot of horses were shipped to Canada to escape going into the Union or Confederate cavalry and possibly being killed," Cauz said. "That's what improved our breeding up here, the influx of American horses from Virginia and Kentucky."
Some 30 years later, Joseph Seagram, patriarch of the Seagram alcohol fortune, began importing stock from England and bringing English mares to Canada to foal.
"The Canadian-bred horse wasn't too distinguished until the bloodlines of American bloodstock and English bloodstock improved it," Cauz said.
The province has been home to a multitude of Thoroughbred and Standardbred racetracks in its history. According to historical work Cauz did for the Canadian Horse Racing Hall of Fame (of which he is an inductee), in 1837, the Upper Canada Turf Club grew out of a series of military races by officers stationed at Fort York in Toronto. That same year, the inaugural meeting of the Home District Turf Club, managed by City of Toronto, was held on an estate in the city's Humber Valley section. It was one of 12 tracks operated in Toronto from 1840 to 1955.
In 1875, the downtown track that would eventually become Greenwood Race Track was born. The track's inaugural meet featured trotting and Thoroughbred races and steeplechasing. Harness racing was discontinued in 1894, but returned in 1954 and remained a fixture at Greenwood to the end. The track played host to Canada's signature horse race, the Queen's Plate, in 1876, 1881, and for a 72-year stretch from 1883-1955.
The Queen's Plate alone is a testament to Canadian passion for horse racing. It began in 1860 and is the oldest continuously run race in North America, predating the Belmont Stakes by seven years, the Preakness by 13 years, and the Kentucky Derby by 15 years. The race has had a direct tie to the British Royal Family since its inception, and Queen Elizabeth II has personally attended the Queen's Plate four times in her 62 years on the throne.
In 1954, the current Woodbine Racetrack located near Pearson Airport was opened. It was the realization of a dream for tycoon and breeder E.P. Taylor who founded the Jockey Club of Canada and owned Windfields Farm, the Oshawa, Ont. nursery that produced Northern Dancer, the greatest Canadian Thoroughbred ever and one of the greatest in the sport's history the world over.
Beyond Taylor, Seagram, and Northern Dancer, Ontario has produced other Thoroughbred greats such as jockey Sandy Hawley, Sam-Son Farm's Ernie Samuel and horses such as Bunty Lawless, Dance Smartly, George Royal, La Prevoyante, and Inferno, to name just a few.
Yet, the province is as much, if not more so, a Standardbred haven, hailed as one of the greatest regions in the world for trotters and pacers. Standardbred legends with a major connection to Ontario include pacing superstar Somebeachsomewhere, breeders Armstrong Bros. Farm, trainers Ben White and Bob McIntosh, drivers Keith and Ron Waples, pacer Cam Fella, trotting sire Balanced Image, pacing stallion Camluck and John Campbell, the sport's highest-earning driver, whose CA$285 million in career purse earnings ranks him fourth on the all-time list in North America when he's ranked against jockeys.
While Quarter Horse racing is held just at one track (Ajax Downs) and Thoroughbred racing at two (Woodbine and Fort Erie), Standardbred racing is still contested on 15 tracks, covering much of the province from small towns to the big cities.
For the last 20 years, the sulky sport has even received equal billing at Woodbine, a move that came out of necessity when the Woodbine Entertainment Group ran into financial trouble in the 1990s and was forced to sell off Greenwood.
---
Tomorrow: How Woodbine went from the brink of bankruptcy to flourishing
Dave Briggs is the co-editor of Canadian Thoroughbred magazine and a freelance horse racing columnist and features writer. For 18 years he was the editor of harness racing trade publication The Canadian Sportsman.