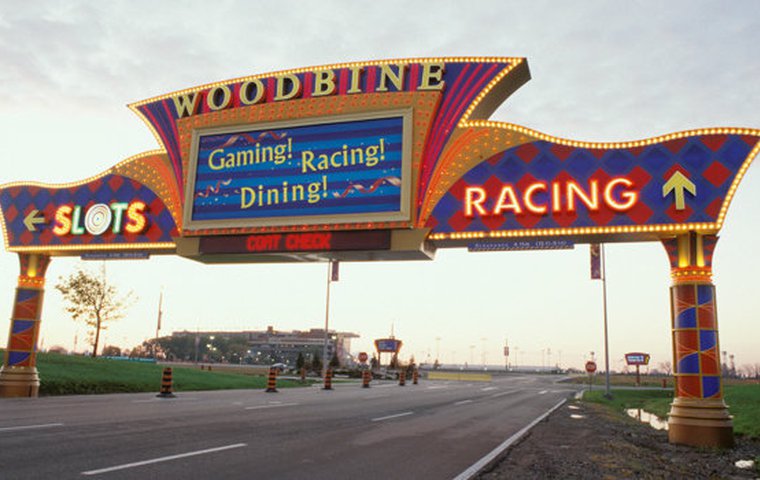 Established in 1998, Ontario's Slots at Racetracks Program brought a windfall to racing in the Canadian province with 20 percent of revenue from new slot machine parlors at racetracks directed to the industry. The government's sudden decision to cancel the program in 2012 dealt a nearly fatal blow to racing and breeding in Ontario. Two years later, veteran Canadian racing journalist Dave Briggs explores the ill-fated slots era in a six-part series with an eye toward lessons for racing jurisdictions in America that derive revenue from other forms of gaming.

Read part 2: How Ontario's tracks ended up with slots
Read part 3: Ontario's rich racing heritage
Read part 4: How slots transformed Woodbine
Read part 5: Why slots were cancelled
Read part 6: What other jurisdictions must learn from Ontario
----------
As cautionary tales go, Ontario's troubled union of slot machines and horse racing is a doozy; a rags to riches to rags story to be heeded by anyone in racing enticed by the siren song of casino gaming.
Some 15 years after the province's Slots at Racetracks Program (SARP) pulled Toronto's Woodbine Racetrack from the precipice of bankruptcy — along with many of Ontario's 15 other pari-mutuel tracks — SARP, as it was originally envisioned, is in tatters, scuttled by greed, entitlement, infighting, missed opportunities, starry-eyed dreams of casino expansion, and most of all, political ignorance and incompetence.
Never mind that the program was the most successful of all of Ontario's gaming sectors, delivering some CA$1.1 billion to government coffers annually to easily outperform both lotteries (about CA$800 million) and the province's four commercial casinos, which have struggled to break even in recent years. Never mind that SARP provided a direct infusion of CA$345 million annually to the horse racing industry that resulted in tremendous churn in the province's rural economy and elevated Ontario among the world's top racing jurisdictions.
In March 2012, with little warning, explanation or consultation, the provincial government exercised a one-year out clause in its long-term contracts with the horse racing industry. We'll examine the reasons SARP ended in part five of this series. For now, you should know the impact on the horse racing industry was devastating, particularly for the province's horse breeders, who were immediately left with horses to sell worth half what they were the year before.
"I think it's going to have a ripple effect throughout our industry, but the breeders are being hit hard right now," said Anna Meyers, just two weeks after the announcement that SARP had been cut. She knew from personal experience. At the time, Meyers was the president of the Standardbred Breeders of Ontario Association. She and her husband, veterinarian Dr. Pat Meyers, operate Emerald Ridge Farm north of Mohawk Racetrack in the town of Rockwood.
"There is three years worth of investment sitting on a breeding farm at any given time," Anna said in March 2012. "We have foals that are being born this season, and we have yearlings that will be sold this fall at yearling sales. Right now, their value has plummeted... All of that investment has been made."
Just two years later, Emerald Ridge Farm is a shadow of what it once was when it stood both Standardbred and Quarter Horse stallions. Both Anna and Pat have taken jobs outside of the horse racing industry, though Pat remains the track veterinarian at Grand River Raceway in Elora, ON, which will have 48 race cards in 2014. There are just 16 horses at Emerald Ridge, and the couple did not breed any horses last year due to the uncertainty of the industry.
"The fallout from SARP ending has had a significant impact on our business," Anna recently wrote in an email. "At some point, you have to take a critical look and decide whether you are willing to watch everything you've worked hard for disappear and insist on staying this course and losing your home and your ability to provide for your family. Or you alter your course in life to enable you and your family to survive. We certainly understand how others have had to make the same difficult decision. The stress of going through this is unfathomable."
The government that ended the slots program concedes the industry supported 30,000 full-time equivalent jobs. Recent estimates are that 9,000 industry jobs have been lost since the slots program ended.
Total race dates have been slashed from 1,568 to approximately 960. Purses, despite some transitional government aid, are off by 35 percent.
"We're not fighting a wage decrease, we're fighting extinction," trainer Ben Wallace said in March 2012.
Initially viewed by many in Ontario as a blessed savior for horse racing, it didn't take long for it to be obvious slot machines were not a panacea. Instead, slots became a necessary evil. The revenue was great, of course — much higher than even the wildest initial estimates — but the machines carried a high price in terms of the number of racing customers they poached, exacerbating an attrition that had begun long before the slots era kicked into gear around the year 2000.
Prior to that, despite horse racing's long, proud history in Ontario, the industry was struggling to survive on its own. Declining attendance and softening handle in the 1990s was the result of increased competition for disposable income and the racing industry's reluctance to evolve, particularly in terms of customer-focused improvements. When slots were installed at the tracks, handle initially rose before there was a precipitous, decade-long decline. At the dawn of the slots era in 2002, total handle topped out at some CA$1.2 billion in Ontario. By 2011, the number had fallen below a billion dollars to CA$999 million.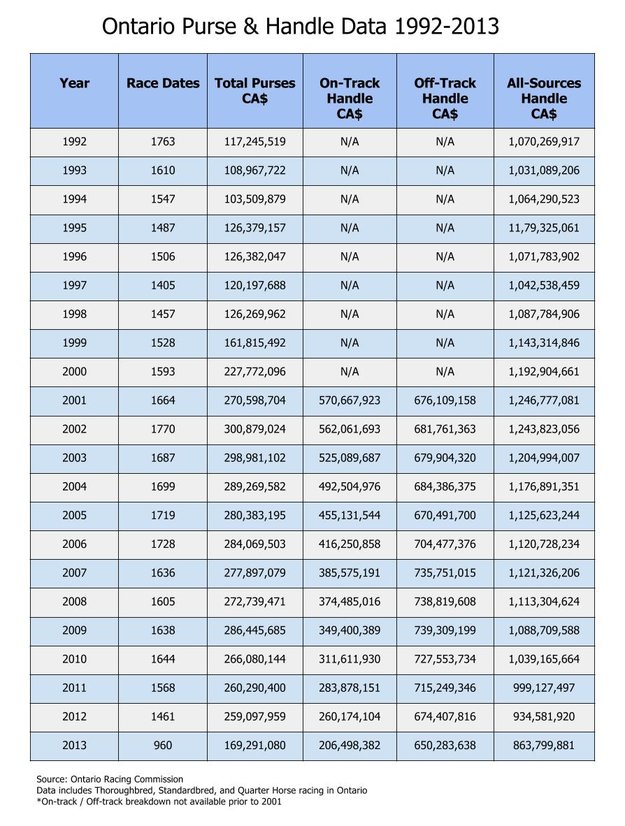 Meanwhile, the racing industry quickly became hooked on slot revenue and fractious industry groups squabbled over how best to allocate it. Perhaps worst of all, the industry developed a dangerous level of entitlement to the revenue from slots, a condition that deluded many into thinking the party was never going to end. That last part is understandable considering the government was raking in 75 percent of the slot revenue. Why would anyone in horse racing believe the government would pull the plug?
Yet, among the many missteps made during the slot era, Ontario's horse racing industry grossly underestimated the depth of government greed and how vulnerable the industry was politically, particularly with the ruling Liberal Party that was elected with scant rural representation and has been mired in scandals and a major financial crisis.
When the global recession bit hard in 2008, the economic downturn, coupled with government overspending, pushed the province's deficit in excess of CA$15 billion and sent the political leadership in a desperate search for revenue.
Horse racing, with its meagre public support, negligible political power and even greater political naiveté, became an easy target.
In hindsight, it was inevitable from the start that the government would eventually raid horse racing's share of slot revenue. Today, it's just as inevitable cash-hungry politicians in jurisdictions around the world will follow Ontario's lead.
---
Tomorrow: How Ontario ended up with slots in the first place
Dave Briggs is the co-editor of Canadian Thoroughbred magazine and a freelance horse racing columnist and features writer. For 18 years, he was the editor of harness racing trade publication The Canadian Sportsman.