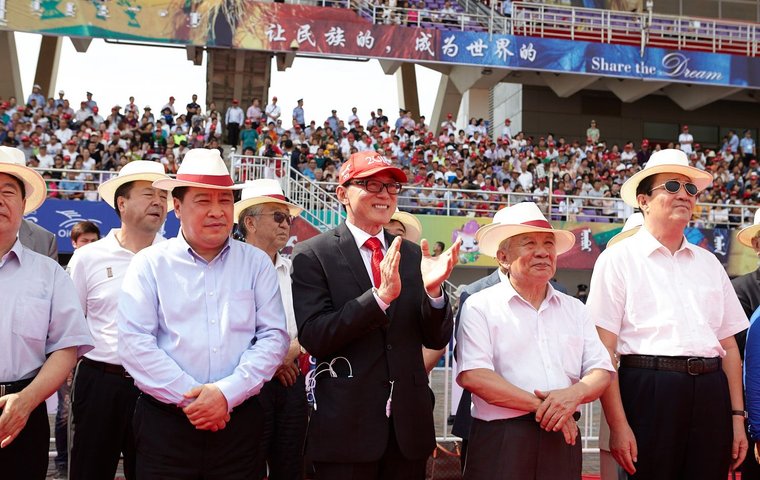 The China Horse Club is back in the news again after its purchase of a share in Breeders' Cup Classic favourite California Chrome. The CHC, which had already bought into Preakness winner Exaggerator earlier this year, has been making a mark in the industry for a while now. But who and what exactly is the CHC? Paul Haigh, who attended a race meeting it organised in China recently, sheds some light.

The China Horse Club, currently the world's ninth highest-ranked owner on the TRC Global Rankings, is a puzzling phenomenon, particularly, perhaps, to Americans.
This is not to say that the rest of the world, or even China itself, can immediately pigeonhole it. Is it "an ownership club"; "a group of syndicates"; "a collection of Chinese billionaires"; "a charitable organisation within the Chinese mainland"; "an instrument that evangelises for racing in the world's most populous country.
It is also "a group that takes slightly built young horse enthusiasts from distant Chinese villages and turns them into star jockeys"; "an organisation that now has top-class racehorses in every major racing country"; "a lifestyle club dedicated to improving the everyday experience of China's new immensely rich"; or "a club which has already, in just the three years of its existence, owned or part-owned Horses of the Year in places as far apart as Europe (Australia, the horse) and Australia (the horse, Dissident).
Or are all these definitions incorrect or inadequate?
Now, with the purchase of the winner of this year's Dubai World Cup and the 2014 Kentucky Derby and Preakness Stakes, it looks as though the Club have a very reasonable chance of being associated with another Horse of the Year, this time in America as California Chrome has an outstanding chance of winning the main Eclipse Award once again (he was U.S. Horse of the Year in 2014).
A great deal of ingenuity
The Club bought into the Preakness winner Exaggerator after his second place in the Kentucky Derby and before his victories at Pimlico and then at Monmouth in the Haskell.
The CHC is all the things described in the first paragraph. And probably a few more of which this writer is still ignorant.
Racing in China is still unable to develop as it has elsewhere because of the prohibition on gambling imposed by Chairman Mao in 1949 - and still very much in force. This has meant that the creation of an organisation like the CHC, its very existence in fact, required a great deal of ingenuity.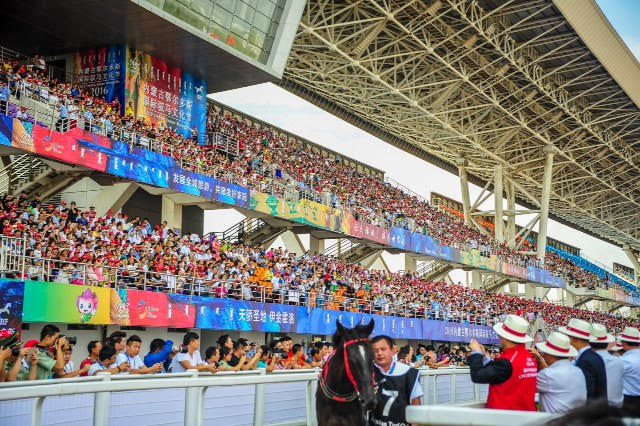 The man who provided that ingenuity is CHC chairman and founder Teo Ah Khing, a Malaysia-born Chinese Harvard graduate. Teo, the youngest of 10 children from the small town of Kuching in Borneo, is an entirely self-made billionaire specialising in architecture and construction. He designed, and one of his Desert Star group of companies built, Meydan for Sheikh Mohammed.
It was during the years it took to create Meydan that its architect discovered his own enthusiasm for racing and began to work out a means by which his own country's wealth and long-standing racing traditions could be combined to build, or rebuild, the sport of Thoroughbred racing in China.
Teo's own history means his ingenuity is not in doubt, but, if he is so ingenious, why did he choose the city of Ordos in Inner Mongolia (a province of China not to be confused with the independent country of Mongolia) to stage this year's China Equine Cultural Festival?
Home of Ghengis Khan
The CECF is an annual event that includes a race meeting and is designed to raise enthusiasm for all matters equine as well as the sport of Thoroughbred racing in China.
Ordos is rather a strange city. It was built to house several million at the height of a coal-mining boom in the region but now has only a fraction of the anticipated number of residents.
New but largely unoccupied tower blocks dominate its landscape. Its streets are dominated by many fearsome statues featuring Genghis Khan, whose homeland this was.
Ordos is 600 miles from Beijing and 200 miles from the edge of the Gobi Desert. In some parts of China its nickname is "the ghost city". It is not at first glance the sort of place you'd choose to stage a race meeting, or any event to which you'd want to attract a crowd.
Teo and the CHC saw its advantages though. For a start, at Yiqi, around 30 miles from what you might call the city centre if you were certain you could identify it, Ordos has a very fine racecourse. For another thing, the region of Ordos, and inner Mongolia in general, has a tradition of admiration for the horse that dates back to the time when Genghis Khan (1261-1325) and his hordes conquered most of the known world, an empire that stretched from Poland to the Pacific. An army that consisted almost solely of mounted archers, they lived off the land in every way, taking nothing with them but spare horses.
Ambitions to create a breeding industry
Genghis himself may be remembered elsewhere as a terrifying conqueror, but in his homeland he is venerated, and at least partly because of that veneration, the horse is venerated too. (He did not take women with him, by the way, and a ridiculously high proportion of the world's population has his blood flowing through its veins. DNA studies suggest he may have as many as 32 million direct descendants scattered in the countries he conquered. Not even Eclipse has stats like that).
The third point is that Teo obtained from the Ordos local government a long-term lease that enabled the CHC to stage race meetings there for the next 15 years at least. This is of considerable significance as it must have been approved not just by local government, which may well have seen a chance of injecting new life into the city, but by central government too, which implies approval for the CHC from Beijing.
The CHC has grand plans for Inner Mongolia. Not only does it wish to make Ordos a base and focal point for racing in China, it wants to create a breeding industry based on the nearby grasslands, on the plausible theory that, if those grasslands enabled horses to thrive for the Khan, they should do the same for the Thoroughbred. The long-term aim is to match Kentucky as base for Thoroughbred breeding. How long? Twenty to 30 years is the current estimate.
It has grand plans wherever it goes, for that matter. Shortly before China's rich began to congregate for the CECF on August 20-21, it was announced that Desert Star had signed a contract with the government of St Lucia to build on the island a resort, a racecourse, and stabling for 1,000 horses.
Guests of honour
To provide physical evidence of the reality of this ambitious project, the Prime Minister of the Caribbean island, Allen Chastanet, was one of the guests of honour at Ordos, along with WinStar's Elliott Walden and John Warren, newly appointed chairman of the China Horse Club's International Advisory Committee, who - with his other hat on - is also racing manager to Britain's Queen Elizabeth II.
Still there were sceptics. How were they going to get a crowd 600 miles from the nearest genuine conurbation, even if that does happen to be Beijing? Would people travel the 600 miles? Would horse-loving locals really come out in force. If they wanted solid overseas media representation, why stage the event to clash with the York Ebor Festival in England and Saratoga in the United States?
No problems as it turned out. Ordos has a fine international airport, although the absence of international flights does mean those from other continents still have to do a fair bit of travelling even after they've touched down in China.
The clash with York and Saratoga mattered not one bit to the locals, of course, but a fair representation of journos from North America, Britain and Australasia showed it was possible to tear even the committed away from those alternatives.
Pure sport
CHC members came from all over the country, an intriguing group in themselves since, because ostentatious display of wealth is frowned upon in modern China, they dressed no more smartly than other racegoers, which may have been one reason Goodwood-style Panama hats were issued for all male, non-local guests to wear if they wished.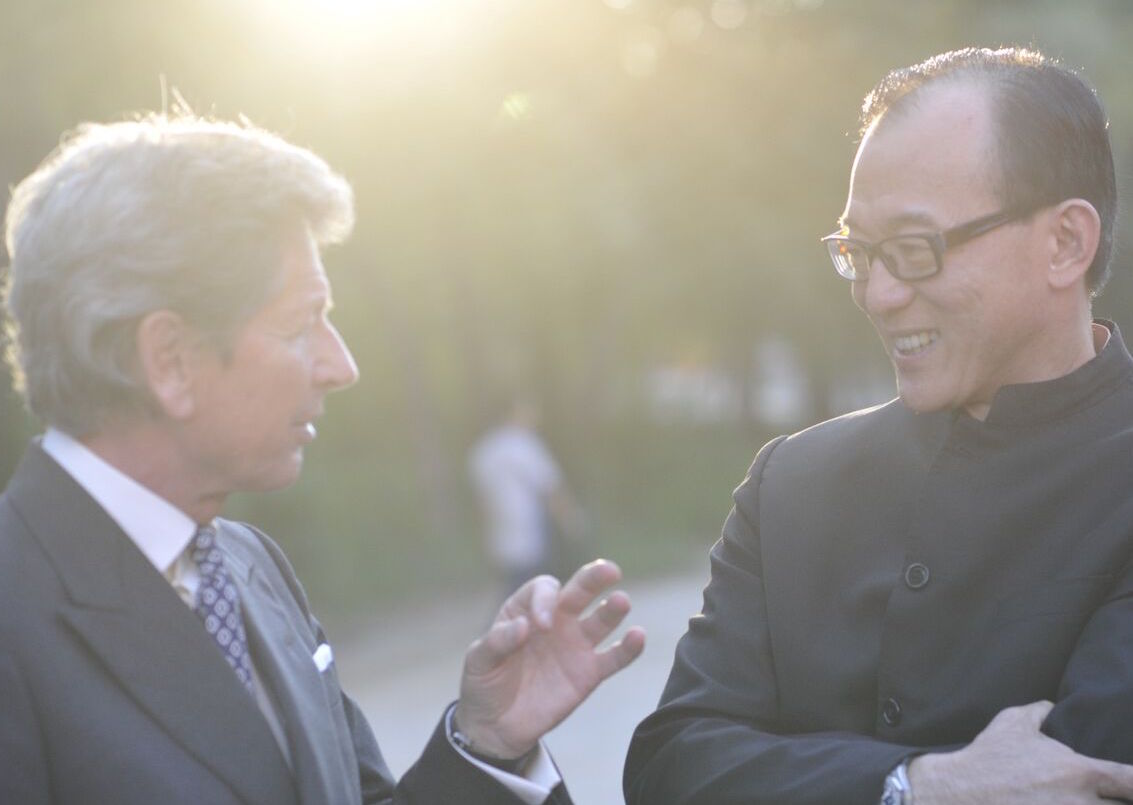 Indeed the choice of dates for the 2016 CECF may have been a typically inspired one, because it meant the China Horse Club's annual jamboree became almost part of the Namad festival, a Mongolian celebration of long tradition that combines archery and wrestling with horse sports of every kind, which began the following day.
A crowd of 26,000 at Yiqi, not one of whom so much as thought of having a bet, of course, was testimony to the attraction of horse racing as pure sport in its own right.
There was free entry and free transport from the city, but whole families came on a day when there were only four races in all.
The fact that none of the 26,000 seemed to get even slightly bored or restive in blazing 30 degree (90 fahrenheit) sunshine said a lot about the entertainment between races. This included famous Mongolian singers, dancers in traditional costume, and an extraordinary orchestra of about 40 musicians, who all played an instrument called the horse-head sitar with such raucous brilliance that even foreigners who'd never of heard the instrument before found themselves thrilled.
Racing and glamour
The Club misses no tricks when it comes to keeping a crowd happy.
Miss China was there, looking as sumptuous as you might expect in a backless cream dress, but no more wonderful than a group of ladies of about the same age - sort of CHC youth cheerleaders - flown in specially for the event with the express purpose, one had to suppose, of providing proof that if Thoroughbred racing means anything to its East Asian devotees, it means glamour.
Fireworks, another Chinese tradition, concluded the festivities. Hardly anyone left before they were finished.
The China Horse Club is a global phenomenon, but it is also a local one. According to CHC vice president Eden Harrington, live viewing figures online, mostly in China itself but also this year in India and South Africa too, topped one million, up 400,000 on last year's record. The 26,000 was also a record for a race meeting held on the Chinese mainland - at least since the revolution.
But the CHC's ambitions are as much focused overseas as they are within China itself. The club needs both in order to develop for itself to thrive.
Large pool of billionaires
The countries that top its list for penetration are now Britain, and to an even greater extent (anything to do with Teo's Harvard education?) the USA.
Americans may be puzzled by this new concept in ownership. How do you get a group of around 300 billionaires together, persuade them that they want to pay US $1.25 million each as an annual subscription, with costs of purchase and training on top, and keep the movement growing?
You need a large pool of billionaires to begin with - and China has that, a deeper pool than the USA's in fact. You also need success on the track, or the glamour concept just isn't going to work.
The CHC has mostly young horses at the moment. It hasn't been around long enough to have rugged old warhorses in its portfolio.
Exaggerator may be have become a slight disappointment, but, as a well-bred Kentucky Derby runner-up and Preakness winner who added the Haskell, he's sure to have a future at stud, as of course should California Chrome.
The Club has had five individual winners in the USA in as many weeks, the most interesting of whom now may be the Bill Mott-trained Good Samaritan, who came from last in the 'Win and You're In' Summer Stakes at Woodbine to retain his unbeaten record by an easy two lengths and will now probably head directly for the Breeders' Cup Juvenile Turf.
Click here to check out all the runs around the world that have counted towards the CHC's current position in the TRC Global Rankings.
It may take two or three years for the full impact of the CHC's investments at sales worldwide to become evident in North America, but Good Samaritan might provide a good start.