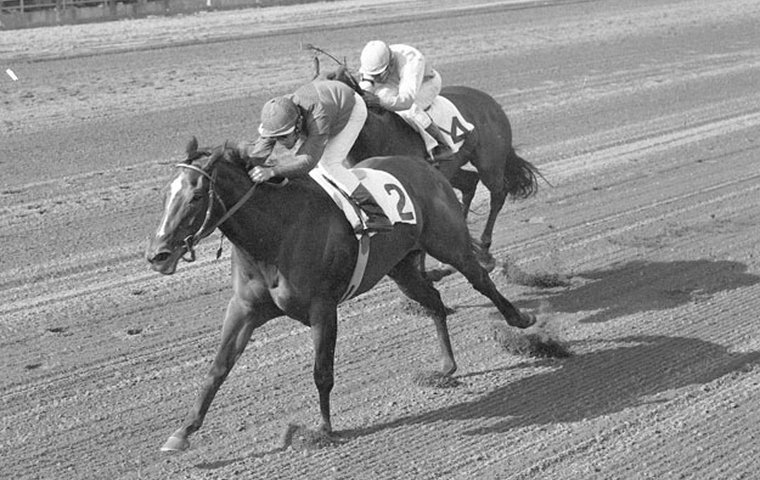 Legendary trainer John Nerud, who died last week aged 102, was responsible for a host of outstanding horses, including Delegate, Gallant Man, Intentionally, Dr. Patches, and Cozzene. But he is perhaps best known for his association with the four-time champion Dr. Fager, and his younger half-sister Ta Wee. Mary Pitt looks back at the filly's magnificent career.

The 1966 foal crop was an exceptional one. Not only did it produce Horses of the Year Arts And Letters and Ack Ack, but from it emerged a trio of talented distaffers: Gallant Bloom, unbeaten in eight starts at three; Shuvee, back-to-back winner of the then two-mile Jockey Club Gold Cup; and Ta Wee, twice champion sprinter and bearer of incredible weights.
Foaled in Florida at Ocala Stud Farm, Ta Wee raced for her breeder, Tartan Stable, and was trained for the first part of her career by Tartan's president, Hall of Fame conditioner John Nerud.
A large shadow of expectation loomed over Ta Wee from the outset – that of her older half-brother Dr. Fager, Horse of the Year in 1968 and holder of the world record for a mile on dirt.
Ta Wee was by multiple stakes winner Intentionally and out of the mare Aspidistra, who was purchased for $6,500 as a birthday present for Tartan owner William McKnight by his office staff. She was the only foal of her dam and managed just two wins from 14 starts. Aspidistra's career as a broodmare fared considerably better, as she produced four stakes winners from 13 foals.
Ta Wee's racing debut came on July 30, 1968, at Saratoga, where she finished fourth as the favorite in a five-and-a-half-furlong maiden. The race was run on a Tuesday and the following Saturday at Saratoga, 4-year-old Dr. Fager won the Whitney by eight lengths under 132 pounds.
Ta Wee's first victory merited a headline at the top of the New York Times racing page on Aug. 14. She won by six lengths in another five-and-a-half-furlong event. The aforementioned Shuvee, a maiden making her sixth start, finished fifth. Final time was 1:04 3/5, only 3/5 slower than the track record.
Ta Wee ran unplaced in the Spinaway a week later. The 18,690 who turned out on a Wednesday was the largest weekday crowd ever at Saratoga up to that time. The following Saturday, Dr. Fager sped to his world record 1:32 1/5 mile in the Washington Park Handicap under 134 pounds.
Aqueduct on Sept. 7 was the scene of Ta Wee's final start as a 2-year-old before a crowd of 48,103, who later in the day saw Gallant Bloom capture the Matron by nine lengths. Ta Wee won by two, going off as the favorite in the field of 10.
Horsemen's boycott overshadows clash with Shuvee
In her 3-year-old debut on Jan. 18, 1969, Ta Wee took the second division of the Jasmine Stakes at Hialeah by three over 11 others. She already was filling in admirably for the now retired Dr. Fager.
After finishing third in Hialeah's seven-furlong Mimosa Stakes at 6-5, doubt was cast on Ta Wee's ability to go beyond six furlongs, but a month after taking the six-furlong Prioress at Aqueduct on April 3, she managed a head decision over Shuvee in the seven-furlong Comely.
The contest between these two outstanding fillies was overshadowed by events taking place on the Aqueduct backstretch. Racing was just resuming that day after a nine-day horsemen's boycott over the issue of funding a pension fund for horsemen from the state's share of tax from a proposed extended meet.
On Comely day, stablehands staged a blockade to prevent horses from going up for the races, delaying the start of the program an hour and a half and forcing the cancellation of the first race and thus the daily double. A season-low crowd of 15,063 bet $747,412, the lowest handle since pari-mutuel wagering was initiated in New York nearly 40 years earlier.
Since most jockeys had called in sick in support of the horsemen, Ta Wee's regular rider, Hall of Famer John L. Rotz, was replaced by Eddie Belmonte. Favorite Ta Wee recovered from an awkward start to win over second choice Shuvee in 1:22 3/5.
Ta Wee then took the Miss Woodford at Monmouth by seven, again with Belmonte up, in 1:08 3/5, only a fifth off the track record for six furlongs.
The 81-year-old McKnight made his first visit to Saratoga for the July 31 Test Stakes to see his filly win by a length over five others. McKnight was the retired chairman of the board of Minnesota Mining and Manufacturing, better known as 3M.
She makes light of a big weight in first race against males
Three days after the Test, it was announced that Hall of Fame trainer Flint "Scotty" Schulhofer would take over the day-to-day training duties of Tartan's 36-horse stable at the start of the Belmont fall meet, giving Nerud more time to oversee Tartan's entire racing and breeding operation.
Schulhofer, a former steeplechase rider, had begun training in 1962. He remembered Ta Wee as being deceptive physically, having "a massive girth, but short legs."
She made Schulhofer's first day on the job a rewarding one. Facing males for the first time, she annexed the Fall Highweight on Belmont's opening day. Under 130 pounds, she was the actual highweight, carrying 10 pounds more than scale weight for a filly at that time of year. Sent off the 3-2 favorite in 86-degree heat, she broke from the outside in the field of nine and won by three-quarters of a length in 1:10 1/5.
Stretched out for the first and only time in her career, Ta Wee could do no better than fourth in a mile-and-sixteenth allowance on turf at Belmont in September. "There was no race around that fit her very good," said Nerud of the decision to send the confirmed sprinter over a route of ground. "So Scotty said, 'What about the turf?'"
It was obvious to Nerud right out of the gate that the filly disliked the surface, and he even toyed with the idea of retiring her. "There are just too few opportunities for a filly after this, and she's far too valuable for breeding," he was quoted as saying in the New York Times after the race.
But race on she did. A month later in the Interborough at Belmont, as the heavy favorite under 124 pounds, she won by three and a half lengths, equalling the stakes record.
Nationwide protests that day marked Vietnam War Moratorium Day. Flyers were handed out in front of the track and extra police called on duty, but no incidents were reported.
Before a crowd of 45,846, Ta Wee made her final start as a 3-year-old in the $58,000 Vosburgh at Aqueduct on Nov. 1. Though mostly males, the field included Shuvee, who earlier in the year had become the second winner of New York's Triple Crown for fillies, and three-time champion Gamely, who the previous year had carried 131 pounds to victory in the Vanity Handicap at Hollywood.
Ta Wee carried 123 and won by a head in 1:21 3/5, just shy of the stakes record of 1:20 1/5 set by her brother the year before. Shuvee finished sixth, with the five-year-old Gamely back in eighth.
In the Vosburgh, Schulhofer recalled: "She was eight wide coming into the stretch with her head in front. At the wire she still had her head in front but a couple of jumps past the wire she was eighth. She just collapsed. She knew where the finish line was."
She came back in March to win the Correction Handicap at Aqueduct carrying 131 pounds, the most weight she had carried in her career, but the least she would be asked to carry all that season.
And the weights she is asked to carry keep going up and up...
In the Distaff at Aqueduct on April 8, 1970, she finished second as the favorite and top weight at 134, but came back two months later to win the Hempstead with 132. She then won the Regret at Monmouth by a half length in 1:10 under 136, the most weight then carried to victory in a stake at the New Jersey track.
Going to post the favorite and 134-pound top weight in the Gravesend at Aqueduct in July as the only filly in the field of nine, she finished second to Distinctive, the front-running winner by four in 1:08 4/5, only a fifth off the track record.
On Aug. 31, Ta Wee won the Fall Highweight for the second time, carrying 140 pounds, 10 pounds more but running a fifth of a second faster than the year before. Given her five-pound sex allowance, she was carrying 145 actual pounds against her eight male rivals. The last horse to carry 140 pounds to victory in the race had been True North in 1945, when it was run over the old Widener straight course. The next to achieve that feat would be Mt. Livermore in 1985.
The Interborough, a race she had won the year before with 124, was the final start of her career. This time she carried 142, giving from 18 to 32 pounds to her four female opponents. It was the highest impost carried to victory in the race since its inception in 1921.
The ability of a horse of either sex to carry great amounts of weight is a rare phenomenon in America in this day and age. Schulhofer had no qualms about asking Ta Wee to shoulder that kind of burden.
"We accepted the weight because we knew she could handle it," he said simply, a sentiment echoed by Nerud: "We just accepted it and went on."
In fact, jockey Rotz told Schulhofer after the race that he fell back on Ta Wee at the start. Even with 142 pounds, Rotz said, "She outbroke me." Rotz had to tote 26 pounds of dead weight in his saddle for the race.
Ta Wee won by three-quarters of a length, after leading most of the way, in the respectable time of 1:10, giving 29 pounds to runner-up Hasty Hitter. Few distaffers have even been asked to carry that much, let alone win with it.
Nerud: She had a wonderful temperament and was easier to train than Dr. Fager
Ta Wee retired to Tartan with 15 wins in 21 starts and earnings of $284,491. She was voted champion sprinter in 1969 and '70, following Dr. Fager, who held that honor the previous two years.
Horse of the Year in 1970 went to the gelding Fort Marcy, although there was some support for Ta Wee in spite of the fact that she competed only in sprints.
Ta Wee "had a wonderful temperament," according to Nerud. "I'd come up to her when she was in her stall and she'd lay her head on my shoulder. She was a good doer. She'd eat her dinner and go to sleep." But, he added: "She and Dr. Fager were alike in that they were both hyper. But she was easy to train. You could take her off the pace or have her on the lead. You couldn't do that with Dr. Fager."
The little blaze-faced filly whose name in Sioux means "beautiful girl" died in 1980 of colic. She produced only five foals, four of them stakes winners, including Great Above, the sire of 1994 Horse of the Year Holy Bull.
--------
Sources:
American Racing Manual, 1970 and 1971

New York Times microfilm archives at the Boston Public Library

Matriarchs, Great Mares of the 20th Century, Edward L. Bowen, 1999, The Blood-Horse, Inc.

Thoroughbred Champions, Top 100 Racehorses of the 20th Century, 1999, The Blood-Horse, Inc.