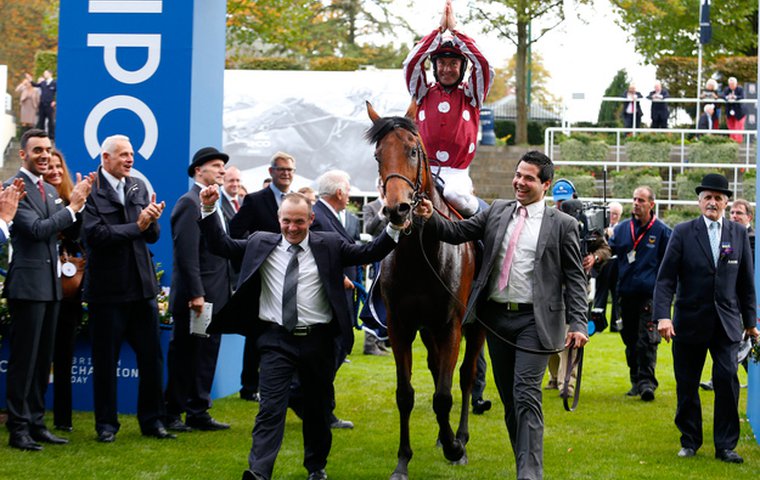 You could easily have been forgiven at the end of last season for thinking Olivier Peslier might be ready to hang up his boots after an illustrious riding career that has seen him win many of the world's greatest races during the past 20 years.

After all, French racing was still a little stunned after the announcement in October that the 42-year-old Frenchman and owner-breeders Alain and Gerard Wertheimer were parting company after a fabulously successful 12-year partnership, most notable internationally for three-time Breeders' Cup Mile winner Goldikova.
Yet, far from feeling his best days in the saddle are behind him, the charismatic Peslier goes into the 2015 season with a spring in his step as he opens a new chapter in what is already a story of great accomplishment. And there are two reasons for that.
The first is the totally different lifestyle he has adopted. Peslier and wife Emilie Lafeu, an owner-breeder, have said goodbye to the headquarters of French racing at Chantilly and moved to a new home, and a new pace of life, in southwest France.
The second is his new job. No sooner had the Wertheimers announced they were replacing Peslier with 25-year-old Maxime Guyon than another powerful racing operation was moving in. Peslier has long been one of the most sought-after riders in the world, and he was quickly snapped up as first jockey by Sheikh Abdullah Al Thani, whose Qatar-based Umm Qarn empire has swept all before it in Arabian racing and breeding, and is now expanding rapidly into the Thoroughbred world, where his family is already leaving quite a mark.
Sheikh Abdullah, a former Qatari Prime Minister, is the father of Qatar Racing's Sheikh Fahad (Just The Judge, Elm Park) and an uncle of Al Shaqab Racing's Sheikh Joaan (Treve, Toronado).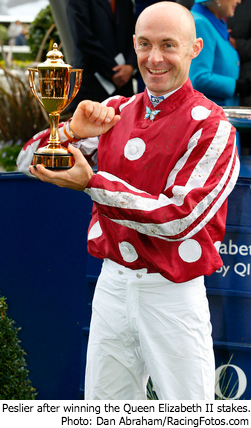 He set up Umm Qarn, a 580-acre stud farm in the desert north of Doha, in 1988. The operation currently has 20 Thoroughbreds in training with manager Alban de Mieulle in Qatar and 40 with four different trainers in France.
"I had already ridden quite a few winners for the Sheikh before he approached me to sign a retainer," Peslier said. "I will now ride all of his horses in France and Qatar. He originally had a lot more Arab racehorses than Thoroughbreds, compared to his sons, but we bought around 15 yearlings at the sales last year. They have done it the opposite way round to most owners in that they signed a jockey before buying the horses.
"We have an excellent team, with Alban de Mieulle as manager and Freddy Head and Francois Rohaut among our trainers in France. Everyone has an important role to play and there is a great atmosphere. Sheikh Abdullah speaks very good French and competes in endurance races. It is enjoyable for me as a jockey to talk to an owner who is not only interested in racing, but also knows and rides horses himself."
Peslier is eager for the challenge.
"I want to put this team on top, to win good races, and make their name known all over the world. It is not their style to spend millions buying up everything that shows talent, and success from breeding takes time, but I want to play my part to help as much as possible in the near future. I have always loved being part of a team and this is a new and exciting opportunity for me."
Of course Peslier is no stranger to helping build a racing empire. There are similarities with the early part of his 12-year association with the Wertheimer brothers.
"Those 12 years were an excellent period of my career," he said. "But it wasn't easy early on. It was the first time the Wertheimers had retained a stable jockey and everything had to be put in order. We had to find trainers that suited the operation, start out small and then improve along the way.
"I was lucky enough to ride some amazing horses during my time as stable jockey. Goldikova was of course an exceptional filly but there was also Intello, who won the Prix du Jockey Club, and Solemia, who provided me with my fourth Arc win [in 2012]."
During that time, the Wertheimer brothers, co-owners of the House of Chanel, were champion breeders in France three times and champion owners twice.
"We achieved our goals as a team," Peslier said. "And I am very proud of the fact they became the top owners and breeders in France during my time with them. If I had to pick out some of my best memories it would have to be Goldikova's third Breeders' Cup Mile success and her victory in the 2009 Prix Jacques le Marois, as well as Solemia's success in the Arc."
There is no trace of regret when Peslier speaks of the end of this partnership. "It was a mutual agreement to end my contract with the Wertheimers last year. I got married in the summer of 2014 and my wife's family are originally from the Basque region.
"We decided to move from Chantilly to Bayonne, close to the Spanish border, where there is a completely different climate, atmosphere, and type of people. The transport links are excellent so I can easily travel by train or plane to Paris or anywhere else I need to ride.
"It works out as expensive to be based here and travel to and fro as it was just to live in Chantilly, but at this stage in my racing career, my quality of lifestyle has become more important to me. It is a whole new chapter in both my personal and professional life and I am really looking forward to seeing what the future brings."
Peslier cut his teeth pony racing from the age of 12 and he did not waste any time making a name for himself once he took out his jockey's licence.
Andre Fabre, renowned for his ability to spot talent at an early age, quickly realised that this was a star in the making and the master trainer provided a 22-year-old Peslier with his first international G1 success - in the Irish Derby in 1995 with Winged Love.
The Elie Lellouche-trained Helissio was an important horse for his career - the pair won four G1s together, including the Arc in 1996.
Success in the 1998 Epsom Derby, on High Rise for Luca Cumani, and the 1999 Irish 2,000 Guineas, with Saffron Walden for Aidan O'Brien, cemented Peslier's reputation as a world-class jockey capable of riding any style of race on any horse for any trainer.
He had stints as stable jockey for André Fabre and the Wildensteins and became one of the first French riders to spend the winters based in Japan.
As one of the first French jockeys to ride at the top level internationally, he paved the way for young French riders to travel abroad. With four Arc wins and four French champion jockey titles to his name, as well as a reputation for professionalism and loyalty, he remains an idol and mentor for many young riders.
Peslier is renowned as modest and light-hearted, yet he can be philosophical. "I hope when people remember me as a jockey they think of my loyalty and hard work," he said. "I have always had faithful clients and I still ride for the same people today that I did when I was starting out. I sometimes missed a winner, but it was more important for me to think of the future. I was never interested in signing a year-long contract with an owner as I didn't feel there was much we could accomplish in such a short period of time.
"I am very proud of my achievements around the world. I hope I did my country proud and made it easier for other French flat jockeys to follow in my footsteps and show their talents on the international stage. I have always tried to set an example for younger jockeys and to give them advice if they need it along the way. I remember what it was like for me starting out. I have had to sacrifice a lot during my career but this was never a job…it's my passion."