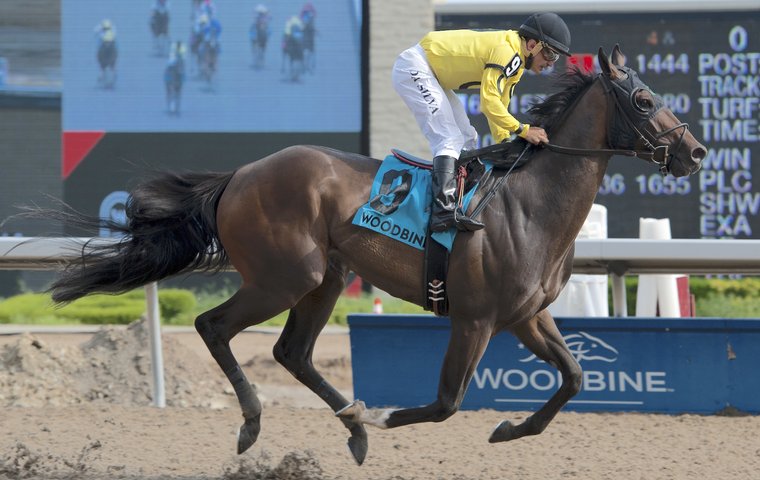 When Canadian trainer Catherine Day Phillips first laid eyes on Mr Havercamp in September of his yearling year, he appeared, "Short and fat, but he had a good walk. I didn't mind him."

Fast forward three years and Mr Havercamp will be one of the favorites for the $800,000 G1 Ricoh Woodbine Mile this Saturday (September 15). The field for the race is taking shape with local Canadian challengers facing both American and other international hopefuls, but Mr Havercamp would be a popular choice. He has come a long way since his early impressions as an immature youngster.
In 2015, breeders Sean and Dorothy Fitzhenry brought two Ontario-bred yearling colts to the Fasig-Tipton Kentucky Fall Yearling Sale. The horse they were high on was Diamonds And Roses, a son of Flower Alley, who justified the hype by bringing a bid of $47,000. He has gone on to win once in 14 starts.
'He was always behind everybody'
Mr Havercamp, however, didn't sell when he only brought a bid of $19,000. The son of Breeders' Cup Mile winner Court Vision and the non-winning Medaglia d'Oro mare Tennessee Lamb didn't have much in the way of pedigree, with only one stakes-placed runner in his first two dams. Things did not improve for Mr Havercamp over the next year.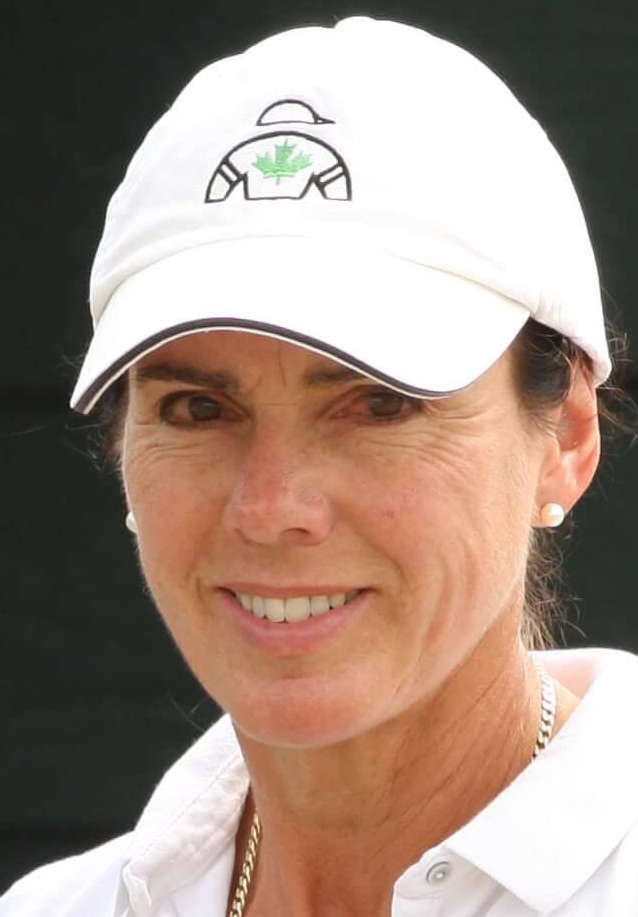 "When they brought him back to be broken he was always backwards and a bit immature," said Day Phillips (pictured). "When we went to Woodbine the spring of his 2-year-old season, we left him at the farm. He was always behind everybody."
When they did bring the gangly horse to the racetrack that summer, he was still acting slow to mature. "When the other horses were ready to breeze, he wasn't," Day Phillips said. "We X-rayed his knees and they were wide open, so we gave him six weeks off. We brought him back hoping to at least get some breezes in, but when we looked at his knees again they were still open. That was it, he had the rest of the year off at the farm."
It wasn't until spring of his sophomore year that Mr Havercamp was able to withstand serious training. In May 2016, his older half-brother – Tennessee Lamb's first foal, Tallboy Tuesday – had impressively broken his maiden by nine lengths first time out. "At the point where Tallboy Tuesday had run, our enthusiasm to Mr Havercamp started to grow," Day Phillips said. "Tallboy Tuesday showed some talent, and suddenly we saw Mr Havercamp as his full brother. And then he really blossomed as a 3-year-old."
In early July, Day Phillips sent out a pair of 3-year-olds in the 2017 Queen's Plate, Canada's most prestigious race. "We had Watch Me Strut and Guy Caballero going into the Queen's Plate, meanwhile Mr Havercamp looked better than both of them," the trainer admitted. "He had shown talent and we were excited, but he was still just breezing."
Mr Havercamp got his chance July 21, 2017, when he went to the post for the first time. Under jockey Eurico Rosa Da Silva, Mr Havercamp stalked the pace and then pounced to draw away, winning by 3½ lengths in a hand ride. Although that race was on Woodbine's synthetic main track, the size of Mr Havercamp's feet pointed to a future on the grass.
Day Phillips wanted to point her new star to the G3 Saranac Stakes at Saratoga, a race she won in 2005 with the popular Ontario-bred Jambalaya. "The Saranac was six weeks away, and there happened to be an allowance race in between, nestled in quite well, timing wise."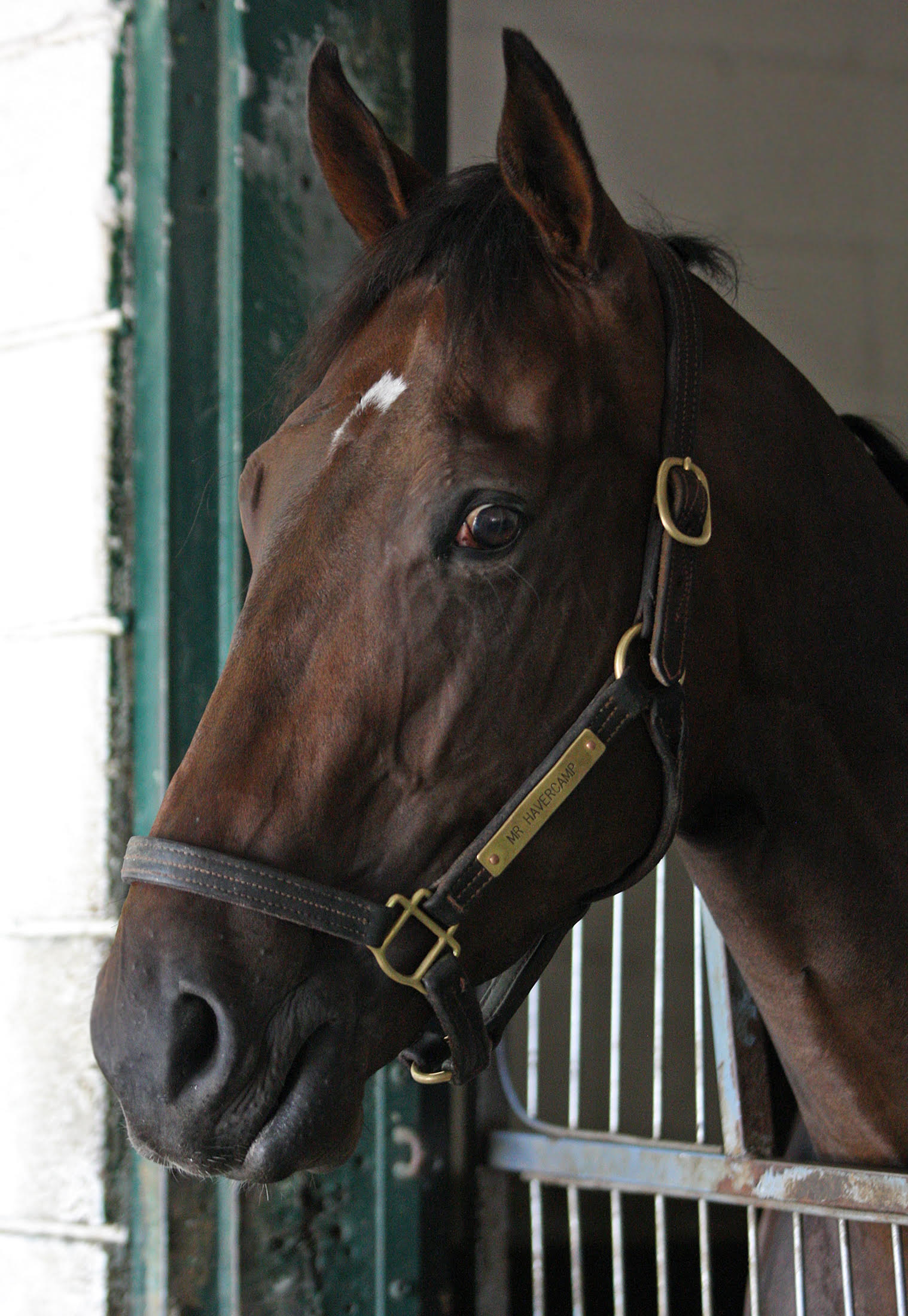 Mr Havercamp did win his turf debut, scoring by 8½ lengths in an effortless performance. Because Woodbine's turf course sits outside the main track, the gawky colt "was kind of spooky. He thought he'd take a good look at that grandstand", Day Phillips recalled.
The Fitzhenrys traveled to Saratoga for the Saranac, where Mr Havercamp was sent off as the third choice in a field of eight. He finished fifth with a troubled trip, and was only beaten three and a quarter lengths for the win. The horse that ran second that day, Yoshida, has since gone on to win G1 races on both dirt and turf in 2018. "He ran a good race and was beaten by Yoshida of all horses," Day Phillips said.
Returned to Woodbine, Mr Havercamp won both the Vice Regent Stakes for 3-year-olds and the Bunty Lawless Stakes over older horses. The latter was another tour de force, where he scored by 7½ lengths despite being bumped at the break and running wide. That effort put him squarely in the discussion for a Sovereign Award at the end of the season, but when Mr Havercamp shied and caused interference in the stretch of the Sir Barton Stakes, he was disqualified from second to seventh, ending his season on a sour note.
Day Phillips took him to Palm Meadows over the winter with an eye on some grass races in Florida. "He got hurt down there and ended up with an infection that blew up his whole leg," she said. "He had to go rest in Ocala and be on antibiotics for two weeks just to get the swelling down. Then he came with us to Keeneland; the infection was gone, but the leg was not what it should look like. Touch wood, he's been fine ever since."
Mr Havercamp returned to his winning ways in his 4-year-old debut, winning the Steady Growth Stakes on the main track off a six-month layoff. He shipped back to New York for the Forbidden Apple Stakes in July, but finished fourth.
"He still acted green," Day Phillips explained. "He was looking around a bit, was down on the inside, went forwards and backwards. He was just awkward the whole time. Apparently, he's not very green at Woodbine."
The only amount of green is the color of the grass, where Mr Havercamp excels. He won Woodbine's local prep for the Mile, the G2 Play the King Stakes, by 2½ lengths. "He was ready to run that day," the trainer said. "It was fairly ambitious since he hadn't won a Graded stakes race yet, but we circled the Mile and worked backwards to figure out how we were going to get there. He trained like that kind of horse."
Day Phillips is known for being especially welcoming to visitors, which enables Mr Havercamp to have quite the local following. "He's a special horse and it's special to be part of him," she said. "This is a good one, they don't come along too often."
Early look at the Woodbine Mile