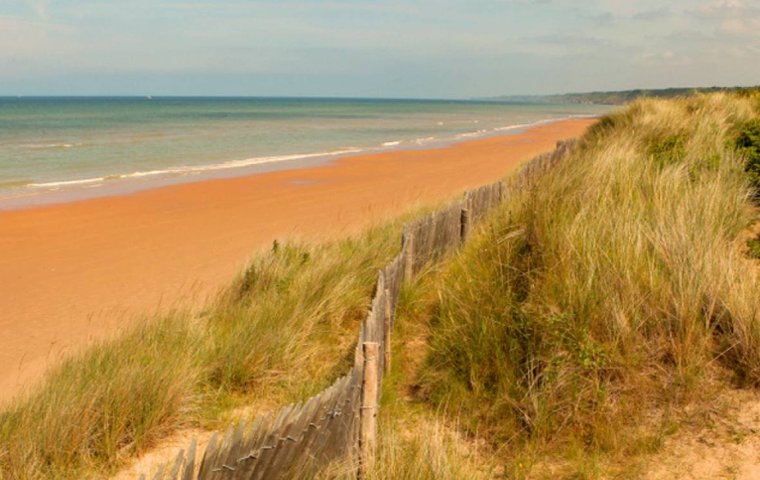 He did it easy, Omaha Beach. A romp, his bowling stride too much for the others. The ante-post Kentucky Derby favorite, the last-minute scratch due to a breathing problem. Surgery performed successfully. A win, a second, and then victory in the G1 Malibu (at Santa Anita last Saturday - see video below).

One more run, then retirement from the racetrack beckons, and a career as a stallion begins, for the horse who might have won the Roses.
He is well named, Omaha Beach, being by War Front. Omaha Beach was one of the landing beaches of the allied forces on the D Day landings in France on June 6, 1944. The others were Utah, Gold, Juno and Sword. Omaha was the deadliest landing beach. Heavy German artillery guns in concrete bunkers are still there on the beach. Two and a half thousand Americans died on that beach. Young men, who fought for our freedom.
I have been to Omaha Beach. We used to take a four- or five-day holiday at Deauville in Normandy each summer, when the racing and sales were on. It is a lovely setting for horse business, a similar vibe to Saratoga. It is where the Parisian racing circuit spends the summer. Quaint Hansel & Gretel homes, fantastic restaurants, and the beach at the bottom of the road lined with its famous colourful parasols. It is a beautiful, jolly place.
Omaha Beach was just down the road. We had a friend, an owner, who holidayed with us. He was a lifelong serviceman in the British military. He wanted to visit Omaha, so we all went.
We went and saw those giant concrete bunkers with those giant guns, we went to the museum, and learned about the landings. We learned it was a bloody mess. Strong weather and currents took care of many members of the two infantry divisions while attempting to land, tanks sank - with their crews. Water up to the soldiers necks, strong currents. And then they faced the strafing German machine guns.
We learned about all the casualties. But those two infantry divisions took that beach. We couldn't imagine it, here on a sunny day, people wandering, eating ice cream, talking, relaxed, we couldn't visualize it, what happened right there on that beach, back then.
We visited the American Cemetery afterwards. It was the most beautiful terrible thing we had ever seen. Row upon row upon row of white crosses. It is the quietest place I have ever been to.
We wandered past all the crosses in silence, saw all the names. No-one was eating ice cream here. No-one was talking.
It is hard to visualize war. But come here, and see the 10,000 white crosses, the whole place immaculate, the grass pristine, the silence stilling you. There is a giant monument beside a large square pond. There are 1,500 names on The Walls of the Missing there. Never found, nothing left of them.
Operation Pegasus took place a few months after the D Day landings. It was a rescue mission that successfully evacuated 138 allied soldiers stranded in German occupied territory.
Omaha Beach maybe rescued Santa Anita a bit on Sunday. So, it is fitting maybe that the Pegasus World Cup shall be his next and final race.
I hope Omaha Beach is a success at stud, I hope his name shall live on, so people don't forget. I had forgotten until I went there. I won't forget now. We all forget sometimes, don't we, how lucky we really are?
Happy New Year.