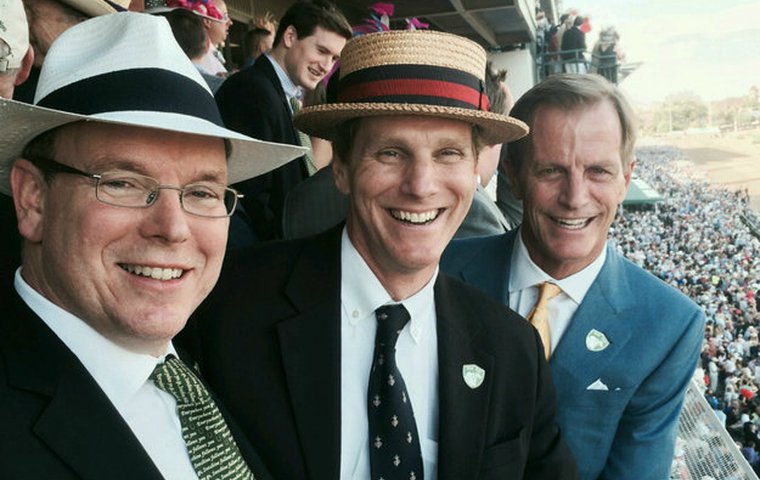 Olympians, royalty and a movie legend: a Kentucky Derby tradition still going strong after 70 years

When the Churchill Downs chairman phoned the newly installed president of Atlantic City Racetrack in 1946 to seek support for a new Kentucky Derby innovation, he could never have guessed what a marvelous tradition he kindled in one of Philadelphia's most celebrated families, that of patriarch John B. Kelly Sr. and his daughter Grace Kelly.
Last year, members of the Kelly family and friends celebrated their 70th anniversary of attending the Kentucky Derby each season since 1946. None of those making the annual pilgrimage from Philly to Louisville last year were among the original gang of 20 from 1946, but that is yet another wonderful aspect of this intriguing tale.
Jack Kelly had just co-founded Atlantic City Racetrack, he was new to the community of racetrack owners, and he wanted to show his support for innovations in the sport. Along with his partner, Leon Levy, he would introduce plenty of new ideas to the old game at Atlantic City.
Kelly's grandson, Chris Le Vine, picks up the backstory from there. "Churchill Downs had just built what today we would term a super box," he said. "There were 10 seats to a table and there were 10 boxes on top of the clubhouse.
"The chairman, a guy named Wathen Knebelkamp, called my grandfather and asked if he would take two tables, and my grandfather said 'sure'.
A truly great sportsman
"Grandfather would put together a group of friends and business associates. They would get on a train on Thursday and sleep on the train overnight. The train would pull up next to the track, they would get off and go to the races on Friday and Saturday, then they'd get back on the train right after the races on Saturday and the train would take them back to Philadelphia. Initially it was 20 guys."
A forerunner of famed "Millionaire's Row", the new "super boxes" overlooked the site of the Run for the Roses in its return to its usual place on the calendar of the first Saturday in May for the first time since the end of World War 2. King Ranch's Assault won the Derby that year and went on to win the Triple Crown for trainer Max Hirsch.
Jack Kelly was a man's man and one of the truly great sportsmen of his era in what is fondly remembered as the "Golden Age of Sport". He became the first oarsman to win three Olympic gold medals and he set a record with 126 consecutive single scull wins.
His rowing career had been interrupted by World War 1 and, upon discharge from the army, he sought to compete for the Diamond Sculls title in England's famous Henley Royal Regatta. But he was snubbed because the rule prohibited entrants that had done manual labor.
'Greetings from a bricklayer'
Kelly had not planned to go to the Olympics, but after the Henley incident he decided to go to Antwerp to meet and defeat the Diamond Sculls winner, which he did in a close but decisive contest.
Kelly was said to have sent his rowing cap to King George V with a note that read: "Greetings from a bricklayer."
Kelly was one of the best-known men of sport in the world. In his army stint, he won all 12 of his boxing matches. An injury prevented him from facing another icon of the era in the title bout in eventual tournament winner Gene Tunney (world heavyweight champion from 1926-28), whom he chided in later years, saying: "Aren't you lucky I broke my ankle?"
In addition to his prowess in the sculls and the ring, Kelly played professional football, earning fame as a running back. He once scored three touchdowns in a single quarter for the Holmesburg Athletic Club.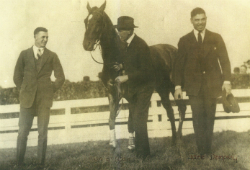 Kelly loved racing (here he is pictured on the left with the great Man o'War and former world heavyweight boxing champion Jack Dempsey). He loved to entertain. So it was only natural that he would gravitate towards the big stage of the Kentucky Derby.
On their Derby special train, some of the Philadelphians slept, while others played gin rummy and raised their glasses in toasts. They enjoyed the time together for a raucous few days away from home.
Considerable accomplishment
The senior Kelly made the pilgrimage to racing's mecca from 1946 until 1959. He died a month after the 1960 Derby, when his son, John Kelly Jr., took over the junket. Known as "Kell" by his friends and family, Jack Kelly's son was himself a man of considerable accomplishment.
Kell represented the United States in four consecutive Olympics from 1948 through 1960, earning a bronze medal in the 1956 Melbourne Games, as well as gold in the 1955 Pan American Games in Mexico City.
Perhaps the highlight of Kell's career came in 1947, when he captured the Diamond Challenge Sculls title at Henley, where his father had been spurned for being a common laborer. For this achievement, the younger Kelly was presented with the James E. Sullivan Award, emblematic of being the top amateur sportsman in the United States.
A staunch supporter of amateur athletics, Kell was elected president of the United States Amateur Athletic Union and spearheaded a movement that unleashed the modern Olympics from the sham of fake amateurism and brought it into the 20th century.
When Kell took over the Churchill Downs trip, the group by then had two tables of 16 for a total of 32 members.
By this time, Chris Le Vine was part of the group. Three weeks after being elected president of the United States Olympic Committee and just two months before the 1985 Derby, Le Vine's uncle Kell died. Le Vine picked up the family baton and has run the junket for the last 30 years.
Stockbroker turned trainer
"I attended my first Derby as part of the group in 1974, the year Angel Cordero rode Cannonade to win the 100th Kentucky Derby," recalled Le Vine, who was 16 at the time. "I was there with my uncle Jack, who was in charge of the group, and my dad."
"Dad" was Donald Le Vine, a stockbroker turned trainer. He married Elizabeth Kelly, who was the daughter of John Kelly Sr. and was a sister not only to Kell, but to Grace Kelly.
"Dad had first traveled with the group to the Derby in 1956 with my grandfather and my uncle," Le Vine said. "He was part of the group for 30 years until passing in 2000. My dad started out in business as a stockbroker, but his passion was horse racing, and, after owning horses for a time, he realized that he was spending more time racing than stockbroking, so he decided to become a horse trainer."
Donald Le Vine's wife, Elizabeth, who went by the name Lizanne, was very supportive of her husband's career change and rolled with the punches, as trainer Le Vine lived the life of a typical conditioner on the Jersey Circuit, including winter stints in Florida.
"Dad never had a Derby horse, but he had a successful stable, sometimes numbering as many as 50 or 60 horses," Chris Le Vine recalls. The senior Le Vine, a man of impeccable manners, is remembered by his peers as a "very classy guy" and a "true gentleman".
He later became a respected racing official, described as having a courtly demeanor. He is said to have treated all who came under his scrutiny with an equal hand.
Grace Kelly at the races
Le Vine served as a steward in Pennsylvania and Florida. Such was the respect in which he was held by those on both the frontside and the backstretch, that he was honored by having a major race named in his honor. The Donald Le Vine Memorial is contested annually at Parx racetrack in Philadelphia.
Chris remembers spending summers doing odd jobs at Atlantic City Racetrack, where one season he worked the starting gate and actually handled a mount ridden by Cordero. "That was something I will never forget," said Le Vine. "What a great character he was. Talking a mile a minute, but being quite exacting in what he wanted of me."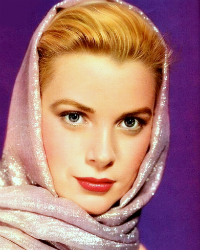 From time to time, trainer Le Vine's wife Lizanne would create quite a stir when she was joined at the races by her younger sister, the movie star and actress Grace Kelly (photo: listal.com), as reported in Sports Illustrated:
"My husband was saddling the horse of a friend of Grace's," said Mrs. Donald Le Vine, explaining how she and her sister, Princess Grace of Monaco, happened to be in the saddling paddock at Garden State Park in New Jersey recently. "Grace never had too much to do with horses herself," added Mrs. Le Vine, "but father was president of the Atlantic City Racetrack, and my husband is a trainer [SI, Sept. 22], so she did get a little caught up in it."
Two years before Chris Le Vine was born, Grace Kelly gave up a successful career in acting on the stage and the screen to marry Prince Rainier III of Monaco, who twice joined the trip to the Derby in the 1960s. Her first child as Princess Consort of Monaco was Albert II and, when he came of age, he too showed interest in taking part in the Kelly family's annual trip to Churchill Downs.
"Albert is less than a year younger than me," Le Vine said. "We not only are cousins, we are buddies. Actually, I was best man at his wedding. So naturally I invited him to join us at the Derby and he has come over on an every-other-year basis during the last quarter century. He was there last year to celebrate the 70th anniversary and brought his new father-in-law with him."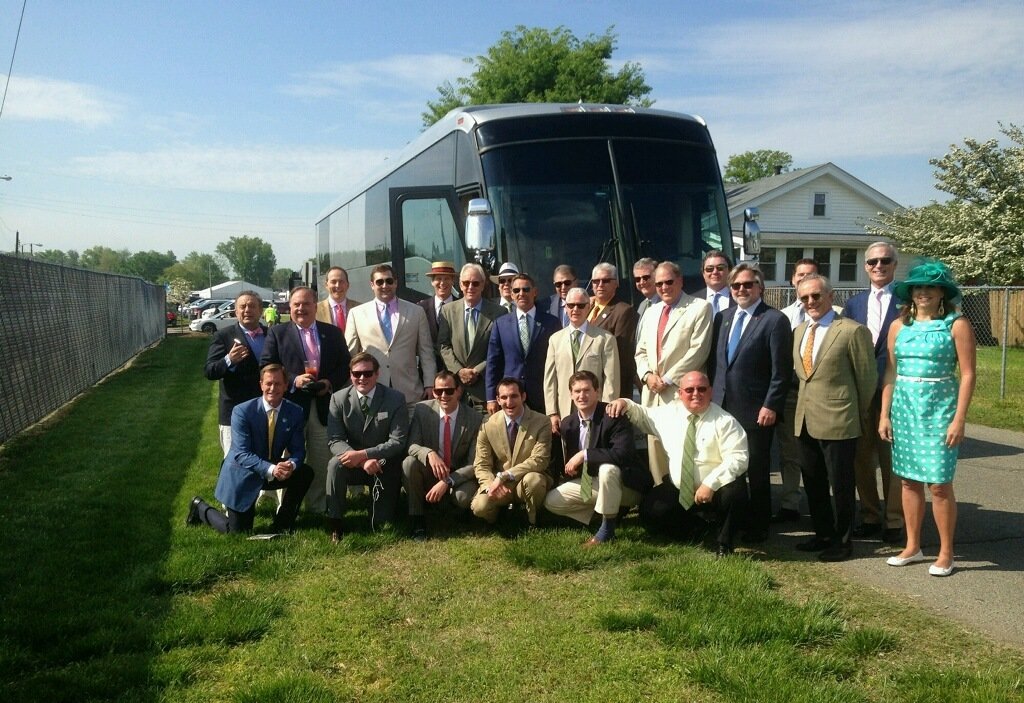 Sharing a passion for sport
Mike Wittstock, whose daughter Charlene married Prince Albert II in 2011, made his one-and-only trip to Churchill Downs for the Derby as part of the group last year. The 70-year-old Wittstock has raced horses for more than 30 years, first in his native Rhodesia (now Zimbabwe), where his partnership-owned filly Circle of Life won the country's best race in the Castle Tankard, and more recently in his adopted nation of South Africa.
In South Africa, Wittstock is known as a "man of the people" and "champion of the small owner". Each year he puts on a contest restricted to non-winners of a race with prize money greater than some of the classic races, just to give little guys a chance at a big pot.
Her Serene Highness of Monaco, the former Charlene Wittstock, first met Prince Albert II at the Sydney Summer Olympics in 2000, where the decorated South African swimmer was part of the national team that finished fifth in a relay final. Swimmer Charlene and athletics devotee Albert share a passion for sport. Prince Albert at the time was a member of the International Olympic Committee overseeing the 2000 Games.
So, even though Prince Albert II is relatively new to the Kentucky Derby venture and Mike Wittstock was brand spanking new last year, both late comers to the annual trek share much in common with the Olympic/racing traditions of the group dating back to the founder Jack Kelly.
Prince Albert, Mike Wittstock and Chris Le Vine all have been drawn to Churchill Downs because of the grand day itself and their family's connection to it.
The driver is 'part of the family'
Le Vine said: "One of the traditions that my grandfather started was taking a bus to and from the track. We have employed the same bus driver, a fellow named Beany, for more than 25 years. He has become part of the family. We've also maintained the tradition of singing on the ride. We still sing some of the songs my grandfather would sing.
"Back then, when they were still taking the train instead of flying as we do today, the ride back from Churchill Downs was memorable. My grandfather would hold a tribunal, set up a faux courtroom. I would hand a summons out to certain individuals and ask their weekend behavior to be accounted for. It was an absolute hoot.
"This is the type of humor I am talking about. For instance, one older, distinguished gentleman had been seen with a waitress on his lap at the track. So we called him up on charges. Hysterically, he was acquitted for a 'lap of evidence'. It was all great fun."
That prep-school humor would be involved is understandable given the great cast of characters, and the tradition continues to this day, as a large part of the contingent brought aboard by Chris is comprised of classmates from his high school, the Episcopal Academy.
"Brian Tierney and I are among half a dozen fellows that all went to the same school and have been coming on the Derby trip for more than 20 years," said Chris.
In an online story a decade ago, the ex-publisher of the Inquirer in Philadelphia said: "Guys are wearing ties. Women are wearing hats. It's like a different era." Tierney found it a great place to socialize. When he was seeking investment capital for his acquisition of the newspaper, he was able to receive support from a couple of fellows on the junket.
Chris said: "Of course there is a lot of camaraderie, and that is what makes the entire venture so special. But I must say that the great races I saw are some of my best memories. Winning Colors … (Spectacular) Bid … the Affirmed versus Alydar competition stick out in my mind. Churchill Downs before it was redone. Going down to that old oak bar. I recall seeing the Heisman Trophy winner Paul Hornung there once."
The traditional pilgrimage to horseracing's mecca does not appear to be in jeopardy of coming to a screeching halt any time soon.
"I was able to cajole J. B. Kelly III to attend last year," Chris said. "Uncle Jack's son doesn't come often, but he made it for the 70th anniversary. And now my 27-year-old son, Chris Le Vine Jr., who works at the University of Pennsylvania's global concierge program, has become a Kentucky Derby regular.
"It's been a marvelous tradition that I just treasure … the camaraderie and the bourbon and betting on horses. Once again, there will be 16 of us at Derby 142. I have no trouble filling my guest list."