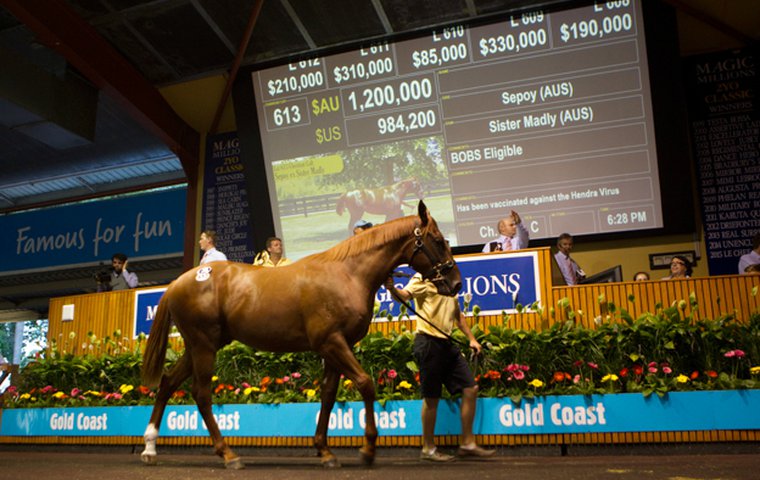 Magic Millions concluded trading last week with the largest-grossing yearling sale conducted in the Southern Hemisphere in almost seven years. Brad Waters takes a look at the tempered history of this Queensland company – its rise from nothing to owning half the bloodstock market in Australia.

In the mid 1980s, Australian television viewers would have seen commercials for Swan Lager that celebrated the achievements of prominent celebrities to the tune of a stirring anthem...They said you'd never make it, but you finally came through. For all of you who've made it, this one's made for you. It was a memorable part of Swan Lager's advertising, but it could also have worked for the Magic Millions yearling sale concept, which kicked off at approximately the same time.
The fortunes of Swan Lager and Magic Millions have gone very different ways. The brewery's former owner, Alan Bond, headed to jail on fraud charges in 1997, but the bloodstock company has gone on to become one of the most recognizable brands in world racing.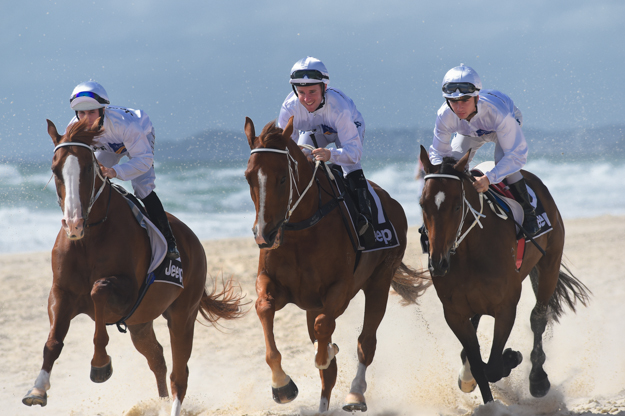 Magic Millions started life as the brainchild of Queensland breeders Carl Waugh, Gordon MacNicol, and Merryl Kruger. The trio came up with the idea of running a yearling sale in hand with a race for sale graduates, and the very first event occurred on Feb. 2 1986 (it was first called "Magic Million," changed to "Magic Millions" in 1997). Traditionally, Queensland's bloodstock sales had been hosted by Elders Pastoral in Brisbane, but Magic Millions set up shop on the Gold Coast. Its Bundall complex was former purpose-built on swampland, with 400 boxes, auditorium and wash bays, sand rolls, and viewing paddocks. David Chester was charged with the task of selling the new sale to skeptical breeders all around Australia.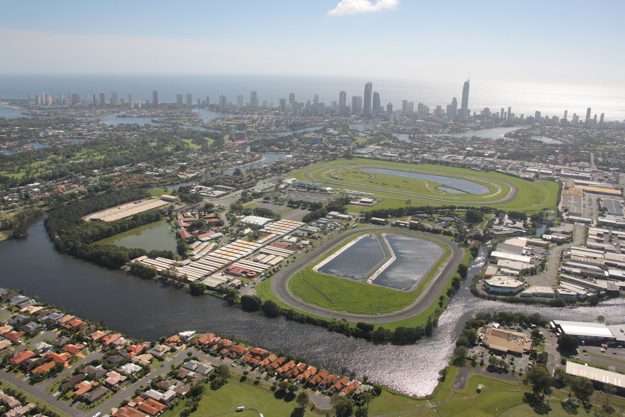 Chester is now the international sales director for Magic Millions, and one of very few to have worked with the company throughout its entire history – nearly three decades. The Magic Millions concept has been an almost lifetime career for him, and his passion for the company shows no signs of abating. He is proud of Magic Millions's journey to its current place as a major bloodstock player, not only in Australia, but also around Asia.
The Magic Millions story was a rocky one in its first two decades. Racing's "establishment" put up its usual resistance to a new concept, declaring the old way was best and that the fledgling newcomer would fail to get the required support to make it a success.
"Racing administrators were negative," Chester said. "The Magic Millions graduate's race was the first of its type in the world, and the purists said it was a bad idea. They said the Stud Book wouldn't recognize it, and the prize money wouldn't count in the stallion premierships. They said it basically wouldn't work because the breeders wouldn't support it, and everything they said was proven wrong."
Breeders did support the sale, and they supported it from the outset. Initial catalogues were limited to 200 yearlings, but the company took another 10 percent of yearlings as reserves. Chester recalls many reserve-yearling owners pestering him for weeks before those early sales, hoping for a withdrawal so that they might get their horse through the ring.
The inaugural Magic Millions Two-Year-Old Classic was the first race of its kind in the world, a competition open only to Magic Millions graduates. Worth AUD$1 million in its first year in 1987, it promised a quick, lucrative return for racehorse buyers on the Gold Coast. It was an innovative, new way of marketing yearlings. But despite breeder support, the young Magic Millions struggled to provide owners with the windfall envisaged when operations began, and Chester knows why.
"They put on a AUD$1 million race and wanted to sell 200 horses when the initial sale entry fee was AUD$3,000, which is the equivalent of AUD$10,000 or AUD$12,000 today," he said. "Some of the breeders wouldn't support the sale because of the cost involved. The entry fee is only AUD$2,000 today."
Critics predicted the inaugural Two-Year-Old Classic would not attract a full field, and that the horses that did nominate wouldn't be much good. However, a son of the legendary Widden Stud stallion Lunchtime smashed these theories in the race's very first running. Snippets, subsequent top sprinting sire, won the inaugural event by four lengths, and proving he wasn't a one-trick pony, he went on to win the G1 Sires' Produce Stakes in the autumn, followed by the G1 Oakleigh Plate in Melbourne, and the G1 The Galaxy back in Sydney. Snippets was instrumental in establishing the credibility of the Magic Millions Classic from its earliest days.
"I don't know for sure, but without a horse like Snippets, the race might have died a natural death," Chester said. "Although, there were four horses out of that first Magic Millions race that ran in the Golden Slipper that year. If the races were bad and the quality of the horses was poor, then it might have struggled. But it has flourished and got better every year."
In 1989, after a few brief years, Waugh, MacNicol, and Kruger sold Magic Millions, plunging the company into a sea of uncertainty. The new owners paid AUD$18 million, with another million on operating costs, and the company was profitable when they purchased it. But they poured the profits into other of their struggling concerns, and when Australian interest rates shot up to 17 percent during the well-heralded recession of the late 1980s, the auction house went into receivership.
Chester admitted he was very nervous when the insurance companies arrived at the complex that year to go over the Magic Millions books, but a full audit allayed his concerns.
"The receivers found it was a good business, and that it could trade its way out of trouble," he said. "They decided to keep it going, and asked me to stay on and work on it with a New Zealander called Don Hancock. It was such a good business that it was out of receivership when the new owners took over in 1997."
Hancock had been working in the financial sector, helping banks to wind up troubled companies. He had delivered a report on the future of the Magic Millions auction house, and worked alongside Chester as they made the company viable again within two years. It was Hancock who approached one of the new future owners of Magic Millions when it was put up for sale in 1997 – retail giant Gerry Harvey.
Harvey is best known throughout Australia as the garrulous personality behind chain store Harvey Norman. However, he is also the owner of Baramul Stud in the Hunter and Westbury Stud in New Zealand. In 1997, he, along with advertising guru and millionaire entrepreneur John Singleton, and Rob Ferguson, successful financier and one-time owner of Torryburn Stud, set about re-launching Magic Millions. Their cumulative business genius helped the company to realize the potential it had promised for a decade.
Harvey lobbied the Queensland Government heavily for financial support, and the Magic Millions sale and race day, held each January, became an official state event because of the tourism and economic benefit that came with it. In 1999, the company expanded into Perth, and a year later, into Adelaide. Today, it is also in Tasmania.
The collective profiles of Harvey, Singleton, and Ferguson, all business gurus, all horse breeders, hauled Magic Millions into stratospheric success. It wasn't only a company that sold horses; it was a brand as bright, young, and fun as its Gold Coast location. Nevertheless, in 2011 Harvey bought out his fellow shareholders and is today the outright owner of Magic Millions. He has continued to push its development, selling horses to Russia and Iran, and he closed the deal that sold Australian stallion Churchill Downs to Libya in 2012.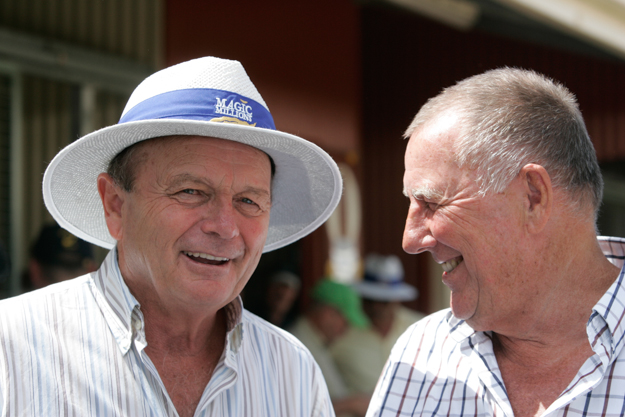 Expansion has been the name of the game. The company has strong ties to the Asian racing market, hosting sales in Singapore, Macau, and Malaysia, and at one time Hong Kong. Its sales complex at Bundell, a short ride from Surfer's Paradise, can hold almost 1,000 horses these days. The January yearling sale is arguably the largest sale of its kind in the Southern Hemisphere on number of horses, and last week, results were staggering. The total sale grossed more than AUD$103 million, making it the biggest yearling sale conducted in the Southern Hemisphere in almost seven years.
Putting this into context, the first sale in 1986 reaped AUD$6.35 million with an average lot price of AUD$22,000. This year, the average was AUD$170,000 for 692 lots. These results thrill Chester.
"We're very proud to say this has got bigger and bigger every year," he said. "It's something we can be really proud of here, because we have gone from nothing to having half of the bloodstock market in Australia. Gerry [Harvey] describes Queensland as an outpost state, like Western Australia and South Australia, and yet we have 50 percent of the horse-sales business. What we have done here is copied all over the place now. New Zealand, South Africa, the Irish... everyone has copied the concept of a closed race, and sales to accompany that big-money race."
Not bad for a company selling horses out of what many call a "giant tin shed" on the Gold Coast.