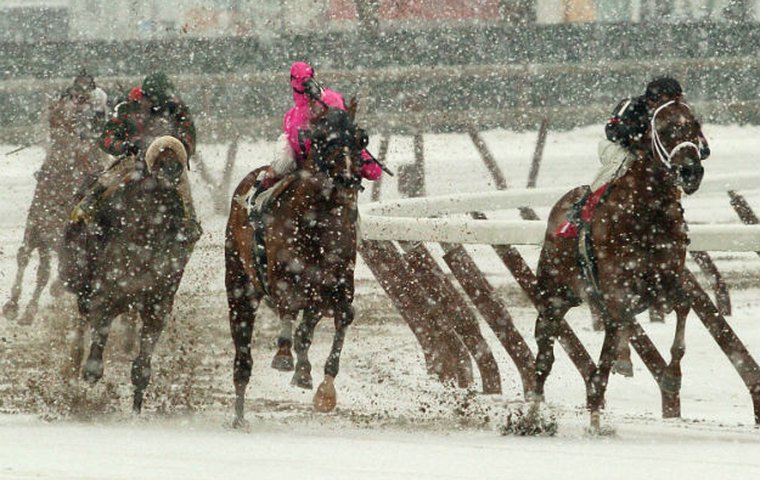 As the New York Racing Association came out of its five-day holiday break on Dec. 26, it seemed foolish to utter the words "winter racing".

On Christmas Day, the high temperature in New York City was an unusually balmy 66 degrees F. The day before, on Dec. 24, thermometers stretched to a Gulfstream Park-like 72 degrees.
In those first 25 days of December, there were only three days when the temperature did not reach 50 degrees.
"After what we went through last winter," said trainer Pat Kelly, second vice president of the New York Thoroughbred Horsemen's Association (NYTHA), "it looks like Mother Nature is evening things out."
Indeed the mere mention of the winter of 2014-2015 is enough to give anyone associated with New York racing a severe case of the shivers.
Starting in December, NYRA was pelted with one snowball after another for the next three months.
There was a horrific spate of 14 equine fatalities from December 1 through March 1, with most of them occurring in the first month of the winter meet.
After a reasonable mild December, the temperatures turned bitter as 2015 started. The average temperature in New York for February was 24.1 degrees, making it the coldest February since 1934.
By the time spring arrived, NYRA had endured a record 17 cancellations due to adverse weather or track conditions.
Freakishly warm weather
"Winter by far is our toughest time of year," NYRA Vice President of Facilities and Racing Surfaces Glen Kozak said. "There's a reason Major League Baseball teams train in Florida."
While winter officially arrived on Dec. 22, the curtain on another year of winter racing in New York went up on Dec. 9. That's when action shifted from Aqueduct's clay-based main track to its smaller limestone-based inner track, which is better equipped to handle colder temperatures.
Through the early weeks of the meet, it's been an uneventful transition. The weather has been freakishly warm and, in a dramatic departure from last year, the first 11 days on the inner track have seen no equine fatalities.
Yet, as the days go by, it's as certain as death and pari-mutuel taxes that before long the odd warmth of December will soon give way to freezing temperatures and mounds of snow, and NYRA has its battle plan in place for Mother Nature's wrath.
After last winter's nightmare, NYRA has trimmed its racing schedule to include just four days of racing per week from January through the end of March, when racing will return to Aqueduct's main track.
"We're trying to be pro-active by running four days a week in January, February and March," said NYRA Senior Vice President of Racing Operations Martin Panza. "We worked with (NYTHA President Rick Violette) to reach an agreement, knowing that we need to reduce some days to help the horse population a little bit and let us put a better product out on the racetrack. Certainly, if races are over-filling and we have extra races that we can use, we might run 10 races on weekends when time permits us to do that. We think the four-day schedule is the best step for 2016.
Warming to the idea of fewer race days
"There's always one horseman who will say "Why don't you run five days a week so I can get small fields?" Yet what we're doing takes pressure off the horse population where they are not running back in short periods of time. It should help with field size and the quality of racing.
"If you look around, we're the last to do it. Other tracks around us are running three or four times a week, so we needed to trim back a little. In terms of the safety and well-being of the horses, we're really pushing it with five days a week at this time of year. This should help the situation."
With the brutally cold start to 2015 still fresh in their minds, most New York horsemen have warmed to the idea of fewer racing dates in winter.
"I think it's a good thing for racing in general," said seven-time Eclipse Award-winning trainer Todd Pletcher, who will keep a stable of about 40 in New York this winter. "Often times there's too much racing and it can hurt field size and, since there's a direct correlation between field size and handle, you can make a case that less is more in lot of ways.
"I believe there's a need for winter racing in New York. For a lot of horses, winter is their most important time of year. The weather here is so unpredictable, but horses cope with cold weather pretty well. An argument can be made that cold weather is easier on them than really hot weather."
While a four-day week figures to help with field size, NYRA will try to pick up some extra runners by offering a free shuttle between Parx Racing and Aqueduct when the Pennsylvania track is closed from Dec. 23-Feb. 12. Panza said NYRA will also offer free shipping for Maryland horsemen when Laurel is shuttered from Feb. 16-March 10.
Shifts in temperature pose a difficult challenge
"It brings a few more horses from closed tracks. It will help," Panza said. "We've also added more stakes for state-breds to help the winter cards. It's winter racing, and it is what it is, but you try to position it to be successful and I think the tweaks we made with the schedule will help. Yet, at the end of the day, you're still at the mercy of the weather."
As taxing as winter can be on NYRA's racing office, it poses a Herculean task for Kozak's maintenance crew. Keeping the inner track at Aqueduct and Belmont Park's training track – which is also limestone-based - open for racing and training on frigid days is a 24/7 operation.
"I learned a lot the last two years from the standpoint of the surfaces," Panza said. "It can snow or freeze but then you get to the next day and it's 50 degrees and unfortunately we can't run. People say 'It's a beautiful day, the sun is out. It's 50 degrees, why can't you run?' The problem is that there is no way we can control how the track thaws out. You're going to get an unsafe, uneven racetrack. Coming from California, those are things I never thought about until I got here."
As troublesome as six inches of snow might be, Kozak says shifts in temperatures pose a more difficult challenge for his crew.
"The biggest problem is having a day when it's warm enough to give you an inch of rain, then the temperature plummets below freezing at night and you have to find a way to thaw out the racetrack so that they can run on it and train on the next day. The guys put in a lot of time to get things together so they can run over those tracks.
"The winter track at Aqueduct is the same as the training track at Belmont that we deal with year-round, so we're accustomed to working on it. Those tracks can handle more moisture because of the limestone base and they also handle the freeze-thaw cycles better. The only difference in winter is that we might put some salt on the track to keep it from freezing. It's a matter of adapting to what's thrown at you."
The science of track maintenance
While winter racing has been a part of New York racing since 1975, recent advances in track maintenance have played a key role in making the situation more manageable. Virtually all of the guess work has been removed from the equation by NYRA's work with the Racing Surfaces Testing Laboratory (RSTL), which gathers information on a daily basis about track moisture and cushion as well as weather conditions to help remedy mistakes.
In so many ways, track maintenance has become a science.
"NYRA has been very pro-active," said Dr Mick Peterson, the Executive Director of the RSTL. "There's a short list of tracks that are, and most are the big ones you'd expect. With a racetrack, it's like an airplane. We have a safety system that you are re-assembling every morning with widely varying weather conditions and other factors coming into play. It's like a plane sitting on a tarmac waiting to go through the check list before takeoff. That's where we are with top racetracks. It's not a one-time testing by someone from 1,000 miles away.
"Every time a piece of equipment goes on a NYRA track, we have GPS coordinates so we know what parts of the track were touched. We compile weather data and moisture and cushion measurements every day."
According to Peterson, pertinent data is collected before and after each race as opposed to before and after the card, which enables NYRA to create racing surfaces that meets – and in some cases exceeds - all the industry standards for safety, even during the dark days of winter.
"We download data every 15 minutes so we can look at each race knowing what the exact conditions are," said Peterson, a professor at the University of Maine. "The idea is that every year we get better and better at what we're doing. We know when they went out with the floats, when they harrowed the track. We look at the temperature when they did that and we can monitor the results and adjust to what happened. We have 12 tests for consistency and other key factors and we'll change materials until we get it right.
Making sure there's a consistent surface
"The last two years NYRA had this dialed in right because they were willing to pay for the database. The thing that's a pleasure with New York, and that everyone else struggles with, is that if there's a question about the track, they keep their crews driving around the track all night. They'll keep the tractors on it. A lot of places can't afford to do that, even if they were committed to it."
While keeping the inner track in excellent shape for racing is essential, Peterson says it's equally important to keep both the inner track and Belmont's training track open for training to give horses the exercise they need to stay in racing shape.
"We have to make sure trainers get a consistent surface for training so they don't have to adapt their training schedules to the track. We want them to make the best possible decisions about how to train their horses without worrying about the track," Peterson said.
To help with keeping horses moving during the bitter days of winter, NYRA is currently installing an all-weather Tapeta Footings surface in its jogging barn.
"NYRA does a great job with the track," Kelly said. "We're all concerned with horse safety now. In this era, it's like football with concussions. If we call off racing because it's zero and the jockeys and horses are back home safe and sound, we'll fill in some days later in the meet. With that four-day schedule it gives us room to make up cancellations."
While NYRA has turned to an all-weather surface to help with training, it doesn't mean there's a burning desire to convert the inner track to a synthetic substance.
A lesson from last winter
"We need to see if we'll be released from the state and privatized, then we can move forward with whatever our plans are. Are we staying at Aqueduct? Are we going to Belmont year-round? That will tell us what winter racing will look like and we're not at that stage yet," Panza said.
"We've gone to Europe and looked at several synthetic tracks. We've looked at Tapeta. We know what's out there. There's a chance for that down the road, but right now I can't tell you we'll be using Tapeta at Aqueduct next year. We have to wait for the picture to develop more and see in which direction we're going. We're close, but we'll have a better idea six months from now."
Whatever happens in the next few months, one lesson learned from the winter of 2015 involves how time can heal all wounds – including financial hemorrhaging. Thanks to a year-long schedule, even with such a miserable winter, NYRA was able to parlay outstanding weather during the Saratoga meet into closing out 2015 by turning an operational profit for a second straight year.
"It's a long race," Panza said. "Realistically May 1 to Labor Day is the time we need to be on our game. It's the period when we make our money. There will 237 days of racing in 2016 and, if you go through 40 days of slow business in the winter, you have a long time to make it up. Don't get me wrong, I don't ever want those 40 days to happen at Saratoga. All that cussing in February and March was paid back at Saratoga."
So far, at least, there's been no need for expletives by anyone at NYRA about the weather. Yet, with nature certain to revert to its icy ways before too long, there's no doubt that they can be saved for a snowy day on the horizon.
It is after all winter in New York.