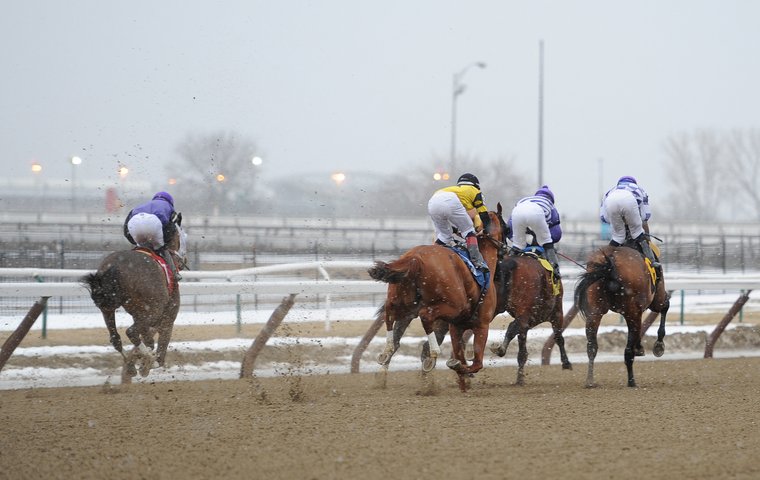 There's always a cause for celebration among New York Racing Association (NYRA) officials when the Kentucky Derby winner prevails in the Preakness. And this year, when neither rain nor slop, nor Baltimore fog, could stop Derby victor Justify in the Preakness, bottles of champagne were no doubt popping at Belmont Park.

Getting a Triple Crown bid in the Belmont Stakes and all of the prosperity linked to it was probably the best news of the year for NYRA after a winter that was as brutally cold as any the Big Apple has endured in years.
"Trying to run a race meet in the middle of the winter is not an easy thing to do," said Martin Panza, NYRA's Senior Vice President of Racing Operations. "We're the northern-most track open at that time and you can't mess with Mother Nature. When you get three days in a row when it's minus 15 degrees at night, what can you do?"
Arctic cold
Prolonged blasts of Arctic cold in January were just one of the reasons NYRA was waving a white flag by the time spring arrived.
The bitter cold and the havoc it wreaked on Aqueduct's limestone main track led to a stretch of nine straight cards through Jan. 12 when all or part of the program was cancelled.
Among other woes, there was also a quarantine of two barns and a power failure in the Belmont Park barn area that left backstretch workers without electricity during the frigid days of early January.
"Obviously winters in the North East have particular challenges," said Joe Appelbaum, who became President of the New York Thoroughbred Horsemen's Association in December.
Those challenges were painfully reflected in the final figures for the Aqueduct meet. From Jan. 1 through April 22, there were 54 race dates at Aqueduct, compared to 60 in 2017, while the average daily all-sources handle dipped to $5,968,959. In 2017, it was $6,330,989.
The all-sources handle on NYRA races checked in at $322,323,808 after totaling $379,859,33 in 2017 - a difference of more than $50 million.
"It was a bizarre winter. It was so brutal it's unfair to use last winter in any kind of comparisons with other years," said trainer Rick Violette, the past president of the NYTHA, who stepped down last December.
Realistically, there's little any racetrack can do in the face of adverse weather. Yet the winter also exposed deeper problems for NYRA than the whims of Mother Nature. Despite offering purses better than any winter track other than Oaklawn Park, Aqueduct was plagued by woefully small fields that, coupled with the spate of lost dates, helped fuel the financial nightmare for NYRA.
"You can lead horses to water, but you can't make them drink. Owners are saying they are losing money, but they have to pay attention," Panza said. "They are running in a 12-horse field at other tracks for half the money. We try to advertise what we're doing and talk to people about it, and we'll keep doing that, but the horsemen at some point have to help themselves."
'You wonder about the future'
In February, while Aqueduct offered a $60,000 purse for a maiden special weight race, the same race carried a $50,000 purse at Gulfstream Park. Yet filling races was a herculean struggle throughout the winter. During Feb. 8-11, for example, in 33 races there were only 197 starters, working out to an average of just 5.96 starters per race.
"The purses [at Aqueduct] are large. At some point horsemen have to support the winter meet or there will not be one. It's as simple as that," Panza said. "We can try all types of things but, if horsemen are not responding to it or entering their horses, you wonder about the future.
"I'm not saying NYRA is not dedicated to having a winter meet, but you can't do it without their help. If everyone wants to leave for the winter, so be it. It doesn't do us any good if they just leave their New York State-breds behind. That's not going to work. At the same time, you can't force people to stay here. It comes down to time changing everything and the clock is running. If we can't get more trainers to stay here and run their horses, something has to give."
A late surge in the spring brought the average number of starters per race for the 2018 portion of the Aqueduct meet to 6.94, not far removed from the 2017 figure of 7.13.
'Biggest albatross'
While those numbers finished better than expected, they could not hide the bigger issues - the lack of support from horsemen for the meet and owners and trainers' unhappiness with the exceedingly high cost of doing business in New York, due in part to the cost of insurance for jockeys and exercise riders and workers' compensation for grooms and hot walkers.
"The biggest albatross is the cost of doing business here, led by the cost of workers' compensation," Violette said. "It's a tough place to do business and that has to change because we need winter racing.
"People can ask why we run in the winter and the biggest answer is jobs. Year-round horse racing and breeding accounts for about 19,000 jobs in New York State. If IBM wanted to move with 200 jobs, there would be a bill passed tomorrow to try and keep them in New York. The VLT (Video Lottery Terminals) program is a jobs program. It helps to support jobs and keep the breeding industry afloat. If you mess with it and we lose the VLT money and the New York State breeding program will dissolve. Overall, I know what people say, but the winter product here is better than most."
Trainer Gary Contessa, who races in New York year-round, says workers' compensation costs account for 29 percent of his weekly payroll, leaving him awash in red ink.
"The workers' compensation situation is awful and something has to be done about it. I'm going broke because of workers' comp. Trainers can't survive because of it," Contessa said. "What used to cost 16 percent of our income now costs 29 percent.
"What NYRA has done to keep racing going in the winter has been an admirable thing, but what they need to work on is why we don't get the shippers like we used to. What do we have to do to get people here. Usually purses attract horsemen. We have damn good purses, but we're not getting the horses. My thought is that people from Parx or Laurel who want to come here can't afford it. We're pricing them out of the game. We have to address workers' comp and how to get other people here."
At NYRA tracks, New York-based owners and trainers pay into the New York Jockey Injury Compensation Fund at rate of a base annual payment of $2,150. Owners are also charged two percent of purses earned and trainers pay $1.60 per day for each stall in their backstretch barns.
Helping hand
Workers' compensation, however, is each trainer's responsibility and their costs can vary due to the number of employees and their claims against that policy.
"Trainers are paying various rates based on their loss experiences and they have no negotiating leverage, so insurance companies are charging them a high rate. That's what we're working on, to find some collective solutions," Appelbaum said. "Workers' comp is insurance, so it's tied to your losses. Keep losses down and it will keep rates down."
A helping hand in dealing with workers' comp costs was provided in the recently enacted New York State budget. According to Appelbaum, money from the general purse account can now be used as collateral for workers' comp, which should help reduce costs.
"We can take $5 million from the purse account as collateral and it's a very good, necessary first step," he said. "There are no quick fixes or easy answers. It's a lot of hard work and negotiations and meetings and that's what we are doing. We've already brought down the cost of jockeys' insurance by nine percent. There's steps we need to take and we're focusing on steps in the right direction."
Shipping bonuses
NYRA did its part to combat those costs in November, when it instituted a new per-start credit program for Dec. 6 through March 31 that gave owners an extra $300 for horses who were sixth or worse and $300 for trainers when their horses were fourth or worse. Yet the timing of the program came after some horsemen had made plans to leave New York for the winter and race at circuits with lower costs and lower purses.
"The other states do not have lower workers' comp costs. They all have high workers' comp costs," Appelbaum said. "Those states pay the workers' comp 100 percent out of the purse account. The problem with that is that it's why the purses in so many states are poor."
In the face of day after day of small fields, Panza and the NYRA racing office enacted several measures to address the problem on an immediate and long-term basis.
Shipping bonuses were offered for horses arriving from Oaklawn Park, Gulfstream Park and Tampa Bay Downs. Horses who made their most recent start at Oaklawn became eligible for a $1,500 bonus plus a 30 percent boost of any purse money earned in that horse's first start at either the Aqueduct spring meet or the Belmont Park spring/summer meet. Horses who last raced at Gulfstream Park or Tampa Bay were credited with $1,500 toward shipping expenses if they ran at Aqueduct from April 6-22.
To help trainers of claimers with small stables, an 'Under 20s Claiming Challenge' was initiated with a prize pool of $80,000 for the top eight trainers based on results in claiming races at the Belmont Park spring/summer meet. The contest is open to all NYRA trainers with 20 or less horses under their care nationwide.
Loyalty initiative
The contest will run through July 15, with the top three finishers getting $18,000, $15,000 and $13,000. As of May 20, the leaders, in order, were Ed Barker, Randi Persaud and Oscar Barrera III, who have a combined 22 wins in 2018.
In March, NYRA unveiled a Starter Loyalty Program, which pays purse bonuses based on four tiers of participation in the circuit's races. It has been well-received. The initiative began April 2 and runs through April 1, 2019, and starts with a five percent purse enhancement for horses making their fifth start at a NYRA track during the program's time frame. After that, it's 7.5 percent for starts 7-9, 12.5 percent for starts 10-11, and a 15 percent boost for 12 starts and beyond.
"We've had a great response to the Loyalty Program," Appelbaum said. "The more and more I look at it, the more I like it. I told people if the Loyalty Program was in place a year earlier, they would have received another $5,000 or $6,000 for a win in March and that's real money. I think, come October and November, you are going to see an enhanced claiming game in New York as people try to go in on horses who already have a lot of races in. That should buttress the claiming game."
While the Belmont Stakes and Saratoga are far more pleasant thoughts for NYRA officials at the moment, in six months' time another winter will be at hand and the lessons learned during this past winter as well as NYRA's recent initiatives will be put to the test, along with any new ideas put forward in the coming months.
How successful they prove to be will shape the next winter of racing at Aqueduct and there are at least some promising signs. It's difficult to imagine another winter with weather as ruinous for a race meet as the last winter in New York, and perhaps the new programs will encourage owners and trainers to keep more horses at Aqueduct and entice new faces to the Big Apple.
'I'm a big fan of winer racing'
A meet without quarantines will surely help the field size dilemma and another boost will come when an unexpected situation is rectified next winter. Trainer David Jacobson headed west to Santa Anita in the winter with a large string of horses and had just 39 starters at the winter meet. A year ago, he had 85.
But Jacobson's decision had nothing to do with icy temperatures or high insurance costs. It was a highly personal reason stemming from two new additions to the Jacobson family. In November, Jacobson's son, Howard, who trains a small division David keeps in California, and his wife became the parents of twin boys and the New York-based trainer shifted the bulk of stable to the West Coast so he could be close to his infant grandchildren for the winter.
"I'll be back with my full stable in New York for next year," Jacobson said. "I am a big fan of winter racing."
In a nutshell, getting more horsemen to develop that same affinity for winter racing as Jacobson is Job One for the next Aqueduct meet.
"I think it's a good deal to race in New York in the winter, and I think guys are missing out by not staying for the winter. We need to do a better job of changing people's view of it," Appelbaum said. "They are missing out on a great opportunity to get some nice amounts of money in the winter. When you are running in $60,000 or $70,000 pots with six-horse fields, what horseman can ask for a better situation that? Clearly we need to change people's perceptions about what happens here in the winter."