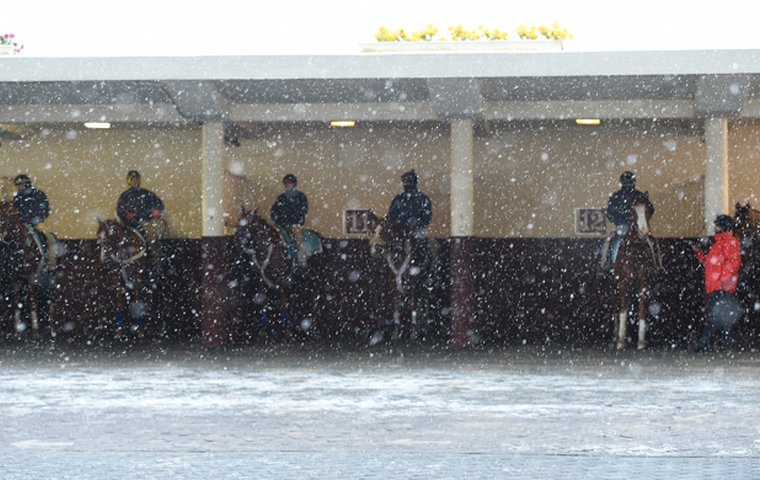 The Shakespearean winter of discontent has befallen the New York Racing Association.

Like dominoes carved out of ice, misery and turmoil have tumbled in quick succession during a three-month period that has tested the resolve and spirit of anyone associated with New York racing and raised again an oft-asked question in recent years: What is the future of winter racing at Aqueduct?
From Dec. 1 through March 1, there were 14 fatalities on Aqueduct's inner-track, a number that prompted NYRA to enact emergency measures in January in an effort to remedy the crisis.
In early January, the New York Times published a photo essay of life at Aqueduct with year-old, unflattering pictures of the racetrack and its patrons taken by a 24-year-old photographer from Italy. The author of the piece quoted several of the photographer's impressions of the facility, including an insulting passage about patrons that proclaimed "not all of them should be free on the street."
What started as a fairly tame winter in terms of weather, turned brutal in 2015. New York City was ravaged by bitter cold and snow, especially in February. The average temperature in New York for February was 24.1 degrees Fahrenheit, the third-coldest figure in recorded history and the most frigid February in the city since 1934.
Due to the oppressive conditions, NYRA was forced to cancel racing 15 times from Dec. 1 through March 6, a figure NYRA officials believe is a record for the circuit. Record or not, it far exceeds the seven cancellations last winter and five in 2013.
"To say this winter has been challenging would be an understatement," said trainer Rick Violette, president of the New York Thoroughbred Horsemen's Association.
With March at hand and spring on the horizon, nature's eagerly awaited thaw should help foster a sense of normalcy at Aqueduct in the coming weeks.
NYRA took actions aimed to curtail the fatalities. Included were trimming weekday cards to eight races; increasing the bottom level maiden claiming tag from $12,500 to $16,000; requiring horses beaten 25 lengths or more to work four furlongs in 53 seconds or less before they can race again; and prohibiting horses from running on 14 days or less of rest – a rule that was repealed effective March 5.
Memories of the Times piece, which failed to mention $14 million in improvements at Aqueduct since the pictures were taken, were covered in February by one icy blanket of snow after another from the uncontrollable force of nature.
All told, a horrid start to 2015 has provided critics with a towering snow bank to use as a pedestal to call for an end to winter racing. Some say the time has come and gone for winter racing and there should be a return to the pre-inner track days of the early 1970s when NYRA would close from mid-December until early March.
Yet in an industry notorious for being divided in numerous cantankerous factions, the vast majority of the winter stakeholders at Aqueduct are united in the belief that is not only a necessary commodity, but vital to the well-being of the sport.
"I am vehemently opposed to canceling winter racing," said Gary Contessa, who has won 12 training titles at Aqueduct. "I think it keeps the blood flowing in New York racing. It has a purpose and it would be a disaster to shut it down for three months. Looking at the people who want to end winter racing, they are not the ones who are out there enduring the conditions and are there at 6 o'clock in the morning taking care of their horses. There's just a few politicians and journalists who are saying it. We're much better off toughing it out."
Martin Panza, NYRA's senior vice president of racing operations, said it is far too early to make any binding decisions about next year. While Panza referred to "tweaking" winter racing, he gave no indication that it was on life support.
"We're always going to run in the winter," Panza said. "It's a job-creator for the state of New York. We just need to find out what is the best way to go about it in the current environment to serve the horsemen, the breeders, and also to make it work for NYRA. We might tweak what we do and any tweaking...will only happen after we work with all the parties involved so it works for everyone. We want to continue to grow our breeding industry here in New York, and we need races for that to grow. We don't want to put a bunch of people out of work. Other winter tracks have reduced days and we're still doing five days a week so maybe we have to tweak that."
Violette said horsemen would be willing to accept a four-day racing week during the winter and views that as a far more practical idea than closing for a month or so.
"You can't make a knee-jerk reaction," Violette said. "Winters are cold, summers are hot. That's the way it will always be. The idea of stopping winter racing in New York is short-sighted. Running four days a week is one thing, but there's a huge job base in New York and carving out any significant blocks of time in January or February with no racing would erode that job base.
"I don't think legislators give a damn about high purses or well-heeled owners and trainers, but the 33,000 jobs and the $4 billion economic impact the industry has on the state of New York gets their attention and I think we have to do everything possible to maintain or expand racing in New York. We can't minimize it because when we do our protections can go away and we need revenue like the casino money. It's significant for us."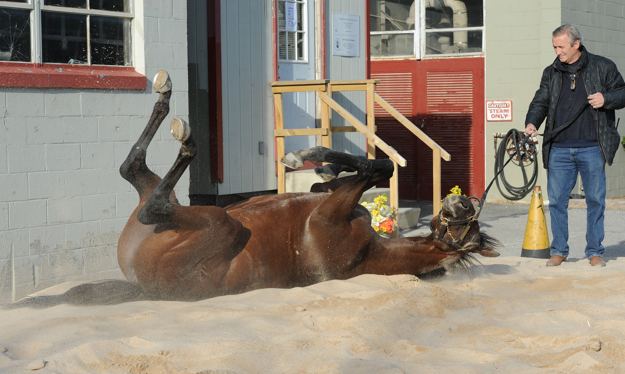 Contessa agreed that in discussions about the pluses and minuses of winter racing the impact on the people who depend on year-round racing in New York for their livelihood is too often ignored.
"Some of my stable employees have been working for me for 10-15-20 years," he said. "They live right outside Belmont. They have families and their kids go to local schools. Their whole family existence is based on working at Belmont. Eliminating winter racing would be a disaster for the families that work for me. I would have to go elsewhere and they can't just up and move. It would be a financial disaster for some good people who work at Belmont. If we have about 2,000 horses at Belmont there's probably 500 grooms, 250 hot walkers, 100 assistant trainers, 100 foremen. Don't shut down racing, streamline it to make it work better for everyone."
The weaker quality of winter racing has also been a target of critics, but for small outfits, the purse money they accrue in the winter enables them to race throughout the year and help fill cards during the Belmont and Saratoga meets. Abigail Adsit, who supervised trainer Linda Rice's winter stable in New York from 2009-13 before going out on her own, has a small but growing stable and owns seven 2015 NYRA wins through March 12 despite the rash of cancellations. In a sign of how important winter racing is to her stable, she won just 21 races in all of 2014.
"The cheaper horses may not be Grade 1-caliber horses, but they have a role and their role is pivotal to New York racing," Adsit said. "Everyone wants the glory of Saratoga but there's a lot more to racing than Saratoga. All owners and horsemen are equally important. It's like saying kids of CEO's are important and the kids of a plumber aren't. It's ridiculous.
"Closing for a prolonged period would force me to go somewhere else because we need to win races," she added. "I have a heavy focus on claimers, so what am I supposed to do? Go out of business for two months? I could lose horses running at a different track. There's the cost of moving. What do you do with your employees? To move a whole stable is not easy. I'm a New York trainer and I want to stay here."
While the quality of racing may not be on a par with summer racing in New York or a meet like Gulfstream, winter purses make Aqueduct a highly viable option for horsemen and jockeys. A maiden special weight race at Gulfstream, which could attract some well-bred and exciting prospects, carries a purse of $45,000. Meanwhile, the same race over Aqueduct's main track carries a purse of $60,000.
"A guy can bank enough money in winter to sustain himself for when the competition gets tougher," said Richard Migliore, a former jockey and current racing television analyst who rode almost exclusively in New York from 1980-2010 and won more than 4,400 races. "I liked to stay in New York year-round because it gave me a very stable home life. I could be home at night and have dinner with my family, and you're going to make more money because the purses in winter are higher than in Florida. For me, it was never a question. You might give up the chance to get on a Derby-type horse, but for me the trade-off was an easy one to make. I knew what my priorities were and there are a lot of people doing the same thing. [Former jockey] Ramon Dominguez did it for a number of years."
As for the number of cancellations, Panza said Mother Nature forced NYRA's hand. Each time there's a forecast for bad weather he conferences with NYRA President and CEO Chris Kay and Glen Kozak, track senior vice president of facilities and racing surfaces, in the evening and then again at 6:30 a.m. when a final decision is made. He says concern for the equine and human athletes is paramount and that they will usually call off the races if the wind chill is expected to dip into single-digit territory.
"It doesn't do us any good to put the jockeys out there for one race and then have them say it's too cold," Panza said. "It's not fair to anyone. The horsemen for the most part have been very good and understanding about what is going on. They know it's cold out there. They know when it's not safe for the jockeys and horses."
Contessa, who has worked on the NYRA circuit since the 1980s, has seen a change over the years in how the track operator has viewed racing in extreme conditions, and says that's not a bad thing at all.
"Now it's a different mind-set," he said. "It's all about the health of the horses, the health of the athletes, human and equine. We don't subject horses to running when there's any chance of anything going wrong. I can remember running horses in a blizzard. It's a different mind-set and it's a good mind-set because it's about protecting the athletes. Each year NYRA has gotten more and more protective. We're at a point where public perception of the racetrack is awful and you can't take any chances. You want to avoid a catastrophe at all costs. We are more likely to cancel a card now than five years ago and much more likely to cancel now than 10 years ago and that's a good thing. It's gotten much more horse-friendly, rider-friendly, and public-friendly lately."
Panza also chided the notion that canceling racing saves NYRA money. He points out racing is the only way for NYRA to make money.
"There's a misnomer that because we have a casino next to us we make money if there's no racing, but that's so far from the truth," Panza said. "We lose money when we don't run. I have to make that clear to the public. We have tremendous expenses and they don't go away because we did not run. We want to run as much as we can."
Terry Finley, president of the West Point Thoroughbreds partnership, who lost to Violette last year in a hotly contested race for the NYTHA presidency that is still under dispute, said a major component in addressing winter racing involves an understanding that there has been a dramatic reduction in the sport's foal crop and maintains there is a need to "balance individual needs and make the industry model work in New York by doing things for the greater good of everyone."
In the pursuit of that, aside from a four-day week, Violette says NYRA can improve on this year's mess by doing a better job of bringing back cancelled races.
"Horses were all dressed up and ready to go and their dance was cancelled," he said. "Instead of having to wait for the race to come back a few weeks later in the condition book, NYRA has to learn to deal with this and look at moving full cards. It's not simple, but horsemen would appreciate having races come back quicker. It may screw up the condition book, but hell with that. It's February and it's not southern California. We're not surfing on Fridays. While waiting for a race, one or two horses could go out of town and that condition disappears. I have one horse whose races have been canceled five times. He's dead short and it's not fair. If your condition book becomes irrelevant, so be it. When the good weather comes back you fix it."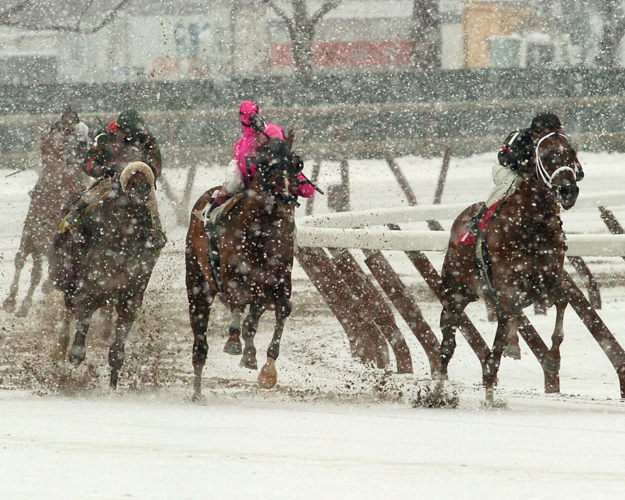 The future of Aqueduct also plays a major role in discussing future plans. For years there has been talk of closing Aqueduct and racing throughout the year at a revamped Belmont Park. According to Panza, any decision in that regard will not happen until NYRA's reorganization is completed, and that could be as much as a year and a half away.
In the interim, Panza is open to weighing a proposal to replace Aqueduct's winterized inner-track with a synthetic surface.
"I am not saying I'm in favor of adding a synthetic track, but they are built for winter and we've had quite a few trainers call and say if you build a synthetic track we'll send a string of horses. Woodbine has it all summer and Presque Isle has one. Can we draw outfits from them in the winter time? Would it lead to more horses in New York and larger field sizes, which leads to larger handle? Those are all things to look at. In a situation like this, you need to put things on the table. Sometimes you know you are not going to do something but it needs to be discussed. Sometimes people overreact to hearing certain things, but there's a need to at least discuss it."
Violette said he is not a fan of a synthetic track but agreed that the idea merited discussion, at the very least.
"Everything should be on the table. It would probably cost $10 million and NYRA's philosophy lately is to replace 100 watt bulbs with 20 watt bulbs, but sometimes you have to invest in your industry to make money – and that goes beyond buying flat screen TVs. We race at Aqueduct for 5 ½ months, it's a big part of the racing season. Even if it is only for 5 or 6 years, it's worth looking at."
Going forward this year, Panza knows the cancellations will have an impact on NYRA's bottom line, but the good news is that there are 10 other months in the year when NYRA can try to recoup its lost revenue.
"When you have cancellations it hurts the bottom line. We budget for a certain number of cancellations every year and it's safe to say we surpassed what we budgeted for. We took a Christmas break with 8-9 days off and for the first 10 days after that we were up about 11 or 12 percent in handle.
"Field sizes were up and business was pretty good. Then the weather hit and it's difficult when you're canceling sporadically to gain any momentum. It's hard on handicappers, hard on horsemen. Once we start running on a consistent basis that can do nothing but help our handle and field size has been pretty good. The hope is that horses have gotten some rest so that field size will up in March and April and business will be up as well."
NYRA has already added racing on March 26-28 during a planned break and Panza said he would soon go back to nine races on weekdays and might add a 10th race on Saturdays. He downplayed the notion of adding races to the Saratoga meet.
"We run six days a week at Saratoga and we're not going to overtax the population up there," he said. "We're already at a point where we shouldn't be in terms of races so that's not coming into play. The horsemen will let us know what we can do through the entry box. If we get to periods at Belmont where the entries are going well, we'll add a race on Friday or Saturday. That's up to the horsemen and how entries are going."
As warming a thought as Saratoga might be, for now NYRA will have to contend with an unrelenting winter that continued its onslaught with more cold and snow in the first week of March while everyone involved with the sport finds their own personal way to deal with the miserable conditions.
"I loved riding but I used to tell people that riding in the winter was work," Migliore said. "Yet I found it was always warm in the winner's circle. When you were winning, it was amazing how much more you could handle."
For Panza, who came to NYRA from California, working in New York introduced him to new facets of life such as shoveling snow and scraping ice off both sides of his car's windshield. Yet two winters into his job, he has also come to better understand the words of the song that Frank Sinatra made famous.
"Every place has challenges and New York presents different challenges than California. There are winter days I look outside my window and wish I was in Manhattan Beach having a beer," he said. "But when you work in New York, you can work any place."
Especially in the winter.