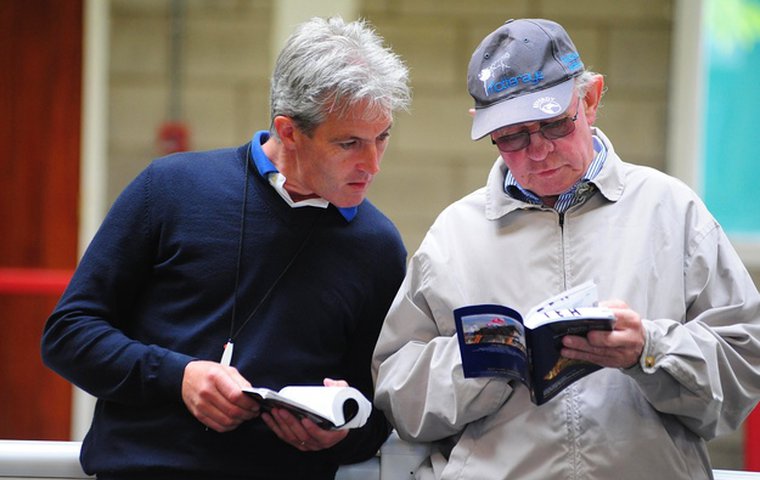 They've been conjuring up champions on both sides of the Atlantic for years, featuring Breeders' Cup and Arc wins and a host of other memorable G1 triumphs around the world. But what is behind the prodigious success of Ireland's Camas Park Stud? Nancy Sexton went there to find out.

To master one aspect of racing is an achievement in itself, but few have exerted a strong presence within multiple areas of the industry.
Timmy Hyde's Camas Park Stud in County Tipperary, Ireland has long been at the top of its profession as nursery and consignor, with its regular strong showing at European sales emanating from an enviable collection of broodmares and high-flying track record as pinhooker.
Classic winners such as Al Bahathri, Dancing Rain, and Soviet Star are among the many noted performers to hail from Camas Park, but this is also an operation that enjoys its participation in the jumps game and takes pride in the early involvement of household names such as Istabraq and Synchronised. Indeed, Hyde was also a successful jumps jockey, just as his father was before him.
Today, managed with the assistance of son Tim Jr., Camas Park are annually armed with well-bred drafts of yearlings and consistently feature among the leading consignors. They have been a top five vendor at Book 1 of the Tattersalls October Sale every year since 2009, while they hold a special place in the history of Goffs as the vendor of a Shergar colt that sold in 1984 for an Irish record of Ir3.1 million guineas.
Last autumn was particularly productive for Camas Park, with the stud selling 5.228 million guineas worth of yearlings at Tattersalls and another €1.614 million worth at the Goffs Orby Sale. They were led by a Galileo half-sister to Pour Moi, who realised 1.25 million guineas at Tattersalls to James Delahooke on behalf of Bobby Flay.
Her sale contributed to a year in which graduates Dick Whittington and Gallante secured G1 victories in the Phoenix Stakes and Grand Prix de Paris. Another, Toast of New York, came within a nose of winning the Breeders' Cup Classic.
Already this year, there has been a Group success through Osaila, a member of the 2013 draft of yearlings, who won the Nell Gwyn Stakes at Newmarket in April. Camas Park was also once the home of prominent producer Jude, granddam of Diamondsandrubies, an unlucky fourth in the Epsom Oaks earlier this month.
Situated just beyond the Rock Of Cashel on land shared with the River Suir, Camas Park has been under Hyde ownership for more than 70 years.
Hyde's father had a very successful career as a jumps jockey, partnering Workman to victory in the 1939 Grand National and becoming the regular rider of the great Prince Regent, on whom he won the 1942 Irish Grand National under the welter burden of 12st 7lb (175 pounds) and 1946 Cheltenham Gold Cup. Equally adept at training, he also sent out Dominick's Bar to win the 1950 Irish Grand National.
There were hopes that son Timmy would become a vet but, in a world where racing was the main focus, he travelled to Newmarket to work for trainer Harry Wragg before following the example of his father by becoming a jumps jockey.
"I spent three years with Harry Wragg in Newmarket," said Hyde of the Derby-winning trainer. "He was a wonderful man whose stable management was superb. He was like my father in some respects, very meticulous, and I couldn't have worked for a nicer man."
Hyde's stint as a jump jockey included a successful association with the Duchess Of Westminster's Kinloch Brae, on whom he won the Cathcart Challenge Cup at the 1969 Cheltenham Festival. A year later, Kinloch Brae and Hyde returned to Cheltenham as favourite for that year's Gold Cup and were travelling ominously well when falling three out.
"Race-riding is the best fun and I was lucky enough to ride a lot of nice horses," said Hyde. "Kinloch Brae was probably the best. He was a very fast jumper -- like lightning -- and won the Cathcart as a novice. L'Escargot won the day he came down in the Gold Cup, and Kinloch Brae had beaten him the previous year in the Power Gold Cup."
Although his father had trained successfully at Camas Park -- and the site of the old gallops still possesses a hint of its former identity -- Hyde turned his hand to show jumpers after hanging up his boots before gravitating back towards Thoroughbreds.
"Training wasn't really my thing," he said. "I dealt in show jumpers while riding and had some good touches. A few Olympic horses came through my hands. But the show jumpers were time consuming and I knew, volume wise, I could carry more racehorses.
"At the time, I did a lot of pinhooking, certainly more pinhooking than breeding. We would go to a lot of the American sales during the late 1970s, not only Kentucky but to the OBS sales in Florida, too.
"The business has changed a lot since -- it was a lot more relaxed then than it is now. When we started going to the U.S, there were maybe one or two Europeans going. And when I started going to Florida during the early 1980s, I was about the only European. Now it's far more competitive."
One of the early stars to emerge out of those trips to the U.S. was Sheikh Hamdan's 1985 Irish 1,000 Guineas and Coronation Stakes winner Al Bahathri. The daughter of Blushing Groom remained in Kentucky as a youngster, where she was sold in July 1983 for $650,000 to trainer Harry Thomson-Jones.
While Al Bahathri swept through her classic season, two other American-bred yearlings who would become exceptional performers were waiting in the wings at Camas Park: Soviet Star and Indian Skimmer.
"Indian Skimmer was from the second crop of Storm Bird and we sold her at Tattersalls," said Hyde of Sheikh Mohammed's multiple G1 winner, who was described by the late Sir Henry Cecil in 1988 as the best filly he had ever trained. "She was a beautiful filly -- she oozed quality and was the most wonderful mover."
In what was a vintage season for Camas Park in 1988, Indian Skimmer took the Newmarket and Phoenix (Irish) Champion Stakes, Soviet Star won the July Cup and Prix du Moulin and the record-breaking Shergar colt, Authaal, bagged a G1 in Australia.
One of only 35 foals left by his ill-fated sire, Authaal was pinhooked as a foal for the record sum of Ir325,000 guineas through Joss Collins, of the British Bloodstock Agency. However, as hefty as that figure was, it paled into comparison to the Ir3.1 million guineas that Tote Cherry-Downes gave on behalf of Sheikh Mohammed for the colt after outbidding Vincent O'Brien at Goffs less than 12 months later.
"Authaal was a beautiful specimen with a lot of quality," said Hyde of the colt, who also won the 1986 Irish St Leger. "We never had a problem with him -- his prep was very straightforward. We gave a lot of money for him as a foal but he turned into a record yearling."
Camas Park expanded but, by Hyde's own admission, it wasn't all smooth sailing as the late 1980s brought their share of the tough times as well as the good.
One of the highlights during that time was selling the last Northern Dancer yearling to pass through a European sales ring. The colt in question, out of Puget Sound, topped the 1988 Cartier Million Sale at Ir1.3 million guineas, although as Hyde noted, it cost almost as much to produce one by the stallion at that time.
On the track, however, the big winners kept flowing. Arc hero Carnegie and the Irish 2,000 Guineas winners Saffron Walden and Turtle Island flew the flag during the 1990s while, at the sales, a Nureyev colt topped the 1998 Tattersalls Houghton Sale when sold for 3 million guineas to Godolphin Management Company.
Since then, the stud has continued to sell, pinhook and/or raise a number of G1 performers, among them Ballydoyle standouts such as Alexandrova, Fame And Glory, Frozen Fire, Johannesburg, and Treasure Beach.
In 2011, they came close to celebrating an Epsom Classic double when Dancing Rain, sold for €200,000 on behalf of Swettenham Stud as a yearling, won the Oaks, and Treasure Beach, bought by Camas Park for 180,000 guineas as a foal, was narrowly denied in the Derby.
However, despite those big names, it is Alexandrova for whom Hyde holds special regard. Bred by Camas Park in partnership out of a mare, Shouk, purchased from Luca and Sara Cumani, the daughter of Sadler's Wells ran out the six-length winner of the 2006 Epsom Oaks for Aidan O'Brien and later followed up in the Irish and Yorkshire equivalents.
"Shouk was a very good looking mare from a lovely family of the Cumanis," he said. "Going to [Alexandrova's sire] Sadler's Wells with her was the natural thing to do. Alexandrova was a different colour to Indian Skimmer but they were similar -- both wonderful movers who oozed quality. Two exceptional fillies."
The list goes on: Irish 2,000 Guineas winner Araafa, globe-trotter Phoenix Reach, top miler Red Evie, latterly the dam of Found, and Godolphin's Irish Champion and Prince Of Wales's Stakes winner Grandera are others worthy of mention.
"We actually couldn't sell Grandera at the sales," said Tim Hyde Jr. "He pulled a shoe off in the outside ring at Goffs just as it was his turn to go in and had to hop around the sales ring on three legs -- it couldn't have been worse timing. But Amanda Skiffington and James Fanshawe had liked him and they came back to us afterwards to buy him for €30,000."
Hyde Jr. is today an integral element to the stud's ongoing success. A vet by trade, he also rode 45 winners over jumps as an amateur, among them Tiananmen Square, on whom he won the 1992 Punchestown Champion Bumper for John Magnier.
"I'm a vet and I'm married to a vet, so it means we can take care of everything here," he said. "I practised for a few years -- I would do the stud season up here and then go down to the Hunter Valley in Australia -- and then I came back to the farm.
"We have excellent staff but we all work together. Our head man, Edmond Ryan, has set up under his own name this year, so we're missing him. But we wish him all the best."
Camas Park sends through about 65 yearlings a year and generally has an involvement in another 15 to 20 in the U.S.
Recent stars out of that side of the operation include Wesley Ward's Prix Morny winner No Nay Never, who has been well supported by the Hydes this season in his new role on the Coolmore stallion roster. Fittingly, it is No Nay Never's grandsire, champion 2-year-old Johannesburg -- a foal pinhook on whom they lost money -- who is regarded by Hyde Jr. as the best horse he has been involved with. He also naturally speaks fondly of Toast Of New York, who was pinhooked for $35,000 out of the 2012 Keeneland January Sale.
"Toast Of New York was exceptionally good looking," he said. "It's hard to believe we couldn't sell him in the ring at Goffs. He's built like a dirt horse -- he's a big, strong horse with great quarters -- and what he nearly achieved at the Breeders' Cup was incredible."
In addition to everything that goes on at Camas Park, Hyde Jr. is also active in the breeze-up market with his brother-in-law, Norman Williamson. Current Australian star Contributer, sold by Williamson's Oak Tree Stud for 130,000 guineas at the 2012 Tattersalls Craven Sale, heads that particular list of graduates.
There is no getting away from the history that the yards at Camas Park hold.
Hyde pointed proudly to stables once occupied by Alexandrova, Indian Skimmer, and Soviet Star and talked of the days when Royal Tan, Vincent O'Brien's second Grand National winner, spent his formative years under the guidance of his father. It is where iconic hurdler Istabraq was taught to jump and Cheltenham Gold Cup winner Synchronised was raised. Another popular jumper, Josh Gifford's top two-mile chaser Deep Sensation, also once passed through.
"It doesn't matter whether it's National Hunt or flat," said Hyde Sr., "we view all aspects of racing as great fun. We love racing full stop."