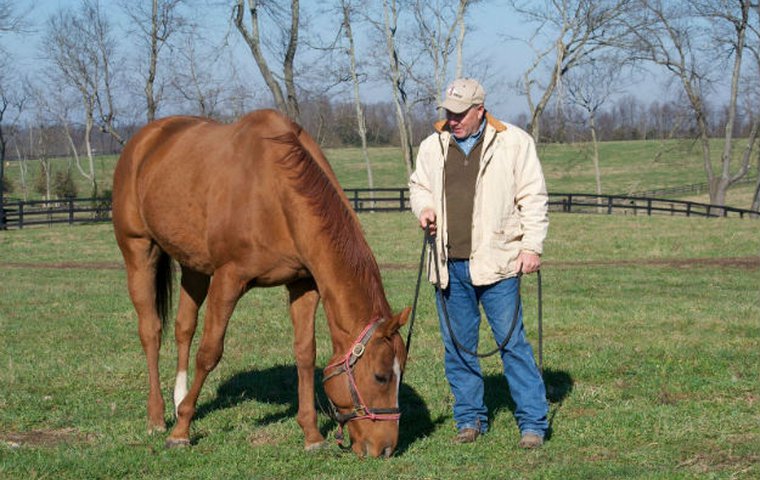 There are no bronze plaques or boldly lettered signs announcing the significance of the 17-acre pasture that runs from the north side of Athens-Boonesboro Road, up over a small hill, and out of view behind a stone cottage.

Driving the two-lane road through the central Kentucky hamlet of Athens, you occasionally can catch sight of a chestnut gelding and two Black Angus heifers grazing together in that pasture, and you'd be forgiven for assuming the gelding was somebody's pleasure horse, maybe a foxhunting mount for the Iroquois Hunt, whose country is centered around Athens.
In fact, though, that's two-time Horse of the Year Wise Dan, now enjoying retirement at trainer Charlie and Amy LoPresti's Forest Lane Farm with two bovine companions. And, going by how he looked in December, the quiet life in the country suits Wise Dan fine.
He lives within close sight of the LoPrestis' house and comes up every afternoon to get an apple over the fence from them. He is clearly adored.
Wise Dan is currently turned out at 3 p.m. every afternoon and comes up at 7 a.m.
"He lives outside all night and stays up during the day, because we need the fields to ride our horses," LoPresti said, indicating a group of yearlings working under saddle in the distance.
'I could beat those horses on three legs'
Wise Dan is sound, and a small bump on the back of his left foreleg is the only sign of the slight tendon tear that prompted his owner and breeder Morton Fink, to retire the 8-year-old gelding in September, days before Wise Dan was due to return to the races in the Woodbine Mile.
He won that Grade 1 turf contest in 2012 and 2013, and LoPresti feels confident that, even after a year on the sidelines - first for colic surgery in May 2014, followed by the discovery that fall that he had a non-displaced fracture in his right front fetlock - Wise Dan could have done it again.
"He could have won that race," LoPresti said. "But at what cost? What if he really got hurt doing it? How could I put a horse in there knowing that he's got a problem?"
The notion of stopping hasn't always come easily to Wise Dan - LoPresti and wife Amy described the horse as "angry" when stood down from training in 2014 to allow the fracture to heal.
"You could just tell he was mad," LoPresti recalled. "He was dragging you around there. He just had a different demeanor, like he was saying, 'What's wrong with you? I could beat those horses on three legs! I'm not hurt that bad'."
This time around, with the tendon tear, Wise Dan seemed to agree that it was time for him to leave the racetrack.
Laying asleep with the heifers
"Charlie's always said he's about as close to being human as a horse could be, and he is," said Amy LoPresti. "About two days after we'd announced his retirement I was grazing him on the lawn. He loves to graze, and he'll just stare at the racetrack. Most of the time he'll get a little ramped up, but this morning it was quiet, and horses were coming back and forth, and he stood there staring.
"I got to looking at him and my eyes started tearing up, and the tears started running down my face. He turned around and he looked at me. He kind of cocked his head and then he reached out and pressed his muzzle up against the side of my face. It was like he was saying, 'It's okay. It's all going to be fine. I'm not mad anymore.' He's just like that. He has a lot of human qualities."
And, in the end, Wise Dan's transition to retirement has been an easy one, Charlie LoPresti said, probably due somewhat to the fact that the gelding spent each winter between racing seasons at Forest Lane, on much the same schedule he has now.
"We would keep him in the barn, we'd unwind him in this round pen here, and then we'd let him go in our indoor arena and play when the weather was really bad," LoPresti said, pointing to the arena where he often works his cattle-roping horses. "On good days, we'd put him out in a paddock."
The last vestige of Wise Dan's racing life - his racing plates - came off in late November.
"We've let his feet grow out longer and now he's barefoot, and he did that every winter, too," LoPresti said. "He runs and plays. Sometimes you'll look up and he'll come jogging up the hill or he sees something he's interested in, like my Quarter Horse geldings over there, my roping horses, in the other field. But he's fine with those heifers. Some days I see him out there and they're laying under a tree and he's laying there asleep with them."
The champion is so manageable
Wise Dan recently got a new pasture mate: his half-brother, Successful Dan, another Fink homebred, who gave Charlie LoPresti his first graded stakes wins as a trainer. Successful Dan, now 9, retired in 2014.
LoPresti says retirement has not changed Wise Dan's personality. "I'd say I could bring him to Keeneland tomorrow, put the tack on him and jog him for a month, and he'd be ready to breeze," he said.
Wise Dan has been under saddle a little since leaving LoPresti's racing stable: Amy has tacked him up in a Western saddle and ridden him to accompany Forest Lane's newly broken yearlings.
"We'll probably keep doing some of that with him," Charlie LoPresti said. "He's a really smart horse, and he's not hard to ride. He was really strong when he was at the racetrack, but he was not unruly in any way; he just felt good."
And LoPresti is keen to share the training skills he's learned from the revered Western horsemen from America's Great Basin area, like Buck Brannaman, who practices what's commonly referred to now as "natural horsemanship". The training method is based on working with a horse's own nature to promote responsiveness, rather than being confrontational or forceful with the animal. LoPresti uses these methods to start all of the horses in his program.
The red rope halter and the long lead rope without a chain that LoPresti uses when he's working with Wise Dan are signature tools of Brannaman-style natural horsemanship, and they're a point of pride, too, because they show how manageable the multiple champion racehorse is - something LoPresti believes is due in part to this style of early training.
"It would really make me happy to maybe do some kind of demonstration with him someday, not a competition, but I just want to show people how to ground work a horse and get a horse to handle properly, to use his feet properly," LoPresti said. "I'd like to show people some of the things I learned from Buck."
It's not clear yet what Wise Dan might do in the next phase of his life - owner Fink has told LoPresti he's not all that interested in returning Wise Dan to the track as a pony, and LoPresti would rather have the champion at home than at another facility like the Kentucky Horse Park - but the gelding's careful management during his racing career means he's sound enough for a new job now.
"You know, so many of these racehorses come home with big old ankles and they have no life after that," LoPresti said. "He's going to have a life, and that was a goal of mine. I wanted him to have a normal life. We can do a lot of things with him."