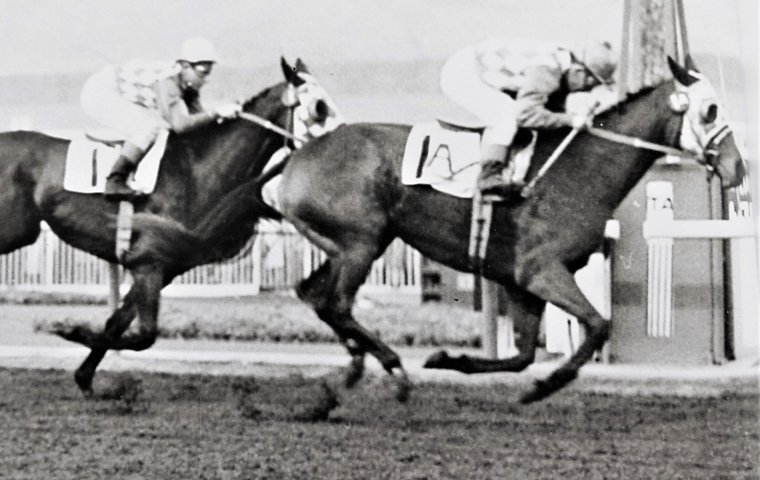 One race does not a rivalry make. People are often quick to label any thrilling stretch duel between two good horses a 'rivalry', but such matches are built up over time. Think back 40 years to Affirmed and Alydar in the United States.

Six decades ago, a true rivalry developed between two fillies from the same stable, also in the U.S., and they even alternated championships.
Carrying the cerise and white diamonds of Alfred G. Vanderbilt's Sagamore Farm, Bed o' Roses and Next Move were polar opposites. The bay Bed o' Roses was small and sweet-tempered, while the dark brown Next Move was big and temperamental. Both raced four years, from two to five, and each ran 46 times. Bed o' Roses won 18 of her starts, while Next Move won 17.
Bed o' Roses earned champion 2-year-old filly honors in 1949 and was champion older filly or mare at four in 1951. Next Move was named champion 3-year-old filly in 1950 and picked up her champion older mare title at five in 1952. (This was in the era before the various polls were combined and standardized.)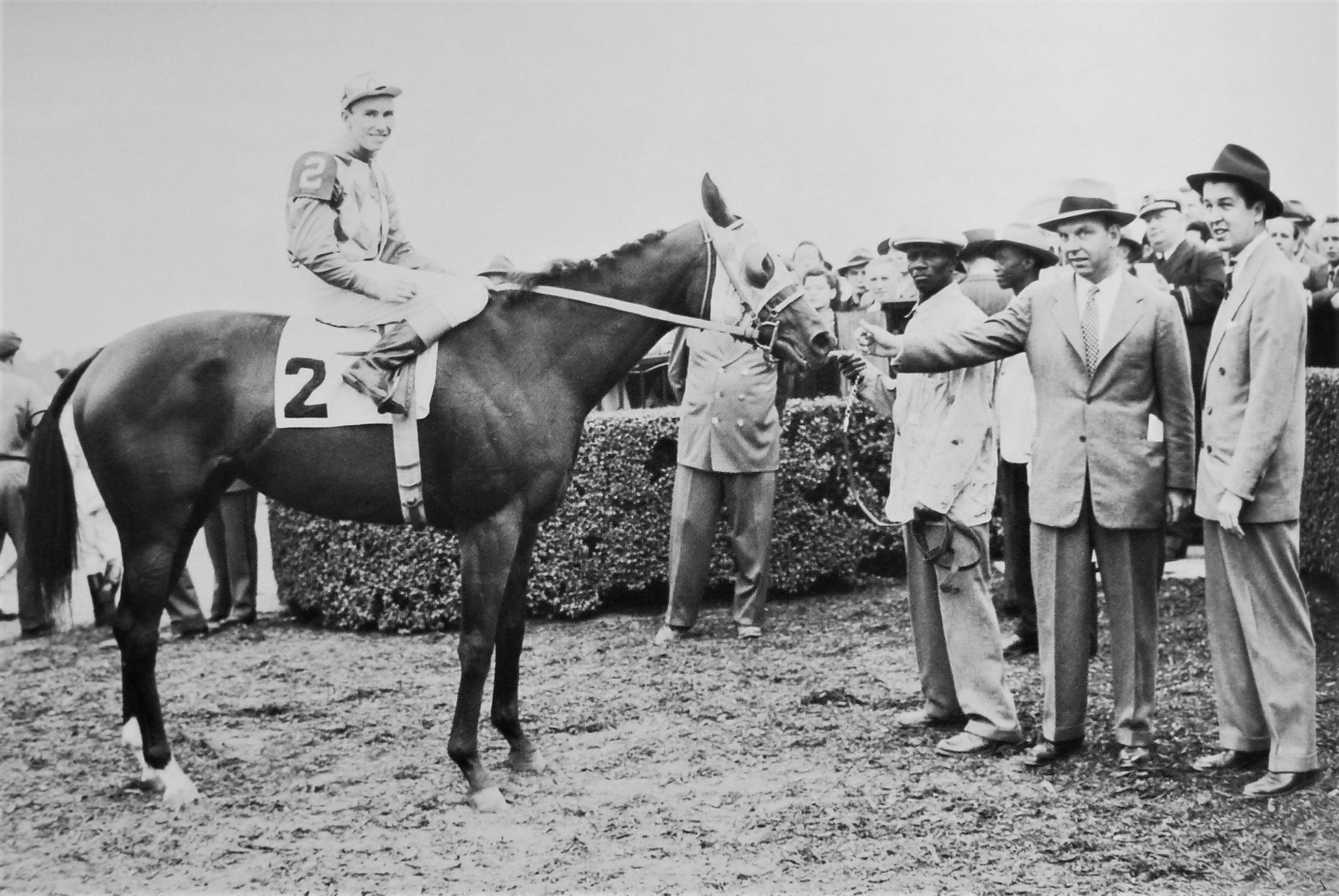 Foaled on April 8, 1947, Bed o' Roses was by Rosemont, whose stakes victories included a nose decision over Seabiscuit in the 1937 Santa Anita Handicap. In the 1935 Withers Stakes, Rosemont defeated that year's Triple Crown winner, Omaha. Bed o' Roses' dam, Good Thing, by Discovery, won five races from three seasons racing, finishing second in the Gazelle in 1944.
Eric Guerin was the regular rider of both Next Move and Bed o' Roses. He won the 1947 Kentucky Derby aboard Jet Pilot, the 1953 Preakness and Belmont with Native Dancer, and the 1954 Belmont on High Gun. He piloted Brownie in the famous triple dead heat in the 1944 Carter Handicap at Aqueduct. He was inducted into the American Racing Hall of Fame in 1972.
The fillies' racing careers were overseen by William Winfrey, who trained for both Vanderbilt and the Phipps Stable, conditioning the aforementioned Native Dancer and also champion Buckpasser for the latter's 2-year-old season. He trained a total of 38 stakes winners and was inducted into the American Racing Hall of Fame in 1971.
Conceived in Virginia, foaled in California and raised at Sagamore, Vanderbilt's Glyndon, Maryland, farm, Bed o' Roses was already well-travelled before she ever set foot on a racetrack. Next Move was just as well-travelled, having been conceived in Kentucky, foaled in California and also raised at Sagamore.
Next Move, foaled on March 14, 1947, was by five-time champion sire Bull Lea and her dam, Now What, was champion 2-year-old filly in 1939, taking the Arlington Lassie, Spinaway, Astarita and Demoiselle.
Bed o' Roses made her career debut at Santa Anita on February 16, 1949, finishing fifth in a three-furlong maiden contest. Her first win came in her third start, at Jamaica, going five furlongs on April 29. According to the Daily Racing Form, she won by three lengths with 'ridiculous ease'.
Next Move also broke her maiden at Jamaica in her third start, on July 5. Bed o' Roses and Next Move met for the first time in a 5½ furlong allowance over the straight Widener chute at Belmont on September 20. Neither won. Next Move was a nose behind winner Fais Do Do, with Bed o' Roses a head behind her in third.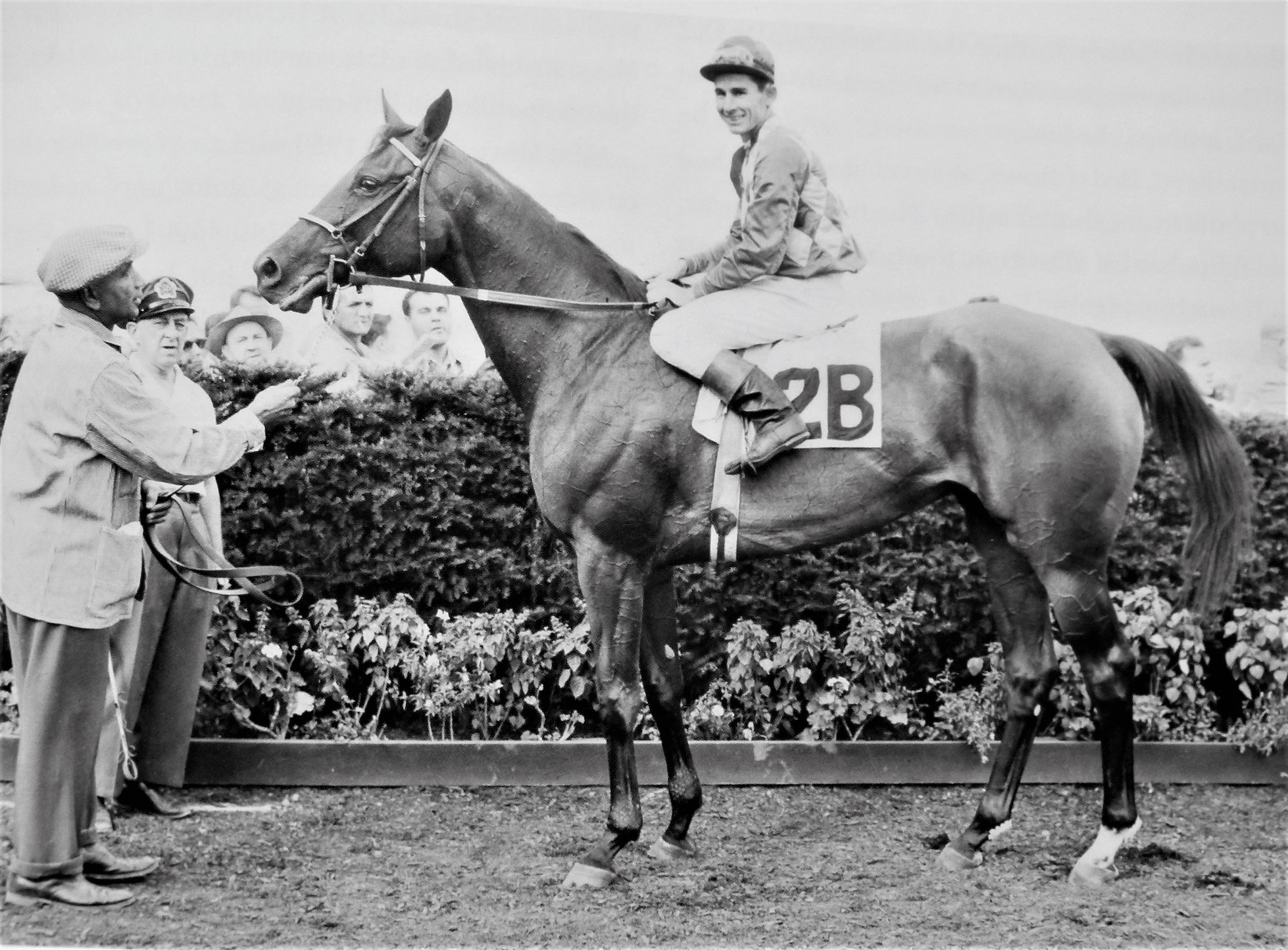 They next faced off in the Demoiselle at Jamaica over 8½ furlongs on November 8. This time Next Move assumed the role of pacemaker for Bed o' Roses in order to try to wear down frontrunner Rare Perfume. The tactic worked, with Bed o' Roses victorious, Next Move staying on for second and Rare Perfume third.
Prior to that, Bed o' Roses took on colts in Belmont's Futurity at 6½ furlongs, finishing 11th of 17.
Bed o' Roses won nine of her 21 starts at two, seven of them stakes, racing in seven different states and earning the 2-year-old filly championship. Next Move won only twice from eight starts, a maiden at Jamaica and an allowance at Aqueduct.
Bed o' Roses won five of 12 starts at three, including the 1⅝-mile Lawrence Realization at Belmont against males. She was ridden in that marathon by Nick Combest. The Realization, originally similar in conditions to a futurity except for 3-year-olds rather than 2-year-olds, was run from 1889 to 2005 and was won by such notables as Man o' War, Gallant Fox, Whirlaway, Kelso and Buckpasser. She was also second twice to males, in the Arlington Classic and the Travers Stakes, both at ten furlongs.
In the 8½-furlong Gazelle on July 3 at Aqueduct, Next Move gave Bed o' Roses five pounds and beat her a length. The stable had declared to win with Next Move (which could be done in those days) in order to protect the allowances Bed o' Roses would receive in future races.
They next met in the Beldame over nine furlongs at Aqueduct on September 16, with Next Move again emerging the winner and Bed o' Roses well behind in eighth.
Along with the Gazelle and Beldame, Next Move won the Prioress, Coaching Club American Oaks, Ladies Handicap, Cinderella Stakes and Vanity Handicap to earn her the 3-year-old filly championship. She was beaten a nose by Busanda in the Alabama, giving the winner 18 pounds. A multiple stakes winner who beat males in the 1951 Suburban and the 1951 and 52 Saratoga Cup, Busanda would go on to become the dam of the great Buckpasser.
Next Move was the 128-pound highweight to Bed o' Roses' 123 in the Vanity Handicap at Hollywood on December 2. Next Move won by 2¼ lengths, with Bewitch, who had defeated Citation at two, second under 125 pounds. Bed o' Roses was sixth.
Next Move was second in Hollywood's Sunset Handicap on December 16, with Bed o' Roses in sixth, behind winner Hill Prince, who would be that year's Horse of the Year. In between the Vanity and the Sunset, Next Move ran fourth to another conqueror of Citation, Noor, in the Hollywood Gold Cup.
Track record
Bed o' Roses set a new track record for seven furlongs at Santa Anita, 1:21⅗, in the Anita Chiquita Stakes in her final start of the year on December 29.
The Vanderbilt pair made their 4-year-old debuts in the nine-furlong Santa Margarita at Santa Anita on January 20. Next Move, under 130 pounds, was fourth to Special Touch, another filly who had handed defeat to the great Citation, under 114, with Bewitch, 122, second and Bed o' Roses, 125, third.
The stablemates lined up against males in the Santa Anita Maturity (similar to a futurity, but for 4-year-olds) over 1¼ miles on February 3. Great Circle took home the winner's share of the $205,000 prize, the richest in America to that time, while Next Move was back in sixth. Bed o' Roses finished third but sustained a bone bruise during the race and was off until capturing a six-furlong allowance against males at Saratoga on August 27.

First run in 1948, the Maturity later became the Strub Stakes. Vanderbilt must have thought highly of Bed o' Roses to enter her in all these early nomination races as a foal.
From ten starts at four, Bed o' Roses won the Vineland and Comely Handicaps, the latter under 127 pounds, and was second in the Ladies and the Beldame. It was enough to give her champion older female honors. While Bed o' Roses earned her second championship, Next Move won only one of her seven races at four in 1951, the six-furlong Las Flores Handicap at Santa Anita at the end of December, though she did finish third in the San Antonio and second, beaten only a neck by Moonrush, in the Santa Anita Handicap, both of those against the boys.
Bed o' Roses ran only three times in 1952, twice against Next Move. In the Santa Margarita on January 26, Bed o' Roses, carrying 129 pounds, including jockey Bill Shoemaker, won by a length over Next Move, who was the top weight at 130. This was the third and final time they would finish one-two.
She was then third in the San Antonio against males. Next Move and Bed o' Roses were the only fillies in the field for the Santa Anita Handicap on March 3. Both carried 114. The winner was 7-year-old Miche, under 115. Bed o' Roses was fourth and Next Move 11th.
The final score
Next Move made 12 starts in her championship season at five, winning three: the nine-furlong Firenze at Jamaica by two lengths on April 21, defeating males in the Bay Shore over seven furlongs at Aqueduct on September 8, and the first division of the nine-furlong Beldame at Aqueduct on September 13.
Following two unplaced efforts in the Ladies Handicap at Belmont and the Vineland Handicap at Garden State, Next Move was retired.
The two distaffers met a total of ten times, with Next Move winning three and Bed o' Roses two. When neither won, Next Move finished ahead of Bed o' Roses on three occasions to Bed o' Roses' two.
Bed o' Roses died suddenly and unexpectedly on January 5, 1953. She had been scheduled to be bred to Triple Crown winner Count Fleet. She is buried at Sagamore Farm. She was inducted into the American Racing Hall of Fame in 1976.
The Bed o' Roses Handicap was first run at Jamaica in 1957, moved to Aqueduct in 1959 and was run there until 2010. Past winners include champion Straight Deal (1966 and 67), Lady D'Accord (1992 and 93) and Classy Mirage (1994). It was run this year at Belmont on June 8 over seven furlongs and was won by Lewis Bay.
The Next Move Handicap was run at Aqueduct from 1975 to 2009. Its first winner was 1976 champion sprinter My Juliet.
Next Move's offspring included: Good Move, a daughter of Native Dancer and a stakes winner at two; Native Born, sire of 1983 champion sprinter Chinook Pass, who set a world record of .55⅕ for five furlongs at Longacres in 1982; and Restless Native, leading sire in Maryland in 1974 and 75 and sire of G1 winner Twixt.
Sources
American Race Horses 1949, 1950 & 1951, Joe H. Palmer, The Sagamore Press, 1950, 1951 & 1952
American Race Horses 1952, Joe A. Estes, The Sagamore Press, 1953
American Racing Manuals, 1950, 1952, 1961 & 1993
A Second Quarter-Century of American Racing and Breeding, The Blood-Horse, 1967
Champions: The Lives, Times and Past Performances of America's Greatest Thoroughbreds, DRF Press, 2005
Daily Racing Form online archives, July 7, 1908 & May 7, 1949
Horse Racing's Greatest Rivalries, Blood-Horse Publications, 2008, chapter by Rena Baer
Legacies of the Turf, A Century of Great Thoroughbred Breeders (Volume 1), Edward L. Bowen, Blood-Horse Publications, 2005
National Museum of Racing and Hall of Fame website: racingmuseum.org
Sagamore Farm website: sagamoreracing.com
The History of Thoroughbred Racing in America, William H. P. Robertson, 1964