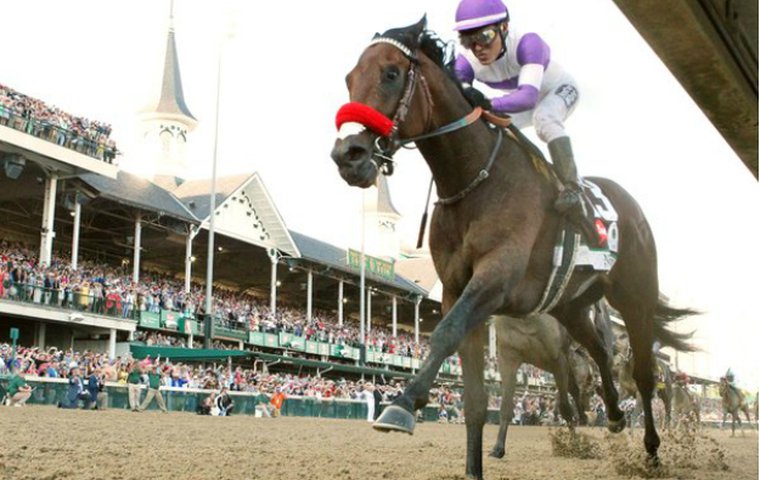 Now Nyquist has real respect as he sets out to exorcise a Triple Crown demon

During the 37 years that spanned the days when Affirmed and then American Pharoah proved that a certain brand of racehorse could actually win the Triple Crown, there was surely no shortage of heartbreak in the three classic races.
In that time, 20 horses came close to sweeping the trio by winning two of the world-famous Grade 1 tests.
Real Quiet was the stunner, appearing to be home free in 1998 but losing by a nostril in the final stride.
The cruelest twist of fate, though, belonged to owner Paul Reddam, trainer Doug O'Neill and jockey Mario Gutierrez. In 2012, they won the Kentucky Derby and Preakness with I'll Have Another and were odds-on favorites to end the Triple Crown drought at a "mere" 34 years.
But on the day before the Belmont Stakes, the unthinkable happened. I'll Have Another was retired when a tendon injury was detected. Instead of a victory party inside the track's winner's circle after the race, that space was used for a public retirement party prior to the running of the final jewel in the Triple Crown.
----------
Nyquist's dam and her new foal
----------
"Having come close to a Triple Crown before," Reddam said on Saturday at Churchill Downs, "it doesn't happen, until it happens."
If Reddam sounded as if he stole a line from Yogi Berra, he can be excused. You see on Saturday, he had a rather emotional day as it was 2012 all over again for him, O'Neill and Gutierrez.
At least the first Saturday in May part of 2012.
On the wings of an undefeated colt who finally outran his pedigree and critics, Nyquist gave the trio their second Kentucky Derby win by registering a 1 1/4-length victory over Exaggerator before 167,222 at Churchill Downs – the second largest crowd in the race's 142-year history.
"He's such a special horse. I can see it in his eyes on a daily basis. In any human sport he'd be the top-notch athlete. He's first class. I'm so blessed and privileged to be a part of him," O'Neill said. "I mean, I think now it's safe to say, Lava Man is unbelievable and I'll Have Another is unbelievable. But he's definitely the best horse I have ever been around."
In taking his second stroll to the winner's circle at the Derby, O'Neill's latest journey was 180 degrees removed from his trip with I'll Have Another.
----------
The American Pharoah team look back 12 months later
----------
While I'll Have Another was dismissed at lengthy odds of 15-1 in the 2012 Run for the Roses, Nyquist arrived at Churchill Downs for the $2 million Derby with a perfect 7-for-7 record and a crown as the 2-year-old champion.
A combination such as that was last seen at the 1977 Derby, when undefeated champion Seattle Slew started his march to the Triple Crown. Yet Nyquist broke from the starting gate carrying the weight of far more criticism than "Slew".
While Slew won as a 1-2 favorite, Nyquist ($6.60) was sent off as a 2-1 favorite due to skepticism over his breeding as a son of first-year sire Uncle Mo and lackluster speed figures.
On Saturday, whatever doubts anyone had about his male or female lines evaporated as Nyquist once again proved it doesn't matter how fast you run – it's all about running faster than everyone else.
Suffice it to say, Nyquist has that down pat.
"I feel really good for the horse," Reddam said, "because along the way the last year, he has taken a lot of shots for whatever reason. And I think he proved all his critics wrong today. So I'm really proud of him and the whole O'Neill team and Mario's ride. It was just flawless from beginning to end."
Serious charge
It was indeed a perfect trip for a perfect horse.
Gutierrez kept Nyquist second in the three path, four lengths behind the front-running 25-1 shot Danzing Candy through a half-mile in a quick 45.72 seconds. As the leader faltered on the final turn, 10-1 third choice Gun Runner moved quickly to take a brief lead. Yet Nyquist was also making his bid and leaving the quarter pole it was Nyquist who stormed to the front.
He surged to a 2 1/2-length lead at the eighth pole as Gun Runner was unable to match strides with him in the lane.
From the rear, the only one mounting a serious charge was Exaggerator, who was 15th in the field of 20 after the first half-mile. With Nyquist in cruise control, Exaggerator chewed the lead down to 1 1/4 lengths at the wire but never really threatened the winner in an irritatingly familiar result for trainer Keith Desormeaux.
In Nyquist's eight wins, the horse that finished directly behind him in six of those races was trained by Desormeaux.
"(When Exaggerator) burst out of the turn, I thought we had time to catch Nyquist," said Desormeaux, who also watched his colt finish second to Nyquist in February in the San Vicente and suffered the same fate on four occasions last year with Swipe. "He had clear running room the entire one-quarter mile stretch. I thought for sure we would catch him. He did kind of level off the last 16th of a mile. Maybe he ran out of training."
When it was mentioned to Reddam at the post-race press conference that Exaggerator might move on to Pimlico to face Nyquist in the Preakness on May 21, he dead-panned: "I would have thought he was sick of us by now."
Encore in Baltimore
Once the laughter and applause died down, he offered a more humble and fitting response.
"No, his horse, obviously, ran great," he said about Desormeaux and Exaggerator, "and he was the closest threat. And, if I were him, I would want a rematch, too. The horses are not machines, so it will be a great race."
If there's an encore in Baltimore, it probably will be an exciting race, since Nyquist is not the type of horse who wins by dazzling margins. He simply wins and wins and wins. The Derby marked the fifth time in eight starts he prevailed by 1 ½ lengths or less.
"Like I say, if anybody watches Nyquist's races, you will see that he will not allow any other horse to pass him. He's the kind of horse that always has something left for whatever comes to him late," said Gutierrez, who guided Nyquist under the wire in 2:01.31, the 13th fastest time in race history, to become the first jockey since Willie Simms in 1898 to own a perfect 2-for-2 record in the Derby. "So he was able to win by five lengths. He's been able to win by a nose. So that's how I get so much confidence from him. Because, if anybody comes late, I know he'll have something to respond to that."
Yet when Nyquist shows up at Pimlico, rest assured the level of respect for him will be significantly different than it was before the starting gates popped open for the 142nd Derby.
"What a horse," Desormeaux said about his nemesis. "I can't respect that horse enough."
With that respect comes the realization that Nyquist is hardly your run-of-the-mill Derby winner. He became just the second horse since 1984 to win the Breeders' Cup Juvenile and the Kentucky Derby, joining Street Sense (2007).
----------
How Bob Ehalt put the case for Nyquist
----------
He also joined the ranks of 20 other 2-year-old champs who won the Run for the Roses, and if you want to up the ante a bit, the last five Triple Crown winners (American Pharoah in 2015, Affirmed in 1978, Seattle Slew in 1977, Secretariat in 1973, and Citation in 1948) were all 2-year-old champions.
On the racetrack at Churchill Downs, in the most important test of his life, Nyquist surely seemed a worthy candidate to join that quintet, yet O'Neill learned the hard way it can take more than ability to conquer the mystique of the Triple Crown.
"It's a lot like every other athlete, you just got to stay injury‑free," O'Neill said. "A lot of ice. A lot of prayers. A lot of Elias (Anaya, Nyquist's groom). And that's all good," he said, before looking over at his mother, Dixie Lee, and adding: "Mom, can you light a candle at Sunday mass? We need some higher power there to keep this guy injury‑free."
After what happened in 2012, no one can blame O'Neill for wanting to leave nothing to chance in the course of the next five weeks. A near-miss, especially when you never get a chance to step to the plate for a final swing, is something a person cannot easily forget.
Yet on this first Saturday in May, thanks to a horse named after a hockey star, there was another memory that seemed more fitting and poignant. This one dating back just one year, when American Pharoah started a journey toward a Triple Crown sweep that many viewed as futile in this day and age.
"Last year showed (a Triple Crown) can happen with a special horse," O'Neill said.
Indeed it did.
Now, in the course of the next five weeks, Nyquist will attempt to cover that same hallowed ground, and in the process he might even exorcise the demons from four years ago for O'Neill, Reddam and Gutierrez when they lived through the heart-breaking Triple Crown bid that never was.