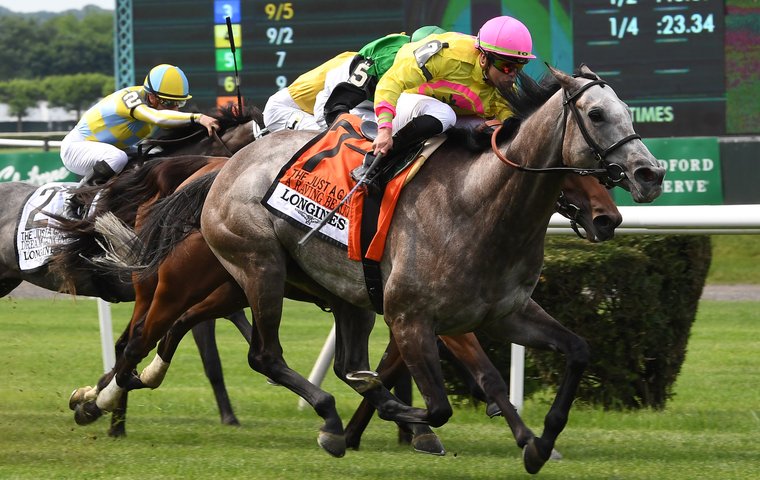 When A Raving Beauty landed the G1 Just A Game Stakes on that memorable Belmont card on June 9, it marked the third time within a month that a U.S. G1 had fallen to a European import.

Unbeaten in two starts since transferring to the U.S., it hasn't taken long for Chad Brown's filly, a G1-placed performer in Italy who now races for Michael Dubb, Madaket Stables LLC and Bethlehem Stables LLC, to assume a prominent standing within the turf division, one that is currently loaded with other G1 imports, such as Sistercharlie, Sophie P and Hunt.
Such success by foreign invaders, particularly within the turf division, is nothing new. But such is their current presence that demand for European runners has never been stronger, whether it be for 2yos with the potential to thrive from the autumn of their juvenile year or older fillies capable of holding their own on the Graded stakes circuit.
"The European turf horses, in my opinion, are of the highest quality and have been that way consistently year-in year-out," says agent David Meah, whose own experience with European imports has been highlighted by the achievements of recent Graded stakes winners such as Madam Dancealot, Midnight Crossing and Queen Blossom. "The field sizes are good, and horses learn a lot having to run on very different tracks - look at Windsor, where they can go in both directions depending on the distance of the race. So with all that being said, when they come out here I feel they have a distinct advantage."
The private market is justifiably in rude health as those owners monitoring the progression of the likes of Sistercharlie and Hunt search for the next big name. But against that, there are also the advantages of public auction to consider; lest we forget that A Raving Beauty, alongside this year's G1 Gamely Stakes 1-2 Sophie P and Madam Dancealot and G2 Santa Ana Stakes winner Midnight Crossing are among those to have passed through an European sales house as tried performers.
"I think the appetite for European horses is as strong as it's been and I feel like it's continuing to grow," says Meah, who bought multiple G2 winner Madam Dancealot in conjunction with Lillingston Bloodstock at the 2016 Goffs Champions Sale. "It's a bit like everything. People seemed to be cautious a good few years ago as they were unsure how strong the euros were, but not now as it's being proved day-in day-out that they are coming over and competing in all the turf stakes races - not just competing but winning a lot of these races also."
U.S. stakes winners 2017-18 sold through European horses-in-training sales​
No doubt lurking within the 918-strong catalogue for this year's Tattersalls July Sale in Newmarket is more of the same. Marketed as Europe's premier midsummer auction and set for July 11-13, it was this sale that provided Mike Mitchell with his G1 Eddie Read Handicap winner Monzante, bought for 100,000gns out of the Juddmonte Farms draft by Jamie Lloyd and Gordian Troeller. Another sale graduate, Seamus Durack's 11,000gns purchase Qaraaba, went on to win the G3 Robert J Frankel Stakes for Simon Callaghan.
Outside America, the G1 achievements of Harlem, Big Duke and McCreery in Australia, as well as the rapid rise of July graduate Elite Invincible to current stardom in Singapore, means that both Tattersalls July and Autumn Horses in Training Sales are invariably in the pysche of the international players.
One such regular player is Jed Cohen's Red Baron's Barn and Rancho Temescal, who have long held an important presence on the Californian circuit. Europe has played a vital role in the fortunes of the Cohen family's Red Baron's Barn over the years, notably as the source of their G1 Yellow Ribbon Handicap winner Janet and G2 winner Suances, now a stallion at their Rancho Temescal.
Currently their colours are being carried to great effect by French import Itsinthepost, who has rattled off four G2 wins for Jeff Mullins since the turn of the year.
Red Baron's Barn and Rancho Temescal began buying at Tattersalls in real earnest in 2016, the year they came away with six horses, including subsequent Rolling Green Stakes winner Force and dual winner Zaffinah. Last year, they returned to spend just over half a million guineas on another six, one of whom, River Boyne, has already won this year's Pasadena and Rainbow Stakes.
"We work with Alistair Donald, Edward Freeman and Joe Miller at the sale," says Tim Cohen. "It's a great team effort between the four of us. [Tattersalls marketing director] Jimmy George is a great host. It has been rewarding in finding horses that are ready to go in the U.S.
"We look for horses that can transition to our firm grass courses and acclimate to the U.S. style of racing. Those are the biggest challenges."
So far, River Boyne is the star of last year's intake. Bought for 70,000gns out of Richard Fahey's yard after running second in a conditions race at Newcastle, the son of Dandy Man won twice at Santa Anita before striking in the Pasadena, a race in which another of Red Baron's Barn's Tattersalls acquisitions, Buckstopper Kit, ran fourth.
"River Boyne has really blossomed with Jeff Mullins," says Cohen. "He has certainly matured physically, and loves the firm ground.
"Buckstopper Kit will prove himself soon, he should have a good Del Mar. And Force has really come around this past year. He did not relish training on the dirt, so we moved him to Golden Gate Fields, where they train on Tapeta. That seemed to make a difference for him."
Showcasing 'some of the best horses in the world'
Meah also returned to Tattersalls last autumn, where he bought three horses in partnership with Jamie Lloyd. One of them, Move Over, recently struck in a Santa Anita allowance optional claimer for Hronis Racing after running third in the Singletary Stakes.
"Tattersalls always showcase some of the best horses in the world and have always done a very good job of making the sales experience fun and exciting," says Meah. "The buzz is always alive there.
"We look for good horses at all levels. One thing you have to take into account, and maybe more so if buying for California, is that they have proven themselves on a fast firm surface.
"Also it's appealing to be able to buy a horse with some conditions left, as that way they can come over here and race in allowance races. Then you have a good chance to continue their development as they make there way up the ladder to some of the major stakes races."
With a catalogue of 918 lots, this year's Tattersalls July Sale offers something for everybody, ranging from a sextet of Galileo yearling fillies to the 137 broodmares and 775 horses in training. All the major outfits are again represented, including Juddmonte Farms, previously the vendor of Monzante, who head to this year's sale with 41 lots.
Shadwell Stud, who sold Qaraaba, have 61 entries to their name, while Godolphin will send through 31. Qatar Racing are also well represented through Jamie Railton, with a powerful draft that includes G2 winners Arod and Mr Sumbal alongside the classic-placed Blue De Vega. Added to that, the catalogue contains drafts from many of the major trainers, giving rise to the distinct possibility of another potential stakes winner or two within its pages.