On the Thursday after the Belmont Stakes, Belmont Park was nearly deserted. A sparse weekday crowd dotted the apron; upscale specialty cocktails were nowhere to be found; attire tended to denim rather than linen, and the hats adorning people's heads bore not flowers and ribbons, but the insignias of sports teams.

None of that mattered to Sheila Rosenblum. She'd been present when American Pharoah made history, becoming the 12th winner of the Triple Crown, but she was no less excited on this day, when her 5-year-old gelding Erik the Red was making his 13th start. The fourth betting choice in a field of six in for a $50,000 tag, Erik the Red clawed his way to a head victory—his third—and Rosenblum strode out onto Belmont's sandy track, her designer stilettos be damned, to grab a shank and triumphantly lead him into the winner's circle, a route that's become as familiar as the one she takes to her children's schools.
That's where she was the next day, picking up her son Erik's report card (yes, the horse is his namesake, and the human was reportedly very relieved that the horse didn't get claimed) before heading out to her weekend home on Long Island.
"It would take surgery to keep me from going," when one of her horses is racing, she said, and it seems literal, not hyperbole. She added, "Or if there's a conflict due to my children or my family, that kind of thing. I don't miss a race if I don't have to."
Her intensity suggests that she's making up for lost time. A relative newcomer to Thoroughbred racing—she raced her first horse five years ago, and her first win came with Erik the Red—Rosenblum has thrown herself into the sport. After a series of initial bad experiences—a horse breaking down fatally, a purchase that went on to be contested in court, a bunch of yearlings that turned out to be not very good—she found her footing when she teamed up with trainer Linda Rice.
"She's my third trainer," said Rosenblum, who races in the name of Lady Sheila Stable. "And when I started with her, the rest is history."
That history starts with 5-year-old La Verdad, the mare Rice purchased privately in late 2013 and who has notched 10 wins in 15 starts for Rosenblum, including three graded stakes. A former dancer, Rosenblum is eying, for the second year in a row, the G1 Ballerina at Saratoga, in which the daughter of Yes It's True finished fifth last year.
"We're trying our darndest to see if she has it in her to win it," Rosenblum said.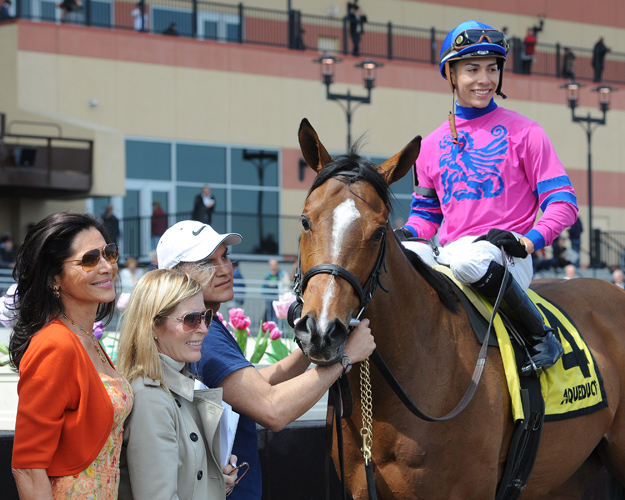 Win or lose, Rosenblum then faces a tough decision: sell the mare, whose earnings recently surpassed $1 million, or keep her to breed, extending the Lady Sheila enterprise?
She recently turned down what she called "a major offer" for La Verdad, and she's already bred two fillies that had raced under the Lady Sheila banner: Kara's Match Point (named for her daughter) and Ballerina Belle, both of which will be offered in Keeneland's November Breeding Stock Sale. With one win each to their credit, they don't exactly measure up to their star stablemate.
"I either make a decision to let La Verdad go and have her bred by one of the big guys," Rosenblum said. "Or I keep her. Either way, I want to make sure 100 percent she has a spectacular life and that I can visit her regularly."
Rosenblum's primary residence is in Manhattan, and she frequently makes the short trip out to Rice's Belmont Park barn. Rain or shine, she attends morning training, not so much to assess her horses—she leaves that to Rice—as to soak in the atmosphere, to visit what she calls "her other brood of children."
"Pretty soon I'm going to start training them," she dead-panned, noting that she is often the only woman there, other than Rice's assistant trainers.
No stranger to the spotlight, Rosenblum finds herself a sought-after media presence, yet despite careers in ballet and modeling, she's taken a while to hit her stride on camera talking about her horses.
"It's been a whirlwind," she admitted. "It's different from ballet and modeling, being live discussing the world of horses. I've always got butterflies in my stomach."
Those butterflies don't seem to be much in evidence at the 2-year-old sales, where Rosenblum and Rice have been active buyers, recently purchasing a colt by Pioneerof the Nile, sire of Triple Crown winner American Pharoah, for $850,000. In addition to her own stable, Rosenblum has started two all-female partnerships, Lady Sheila Stable Two and Triumphant Trio, whose participants include other New York City bold-face names and whose buy-in starts at $100,000 for the former and $500,000 for the latter.
"Between the two partnerships, we've got millions and millions invested," Rosenblum said. "We've got about 17 horses."
In some cases, Rosenblum will cover the training costs for two years; she takes no commission and doesn't inflate the sales prices for the partnerships. After a bad experience buying yearlings when she first got into racing, she insists now on purchasing 2-year-olds.
"You pay a lot less for yearlings," she said, "but you carry the costs for two years before they get to the races."
Rosenblum speaks confidently about her business plan and about the expansion of her stable, and she's got plenty of capital behind her. Still, she acknowledges a little anxiety about being overextended.
"Of course I'm petrified," she said. "Anyone involved in racing knows that it's risky; there's no guarantee on your money and you can't be spending the mortgage payment."
"But," she went on, "I have a plan that I know I can actually execute, and my accountant promises me that I'm OK."
On the day of the Belmont, Rosenblum met Penny Chenery, who is as close to racing royalty as it gets in the United States. A trailblazer herself, Chenery spoke with Rosenblum and a few of her partners.
"Here is this classic legend," said Rosenblum, awe in her voice, "who besides being incredibly important in the horse world, and female, is so gracious."
She also credits Vivien Malloy, an officer for the New York Thoroughbred Breeders' board of directors and a two-time New York Breeder of the year, for her support.
"She's a gem, and a lifesaver," Rosenblum said. "She's been a great help to me."
Malloy and Rosenblum met at Belmont Park on Big Apple Showcase Day in May, and within days, Rosenblum and some of her partners visited Malloy's Edition Farm in Hyde Park, New York. A two-time New York Breeder of the Year, Malloy was happy to answer their questions and encourage their participation.
"She wants to be an ambassador of the sport," said Malloy of Rosenblum, "which is what I want to be all the time, too. We've been pals ever since."
The two also share the experience of being one of the few women in a sport dominated by men.
"It's so hard to be respected if you're a woman, especially by the old-time trainers," Malloy observed.
And one of Rosenblum's strengths, said Malloy, was her choice of trainer.
"Linda is a great horseman," she said. "She picked the right person."
Recently separated from her husband and with two children nearing adulthood, Rosenblum nonetheless has plenty to keep her busy: she's active on the New York City philanthropic scene, and she has a busy social life. But the racetrack has captured her heart and her imagination, and it is there that her prodigious energies are mostly directed these days.
"There are tons of obstacles," she reflected, "but there's elegance and beauty and intrigue, and something just made me become obsessed. The beauty of it far surpasses the negative."
"And," she said, "I'm not exactly a novice anymore. Slowly, I'm paying my dues."