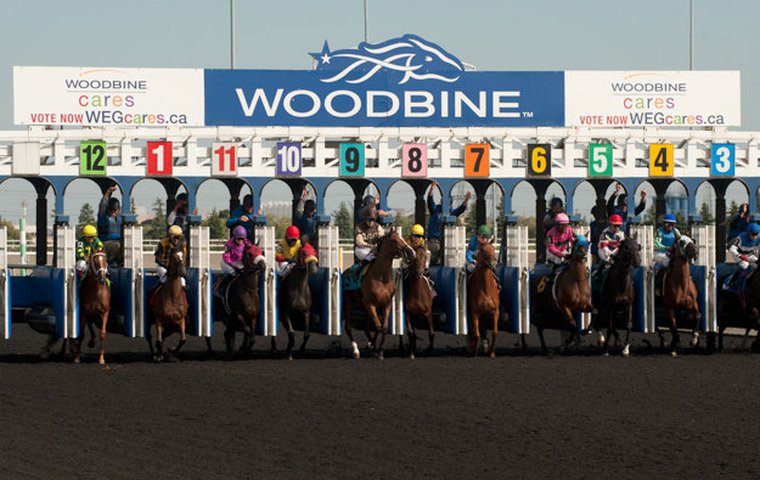 Strong partnerships, industry-leading practices putting Woodbine ahead of the curve

There's a distinct note of pride in Steve Koch's voice when he speaks of the reputation Woodbine Racetrack has earned as an industry leader in safety. There's also an unmistakable tone of commitment in maintaining such lofty stature.
Mention the topic of safety to Koch, vice-president of racing of Woodbine Entertainment Group, and it's readily apparent that the Kentucky-born, 38-year-old is eager to share his thoughts on what continues to be a major priority for himself and Woodbine.
"I think my upbringing and early career experiences sealed my affinity for doing right by the horse first and foremost," said Koch, who started at Woodbine in 2003, having previously worked at Claiborne Farm and Keeneland Racetrack. "I think this was an attractive quality that, combined with my business skill-set, appealed to [former Woodbine CEO] David Willmot, when he hired me. At that time, Mr. Willmot communicated my mandate at Woodbine was to combine my experience and credibility as a horseman with a balanced approach to business decision-making. But, the real source of our success in the area of safety is that Woodbine is a horseracing company first and therefore the resources are made available to achieve what is best for the horses, horsemen, and the industry."
Koch points to a quote from Mike Ziegler, executive director of the NTRA Safety and Integrity Alliance, as a guidepost and a reminder of the standard Woodbine has set for itself.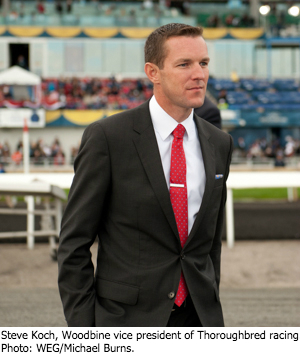 "In its review, Woodbine exceeded established benchmarks in the vast majority of areas," Ziegler detailed in a press release. "The highest 'Best Practice' grading was awarded in 27 areas, which places Woodbine among the leading North American racetracks in commitment to safety and integrity."
It's a commitment that Koch and the company take very seriously.
"Welfare, safety, and integrity are operating fundamentals at Woodbine," Koch said. "This derives not just from having good, sustainable business practices, but also a deep commitment that we owe our equine stars, jockeys, and horsemen a world-class horseracing environment. Woodbine is structured such that we invest profits back into the supply side of the business - our horses and horsemen - and we can therefore pursue ever-higher operating standards. We hold ourselves accountable for leadership and results in these areas."
An accountability Ziegler and the NTRA have taken note of.
"Generally, I have found that the mentality at Woodbine concerning safety, welfare, and integrity is that these areas of operations are top priority and no expense is spared with regards to these areas," Ziegler said. "This has been proven with the accreditation program of the Safety Alliance. Tracks are graded in each area of the Code of Standards from Best Practice down to Deficient. Management at Woodbine has stated that they hope to score best practice in every area of the Code.
"The mentality of wanting to score Best Practice in every area of the code has not been professed by very many other tracks," he continued. "Frankly, it is clear that some tracks take ownership of safety and integrity and make them a priority and others don't. Woodbine is one that does."
When jockey Jesse Campbell, who moved his tack from the U.S. to Woodbine in 2011, strapped on his goggles seconds before the gate opened in his first race at the Toronto oval that year, he had already taken note of the racetrack's approach to safety days earlier.
"It just boiled down to how Woodbine is run, the professional approach to racing, the commitment to the sport, and how they work at having good safety measures in place," said the 37-year-old winner of nearly 2,000 career races, including the 2013 Queen's Plate with Midnight Aria. "The starting gate itself [a state-of-the-art, $500,000 investment] is amazing. They are always looking at ways to increase safety, which as a rider, is extremely comforting to know. It's something I saw the moment I got to Woodbine."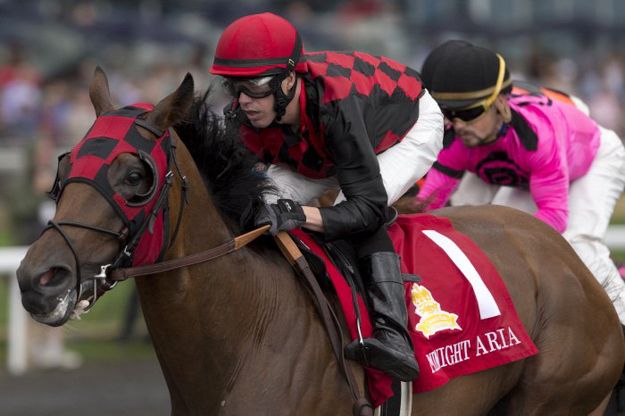 Purchased in 2010, Woodbine's starting gate boasts no shortage of safety features.
"We custom-built the gate because we could not find our specifications on the market," Koch told the audience at this July's Grayson-Jockey Club Welfare and Safety of the Racehorse Summit, held at Keeneland Racecourse. "We visited numerous units across the continent, stole a few good ideas but mostly stuck with what already was working for us. Our stalls are slightly narrower than the average gate, giving handlers the advantage in managing a difficult horse. The pontoons are customized to best accommodate assistant starters without getting in the horses way and the back doors move in tandem so that one man can shut them in a single stroke. The entire unit is very heavy and super solid so there is no extra banging and noise. The fronts open silently instead of with a bang. Without the bell, you wouldn't know a race has started."
Campbell also lauds the track's gate crew as the one of the top outfits on the continent.
"They are excellent," he said. "They do a phenomenal job, arguably the best I've ever seen in my career. They have enough people that can do an excellent job. The only thing you want to focus on when you are loading into the gate is the race itself. They make that easy."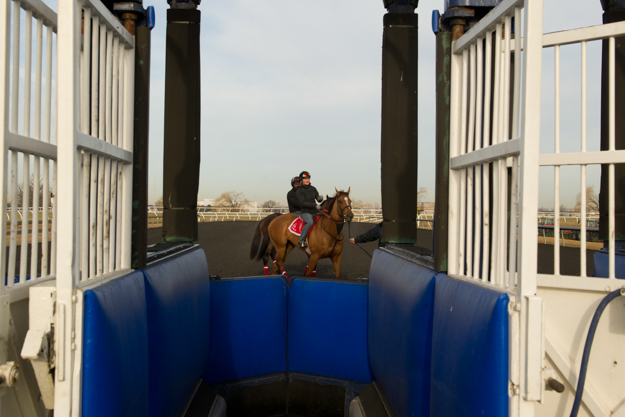 Campbell, however, reserves his highest compliment for those tasked with ensuring no horse competes that shouldn't.
"Woodbine does an amazing job at putting the horse first, which is the way it should be," he said. "If a horse is acting up, or looks off, that horse won't race. That mentality helps avert a lot of issues."
Welcome words for Dr. Greg Taylor, one of the people whose job it is to make such calls, and a man who has been on the Veterinary Panel for six Breeders' Cup events.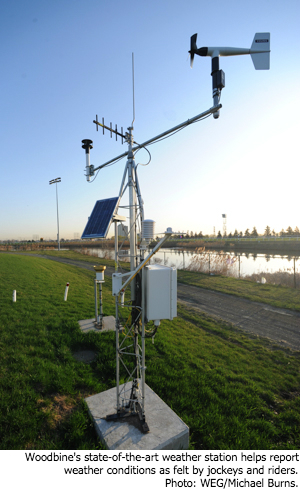 "The safety of the horse is very important to me," said Taylor, who has served 34 years as an Ontario Racing Commission (ORC) vet. "The most important aspect is that it's more about the horses than the business of racing. The safety of the horse and rider is a priority that both Woodbine and the ORC put above all else.
"Some of the safety measures implemented are the maintenance of the racing surfaces, having good equipment as in the horse ambulance and a well-maintained safe barn area," he continued. "The dedication of the people is obvious, as no one wants to see a horse hurt, and they are an asset when incidents occur to see that it is resolved quickly and safely."
Taylor knows some of his decisions won't be applauded. But, he also understands those choices won't be questioned by Woodbine management.
"Woodbine has had a hands-off approach, which has allowed myself and the other veterinarians to make decisions [the scratching of a horse at the gate], which may not be popular, but are for the good of the horse. Our ability to maintain an enviable record is what we all strive for and there is always room for improvement."
Words echoed by Sue Leslie, president of the Horsemen and Benevolent Protective Association (HBPA), Ontario chapter.
"I think the Woodbine management team understands no one wins when safety is compromised," Leslie offered. "We in leadership roles have a responsibility to work as a team in the best interests of industry participants to create as safe an environment as possible."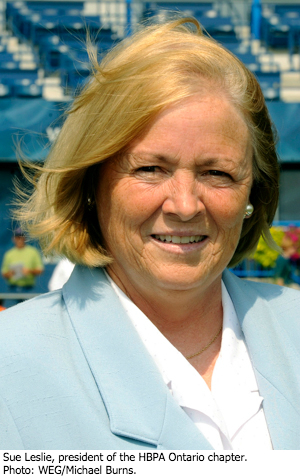 The non-contentious relationship between the HBPA, the Jockeys' Benefit Association of Canada (JBAC), and Woodbine has been a boon for racing safety.
"I guess the main thing is that Woodbine, the JBAC, and the HBPA really pull together and put aside any differences when it comes to safety," Leslie said. "It is always good to know that you can pick up the phone, identify a problem, talk about it, and solve it. We all work as a team."
For Robert King Jr., National Secretary-Manager, JBAC, civil conversations, even over serious matters, don't escalate to heated confrontations.
"It's a relationship that's been strengthened over the years through trust and open communication," the former jockey said. "We might have different views, but we find a way to resolve whatever the issues are. If there are any issues that need to be dealt with, I don't have any problem picking up the phone and talking to someone at Woodbine about addressing it.
"A good example of that is the tunnel that leads from the paddock out to the track. When the weather turns colder, flash freezing can occur. When the riders and the horses head into that tunnel, it can be cause for concern. All I have to do is make one call and someone is out there in 10 minutes or less, sanding or salting, making sure it's taken care of. I'm sure it's different in other places. That's just not the case here."
Koch acknowledges they weren't always on the same page.
"I think everyone, the HBPA, JBAC, and the horsemen, have developed a trust in us to do things right because we approach each one truly as industry partners. Consultation and collaboration on the key issues are standard protocol. We don't always have to agree, but we do always have a respectful approach. We've all worked hard to earn the other's trust.
"We know we can count on every manager, every worker, every horseman, and every tradesman to let us know where we can improve and where we missed our mark," he continued. "Largely, this communication occurs through our excellent relationship with the JBAC, the HBPA, and our regulators. Our dialogue is continuous and mutual trust is critical to that process. Internally, we are careful that cost is not our first decision-point. We first assess initiatives from a mindset of sustainable effectiveness."
A current example is Woodbine's looming decision on their main track (Polytrack) surface.
"This past summer, we saw indications that our main track, installed in 2006, may need some reinvestment," Koch noted. "Our questions from this were not, 'if,' but, 'what and how.' We committed to our horsemen that all cushion options were on the table, costs notwithstanding, and that we would use this fall and winter to contemplate every viewpoint. We then engaged with the HBPA and our horsemen individually to ascertain the horsemen's collective views. There is enormous pressure on all of us to decide upon the very safest and most reliable main track surface that money can buy and I am confident that we will have the best outcome from that collaborative approach."
All of it instills confidence for the management team at Woodbine, especially when the NTRA's bi-annual accreditation process draws near.
"It's where we confirm our commitment to the highest standards of safety and integrity," Koch said. "This most important program of the NTRA has become an essential element in our management decisions throughout the racing year. Our team prides themselves on achieving 'Best Practice' ratings in numerous areas and we always look forward to applying best practices gleaned from other accredited tracks—perhaps the program's most substantial contribution to the industry."
And a reminder to Woodbine what it takes to be a leader of the pack.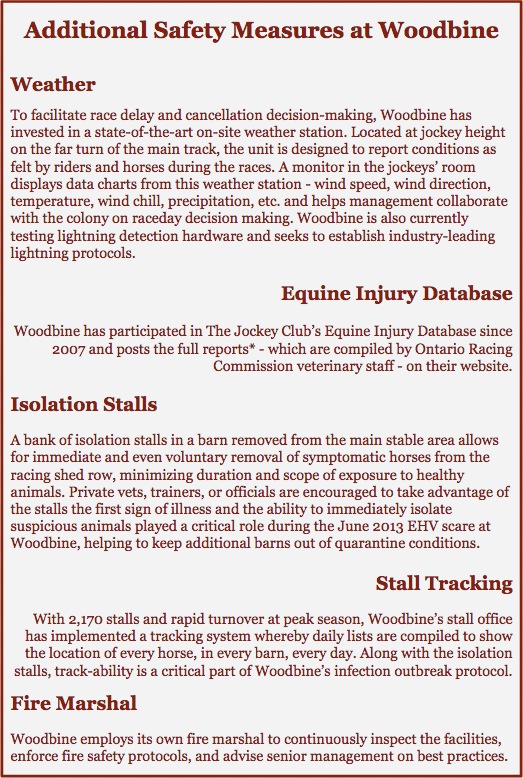 *Racetrack safety reports can be found on Woodbine's website.