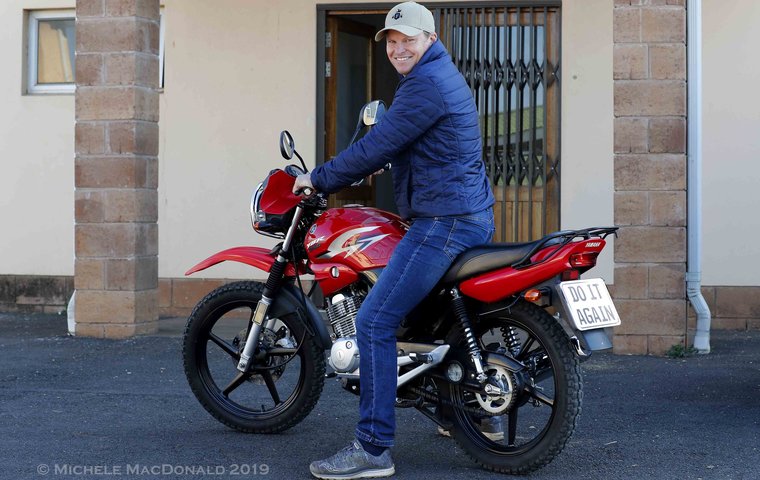 Forget, for a moment, about the history. Forget about the money and forget about the limelight. For trainer Justin Snaith, sending Do It Again out for an emphatic triumph in South Africa's premier race, the Durban July, was mostly about proving to any doubters just how formidable this once recalcitrant gelding has become on a racecourse.

Giving as much as eight kilograms (around 18 pounds) in weight to 15 adversaries while carrying 60kg (about 132 pounds), the white-splashed bay ran them down with a cyclonic rush, his strides lengthening freely without provocation from jockey Richard Fourie's whip.
"I didn't care about anything else. I just wanted everyone to walk away from the Durban July saying that Do It Again is a champion. That's all I was worried about," Snaith declared in the immediate aftermath. "I wanted to be proud for him."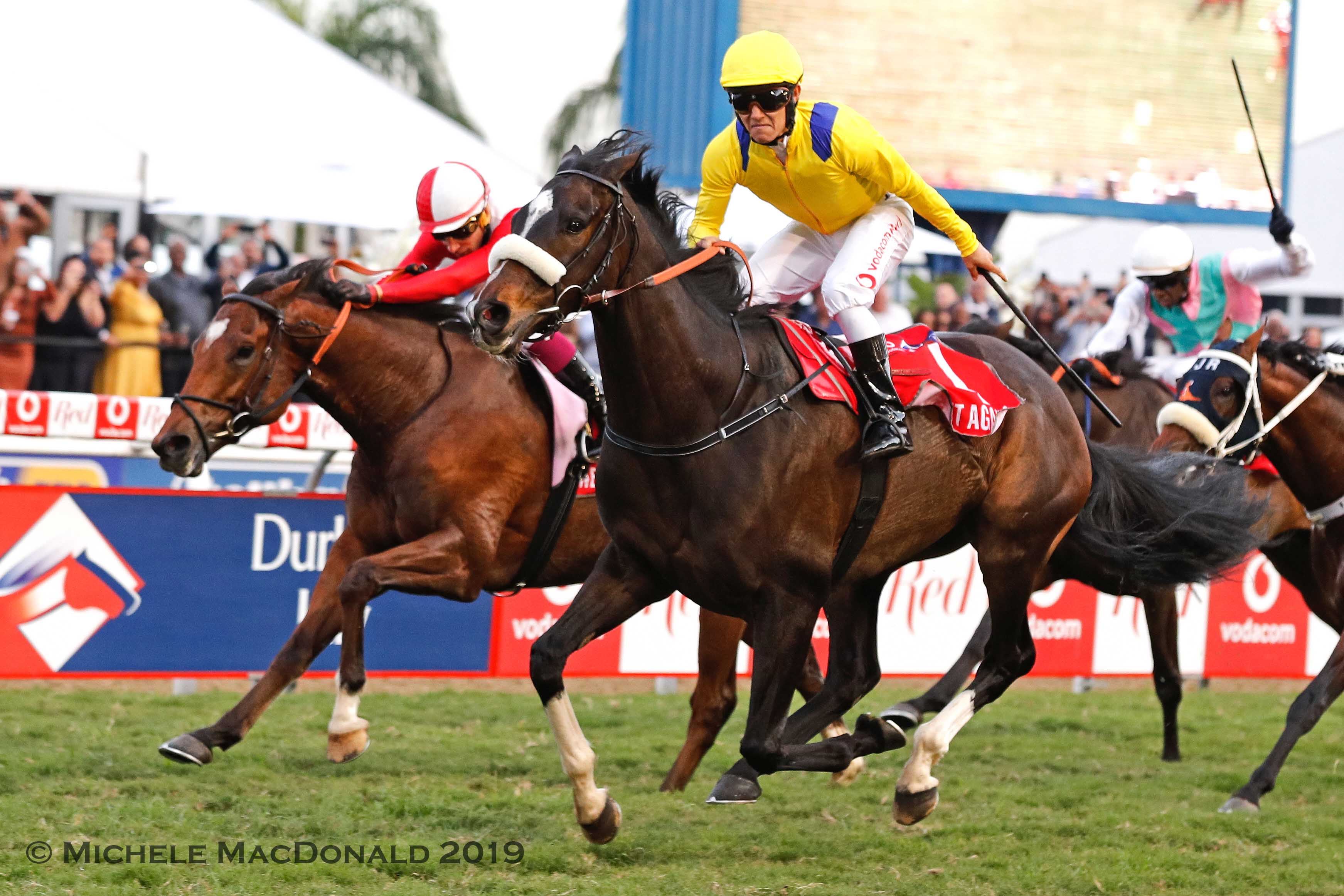 Yet, in the achievement of saddling only the fifth horse to win back-to-back editions of the grueling 2200m handicap, and one who appears likely to be his second consecutive South African Horse of the Year following Oh Susanna, Snaith continued to artfully illustrate why he is becoming a Renaissance man among 21st century trainers.
Not only has Snaith cajoled Do It Again and Oh Susanna out of difficult temperamental quirks that hampered their ability to perform, he has at times personally ridden them — along with many others in his care — through their problems.
He works on multiple levels on any given morning. If not in the saddle, Snaith can be spotted recording videos of his horses to send to clients or post on social media. All the while, he is actively collaborating with his brother, Jonathan, in cultivating an international client network extending across six continents.
With his boyish shock of blond air, camera-ready smile and electric intensity, Snaith is equally at ease in jeans, patting his stable stars in his barn, as he is wearing smart fashion and toasting some of the world's wealthiest owners at chic after-race parties.
Based in Cape Town with about 140 horses overall, he regularly takes his charges to area beaches for relaxation, joining his staff in riding them through ocean waves. He has offered even his superstars for racing promotions, leading out G1 winners to pose with the likes of Miss South Africa to enhance racing's public appeal.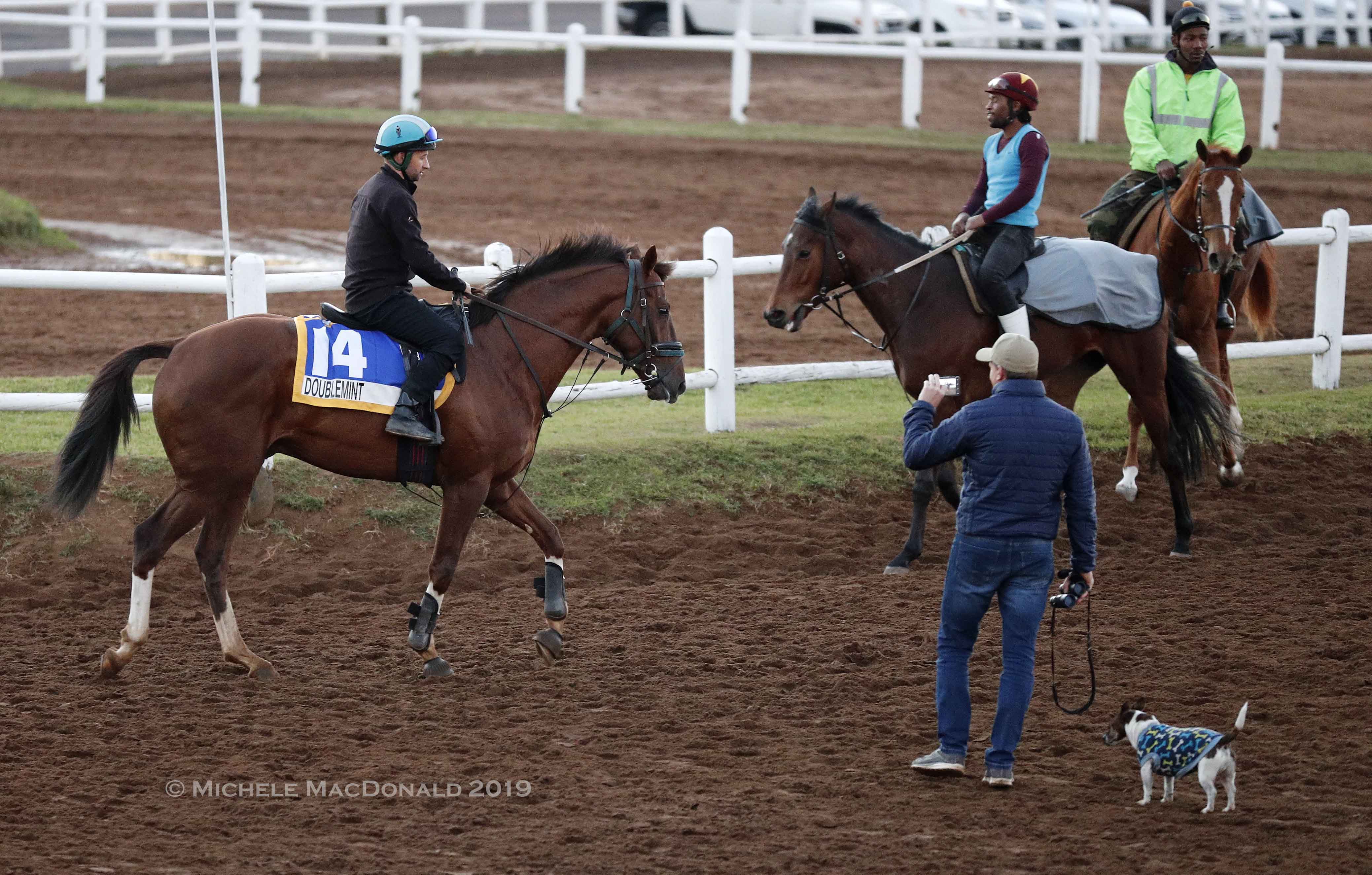 Fueled by a self-described fiery nature that drives him to "go 110 percent in anything I've ever done," Snaith also flashes an appealing puckishness, a joie de vivre he displayed while zooming off on his red motorcycle emblazoned with a back plate proclaiming "Do It Again" just hours before the Durban July.
In his spare time, he racks up goals on the polo field, and he helped his team win a local championship just before Do It Again's big race.
With his spritely Jack Russell Terrier, Charles, often at his side to help supervise horses, greet guests or share sausage at breakfast, Snaith is living the ultimate life in racing while steadily advancing upward in a career arc that could take him anywhere in the world.
As a now-regular fixture among the top 20 in TRC's global ranking of trainers (he is currently #19), Snaith is poised for international prime time. Yet, just as his prime concern was to showcase Do It Again's talents in the Durban July, he places his horses' interests first.
Until export restrictions on South African horses are eased to reflect the country's stringent safeguards against the spread of African Horse Sickness, Snaith said he does not plan to send his runners abroad since they would be subjected to stressful quarantine procedures unlike those required elsewhere.
"I've always wished to do the international thing," Snaith said an interview, but "we're not willing to take that risk" with the horses.
"If [the quarantine situation] opens up, yes," he explained of his global aspirations just prior to Do It Again's historic victory at Greyville Racecourse. "If it doesn't open up, no.
"I think it's ridiculous — to take up to six months to get to somewhere to run in a race is ludicrous," Snaith elaborated on the hardships of the current export scenario.
"Can you imagine if Bob Baffert was sitting there saying I want to go do Dubai and it's going to take us six months? Can you imagine saying to Bob Baffert, come to the World Cup but you must go from the U.S. to Ireland, stay there for three months, then fly to the UK, and then if they are okay and everything clears, you can go to Dubai six months later.
"It's crazy," he said in sketching out a hypothetical comparison of the lengthy procedures South African horses have had to follow in order to compete internationally, often traveling through Mauritius, where there is little high-level veterinary care available, and Europe.
Suffocated horse business
Some South African officials and racing leaders believe changes will be forthcoming soon as work continues on a proposed new policy that is advancing in discussions with the European Union. In the future, only a 14-day lockdown quarantine in South Africa could be required prior to direct shipment to Europe, but Snaith isn't making any plans just yet.
"I don't know. I'll wait to see that day," he said of his tempered expectations while noting how the longstanding export restrictions have suffocated South Africa's horse business.
"What it's costing our industry and how many people have fallen by the wayside to get this right, I don't think we could ever get that money back. We've lost millions in our industry here in South Africa — millions, millions, to try to get this to work. We're in for so much, I don't think we can ever gain back what we've lost. Remember, this is a process that's taken us 15 years to get to this point. Let's just hope that someone decides to put a stamp on it."
Snaith's career and life goals do not depend on international racing, even if it is alluring to ponder sending out runners at Royal Ascot or Breeders' Cup meetings, thoughts he acknowledged flit across his dreams. He is more than content with where he is now, at the pinnacle of racing in his homeland, and, at age 43, able to see the potential of even more in the landscape ahead.
The scion of a merger of South African families with ties to racing, Snaith always knew he would be involved in the sport, although he couldn't have predicted how high his fortunes have crested.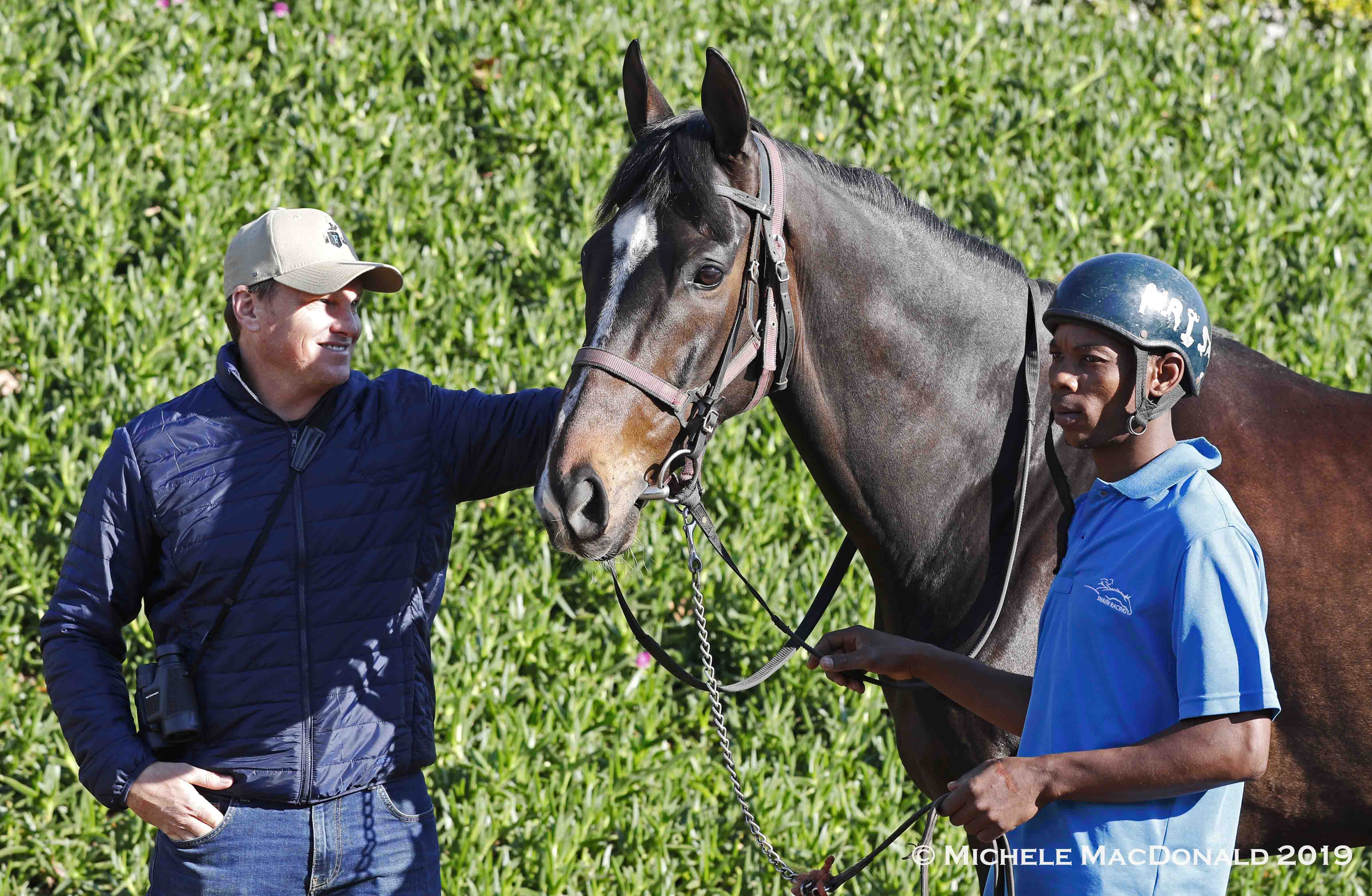 As the eldest son of trainer Chris Snaith, who notably sent out his own Durban July winner, Flaming Rock, in 1991, and showjumper and assistant trainer Sue Snaith, Justin grew up riding in amateur races and applied at age 16 to be a professional jockey. Rejected because of his size, he leapt into training as soon as he finished high school, working first as a student in Australia with trainer David Hayes, who would become the youngest ever inducted into Australia's Racing Hall of Fame.
In what proved to be a magic time, Snaith was assigned to ride Sheikh Hamdan bin Rashid al Maktoum's British-bred Jeune in his regular morning exercise. The son of Kalaglow thrived in his training and dramatically prevailed in the 1994 Melbourne Cup on his way to earning Australia's Horse of the Year title.
"I was 19," Snaith recalled with still glowing reverie, "and I got to hold the Melbourne Cup."
Returning to South Africa, Snaith worked with his father, who he reveres as a quintessential horseman and who set an example of how trainers must endeavor to understand the myriad strengths and flaws of their horses while also placing the utmost priority on integrity.
In 2000, Justin Snaith took out his own trainer's license and, with a string of 22 horses, began to build what has evolved into a burgeoning family enterprise.
In storybook fashion, the first runner he saddled, the Elliodor filly Park Lane, romped home to record his initial victory, and about a month later, she earned his first big score by winning the G2 Odessa Stud Fillies Championship. Snaith recalls her fondly, along with his gratitude to owners Laurie and Jean Jaffee.
Talent in the family
As the horses progressed, Snaith called on the talent within his own family to multiply his chances of more success.
Jonathan Snaith, who had attained a degree in commerce with an initial goal of becoming a movie producer, began directing the stable's financial business, allowing Justin freedom to focus on steering the horses. Their parents have provided horsemanship insights to the endeavor, and John Freeman joined them, adding bloodstock selection and management expertise.
"It's a team effort," Justin Snaith said in a special video produced by Gold Circle, the racing and wagering entity that annually presents the Durban July, which it bills as "Africa's greatest horse racing event".
"I don't think I could ever be as successful as we've been without the team we've put together. I thought when I took out my trainer's license that this is going to be easy, give me a couple of years and I'll be champion trainer. But it's a long process," Snaith said.
His brother's marketing work, which has included efforts with major racing programs such as the G1 L'Ormarins Queen's Plate, earns effusive praise from Snaith. Jonathan Snaith helped forge the ties that connected the January event with the Breeders' Cup's challenge series and thus undoubtedly also fostered the stable's relationship with Gaynor Rupert, who owns Oh Susanna and is the driving force behind the Queen's Plate festivities at Kenilworth racecourse.
"I handle the horses and my brother handles all the clientele. He is phenomenal. We certainly wouldn't be where we are without my brother. He's probably more important than I am," Justin Snaith said.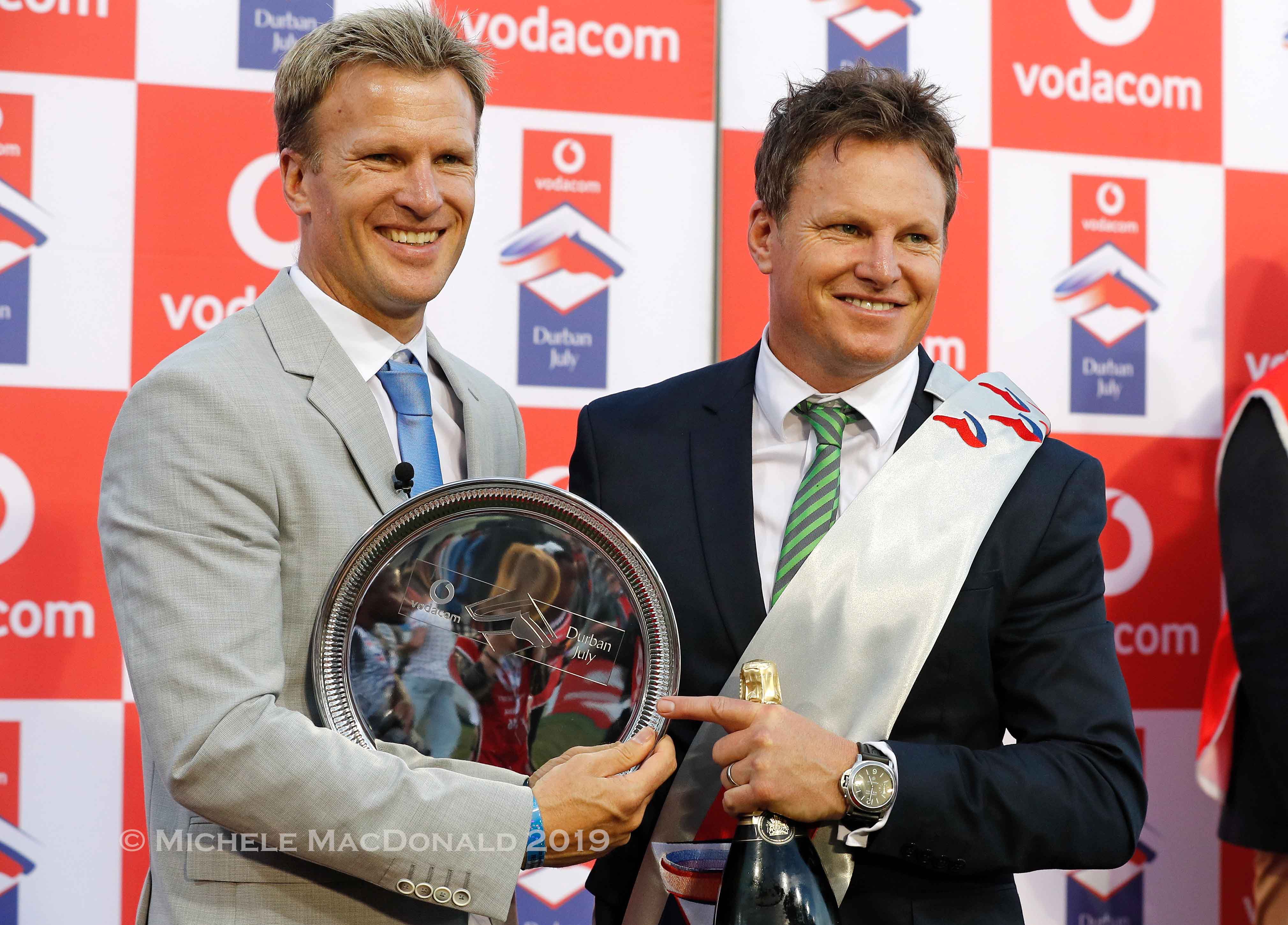 "He's very, very talented … he's also a socialite," Snaith added jovially but with a serious understanding of how critical connections can be solidified. "We're very trusted in the industry, which I think is one of our biggest things. When you say how do you get people to come to South Africa, our reputation is probably the most important thing."
The Snaith brothers also have created their own kind of marketing alchemy, learning to turn South Africa's tedious isolation by export restrictions and a relatively weak local currency, the rand, into advantages in recruiting international owners.
The beauty of Cape Town, a jewel of a city lying at the base of picturesque mountains and caressed by the converging waters of the Indian and Atlantic oceans at the southwestern tip of Africa, also is a powerful elixir in drawing owners from abroad. Justin Snaith said that up to 80 percent of his current clients are based in other countries but love to compete in Africa.
"There's something special about Cape Town, and it's still one of the best value-for-money places in the world," Snaith said. "We do a lot of work in Cape Town on the beaches and everyone just loves that. They come down and watch the horses work and then go for breakfast afterwards.
"You can race for minimal amounts compared to say Hong Kong or Singapore or England — we are a lot, lot cheaper," he elaborated. "But, in saying that, the quality is still here — our stock is good. Because of our problems with exporting, we've kept a lot of our stock in South Africa, whereas, like you saw in South America, their best horses are [sold and] exported and all of a sudden the quality diminishes a little bit. While [the export restrictions have] been against us, it's also been an advantage for our racing."
Cheering for Stradivarius
Prize money in South Africa is robust enough that owners find it easier to fund their stables, particularly with the reasonable training costs, than in some other countries.
One of the Snaiths' newest clients is British-based, South African-born owner Bjorn Neilsen, who ventured to the Queen's Plate earlier this year at Rupert's invitation and was introduced to Jonathan Snaith, who helped "really look after me", he told South Africa's Sporting Post.
Nielsen went on to buy several South African-bred yearlings, some in partnership with Do It Again's co-owner, Nic Jonsson, which are set to be trained in the Snaith yard. In turn, the Snaiths journeyed to Royal Ascot to cheer on Neilsen's homebred Stradivarius to win his second straight Ascot Gold Cup under John Gosden's tutelage.
Other international Snaith clients include Antony Beck, owner of Gainesway Farm in Kentucky and son of the late South African business magnate Graham Beck; Andreas Jacobs, of Germany, who holds bloodstock interests around the world, including South Africa; Team Valor International, which also races in Europe and America; David and Diane Nagle, of Barronstown Stud in Ireland; Coolmore's Magnier family, and owners from Hong Kong, Australia and South America, Snaith said.
Akin to how other major trainers, such as Australia's Gai Waterhouse, travel to high-quality racing venues around the world to promote their programs, the Snaiths visit some major events to establish their presence.
"We are now part of all that, showcasing and trying to encourage some people there to maybe come to South Africa," Justin Snaith said. "We enjoy the day with whoever is there and put our name down as an option. My brother is brilliant about showing what Cape Town is about and our racing. The platform is already set — Cape Town is a beautiful city. It's not a hard sell. All we really do is say, 'If you are coming to Cape Town, come see us.'
"You need international clients," he continued. "Our rand is quite weak and it's a big advantage to come with pounds and dollars, without a doubt. I wouldn't be where I am without my international clients.
"But, in saying that, I'm very fortunate in having some of the biggest South African clients, like the Ruperts [Gaynor and entrepreneur husband Johann] and [Do It Again's late co-owner] Jack Mitchell, who sadly passed away but his family is still very involved, and Nic Jonsson [whose great grandfather was a founding member of the Durban Turf Club]. I'm very, very lucky to have the right local clients."
When it comes to performance, the Snaiths have amassed some spectacular records and trophies to display for possible local or foreign-based owners.
Achievements galore
Over the past decade, Justin Snaith has ranked first or second by wins nine times among South African trainers, including the 2017-'18 season, in which he topped all with 162 victories. He also led by wins in 2012-13; 2013-14, a year in which he also led by stable earnings, and in 2014-15.
With the 2018-19 season nearly complete through mid-July, he ranked second to Sean Tarry, 154 wins to 160, although his stable had 281 fewer starts. In TRC's training rankings through July 21, he was rated internationally above the likes of Todd Pletcher, Roger Varian, Bill Mott, Waterhouse, Kazuo Fujisawa and Peter and Paul Snowden, as well as above Tarry, while virtually equal with South African stalwart Mike de Kock.
During the previous year, Snaith was honored at South Africa's Equus Awards with his second champion trainer title after recording seven G1 wins during the season in which Oh Susanna and Do It Again reigned over the sport.
He also earned the Exceptional Achievement Award from the Cape Racing and Breeders Awards in honor of Oh Susanna becoming the first filly in over 100 years to win the G1 Sun Met in 2018 and for sending out not only Do It Again but also the second- and third-place finishers, Made To Conquer and Elusive Silva, in the 2018 Durban July.
Snaith won his first Durban July in 2008, when Graham Beck's Dancer's Daughter dead-heated with superstar Pocket Power, and the trainer added another Durban July title with Legislate in 2014. With Do It Again's victories, he now has four wins in a race that is particularly meaningful to him since, in addition to his father's win, his grandmother's brother won the race not long after the turn of the 20th century.
Oh Susanna's antics
But Snaith doesn't dwell much on statistics or the past. He prefers to concentrate on the present, living in the moment with the horses he speaks about with a palpable fondness, and the future, which he anticipates in terms of the next great runners that might flourish in his stable.
"I ride most days, but more so the difficult horses. Jockeys are only 50 kilos (about 110 pounds), so when a horse gets really difficult, he can throw a jockey around really easily. You need someone a little bit heavier, a little bit stronger, [who can get] just a little more respect from the horse. And if someone is going to get injured, I'd rather it be me than the horse getting injured," Snaith said.
With Oh Susanna, he endured quite a few antics. Even when just accompanying her on a pony, she would often turn to bite him, but their relationship has softened as she has matured.
"There is no end to her abilities," Snaith declared passionately on Twitter, which he and his brother utilize as an inviting window for the public to see into the stable. "She is spectacular."
Do It Again's rise from an unruly colt who was "very difficult" and who "wouldn't go into trucks, wouldn't go into starting gates" into an elite runner after being gelded is perhaps Snaith's greatest achievement to date.
"He can really, really run like the wind," Snaith said, adding that he has every confidence the son of Twice Over would now be competitive in major international races.
"He just didn't have any trust in anybody," Snaith said of Do It Again's younger years. "His trust has just gone to another level now. He loves the environment he is in. He's a relaxed horse now. Even before the [2019 Durban July], he was just like, 'whatever'."
'The best horse in the country'
Putting even more perspective on Do It Again's most recent triumph, his fourth at the G1 level, is the fact that the weight he carried is the most that any Durban July winner has shouldered since the race's distance was set at 2200m in 1970, according to Gold Circle. Only one other winner, Marinaresco in 2017, carried as much.
The last horse to win back-to-back editions of the Durban July was El Picha in 1999 and 2000, and, before him, the most recent to perform the feat was Milesia Pride in 1949 and 1950. The handicap conditions and generally big fields are tough enough to overcome once, let alone twice, so much so that earlier this year Snaith indicated he probably would not even try with Do It Again.
However, Do It Again's physical prowess and the urge to prove his ability led Snaith and the gelding's owners to take another shot at glory, and thus gain a magnificent result. Snaith pointed out that jockey Fourie guided Do It Again home "with hands and heels … literally, this horse did it on his own".
"I was just so happy for [Do It Again]. I'm glad he showcased what he is about. It wasn't about us, it was about him, and I wanted everyone to have the respect for him that he deserves," Snaith said. "He's the best horse in the country at weight for age and now he's shown that he's the best horse in the country whichever way you look at it."
Since they are bound together, horse and trainer, one relying on the other to achieve, Do It Again's impressive Durban July inevitably raised the spotlight on Snaith, whose stable is so strong that he was able to send out three other runners in the championship race.
What the future holds is unclear, as Snaith is willing to compete around the world if the export restrictions are changed, if his owners want to pursue the challenge and if his horses are healthy.
"But, unless it opens up, we would never consider it. If it opens up, that changes everything," Snaith said.
For now, one of his social media posts probably best represents his view of how far he has come and what working with racehorses means to him.
"We wake up each morning in the hope to find that special horse, the horse who has the ability to change lives and create dreams and beautiful memories," reflected a post on Twitter from the Snaith Racing account. "To train Do It Again and Oh Susanna is nothing less than a privilege."