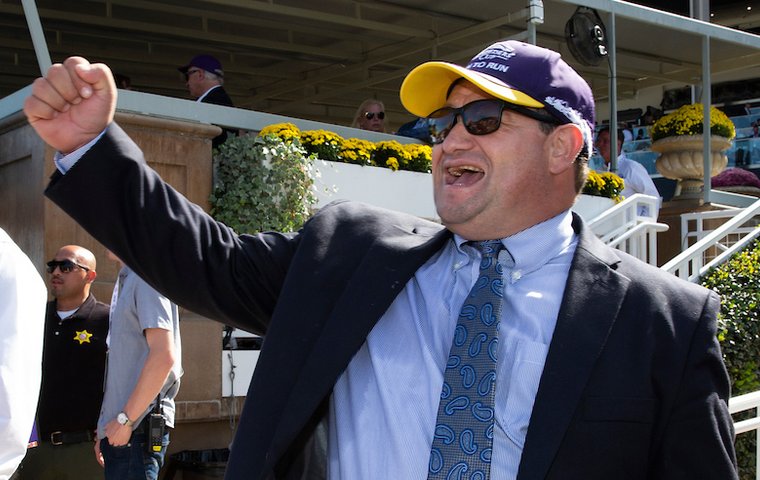 It took the colt five starts before he won his first race, he missed the Triple Crown series due to a breathing problem, and he performed brilliantly in his comeback after a full recovery.

This would describe Omaha Beach. It would also describe the horse who would probably have posed the biggest danger to the likely favorite on Saturday in the $3 million Pegasus World Cup presented by RunHappy at Gulfstream Park.
Unfortunately, that horse, Spun To Run, who defeated Omaha Beach in their only meeting, the Breeders' Cup Dirt Mile in November, was scratched from the Pegasus this morning.
"Omaha Beach is getting all the hype," Spun To Run's trainer, Juan Carlos Guerrero, said earlier. "But I'm okay with that. I don't see why we can't beat him again."
Today came the bad news of the withdrawal. "After he came to Palm Meadows [Training Center] we noticed he was a little hot, so we clipped his hair," Guerrero said. "Then two weeks later we noticed some spots, hives on his body. We wanted to run, but he's a little hot and sore and we always want to do the right thing for the horse. It's unfortunate, but we want the best for him."
For Guerrero, a 49-year-old who was born in Mexico and started out on the race track as a hot walker, Spun To Run has been the horse of a lifetime. "This horse gave me my first Grade 3 win and my first Grade 1," Guerrero said.
Purchased for $64,000 by Robert Donaldson out of a Fasig-Tipton Midlantic sale for 2-year-olds in training, Spun To Run has far surpassed his modest price to amass more than $1.1 million in earnings.
Yet success did not come quickly and easily for the horse, any more than it did for his trainer, who was born in Mexico City, arrived in the U.S. at age 14, and lied about his age in order to work on the track in New Jersey. Guerrero began as a hot walker, then became a groom, and later spent some time on a Pennsylvania horse farm to learn more about Thoroughbreds.
"When I was 19, I started training on my own," he said. "It was a good struggle for ten years. I struggled for years just having cheap horses."
He was a one-man operation. "I used to rub ten horses myself, galloped ten horses myself - I did everything by myself," Guerrero said. "By the time I was done at the end of the day, I was so beat up."
The hard work eventually paid off. Operating out of Parx Racing in Pennsylvania, Guerrero's career took off in 2010, when his barn totaled $2.5 million in earnings. But, until now, he has never had a horse like Spun To Run. "This is my best horse for sure," Guerrero said.
Spun To Run lost his first four races, two at Parx and the others at Aqueduct. Guerrero said part of the reason for the slow start was the colt's immaturity. Spun To Run's eyes wandered in his races, resulting in the decision to add blinkers.
"One day he was galloping by me and he was actually looking at me," Guerrero recalled. "I thought 'What the heck?' He's actually looking at me and the pony. It was time to put blinkers on. The next day he galloped and my exercise rider was, like, wow. He was a rock. He was pulling and pulling. He wasn't paying attention to nothing. He was 100 percent training into the bit."
Guerrero began to map out a schedule for the colt that included a prep in the Federico Tesio Stakes at Laurel Park before taking a stab at the Preakness. But those plans fell by the wayside after it was discovered Spun To Run had an entrapped epiglottis that required surgery.
Just as the procedure derailed Spun To Run's 3-year-old campaign, it did the same to Omaha Beach. Both horses recovered, though, and returned better than ever.
Spun To Run ran third to Maximum Security in his first race back, the G1 Haskell Invitational, before winning the G3 Smarty Jones Stakes at his home track. On November 2 at Santa Anita, Spun To Run prevailed by 2¾ lengths over Omaha Beach in the Breeders' Cup Dirt Mile.
Next up for Spun To Run was Aqueduct's G1 Cigar Mile, in which he finished second to Maximum Security.