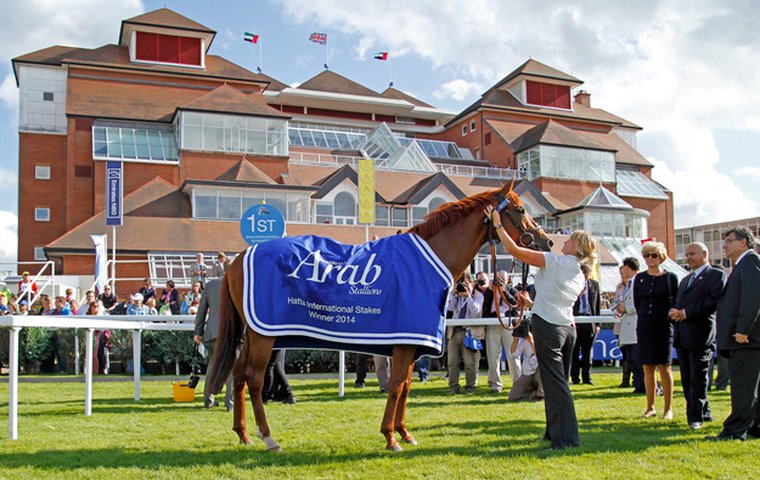 In the modern world of Thoroughbred racing, Arabian contests are viewed with skepticism and occasional irritation by the betting public. Paul Haigh explores the increasingly influential world of Arabian racing.

What critics of Arabian racing forget is that without Arabians there would be no Thoroughbred racing. What Arabian racing's fans remember is that without the arrival in Britain of the three founding fathers, the Darley Arabian, the Godolphin Barb, and the Byerley Turk, the Thoroughbred breed, a product not of nature but of human intervention, would not exist.
The Arabian Racing Organisation (ARO), which controls Arabian racing in Britain, doesn't much like the suggestion that there is mild antagonism toward their sport from the Thoroughbred community. They'd prefer something less aggressive; but it's hard to think of any phrase that perfectly captures the attitude of some of the narrower minded Thoroughbred racing fans, except perhaps "slightly irritated indifference."
What's the origin of this attitude? It can't be that Arabian racing poses any kind of threat to Thoroughbred racing. One is a vast professional sport; the other a relatively tiny amateur one - although the "amateur" description is slightly puzzling when Arabian racing's biggest event, the Qatar-sponsored championship run on Arc day, now carries a prize of €1 million ($1.34 million).
For a while, there was a tendency to blame the indifference on the bookmakers who dominate British racing. The bookies countered by saying their indifference was just a reflection of the punters' disinterest. If people wanted to bet on Arabian, the bookies claim that they would be more than happy to accommodate them.
Punters said the reason they had no interest in betting on Arabian racing is that they simply did not have any form to go on. This brings in the racing press, which for many years resisted the temptation - if one existed - to cover Arabian racing in the same way it covers Thoroughbred, on the grounds that it just wasn't cost-effective. However, that argument quite obviously becomes circular: no form on which to construct an opinion means no interest in betting, which means no pressure for promotion by bookmakers, which means no form on which to construct an opinion. To its credit, Britain's Racing Post now provides encapsulated pre-race form and race day previews, although virtually no editorial, and with the Newbury meeting now shown live on Racing UK there is market activity with all bookmakers - and on Betfair too.
Maybe the mild antagonism derived from the fact that purebred Arabians run a little differently from Thoroughbreds. They do travel a couple of miles an hour slower, but not so much that it would be noticeable unless you put a Thoroughbred amongst them. Stamina, not speed, is their strength.
They also run with their heads raised - perhaps to compensate for the fact that they have shorter necks than Thoroughbreds. In their descendants, this characteristic is often an indication of reluctance, a clear sign that the horse is untrustworthy; but surely true horse lovers are capable of making allowance for the physical difference.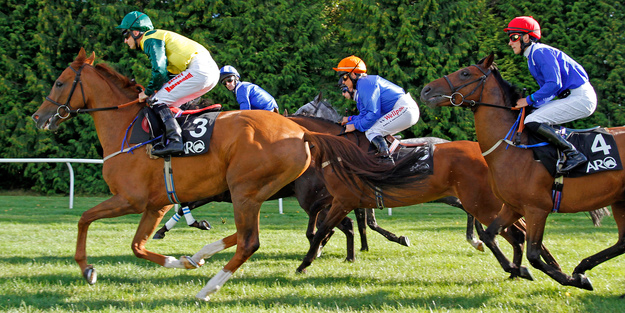 In fact, some jockeys say the Arabian is a very different ride from a Thoroughbred - simply because he's smarter.
"You have to be able to kid them," jockey Tadhg O'Shea once said. "You can tell a Thoroughbred to do things. You have to ask an Arabian." Maybe that's a characteristic Thoroughbred racing fans dislike, although it doesn't stop top jockeys such as Kieren Fallon, Ted Durcan, and Harry Bentley from wanting to ride them, at least partly because riding them is such fun.
Whatever the reason, there is no doubt that a certain antagonism exists, particularly in the English-speaking world, even if it is diminishing now. Americans seem to object as much as U.K. fans to what they regard as "interruptions" to the Thoroughbred programme for "Arab racing."
Undeterred, the ARO and the Arabian racing community persist and grow, not just in Britain but worldwide. It suffered a major setback in Britain when Sheikh Mohammed decided to withdraw from the sport in 2008 to concentrate on Godolphin and leave Dubai's involvement to his brother, Sheikh Hamdan, for whom Arabian racing has long been a passion.
This depressed sale prices and inevitably diminished the number of Arabians in training, but the market is beginning to bounce back according to ARO director Genny Haynes.
"Numbers are coming back thanks to a breeding incentive scheme and a series of £10,000 ($16,700) races for those with just a few horses in training," Haynes said.
By far the most important meeting in Britain is the Dubai International Arabian Races at Newbury. Aug.10 was the 32nd annual renewal, and in spite of clear hostility from whoever's in charge of the weather, the meeting billed as "Arabian racing's answer to the Arc" met with its customary success.
For some reason, even in the height of summer, Newbury seems to attract rainfall on Dubai Day like an open jampot attracts wasps, and this time the tail end of Hurricane Bertha arrived in the morning, to do what it could to persuade people to stay home. But still, more than 7,000 came to the course for the usual mix of free goody bags, free raffles, best dressed lady competitions, energetic joviality from perennial emcee Derek Thompson, and the best Arabian racing in Britain all year.
With three consecutive G1s, culminating in the Shadwell Stud Dubai International Stakes over 10 furlongs, it's the day on which championships are decided: the day the British season builds up to.
It should be said that there are now three other major powers in Arabian racing worldwide whereas previously Dubai extended the sport's reach virtually alone, the others being Abu Dhabi (in particular Sheikh Mansour, sponsor of "the Global Arabian Horse Flat Racing Festival" of which the Newbury meeting is a part), Qatar, and the Royal Cavalry of Oman, which effectively means the Omani government.
In general, this competition has been beneficial for the sport with Arabian racing, now conducted in 22 countries around the world, and with now four distinguishable peaks: Dubai World Cup Day; the newly instituted Qatar festival; the Qatar Arabian World Cup that kicks off Arc Day at Longchamp; and the Dubai International Arabian Races at Newbury, the oldest established and, as Haynes points out, "the best fully Arabian meeting anywhere in the world."
Naturally there is considerable rivalry as well as cooperation between the superpowers, particularly on the track. So it must have given Sheikh Hamdan much satisfaction to see his homebred Al Hibaab (ridden by Ted Durcan and trained by Gill Duffield at Newmarket) turn over the Royal Cavalry of Oman's hot favourite Djet Taouy for the top prize, the Dubai International. This followed victories for France (the RCO's grey mare Al Mouhannad in the Zabeel International Sprint) and Sheikh Mohammed al Khalifa al Thani's Djainka des Forges, trained in Qatar by Englishman Julian Smart (Arabian racing is nothing if not prodigiously multi-cultural) in the mares' championship, the Hatta International. No doubt many of these will renew their rivalry at the Arc meeting, if not at Royal Windsor when the RCO stages its own similar jamboree.
In fact, there was a Dubai Day treble for Sheikh Hamdan himself, his trainer, and jockey, with Duffield and Durcan combining to win two of the supporting races, one of them a G2, on a day that many have come to think of as "Sheikh Hamdan's party."
And it is a meeting at which a party atmosphere is deliberately and unashamedly fostered. This year, it even came up with an almost made-for-the-media story when the first prize at the post-racing raffle, a new car, went to John Elliott, a bus driver from Leicestershire who'd travelled the 120 miles with his partner Teresa and friends because he's been an Arabian racing fan for years.
"I can't believe it," John said uncontroversially. "Nothing like this ever happens to me."
Now how can anyone feel even "mildly irritated indifference" toward that? Not the British Horseracing Authority, which has now incorporated the Arabian fixture list into its programme and provided all the (professional) officials on Aug.10. Not genuine horse lovers with a sense of history. Not even the bookies, who Haynes said may have noticed that the extra races in their shops are beginning to have a mildly positive effect on turnover too.