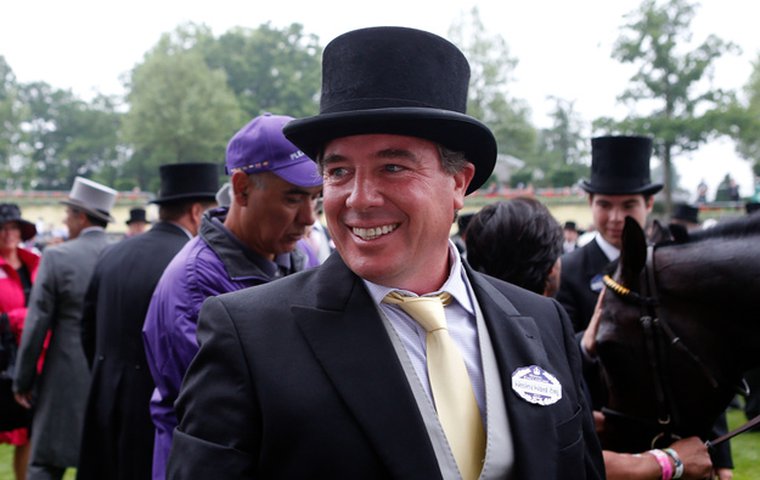 A household name by now at the Royal Ascot meet with four juvenile stakes winners, American-based trainer Wesley Ward looks to expand on his international success when he saddles Undrafted in Saturday's G1 July Cup at Newmarket Racecourse.

Undrafted, a 4-year-old sprinter, is owned by American football sensation Wes Welker. The gelding's name is a nod to Welker's inauspicious start in the National Football League. In 2004, after completion of an extremely successful college football career, nary a NFL team drafted Welker.
Welker, 33, has had the last laugh, though. Following nine solid seasons of play in the NFL with several teams, Welker signed a two-year, $12-million contract with the Denver Broncos in 2013.
Three years ago, Welker traded his football attire for a top hat and tails as he watched Gypsy Robin, a horse he co-owned, finish seventh in the G2 Queen Mary Stakes at Royal Ascot. On Saturday, he will be joined at Newmarket with his wife of two years, Anna.
Undrafted, a $50,000 yearling purchase by Welker at the 2011 Keeneland September Sale, has earnings of $362,040 and a record of 4-1-5 from 14 starts. The gelding, a son of Purim, unleashed an explosive turn of foot to record his first stakes victory in his July Cup prep, the G3 Jaipur at Belmont Park on June 7.
The July Cup, like the Jaipur, is run at six furlongs, but on a straightaway.
"The straightaway is a bit of a concern," said Ward, who will be saddling his first runner at Newmarket. "But I think he will have more speed than his competition, even though he is a come-from-behind sprinter.
"Newmarket's course is [undulating]," Ward explained. "I think the natural speed this horse has will put him much closer than he would be here in the States with our sprinters, who are much quicker."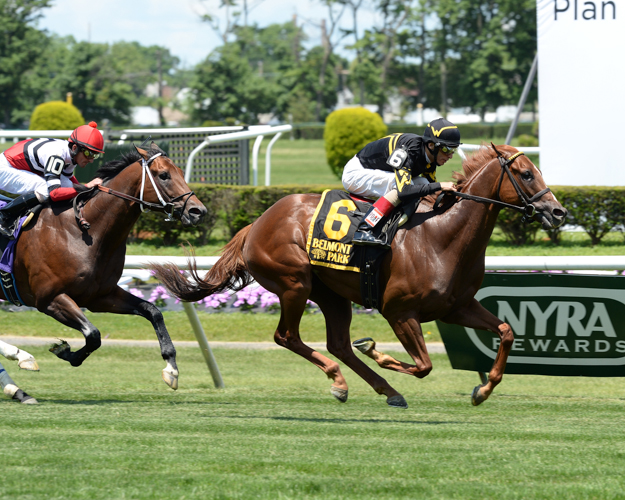 Jockey John Velazquez, aboard Undrafted in the Jaipur, has riding commitments in the United States on Saturday, so Frankie Dettori has the assignment. The 43-year-old Dettori, who has never ridden for Ward until now, will be seeking his first July Cup win. In last year's July Cup, Dettori rode the American-based Havelock, a longshot, to an 11th-place finish.
"I've always admired him," Ward said of Dettori. "He is a phenomenal rider. You know, when in Rome . . ."
Ward, 46, is returning to England less than one month after registering his fourth win at the Royal Ascot meet, which he first participated in five years ago with six runners. This year, the conditioner again brought six horses to Royal Ascot, and took home the top prize in the Windsor Castle Stakes with Hootenanny, who is owned by Mrs. John Magnier, Michael Tabor, and Derrick Smith.
Ward's initial Royal Ascot foray was viewed by some with skepticism. After he departed the United Kingdom that year as the first U.S.-based conditioner to win at Royal Ascot – not once, but twice – his doubters were silenced.
"The first year he said he was going to come with some 2-year-olds, I thought he was a bit crazy," said Adrian Beaumont of the International Racing Bureau, which acts as an intermediary between horsemen and racetracks in assisting with all aspects of global travel. "Then he won, and we said, 'this guy is a genius.'"
Ward's European success extends beyond the borders of England. He's raided France, winning at Chantilly, Deauville, and Longchamp Racecourses. In 2013, No Nay Never became his third Royal Ascot winner when he trounced 13 rivals in the G2 Norfolk. Two months later, Ward celebrated the first G1 win of his training career with No Nay Never in Deauville's Prix Morny.
Ward, a son of trainer Dennis Ward, won the Eclipse Award as North America's outstanding apprentice jockey in 1984. As a rider, he won multiple meet titles in New York, and has the distinction of winning a maiden race aboard eventual Kentucky Derby winner Ferdinand at Santa Anita in 1985.
After an unsuccessful battle to maintain his weight, Ward began training horses, saddling his first starter in Southern California in 1991. Rather quickly, he became known for his adroit touch with 2-year-olds.
A native of Washington state, Ward said it wasn't surprising to him that younger horses would prove to be his forte.
"I was 10, 11 years old when I started breaking horses with my father," Ward said. "It was something very natural for me working with the younger horses, breaking them and getting them to the races. I applied that as a trainer. I started buying very fast individuals; horses who had speed pedigrees, and didn't go for much at the sales and ones that I could afford."
Ward ran those precocious individuals in the season's first 2-year-old races, which traditionally begin in April. And the edge he predicted he would have, came to fruition.
"When the first 2-year-old races of the year began in Southern California, a lot of those trainers with expensive horses would be waiting for races in August to make their first starts, so I would be catching these big purses, the same purses those high-priced yearlings would be running for in mid-summer, or late summer," he explained. "And my competition would not be as strong as they would be later."
As his career progressed, Ward figured that if this worked in the U.S., why not at Royal Ascot?
"I thought if I went over to England and caught those horses at Royal Ascot, with it so early in the year, mid-June, that I could beat them," Ward said. "I figured that my horses would be more seasoned, and honed into their speed, because five furlongs, no matter where you go in the world, is the same distance."
Still, Ward had butterflies in his stomach on that first Royal Ascot trip. His misgivings didn't last long. On the first day, he saddled the winner of the Windsor Castle Stakes, Strike The Tiger, a horse he bred and co-owned. The following day, he won the G2 Queen Mary Stakes with a filly he co-owned, Jealous Again.
He nearly pulled off another triumph with the Ken and Sarah Ramsey-owned 4-year-old sprinter Cannonball, who finished sixth on opening day in the G1 King's Stand, and was wheeled back four days later to finish second in the G1 Golden Jubilee.
"When I got there the first time, I thought, 'I'm in the deep end of the pool here,'" Ward recalled. "I looked around and I thought I made a big mistake. The last race of the day, I won that year. It was just unbelievable. And the following day I came back and won. You think maybe you got a little bit lucky and it was a fluke, and then you duplicate it couple more years with wins and you see that you can do it."
The hands-on Ward leaves nothing to chance in getting his younger horses ready for the racetrack. They receive their early education at a training center in South Florida. After overseeing the training of his older horses at Gulfstream Park in mornings, Ward spends his afternoon working with his youngsters, both in the saddle and on the ground.
"I break them and train them and try them on both surfaces, dirt and turf, galloping," Ward said. "You can see which ones like the turf, even galloping. And then, I try them on both surfaces for workouts. And some are just like a fish to water with the grass. Working together, you can see the turf horse just outwork the dirt horse, and you try it the other way the following week, and the dirt horse will just run away from the turf horse.
"I have such a big advantage in training in South Florida during the winter," he continued. "The horses never miss a day, opposed to my competitors over [in Europe] who don't have the same weather."
Ward isn't the only American-based trainer to race at Ascot. Others include Ken McPeek [second in the 2004 G1 King George VI and Queen Elizabeth Stakes with Hard Buck], Chad Brown, and Todd Pletcher. But, for the most part, those trainers brought older horses there.
Ward said the waters get deeper when you take on seasoned European horses who are competing at the top level. Even so, he's suggested to some American horsemen they should make the trip with their stable's best horses. Ward said his peers' reluctance doesn't stem from the airfare expense, which costs an average of $25,000 round-trip for one horse traveling from the U.S. to England, according to a spokesperson with the shipping company International Racing Transport.
"I don't really think it has a lot to do with money because I think owners involved with those top horses would have the means," Ward said. "I think a lot of the trainers don't want to go and risk losing any races, and then come back here running in a Grade 1 off a loss. A lot of trainers are a little scared to do that."
Ward is anything but apprehensive when he speaks about Undrafted's assignment in Saturday's July Cup.
"I really think the American sprinters may have a bit of the edge, as do the American 2-year-olds," Ward said. "Now, when you go a little further in distance with older horses, it is too deep in the deep end of their pool. But I really think American turf sprinters, if you can get one at the top of his game, may have a bit of an edge."