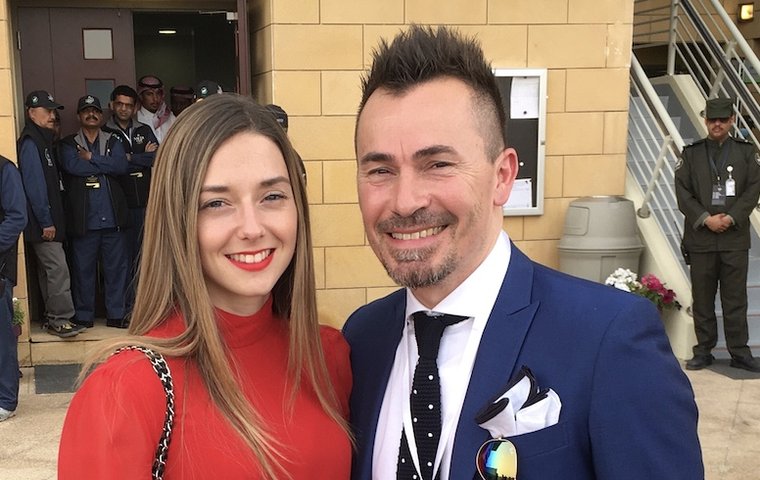 Mickaëlle Michel, one of the stars of the men v women jockey challenge in Saudi Arabia 11 days ago, is reaching a crossroads as she considers her primary ambition: how to become the world's number one female rider.

The hugely popular French 25-year-old has proved a massive hit during her current stint in Japan, riding 18 winners since she joined the local government-run National Association of Racing (NAR) circuit at the end of January.
But, with her licence set to expire at the end of the month, she has to decide whether to extend her stay in the Far East or spend the summer riding elsewhere, with the United States one of the favoured options.
Former jockey Frederic Spanu, Michel's manager, mentor and boyfriend, says, "Mickaëlle's licence finishes on March 31. We must make an application to stay for three more months. But do we continue through April, May, June or do we wait and come back to Japan for October, November, December, when there are many good races?
"If we don't, we have six months where we can go to America. I would like her to go to the USA for three months, or Brazil or Argentina. We want many things."
With Spanu behind her, Michel, from Hyeres in south-eastern France, broke the record for the most wins in a year by a woman in France, her 72 victories helping her secure the 2018 apprentice title.
She caught the attention of the Japan Racing Association (JRA), who invited her to take part in the 2019 World All Star Jockeys series, in which she rode her first winner in Japan and finished joint third overall in the competition. She returned to Japan with the long-term aim of getting a licence for the lucrative JRA circuit.
"It was the first time in 33 years that a woman jockey finished in the first three in the Jockeys Series," recalls Spanu. "All the Japanese people fell in love with Mickaëlle, and Mickaëlle fell in love with them.
"If she wants to stay there, like Christophe Lemaire or Mirco Demuro, we know she has to learn to speak Japanese. So she is learning to speak and maybe next February she will pass an exam. She has been having one-hour-and-a-half lessons with a teacher three or four times a week for months. It's a difficult challenge when she also rides work in the mornings and there are eight races a day.
"The fans are unbelievable. Many, many Japanese people love Mickaëlle and come to the races for Mickaëlle. In four weeks, four racetracks have record-breaking betting, more than two billion yen! The NAR people have never seen that in 15 years. She is bankable for Japan.
"But the rules are the rules. She must work very hard and learn to speak the language."
Spanu, whose father Antonio trained the 1992 Prix du Jockey Club winner Polytain, rode more than 500 winners until he retired in 2015 with a number of G3 and listed successes to his name. Among the best horses he rode were Lahudood, who went on to win the 2007 Breeders' Cup Filly & Mare Turf after being switched to the U.S. He was also the regular work rider of Cirrus Des Aigles but never got the chance to partner the millionaire gelding in a race.
At the time he met Michel at a shoot for a small movie in which they were both taking part, Spanu was a jockeys' agent. "She told me she was riding in Chantilly and I said I would go and watch," he recalls. "I saw many good things. I didn't understand why she had no experience and for one year and a half she had hardly any rides.
Something special
"I said I would come every morning to see her for one month and watch everything. After a month, we signed a contract. I was an agent. I had five or six other riders, but I wanted her on my team.
"I told them I had found the new Julie Krone! Believe me she will be the best one. I didn't know her, just from talking and seeing her ride in a race once, I was sure. I saw something special. Everyone told me 'You're crazy, Fred'."
Despite her success, Spanu believed Michel's goals could not be achieved in France, where a 2kg allowance was introduced in 2017 to improve opportunities for female jockeys. "For me the best thing to do for Mickaëlle is to become an international jockey," he says. "The trainers in France are not ready for women jockeys."
Kawasaki, where they share a small apartment, has become the pair's new home – and because of her popularity Michel has signed a contract with a modelling agency and made many TV appearances.
In her latest foray onto the international stage, Michel finished joint-third in the men v women jockeys' challenge in Saudi Arabia won by world #6 Mike Smith. Spanu is convinced there is more to come.
"Many people think, 'Okay she is his girlfriend so he would say that', but I will do it. I have my plan. Believe me, she is now one of the best women jockeys in the world after two and a half years. But she will be the best in maybe, one, two, three years. Believe me. You will see."