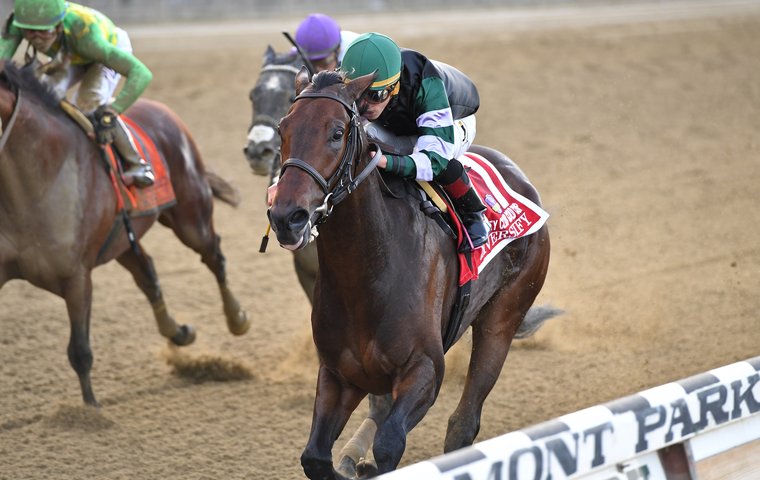 Since this article was written, Diversify has gone from strength to strength, winning his last three races, culminating in an outstanding performance in Saturday's G1 Whitney Stakes. He finished fourth to Seeking The Soul in the Clark Handicap, the race referred to below.

A year ago this month, a 3-year-old Bellamy Road gelding in the New York barn of trainer Rick Violette headed to Keeneland, to be sold as part of the Maverick Racing dispersal sale. Violette liked the horse, who was undefeated in two starts, winning both by open lengths. So he alerted his long-time owner Ralph Evans, who was interested.
"I was comfortable with the fact that Rick had trained him," said Evans, who lives in Connecticut. "I don't suppose that a lot of people were interested in a 3-year-old gelding. I think we made one bid."
Diversify is also a New York-bred, a plus for Evans, who has been a long-time supporter of the New York-bred racing program. Another New York-bred, Upstart, won two Graded stakes for Evans and placed in six Grade 1s, including a third in the 2014 Sentient Jets Breeders' Cup Juvenile.
Click here for full details of the New York owner and breeder awards
With his one bid of $210,000, Evans secured the bay gelding, but the ticket bore not only his name. For the first time, Evans and his daughter Lauren, who had followed her father's horses since she was a child, were partners.
"And she's a legitimate partner," Evans said. "She put up her money. It's not as if I gave her half the horse and put her name on him."
"My mom always joked that I learned how to read the Racing Form before I could read Dick and Jane," said Lauren, speaking from a Chicago airport, where she was waiting for her second connection of the day, en route from Arizona to Louisville, where Diversify will go for his second Grade 1 win in today's Clark Handicap at Churchill Downs.
"I was heavy into ballet and a small person, so I loved the movement of the horses," she said. "And I could relate to the jockeys' size. I was this little kid, and they were so small but so tough, and I thought, 'This is cool.'"
She loved going to the backstretch in the morning with her father, and the horses' workouts reminded her of the hours that she spent in ballet rehearsals, performing on stage in the afternoon as the horses performed on the track.
"I just loved it," she said."
As she began her professional career, Lauren left both ballet and horse racing behind, first going to work on Wall Street, then returning to school to get a degree in civil engineering. That led to a job with the U.S. Navy and posts all over the world, from Italy to Guantanamo Bay to Okinawa, Japan, where she was based most recently before transferring to the National Park Service and getting assigned to the Grand Canyon, where she works on facilities and infrastructure.
New silks
"When I got sick a couple of years ago," said Ralph, "I think that partially caused her to be interested in being closer to home, and being closer to home meant she could be a little more active with Thoroughbreds. It's not much fun owning part of a horse if you're in Okinawa. So it all came together."
"Dad mentioned that Diversify was going to be in the sale and asked if I wanted to go in on half with him," Lauren said. "I said, 'Definitely.' "He's a New York-bred, which is great, and he's a gelding, which means he'll keep racing."
Because the official ownership entity of Lauren Evans and Ralph M. Evans, and because her name comes first, they had to design new silks, a responsibility that fell to Lauren.
"I wanted them to be colors I like, and I wanted them to be different from Dad's silks," she explained. "I love the whimsy of the hoops on the sleeves, and the cap has officially has polka dots, but [jockey] Irad [Ortiz Jr.] never wears it — he wears a solid cap."
Today Diversify will wear Lauren's silks — black, with dark green and lavender bars on the sleeves — in his first start outside New York. Following his break-out win in the Grade 1 Jockey Club Gold Cup in October, the Evanses and Violette had considered both the Breeders' Cup Classic and G1 Cigar Mile for Diversify's next start, but they opted to head to Kentucky.
"We were dubious about the Breeders' Cup from the start, even though they would have paid our way," said Ralph, noting that the Jockey Club Gold Cup was a 'Win and You're In' race for the Classic. "We think we have a very nice horse and we want to extend his career, and between the travel, the four weeks between races, and the competition — we thought it was a long shot."
The nine-furlong Clark may let the frontrunning Diversify establish a more comfortable lead than the Cigar Mile, and Evans added, "There are a couple of horses that were pointing to the Cigar that we thought we'd have trouble beating … not that we won't have trouble beating the ones in Louisville, but maybe the ranks will be a little thinner because of the better two-turn horses that ran in the Breeders' Cup."
Could Pegasus or Dubai be on the agenda
"Of course we'd rather run at home," he said, referring to New York, "but we felt we had a better opportunity in the Clark, and, even though it's less money, this isn't the critical point at the moment. The critical point in money comes later."
"Later" means, possibly, the $16 million Pegasus World Cup in January at Gulfstream Park, or the $10 million Dubai World Cup.
"If he runs well [today], we'll have to sit down and do some serious thinking," said Ralph. "It's fun to have these dreams in the back of your head, even if they don't come to fruition."
Breaking from post 9 in the field of nine, Diversify will face the winner of last year's Jockey Club Gold Cup, Hoppertunity, who drew post 1. A narrow favorite, Diversify is 5-2 on the morning line, Hoppertunity the second choice at 3-1.
The Jockey Club Gold Cup was Ralph Evans' first G1 win in decades as an owner, and he chuckled ruefully that day when he noted that it didn't even come in his own silks. Lauren was, as her mother put it that day, "on the south rim of the Grand Canyon" and unable to make it to Belmont to see that milestone, but even though it took three flights to get there, she wasn't going to miss this race.
"She's a trooper and she wants to see her horse run," said her father.
"I was going to go to the Gold Cup," she said, "but then I psyched myself out, saying that he doesn't win when I go.
"But this time, I couldn't pass it up. I'm thrilled about the weekend; it's wonderful to be spending the holiday with my folks, we have a great time when we go to the races, and Grade 1 races are crazy exciting."