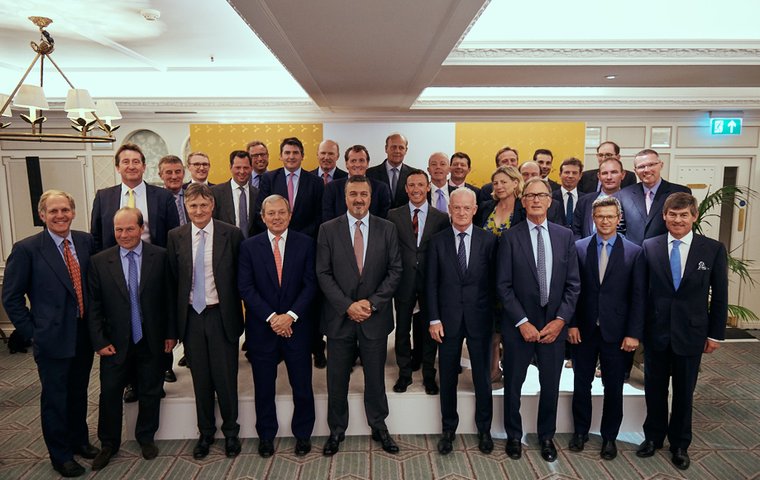 Europe's leading trainers have been offered an enormous financial incentive to support Saudi Arabia's new Saudi Cup race meeting with the unveiling of three turf races on an undercard worth a total of $6.8 million.

If the $20 million Saudi Cup, which will be run on dirt in Riyadh on February 29, has more appeal to U.S. competitors, organisers behind the latest addition to the international racing calendar believe there is something for everyone else among the five supporting races.
And, judging by the turnout of elite trainers, including John Gosden, Sir Michael Stoute, Richard Hannon, Andrew Balding and Roger Varian, plus Willie Mullins and Mick Halford from Ireland and John Hammond from France, at the official announcement in Fortnum & Masons in London on Monday, that optimism may not be misplaced.
The main lure will be a $2.5 million staying handicap to be run over 3000 metres (15 furlongs) on the new turf course under construction at the King Adbulaziz racetrack. There will also be a middle-distance turf race over 2100m (10.5 furlongs) and a turf sprint over 1350m (6.7 furlongs) worth $1 million each. A dirt sprint and a 3-year-old only dirt mile, worth $900,000 and $800,000 respectively, complete the schedule.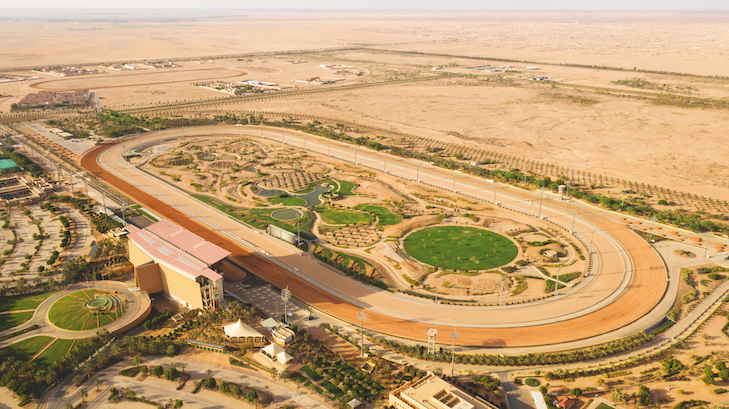 Gosden said, "These races will offer terrific targets for a range of horses – from sprinters to stayers, plus a mile race for 3-year-olds which is worth a good deal more than the early Classics. I'm already thinking about which horses I could take."
Varian said, "For the right horse, it is an exciting programme of races."
The Saudi Cup, scheduled four weeks after the Pegasus World Cup and four weeks before the Dubai World Cup, is designed to attract the world's best dirt horses, with the first, second and third from the Pegasus at Gulfstream Park in Florida in January receiving an automatic invitation.
The staying handicap could provide another international stop-off for Europe's Melbourne Cup contingent, if not Australia's, for whom travel and quarantine protocols are expected to prove insurmountable in year one of the new Saudi Cup venture.
"With the Saudi Cup in particular you are really looking at the Breeders' Cup Classic-type horse," said Tom Ryan, director of strategy and international racing for the Jockey Club of Saudi Arabia. "We really see that as a very high-echelon dirt race.
"With the undercard, we set out particular targets. If you take the long-distance handicap, that is targeted at a group of horses that are predominantly older and good travellers.
"We have been a little bit strategic in other areas so we see the 3-year-old race on the dirt over a mile as a step into the UAE Derby [at Meydan on the Dubai World Cup card]. We have tried to fit in races that will make sense in the long term."
The layout of the track has also been a factor in the framing of races. "On the turf track, in particular, there are only certain starts that will work from the stalls-placement perspective," said Ryan.
Cheltenham Festival alternative
"The 1350m sprint start happens to be right on the verge of the back straight to allow it to be safely run. There was a significant level of interest from the UK trainers for a mid-distance race, but 2000m was a bit close to a bend so we stepped it back 100m so it became 2100m.
"The staying handicap was a race that we felt would ignite a little bit of imagination among the trainers. There is a very identifiable trend for those type of horses to travel, so whether it is Willie Mullins or Gordon Elliott or any of those stayers in the UK that have travelled to Melbourne, we have tried to set the prize money at a desirable enough level for them to keep those horses in training over the winter and maybe not go to Cheltenham for a Supreme Novices' Hurdle or something like that.
"We have had great fun with it. We've been in regular contact with the Asian Racing Federation and people in Meydan, and they are quite supportive of the races we've chosen. Through horses coming into the region a little earlier, it might have a positive knock-on effect on Dubai World Cup night."
The King Abdulaziz dirt track, which has been open to local racing from October through to April for many years, has been widely acclaimed by visiting jockeys as one of the best surfaces in the world.
Turf racing has yet to take place there and, even though the new course has still to be completed, the organisers are confident it will be ready in time.
Ryan said, "Because of the temperature ranges at the time of the year, we are ultimately going to race on a rye grass that would normally be seen on a European surface. Traditionally the timescale would appear tight. We have a longer period to settle the turf in than they had the first year the turf track was used at Meydan.
"There are technological advancements and careful selection of the materials that make all of this happen. We are getting weekly reports, and we are at a stage now that they say they are handsomely ahead in the programme.
"We see a situation where horses will be on that track in the early part of January on a trial basis. We don't have a moment of doubt."