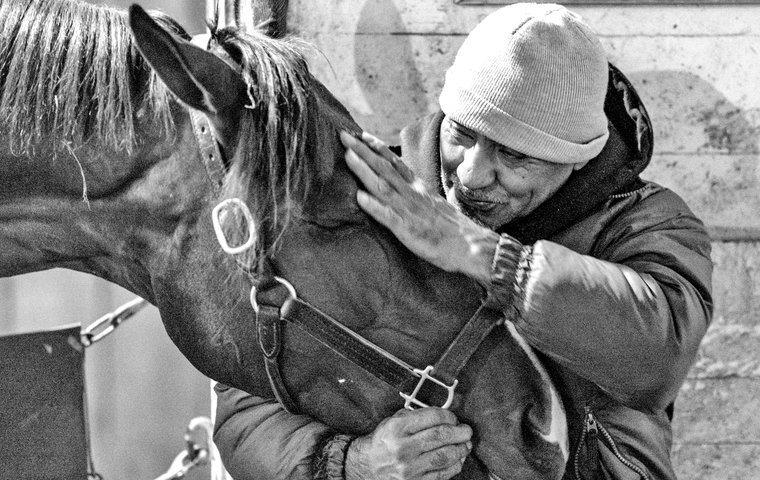 Keeneland has launched an initiative called Nourish the Backstretch, which will provide weekly meals and groceries to stable area workers at Keeneland and the Thoroughbred Center (TTC) .

More than 500 people are employed by trainers to care for horses at the two locations. Proceeds from wagers placed through Keeneland Select, Keeneland's online ADW, during May will be donated to Nourish the Backstretch, Keeneland has launched an initiative called Nourish the Backstretch, which is powered by Keeneland, Nourish Lexington and Blue Grass Farms Charities (BGFC).
"Keeneland is forever grateful to the industry's frontline heroes, the men and women on the backstretch who are out there every day taking care of the horses," said Keeneland President and CEO Bill Thomason. "We recognize and appreciate your hard work and dedication, and we are committed to support you during this challenging time where resources are scarce. You are vital to this industry and an important part of the Keeneland family."
Nourish the Backstretch is a further extension of Nourish Lexington, an initiative Keeneland co-founded with VisitLEX, FoodChain and other community partners in April. Nourish Lexington provides complimentary meals five days a week to anyone in the Lexington community who is affected by the Covid-19 crisis. More than 22,000 meals were distributed in the first month of operation.
"Nourish Lexington provides immediate access to food to those who need it most – from the hardworking stable worker who is caring for our horses to the recently unemployed mother who is homeschooling her children. Everyone deserves a nutritious meal," said Keeneland Vice President and Chief Marketing Officer Christa Marrillia.
"Nourish the Backstretch extends the reach of these resources, allowing us to highlight our stable area community through our chaplaincy program and Blue Grass Farms Charities."
Keeneland Hospitality, whose staff already has cooked nearly 3,000 meals for Nourish Lexington, will prepare all meals for the Nourish the Backstretch initiative and distribute them every Wednesday at 11 am in May and June.
Information about Nourish the Backstretch's Wednesday's lunch as well as Nourish Lexington's weekday distribution locations will be updated and posted on the free Còmo app.
Keeneland's Chaplaincy program will work with BGFC to identify families for the grocery distribution. Grocery care packages will consist of healthy grains, pastas, canned goods, fruits, vegetables, proteins and a variety of children's snacks.
Since March 16, BGFC has provided more than 225 bags of food to farm workers, equine medical barn and track workers.
"Along with the benevolent services Blue Grass Farms Charities provides, including housing/utility assistance, medical assistance, dental services and eyewear, Nourish the Backstretch is a safety net for those who work with racehorses and means food security at home for their families," said BGFC Executive Director Julie Berry.
"Food sources can be limited to these workers because of location and transportation. This program is a huge help."
Anyone who would like to support Nourish the Backstretch may donate directly to Nourish Lexington or Blue Grass Farms Charities.