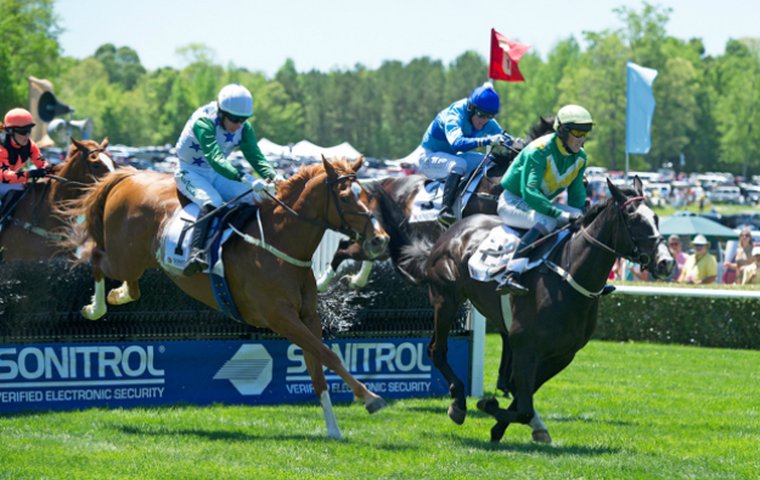 Much of racing's international focus will be on jump racing this weekend. In most countries all eyes will be on Saturday's spectacular $1.5 million Grand National in Liverpool, England. In the U.S., however, this branch of the sport will be seeking to attract attention for an entirely different reason, as Mary Pitt reports.

Jump racing in America is sometimes referred to as flat racing's "poor relation." This is a long way from the truth. "Unheralded relation" might be more accurate, but even that may be about to change with the introduction of a new initiative to increase awareness of, and participation in, this exciting and colorful sport.
The campaign was launched in the summer of 2014 by the National Steeplechase Association's Promotion and Growth Task Force. It features a comprehensive new website, www.gojumpracing.org, that serves as a gateway for potential owners to learn more about the sport. And this weekend the campaign is off and running with its first major event - a symposium in Maryland.
Jump racing is far more popular and widespread in Europe, especially in Britain (think the Grand National and the Cheltenham Festival), Ireland, and France, but it is still considered something of a niche sport in the U.S., with meetings taking place from the spring through the autumn mainly throughout the mid-Atlantic and southern states.
At the handful of American flat tracks where it is held, such as Saratoga, Belmont, Kentucky Downs, and Parx, jump racing is usually seen as a novelty, a spectacle to be watched but not wagered on - though wagering is an option. This wasn't always the case. Go back half a century and tracks like Belmont, Saratoga, and Delaware had their own steeplechase and hurdle courses.
Task Force Chairman Bill Price, who runs his own race meet, the Queen's Cup, near Charlotte, North Carolina, explained the campaign's aims: "The campaign is called The First Second Career, with the idea that there are a lot of owners in the flat game who don't know that their Thoroughbred is our Thoroughbred. There are probably around 450 horses who run over jumps during the course of the year, and the vast majority came off the racetrack.
"These horses either ran out of opportunities, ran out of conditions, or had a mild case of the slows, but with no less will to want to be a racehorse. What steeplechase racing has done is give a second life to a lot of these horses and gives the owners of these horses the opportunity to keep them running and doing something that comes very naturally to them. It's amazing how quickly the Thoroughbred adapts to racing over fences."
Most chasers – the majority are mares or geldings – are trained on farms and are vanned in to the various race meets. "In between, they get to go out in fields and get to act like horses. Often this rejuvenates them," Price said.
There are pluses for owners, too. "You can continue to watch your horse race, but you do it in the beautiful surroundings of the countryside," where meets typically attract from 10,000 to 50,000 people.
"These race meets are unique in that they're boutique-type meets held to a very professional standard, but with no gambling, which is even more amazing. A lot of these meets are putting up some serious prize money as well." Prize money in 2015 will total around $6 million.
"Our purse structure isn't built by handle, because there is no handle," Price noted, "but by sponsors." They are run as non-profits, raising money for good causes, such as the Queen's Cup meeting, which Price organizes, which will be staged this year in aid of the Alzheimer's Association. But that doesn't diminish the importance and legitimacy of the racing product.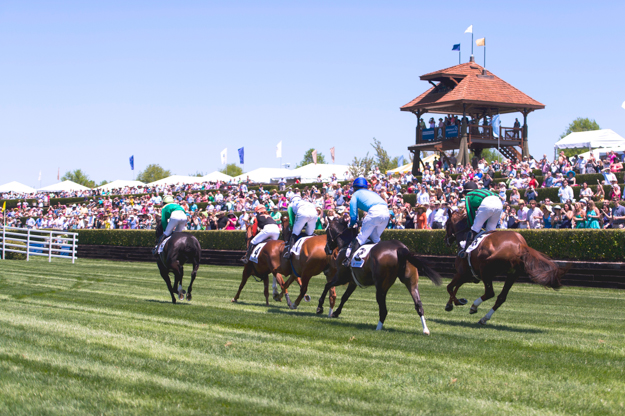 The big event this weekend will be the Owners Symposium and Marketplace Auction on Sunday, April 12 at Shawan Downs in Hunt Valley, Maryland. The symposium is free (RSVP is required) and begins at 11 a.m. and includes lunch. Spectators and bidders alike will be able to observe the sale horses school over fences during lunch with the auction beginning shortly afterwards. Anyone wishing to bid must register on the day. Information and photos of the horses are on GoJumpRacing.org, along with the RSVP form and sales application.
Guest speakers will include Hall of Fame trainer Jonathan Sheppard, owner Mike Wharton, and Dogwood syndicate president Cot Campbell.
The sale will feature G1-placed Barnstorming, who Sheppard will be offering a 49 percent share in for lease for 2015, with the horse running in the winning bidder's colors.
"The symposium came out of a survey of past and present owners," Price continued. "A lot of owners said that what they really missed is the ability to go to someplace to learn more about the sport. From that, we developed the symposium. Charlie Fenwick is the chairman and he was the impetus to creating the auction. Charlie's idea was to develop a marketplace to bring prospective owners and trainers together."
The campaign itself was launched partly in response to declining participation. "Like all Thoroughbred racing, our numbers in terms of ownership have been dropping a few percentage points every year since the high water mark in early '90s," Price said. "The National Steeplechase Association rightfully came to the conclusion that we can't stand by and let this happen to the sport that we all love and enjoy.
"We took surveys of our owners and former owners and asked them what they liked and didn't like about it, and why they didn't come back. From that, we learned a lot and we began to build a campaign. The easiest way to say it is we're kind of rebuilding the sport.
"One of the reasons a lot of people don't get back into the sport is that it's very hard to chase purse money at a lower level when you're looking at a $10,000 claimer going for $5,000 or $10,000 purse money." With that in mind, the minimum purse over hurdles has been raised 50 percent from $10,000 to $15,000.
There has also been a numerical rating system introduced, similar to the one used in Britain.
"Again that idea came out of the interviews with owners and former owners," Price said. "One of the things they didn't like was the claiming game, and one of the reasons they didn't like it was because we in the jumping business tend to get very emotional about our horses. Most of the horses are stabled at farms where the owners get a chance to visit regularly and they get to know the personality of their horse. So a lot of the owners told us they just didn't like claiming. We also found out that a lot of these horses were homebreds.
"We're not getting rid of the claiming game, but once a horse breaks his maiden, unless he steps up to a higher level, he's got very few places to go after that. So the ratings came out of the survey where we said if we could introduce something that would minimize the claiming aspect, would you be interested in something like that?"
There may be several reasons why jump racing isn't a staple of flat race meetings.
"I think the biggest reason is the bettors don't understand it," Price offered, "even though we try to educate them that these horses are very formful, and they're formful because they run against each other week after week, but their exposure to it is very minimal.
"If you're a flat track operator, I think the allure of jump racing is that it mixes up the day, it's intriguing. What we bring to the flat tracks is a little variety, but the problem is if you're the flat track putting on jump racing, your handle goes way down. For now, it's not as appealing as it could be to the racetracks."
Jumpers tend to be older and have longer racing careers, which gives fans the chance to get to know them and follow them in a way they can't with flat stars whose careers often don't go beyond their 3-year-old season.
There is renewed enthusiasm, Price said. "I think the sport is regrowing its legs. This is the kind of momentum and excitement we're trying to bring back into the sport. It's engaging, it's fun to watch.
"This could be a real game changer."