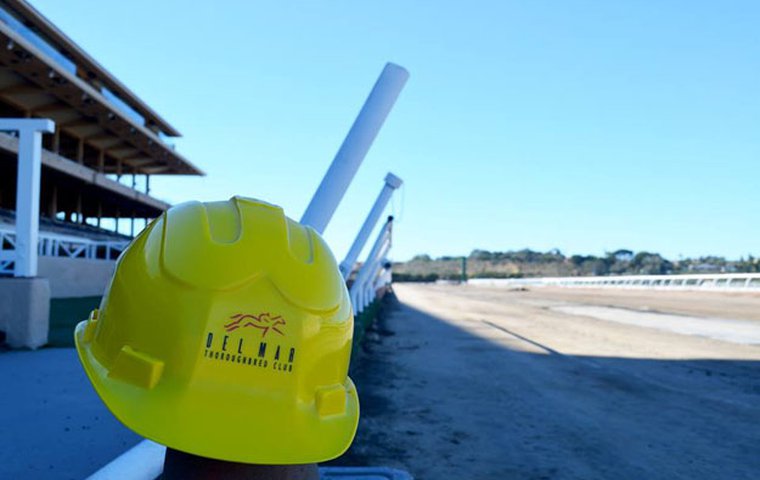 No North American racetrack will be under as much scrutiny this summer as the Del Mar Thoroughbred Club. A return to a traditional dirt surface after eight seasons on Polytrack will spark extra interest from tomorrow in what is already one of the year's most beloved race meets. For officials at Del Mar, which sits directly across from the Pacific Ocean, a successful meet on the new track can help to move past the last few tumultuous years "where the turf meets the surf."

There had never been a complete rebuilding of the Del Mar racing surface from 1937, when the course opened, through 2006.
"It was primarily patchwork done along the way," said Mac McBride, Del Mar's director of media. "The track sits in a river valley and has wet soil underneath. Over the years certain sections of the track – and not one particular place, but all around it – would go a bit 'soft' as water seeped up. Those portions would have to be dug up and refilled with solid soil. That didn't happen every year, but it happened on more than one occasion."
The biggest resurfacing followed the 1996 season. "There was one semi-major re-do," McBride said. "The 22nd District Agricultural Association – the state arm that runs the Del Mar Fairgrounds – experimented several times with motorcycle races and – after our meet in 1996 – small auto race cars. They chewed up the track a fair bit and a remake of the track was done over the winter. The cushion was removed, the sub-base was stabilized and the cushion returned. Beyond that, no major remakes of any kind happened."
When Kentucky's Turfway Park reported an extreme decline in horse deaths following the installation of a synthetic racing surface, the California Horse Racing Board mandated that all tracks in California that operated a meet longer than four weeks had to convert to synthetic by Jan. 1, 2008. After a horrific rash of catastrophic racing or training-related horse deaths during the 2006 meet, Del Mar became the second Golden State racecourse to replace its traditional surface with an artificial one, following Hollywood Park the previous fall.
"It was dirt and sand through 2006," said Del Mar's executive vice president of racing and industry relations, Tom Robbins. "After the CHRB mandated the synthetic surfaces, of course we all went with different companies. We chose Polytrack, which was a surface we saw in Europe and saw used at Keeneland and Turfway Park. But we had to go through some changes with it."
During the 2007 meet, its first with Polytrack, Del Mar officials found they didn't water the track enough. "The race times were very slow, but it proved to be a safe surface," Robbins said. "So the next year we did apply more water to it, and the times got back to being what people were used to. A few years later, Hollywood Park went out of business, and Santa Anita was having so many issues with their track that they got permission from the CHRB to go back to dirt and sand."
When Hollywood Park finally closed in 2013, Del Mar was faced with a new challenge. "While Hollywood remained as a synthetic track that led into our meet, we had a sort of buffer," Robbins said. "But then they went away and Santa Anita extended their meet through June, and Los Alamitos took dates in July, and both of those tracks were dirt. Now our No. 1 problem was horses coming in off a dirt track where they hadn't before. At least when they were coming from Hollywood Park it was a similar surface."
Robbins explained that it was time for Del Mar to replace their track yet again. "We were the lone warriors out there," he said, "but we were also having a drainage problem. One of the selling points of the artificial surfaces is that you don't have to seal them, water is supposed to just drain through it, but when it did the porous macadam started breaking up. Rocks began to loosen and make their way up into the surface zone."
That resulted in a difficult decision for the track. "When we went to look at it after one of our meets there were some spots that were going to require major treatment. Given that we were the only ones in Southern California with a different surface anyway, we elected to go back to the dirt and sand material."
With horse safety of paramount concern, Del Mar elected to use the same material that Santa Anita Park used to replace their surface. "It's called El Segundo sand," Robbins explained. "It is taken from around the Los Angeles International Airport, where they were repairing a runway. Santa Anita uses the same sand."
It took 31,000 tons of the dirt to build Del Mar's new surface. "We've had Dennis Moore, track superintendent at Santa Anita, working with this track since their fall meet last year," Robbins said. "Our track guy, Richard Tedesco, sent one of his foremen to observe the way Santa Anita maintains their surface, including rototilling the material once a week or so and watching how they put the track back together."
While the new Del Mar surface is similar to Santa Anita, maintaining it will be another challenge. "There are pretty good climatic differences between Arcadia and Del Mar," Robbins said, referred to the 115-mile driving distance between the cities where the two tracks are located. "Our track may not behave the same as the one there. There will be nuances to figure out."
Del Mar was able to preview its new surface, thanks to the Barretts May Two-Year-Olds In Training Sale, which took place May 28 with a training preview on May 26. "We got feedback and a good idea of what to expect," Robbins said, "but there were only 150 horses on it at the time, and there are about to be 1,900 horses."
As soon as the sales preview ended, the track was sealed and rolled because of the annual San Diego County Fair, which takes place in both the neighboring fairgrounds buildings and on the track itself. "They utilize the track for other purposes, so we weren't in the mode of working on the track, but when the fair ended we started again. Given the experience we had in May, Richard and his crew are comfortable getting it ready for opening day."
The new track opened for general training July 10. The 2015 Del Mar race meet begins tomorrow and will offer 43 stakes races worth $7,950,000.