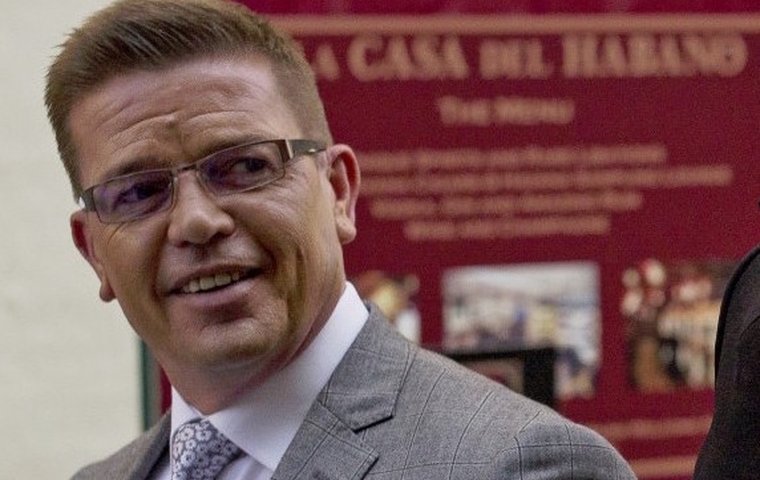 There are some excellent pundits who never played their sport to any great level, but a former top professional with a sharp mind can offer something extra.

Gary Neville and Jamie Carragher have taken British football analysis to another level, while cricket is lucky to have the likes of Mike Atherton to continue in the style of the late Richie Benaud.
In racing, we have a host of former jockeys to inform and entertain us, but few are as consistently good as Jason Weaver, who has completed 50 or so days in his second year with ITV Racing and will continue through the winter on At The Races, where his 'Get In' double act with Luke Harvey is a regular highlight.
Weaver rode around 1,000 winners and enjoyed classic success in 1994 on Mister Baileys in the 2000 Guineas only months after being crowned champion apprentice. That same year, he rode 200 winners, a score bettered that season only by a rampant Frankie Dettori, and, although he was never again a serious contender for the championship, he continued in the top flight until weight issues finally got the better of him in 2002.
'I couldn't do it anymore'
Riding credentials as good as Weaver's are no guarantee of on-screen success, as plenty of others have demonstrated, so how did the opportunity come about, and what has made the transition such an obvious success?
Weaver recalls: "I hadn't become the product I wanted to be, and I wasn't in a great spot mentally, so after battering it all through the winter, I sat down one night for a heart to heart with my better half, Fiona, and told her I couldn't do it anymore.
"I didn't have a clue what I would do, and I had only just turned 30 and so still needed to work, but the sheer release was unbelievable and I'd always worked so knew I was going to find something."
A key asset was a self belief, which someone once said was bordering on arrogance, and so, when Jim Ramsey, a producer from what was then the Racing Channel and someone he had once ridden winners for, approached him for a trial, he had no hesitation.
Weaver says: "I thought it would be something I could do, and I was lucky to work with very good people talking about a sport I absolutely loved. I'd ridden a lot of good horses - a lot more than many jockeys do - and I'd also had a really good schooling from excellent tutors, because, after Milton Bradley, who I worked for while still at school, my only proper jobs had been with Luca Cumani and Mark Johnston."
Weaver does not over-complicate matters in front of the camera, and he is well aware that it's the horses, not the presenters, that people tune in for.
He says: "The most important thing is the horse, and then I aim to be open and honest in my assessment and to hopefully be lucky enough to pick a couple of winners. Understanding the horses and the way they can progress is important, and so obviously is being able to read a race, picking up on incidents that others might not see in the cut and thrust, and understanding the importance of the draw, the pace and all of those other things.
"I love it. It changes all the time and no two days are the same. Anything can happen at any time, and every now and again we see a little sprinkling of magic, and not always where you might expect it. Racing has such a lot to offer, and I enjoy promoting it as best I can."
Frankie's 'beast of a ride'
Refreshingly, Weaver has never pulled his punches when he feels a jockey has ridden a poor race. He says: "Jockeys aren't always going to be happy with what I say, and they can be incredibly prickly, but that's because they are a one-man band and so it's not like football or cricket, where there's team responsibility.
"I'm also aware that they aren't riding a helicopter, and, if you are shut in with six horses around you going equally well, someone will call it a bad ride when in fact it's down to bad luck and circumstance."
Weaver's honesty has caused problems once or twice, but no long-term falling out. He says: "I remember Philip Robinson wasn't very complimentary after I'd said something about a ride of his at Yarmouth, but a few days later he invited me to play golf with him, and so, without exactly apologising, he had accepted it maybe wasn't a great ride.
"Then, when Frankie Dettori was going through that difficult time after his ban and couldn't ride a winner for love nor money, he gave one an absolute beast of a ride at Royal Ascot. I was honest in my assessment and had a text from him that night, but when we talked about it he agreed it wasn't his best.
"Frankie accepted that, while there was the odd ride of his I might have criticised, there are hundreds more when I've said he was brilliant, as of course he soon was once again and still is - just look at the rides he gave Expert Eye and Enable at the Breeders' Cup."
Great times with Mark Johnston
Dettori had been at Cumani's when Weaver began his successful apprenticeship there with five odds-on winners - some in Newmarket still call him 'Odds-On' - and he has played an important part in Weaver's life one way or another. Indeed, it was what turned out a poor choice by the Italian that led to Weaver getting the ride on Mister Baileys in the Guineas.
Weaver explains: "I wasn't guaranteed the Mister Baileys ride when I first went to Mark's from Luca's, but Frankie chose Grand Lodge in the Guineas instead, and so I was lucky enough to get the leg up and go on and beat him a short head. It was the start of a great relationship with Mark, and I couldn't have been luckier."
As he had done with Cumani, Weaver enjoyed plenty of great times with Johnston, with high profile success with many more after Mister Baileys, notably on Double Trigger and Bijou D'Inde. However, there were weight problems throughout.
He can admit now that, even before he was apprenticed, it was clear it was going to be an issue. "While I was still in school, my mother put me on boiled rice and apples for six weeks just to get me into the British Racing School at under their eight-stone maximum, and it was a constant battle every single day throughout my riding career.
"Riding winners and dealing with people was the easiest part of the job, and I loved it, but I was on a treadmill throughout, having to waste and cheat the scales every day. It was fairly routine for me to have to take 3lb off in the morning, but, once you get into the 4lb or 5lb territory, it's really unhealthy.
"The body can accept an amazing amount of punishment, but it will pack up on you at some stage, and I put mine through so much torment that it had just about run its course by the end.
"I was sweating at home in the bath, then in the car on the way to the races, and again in the sauna at the track, and the effect was shocking. I remember being extremely aggressive at times. I wasn't in a super healthy place mentally if I'm honest."
Weaver stopped in the nick of time by the sounds of it, and now, 16 years on, he is in a much happier place. We will see less of him through the jumps season, but he will remain a Friday night fixture with Luke Harvey on 'Get In'.
Weaver believes the format's light-hearted irreverence provides a release for both guests and viewers at the end of what has often been a difficult week. One suspects it might be a release too for the hosts.
Not that Weaver needs one now like he once did. After all, life is good.