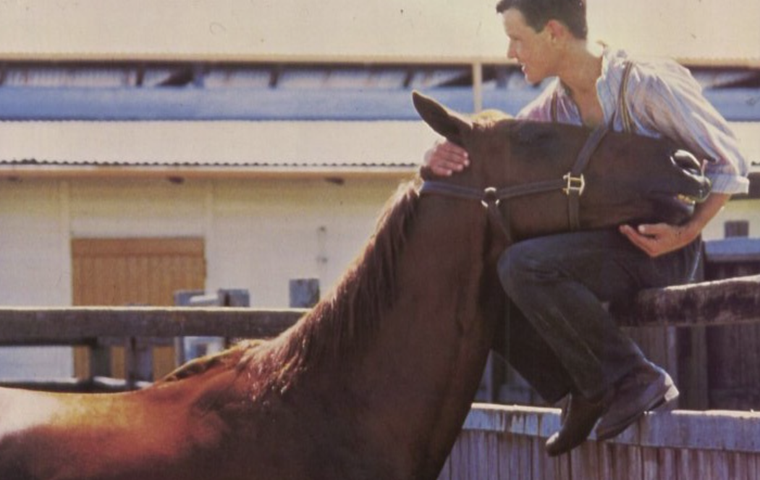 JA McGrath picks the five racing films he considers the best - plus another seven worthy of honourable mention.

1. Phar Lap (1983)
The epic movie charting the extraordinary rags-to-riches story of the horse widely regarded as the best to have raced in Australia — a sporting icon, who proved an inspiration to millions in the Great Depression of the 1930s. He won 32 of his last 35 races. He was winning so often, bookmakers with liabilities tried to shoot him.
His trip to contest the richest race in North America at the time, the Agua Caliente Handicap, near Tijuana, Mexico, is the movie's climax. It was the champion's last race. Two weeks later, he was dead, of suspected arsenic poisoning. The movie starts and ends with his gnarled trainer Harry Telford declaring: "Phar Lap wasn't just a horse … he was the best."
2. Seabiscuit (2003)
A memorable movie with parallels to Phar Lap, but this one is set in America. Another featuring a racehorse, who proved an inspiration to a country also trying to get back on its feet after the Great Depression. Again, the star is an unlikely champion, an undersized colt beaten in his first 17 starts (Phar Lap had been unplaced in his first four races), with a down-and-out jockey, Red Pollard, and a talented but introverted trainer, Tom Smith.
Gary Stevens is a natural actor as War Admiral's jockey, George Woolf, in the head-to-head showdown between that Triple Crown winner and Seabiscuit. Although comparisons between Phar Lap and Seabiscuit are sometimes drawn, in reality they missed each other. Seabiscuit was foaled 13 months after the death of his Australian counterpart.
3. National Velvet (1944)
Many an old-timer became hooked on the racing game through this movie of romantic fiction. Elizabeth Taylor takes an early starring role as English teenager Velvet Brown, who becomes the owner of 'The Pie', a bold-jumping chestnut, who is aimed at the world's greatest steeplechase, the Grand National. Mickey Rooney plays down-and-out jockey Mi Taylor.
Some amateurish race sequences, featuring Becher's Brook and the Canal Turn fences, are typical of the time, and fall a long way short of the gripping action seen in Ride Like A Girl. Taylor is no Bryony Frost in the saddle. But she wins — 33 years before Charlotte Brew becomes the first female in real life to ride in the Grand National, and 38 years before Geraldine Rees is the first female to complete the course.
The Pie is disqualified after it is discovered Taylor is a girl. Clearly, pre-race checks by stewards are unnecessary when writer's licence is applied.
4. Secretariat (2010)
A very popular Disney movie about the great champion, who became the first Triple Crown winner in 25 years when annihilating his rivals in a 31-length romp in the Belmont Stakes in New York in 1973. Some have described that triumph as the single greatest performance ever in an American Classic.
Penny Chenery has taken over the running of Meadow Stable from her father, who is suffering from Alzheimer's, and encounters all the usual obstacles a woman of her family wealth but limited hands-on racing experience might meet in that era.
One memorable scene is the flipping of a coin with Ogden Mills 'Dinny' Phipps to decide who gets the 1969 foal of the mating of Chenery's mare Somethingroyal with the stallion Bold Ruler. Phipps 'wins' and gets a filly called The Bride (who proves a failure on the racetrack), while Chenery 'loses' … and gets the mare's 1970 foal, the colt who is called Secretariat.
Chenery made a cameo appearance in the movie as a racegoer in the crowd. In real life, she became the first woman elected to the Jockey Club in America.
This newest racing movie, set in Australia, is a tear-jerker from the start, the beautifully told true story of Michelle Payne, the youngest of ten children of a battling trainer, who loses his wife in a car crash and a daughter as the result of a track fall. Michelle is just six months when her mother dies.
In 2015, Payne finds fame as the first female jockey to ride the winner of Australia's iconic Melbourne Cup, driving 100/1 outsider Prince Of Penzance to a stunning victory. This is a true feel-good tale of the underdog battling adversity to achieve a lifelong ambition.
Payne is embraced post-race by the groom, her brother Stevie, who has Down syndrome, and then in her television interview, she tells her doubters (insiders who tried to get her 'jocked off' the horse) to "get stuffed".
Rachel Griffiths, the Oscar-nominated actor, said she knew within minutes of learning of Payne's remarkable life that she had the storyline to launch her career as a movie director. She has come up with an emotion-charged human interest movie that can be viewed by just as many non-racing moviegoers as aficionados.
6. A Day At The Races (1937) Classic Marx Brothers mayhem. One unforgettable racetrack scene features Chico selling Groucho (the outrageous bogus medic Dr Hackenbush) a coded tip. The humour is timeless.
7. Murphy's Stroke (1980) A young Pierce Brosnan plays the Irish trainer at the heart of an ingenious plan to put one over on British bookmakers. A movie for the racing purist based on true events.
8. Champions (1984) The true story of jump jockey Bob Champion's courageous fight against cancer and his triumphant return to riding, climaxing in his emotional win on injury-plagued Aldaniti in the 1981 Grand National at Aintree.
9. Dark Horse (2015) Another true tale, about barmaid in a poor Welsh mining village who persuades some of her customers and neighbours to pool their resources to breed and race a steeplechaser named Dream Alliance, who wins the 2009 Welsh National.
10. Saratoga (1937) Big stars of the day Clark Gable and Jean Harlow head an impressive cast in a black-and-white movie about the grand-daughter of a well-known owner-breeder who falls for a gambler she meets on a train to Saratoga Springs.
11. Derby Day (1952) Epsom Downs is the setting for this skilfully woven piece of fiction encompassing four storylines that come together on British racing's biggest day (as it was more than half a century ago). Race footage (B/W) is that of the 1949 Derby, won by Nimbus.
12. The Sting (1973) Paul Newman and Robert Redford in the Oscar-winning movie set in Chicago about a betting con so sophisticated the victim, a ruthless crime boss, is completely taken in. A surprise twist in the plot makes for a happy ending.