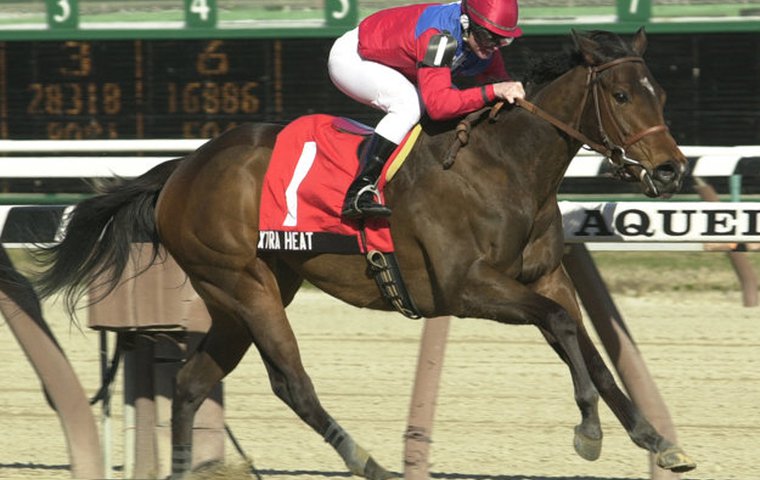 Everyone has a favorite racehorse. As part of a continuing series, we've asked contributors to write about theirs. Today it is the turn of Karen M. Johnson, freelance writer, HRTV field producer, and author of The Training Game.

As the daughter of a trainer, the length of my list of favorite racehorses is only rivaled by the number of times I was absent from class to watch them run. And trust me, school authorities compiled a rather impressive dossier chronicling my no-shows.
I will spare you the full rundown, but topping my schoolgirl crushes was an enormous bay with the apt name, Make It Easy, whose benevolent nature allowed me as a 7-year-old to be his hotwalker. Later there was Et Tu Brute -- a coppery chestnut with soulful eyes -- who I was certain understood everything I murmured to him about the trials and tribulations of being a very awkward teenager. If I was missing out on Shakespeare in school, at least I was learning about one of his plays in the shed row of Barn 63 at Belmont Park.
When I began my professional career in 1985, my affections broadened to horses outside of my father's barn. As a journalist, you can't help but fall in love with the equine athletes you write about. And for me, there is one horse who stands above all the rest: Xtra Heat, North America's 2001 champion 3-year-old filly.
What appealed to me most about the diminutive filly, who measured a smidgen below 15-hands, was her brilliant and unfettered speed. She, too, was a racehorse for all seasons: winning ungraded stakes in harsh winter conditions at Aqueduct and Laurel; producing spellbinding performances against G1 competition during the summer; and holding her own against males when year-end championships were on the line in the Breeders' Cup.
The modestly-bred Xtra Heat was sired by Dixieland Heat, the 1993 Louisiana Derby winner, who stood at Pope McLean Sr.'s Crestwood Farm in Kentucky. Xtra Heat, bred by McLean, became the 10th runner out of Begin, whose progeny up to that point had been useful racehorses, but not headline makers.
A bay with two distinct white markings on her face -- one smack-dab in the middle of her forehead, the other on her muzzle -- Xtra Heat was auctioned as a 2-year-old at Maryland's Timonium sale. She was purchased by trainer John Salzman Sr., a veteran on the Pimlico and Laurel circuits. Salzman and his partners, Ken Taylor and Harry Deitchman, parted with a mere $5,000 to acquire Xtra Heat.
She ran for a $25,000 claiming price in her first start in June 2000 at Laurel Park, her home base throughout her four seasons on the track. Salzman later told Joe Hirsch of the Daily Racing Form he wagered $600 to win on the filly whose odds were 2-to-1. Salzman cashed, but more importantly, Xtra Heat wasn't claimed. All her subsequent starts came in stakes.
As one of two New York-based reporters for the Daily Racing Form in 2001, I had the pleasure of seeing and writing about Xtra Heat when she raced in my neck of the woods. At the risk of raising the ire of people who don't care for anthropomorphism, whenever I saw Xtra Heat in the paddock, walking with her customary strut, turning her head from side to side, it reminded me of a prize fighter making his entrance into the ring.
During Xtra Heat's championship season in 2001, she won four stakes in New York. The one that stands out to me is the Prioress at Belmont Park on July 4.
As was her wont, Xtra Heat, with Rick Wilson aboard, hustled herself out of the gate and to the early lead in the six-furlong Prioress. Above Perfection, a California speedster who was undefeated in three starts coming into the Prioress, relentlessly hounded Xtra Heat from the get-go. Racing heads apart through wickedly fast fractions of 21.92 seconds, 44.63, and 56.07, Xtra Heat still had the necessary oomph to shake off Above Perfection and defeat that foe by a quarter-length. The final time was 1:08.26, which remains the stakes record today. It was the first and only G1 victory for Xtra Heat.
But it was one of Xtra Heat's losses that truly stamped her a champion in my mind.
After winning nine of 11 starts, from January through September of 2001, Salzman believed the time was right for Xtra Heat to take on males. He decided to shoot for the moon and pointed her to the $1 million Breeders' Cup Sprint at Belmont Park, where the country's best sprinters would assemble.
My Daily Racing Form editors assigned me coverage of the Sprint, which included a feature on one of the participants in the lead-up to the race. When I said I wished to write about Xtra Heat, it was suggested that perhaps I should select another runner who wasn't a longshot; maybe Kona Gold, who was running for the fourth time in the race, after winning the 2000 Sprint, and finishing second and third in his other attempts.
I stood my ground. Xtra Heat, who was 17-to-1, nearly did too.
Under Jorge Chavez, Xtra Heat set the pace from her rail post in the 14-horse field. She had the lead turning for home. I broke protocol -- cheering is frowned upon in the press box -- and willed her home at the top of my lungs. In the final yards, Squirtle Squirt, the winner of that year's G1 King's Bishop, overtook Xtra Heat to post a half-length victory. In winning, Squirtle Squirt broke trainer Bobby Frankel's 0-for-38 drought at the World Championships.
I was crushed. If Salzman was, he didn't show it. He said to me in the Belmont tunnel following the Sprint, "She ran a winning race. I'm proud of her."
Xtra Heat ran 14 times after the 2001 Breeders' Cup and won nine more stakes, including back-to-back runnings of Laurel Park's G2 Barbara Fritchie -- the first time carrying 128 pounds and then 125. She even traveled to Dubai in 2002, finishing third in the G1 Golden Shaheen. Following her 2003 victory in the Fritchie, Xtra Heat was retired with earnings topping $2.3 million and a record of 26-5-2 from 35 starts.
Her brilliance as a racehorse has not been duplicated in her career as a broodmare. The most accomplished of her nine offspring to race was her first, Southwestern Heat, a listed stakes winner with earnings of $155,340.
A finalist last year for induction into the Hall of Fame, Xtra Heat didn't make the cut. But it's only a matter of time before my favorite racehorse gains her rightful place among the greatest Thoroughbreds of all time.