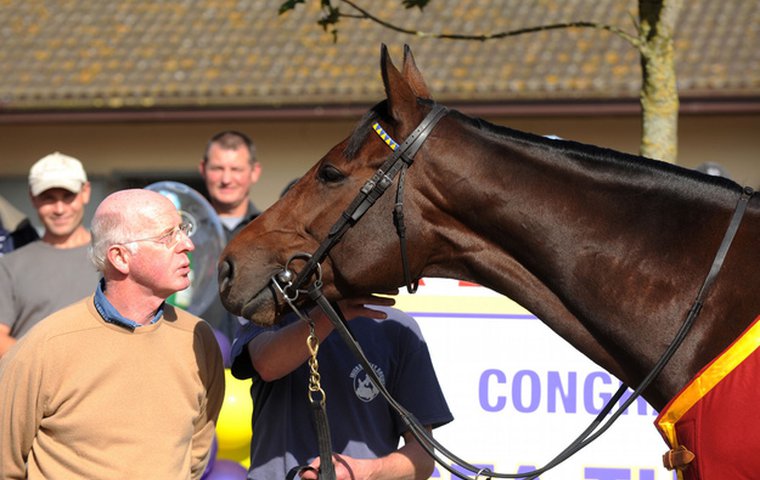 Everyone has a favorite racehorse. As part of a new series, we've asked contributors to write about theirs. Today it is the turn of Lissa Oliver, an acclaimed freelance racing journalist, broadcaster and author who lives in Kildare, Ireland.

A childhood hero is a wondrous thing. It grows in stature with each passing year, the memory strengthened rather than weakened, the glasses age often forces upon us growing ever more rosy as they review the past. Just such a god was Brigadier Gerard. Which illustrates exactly how special is Sea The Stars, the horse who deposed The Brigadier after 30 years of worship.
Perhaps I'm biased. You don't cast aside a 30-year hero, only to reshuffle your favourites once again just two years later. But blinkered or eyes wide open, Frankel hasn't quite got there in my comparisons. There's a grace, ease, and an aura about Sea The Stars that I haven't seen in any other horse. So many horses have endeared themselves to me over the years – my Desert Island list of favourites so exceeds the limit it would sink the rescue ship – but only one has been special.
He arrived with a certain amount of preconceptions. He was a half-brother to Galileo. His dam held a special place in my heart, having been noted in my racecard on Arc day in 1993 as "yuk" before carrying Eric Saint-Martin to victory. That was a fond memory. The Saint-Martin family celebrations embracing old heroes and new. And Urban Sea lived just round the corner from me in retirement and I fed her carrots and was even trusted with her lead rein on my visits. You don't usually get that up close and personal with Arc winners. And, of course, I apologised to her.
So July 2008 was a red-letter day, the debut of Urban Sea's latest colt. Could he be as good as Galileo? Probably not, but he could be a good one. I waited at my usual spot, in the saddling box reserved for the number sheets within the pre-parade ring at the Curragh. And in came Sea The Stars, a backward 2-year-old, but striking.
He had "class." Few horses have it and I couldn't on pain of death explain it to you – you just know it when you see it. It's quite an exciting thing to see, too. It quickens the heart and makes everything else internally stand still, breathing included. There was next year's Derby winner. It's that simple. I stand at the saddling boxes meeting after meeting looking for that one Holy Grail – next year's Derby winner. Sometimes you spot him, sometimes you don't. It's a great feeling, when you do.
He finished fourth that afternoon, but it was immaterial. You could argue he was only beaten a length and ran green, but whatever the result that day, Sea The Stars was never going to be beaten again. You could see when the penny dropped and he started to race. It was simply effortless. That was the most incredible thing about him, and the abiding memory of his performances – he never had to extend himself. You could see the extra gears there, unused. And you marvelled at that power.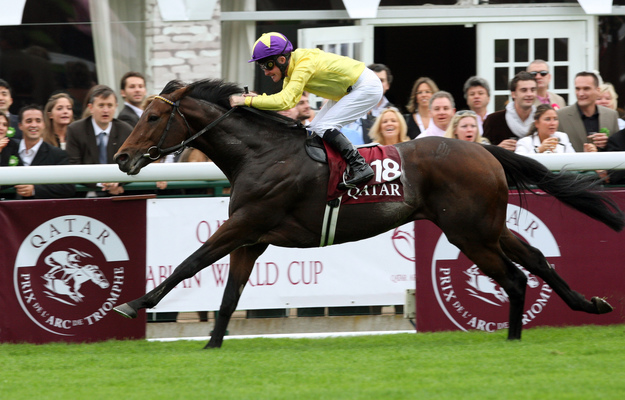 How many lengths could he have put between himself and Frankel, if he'd ever been asked? The usual half-length, I reckon! He just skipped home by the minimum required. I like to think of him as the consummate gentleman, unwilling to embarrass his fellow competitors, winning in the politest way possible.
The best thing of all was that, like his mum and dad (Cape Cross), he lived on my doorstep. I couldn't believe my good fortune in having a hero I could follow every step of the way. I visited him at Mr. [John] Oxx's and I would bump into his work-rider, Alex de Silva, at the races and listen in thrall to his tales of his "friend."
Sea The Stars was Alex's best friend. Never mind his achievements on the racecourse, he is a good friend to make and a loyal one. He's a gentleman, just simply a perfect gentleman.
Alex always uses such beautiful words to describe his friend, so full of emotion they make me well up. He speaks to his friend with his heart. I'll never know Sea The Stars that well. We meet briefly and infrequently, but that feeling I described earlier at first seeing him – that's always there. It hits you the minute you set eyes on him, no matter how often that is.
Maybe I imagine it, or maybe Sea The Stars is as polite to all his visitors, but he knows me. Every time I visit him he acknowledges me with the pleasure of greeting an old friend. My god, how that makes your heart soar! There could be other visitors around, but he fixes that warm and amiable eye on me and he holds my gaze for as long as I'm there. You know, as pin-ups go, they don't get much hotter than him!
Like all the pretty rock gods who adorn teenage walls, he doesn't appear to age, either. As I write this, he hasn't long turned eight and he still looks like a 3-year-old in training. The elegance is still there, the gentleness of character; there was never any arrogance about him, never the swagger of a champion. Quiet, modest, and quite the nicest friend to have. That's my Sea The Stars.